Living in Washington Square West: A Neighborhood Guide
If you can't find something that fits you in the city's most eclectic and diverse in-town neighborhood, maybe you're just not cut out for city living.
---
What famed English essayist Samuel Johnson said about London applies equally to Washington Square West: When a person is tired of it, they're tired of life.
Where Society Hill is quiet, Wash West hums. Where Rittenhouse Square is prim and proper, Wash West lets it all hang out. It has one of the most diverse mixes of [insert noun of choice here] in the city: Houses from tiny — the neighborhood is Trinity Central — to grand. Residents of all ages, genders, races, incomes and sexual orientations. Main streets alive with diners and revelers next to intimate alleys only their residents know about.
It's also one of the most conveniently situated of all Center City neighborhoods. The main shopping streets border it on the north. Just to its west runs the Avenue of the Arts. Its south edge is the storied "hippest street in town," South Street. And it takes its name from the square just to its east, the hallowed burying ground of Revolutionary War soldiers and the gateway to the Historic Square Mile.
Wash West residents prize this mélange and take advantage of all it has to offer as often as they can.
---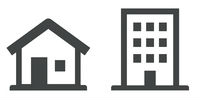 Wash West Housing Prices at a Glance
Median single-family home value: $965,000
Median condo/co-op value: $346,400
Median monthly rent: $1,626
---
What You Can Buy in Wash West
Eurostyle Modern Condo On the Square
220 W. Washington Sq. #300 | 3 beds, 3 full, 1 half baths, 3,720 square feet, $2,770,000
Carriage House With Parking on Tree-Lined "Little Street"
322 S. Quince St. | 4 beds, 2 full, 1 half baths, 2,408 square feet, reduced to $1,350,000
Updated Elegant Classic with Loft Master Bedroom (No, It's Not A Trinity)
1237 Lombard St. | 3 beds, 2 full, 1 half baths, 1,350 square feet, $575,000
---
Public Transportation in Wash West
SEPTA Regional Rail: Jefferson Station, all lines, one block north of the neighborhood
SEPTA Broad Street Line: City Hall, Walnut-Locust and Lombard-South stations
SEPTA Market-Frankford Line: 8th, 11th and 13th Street stations, one block north of the neighborhood
PATCO Lindenwold Line: 9th-10th & Locust and 12th-13th & Locust stations
SEPTA Bus Routes: 4, 9, 12, 16 (at City Hall), 17 (on Market), 21, 23, 27, 32, 33 (on Market), 38 (on Market), 40, 42, 44 (on Market), 45, 47, 47m, 48 (eastbound on Market, westbound on Arch), 61, 62 (on Market), 124 (at 13th and Market), 125 (at 13th and Market)
---
Food Shopping in Wash West
Supermarkets: Whole Foods Market, 929 South Street; Acme, 10th and South streets
Farmers' markets: Reading Terminal Market, 12th and Filbert streets, 1.5 blocks north of the neighborhood
---
What A Real Estate Agent Says About Wash West
This quirky, diverse neighborhood has benefited from the increased Broad Street build-up over the last several years. The 13th street resurgence, led by Tony Goldman, has also added restaurants, shops, and specialty food stores. The addition of a mini-Target on the northern border of the area has cemented the area's viability. On the southern tip of the area, the presence of Whole Foods, a Starbucks and more recently a Snap Kitchen only add to the appeal of the area for buyers. At the same time, longstanding businesses on Antique Row on Pine have flourished, so the area hasn't lost any of its historic appeal to buyers.

Buyers still love expanded trinities on cobblestone streets like Panama Street if they are priced well, or even better, with upgraded kitchens and bathrooms. However, this neighborhood has one of the lowest absorption rates of homes listed of any neighborhood since those trinities come with one fatal flaw for many buyers: trinity stairs.

Wash West has a large offering of smaller to mid-sized condo buildings. There's even the unusual amenity of an interior courtyard pool at Strickland Row in the 1000 block of Spruce! The larger homes with parking are in high demand and usually have several offers when they are priced well.

This area has little to no new construction or renovations. That leads many buyers to do their own upgrades, which only add to the diversity of the area. This is a neighborhood for buyers looking for historic and diverse homes. Overall, the central locale, the award-winning and diverse restaurants and walkability of Wash West make it in demand with buyers.
—Kate Vail, Philly Living Team, Keller Williams Philly
---
Local Color
Wash West's LGBT residential/entertainment district isn't the country's oldest; in fact, the center of LGBT life in Philly migrated here from west of Broad Street in the 1980s. But it is the first in the country to be referred to with the term "Gayborhood," coined by a Philadelphia CityPaper writer in 1992. The appellation stuck, and the Gayborhood today remains a lively and welcoming community for all. You'll know you're in it when you see street signs like the one above: Philadelphia is one of only four cities in North America to mark their LGBT districts with visible signs or markers.
---
Did You Know?
Washington Square West is home to numerous clubs organized around common interests. Among them: the Philadelphia Sketch Club (235 S. Camac St.), the oldest artists' club in America, and the Mask & Wig Club of the University of Pennsylvania (310 S. Camac St.), the nation's oldest all-male musical comedy troupe.
---
---