Market Report
Minority Homeownership Is Higher Than Average in Philly, Study Finds
But that doesn't mean it's high. And there's a significant home value gap.
---
One of the sources of the persistent wealth gap between minorities and whites in America is the gap in homeownership rates. Homes are the basis of most Americans' wealth, and the further one goes down the income scale, the more likely it is that the house is the only sizable asset an American family owns.
The apartment search site Abodo just took a deep dive into the racial homeownership stats to see how minorities have been faring both over time and relative to whites. What they found was not surprising but still dismaying: nationally, just 46 percent of minorities own their homes, 17 percentage points below the overall figure of 63.1 percent.
The good news, if it can be said to be good, is: We're doing better than that in Philadelphia, a city that has long taken pride in its high rate of homeownership. According to Census Bureau data analyzed by Adobo, nearly half of all minority households in the Philadelphia-Camden-Wilmington Metropolitan Statistical Area (MSA) — 49.5 percent, to be exact — owned their homes in 2016.
That's the sixth-highest percentage of minority homeowners among the nation's 45 largest cities, according to Adobo's analysis. Among all U.S. cities, Philadelphia ranks 34th.
The homeownership gap between whites and minorities is also smaller in Philadelphia than it is for the nation as a whole, according to the Census data.
"When analyzed specifically by the largest minority groups in the country, the breakdown of homeowners is very interesting in Philadelphia," says Abodo spokesperson Sam Radbil. "Specifically, 75.3 percent of the white population own homes, while just 49.1 percent of African-American people own, and 60.8 percent of Asians and 43.1 percent of Hispanics are homeowners. Clearly, all across the country, including Philadelphia, homeownership among minorities is far behind the homeownership rates of white people."
The comparable national homeownership rates are 70.1 percent for whites, 58.1 percent for Asians, 45.5 percent for Hispanics and 40.7 percent for African-Americans.
More dismaying in terms of the implications for life prospects is the gap in house values between whites and minorities. Here our region doesn't fare that well: its value gap places it in the bottom 10 among metro areas nationwide.
"In Philadelphia, the area median home value is $245,900," says Radbil. "Minority-owned homes, on the other hand, are valued at less than 60% of that figure: $162,400."
One obstacle that stands in the path of closing that gap is saving up for the down payment. The average minority household in Philadelphia would need to spend 10.6 years accumulating the 20 percent typically required as the down payment on a home. That places this area in the bottom half of the 45 largest metros, with 26 cities ranking above Philadelphia.
Abodo's blog post on its study notes that it raises questions rather than answers them. But the questions are worth asking, in particular, this one: "If minority citizens are so much less likely than their white counterparts to achieve homeownership, how applicable is the American Dream?"
---
The Homeownership Gap, By the Numbers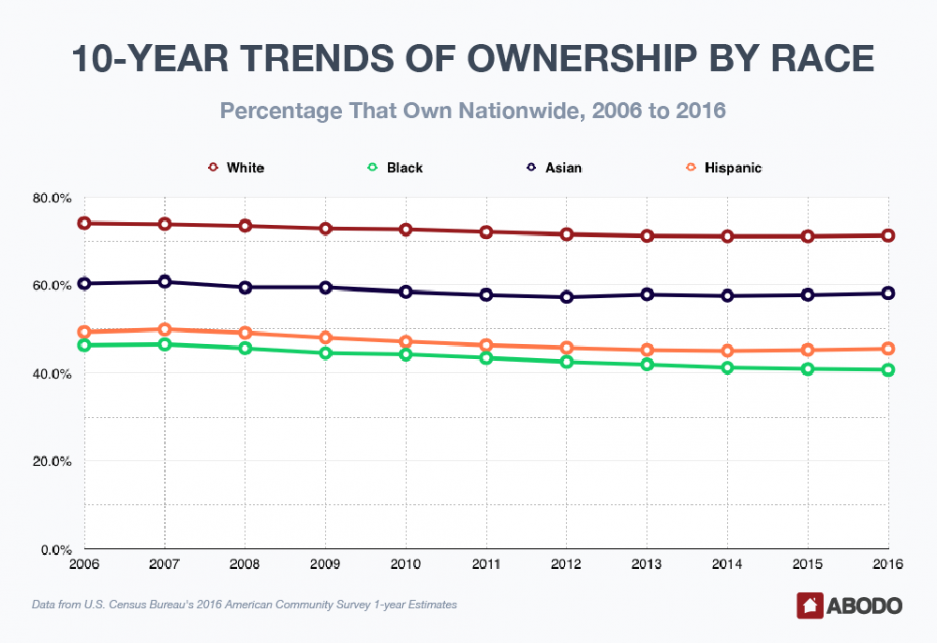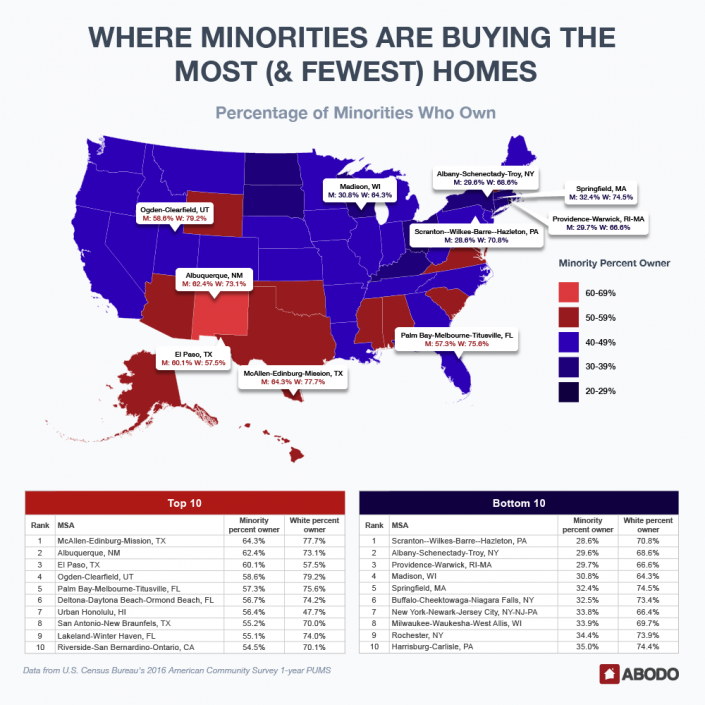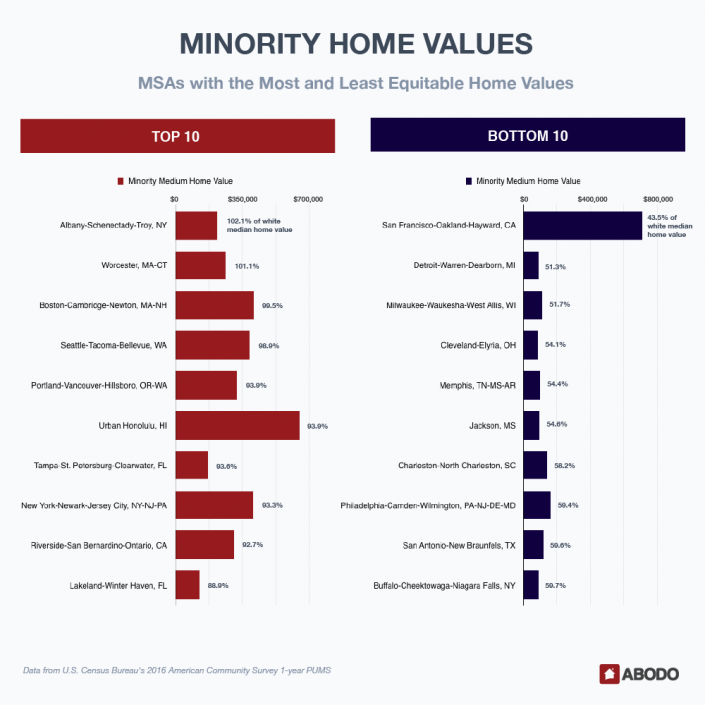 ---
---
---