A Fast-Growing New Jersey College Builds A Town To Go With It
Rowan University's explosive growth had Glassboro officials worried that students would overrun the center of town. So Rowan and Glassboro went in on an all-new one to take care of that problem.
---
Usually, the developments I've come to refer to as "Instant Urbanism" pop up on the fringes of metropolitan areas, most often near some freeway interchange that wound up sprouting an edge city. These developments, like those now taking shape in King of Prussia, are designed to inject the things young Millennials and their aging Baby Boomer parents both find increasingly desirable into the autocentric suburban landscape: streets lined with stores, apartments over those stores, sidewalks made for strolling, outdoor cafés, you get the idea.
Right now, in the sleepy South Jersey borough of Glassboro, a chunk of Instant Urbanism has sprung full-blown from what had been a residential neighborhood right smack in the center of town, well away from any freeway.
It's called Rowan Boulevard, and the reason it's there is to keep the university at the edge of town from swallowing it whole.
The college that almost ate Glassboro
The $100 million donation from industrialist Henry Rowan that transformed Glassboro State College into what is now Rowan University sparked a period of explosive growth that has yet to abate. As of this academic year, the university enrolled 18,454 students from 38 states and 34 countries, a far cry from enrollment in Glassboro State days.
All those new students began to make their presence felt in downtown Glassboro, and as far as the borough and merchants were concerned, that wasn't an unalloyed blessing.
"About 14 years ago, this was about 90 single-family houses," said Ronda Abbruzzese, vice president of marketing and leasing for Nexus Properties, Rowan Boulevard's current master developer. "They were turning into student rentals and a lot of frat houses.
At the time, Abbruzzese said, Rowan officials weren't planning for the explosive growth that has come to the campus, but they soon became aware they needed to, for borough officials had begun to get complaints from Main Street merchants that the students were overrunning their stores and the town.
"And the town was having its own issues with different types of housing that might not have been as desirable" as the single-family homes that had sat just off Main Street, she said. "So they decided to [float bonds] and buy this 26 acres for development."
A unique blend of town and gown
Glassboro had ideas about what it wanted to see from the outset. The first priority was building new housing for the growing student population. That led to the first new development to appear on the Rowan Boulevard parcel, the 884-bed Rowan Boulevard Apartments (2009-10).
But Glassboro never intended for this parcel to become a mere dormitory district. The second building to appear was the campus' two-story Barnes & Noble bookstore (2009), meant to be the anchor of a mixed-use retail-residential-office thoroughfare, Rowan Boulevard itself.
Along this street the borough wanted not only student beds but also market-rate apartments and office space. And there would need to be some parking for the non-student residents and visitors. That's where Nexus entered the picture.
"We became involved when the master developer couldn't figure out the parking," Abbruzzese said. And initially, parking was all Nexus intended to build on the site. The first garage Nexus built went up in 2013 and contained 1,200 parking spaces. From Rowan Boulevard, however, what passers-by see is a five-story office building with street-level retail that hides the structure from the street.
From garage-builder to master developer
Nexus would soon find itself building more than that garage. Pointing to a building across the street from the garage during our tour of the development, Abbruzzese said, "The town said, 'Okay, we need proposals for what's going to go here, and we want some luxury apartments and maybe some retail.
"I worked for the town at the time, and we had 10 developers submit proposals. Nobody proposed student housing except for Nexus."
What Nexus' chief operating officer realized, she said, was that the project had to include student beds to work financially. The building that got built contains 119 student apartments with a total of 412 beds, 57 luxury apartments on the top floors, and 47,000 square feet of street-level retail space. To the north of these two facing buildings lie a Courtyard by Marriott hotel and another student apartment building with 300 beds and 20,000 square feet of street-level retail.
The apartments have filled as quickly as they've gone on the market, Abbruzzese said. "The retail's been a little slower to come, but the student and luxury housing has been phenomenal."
Clinics, commerce, chow and a "Mob Wife's" new boutique
Some of the street-level space houses offices and services, including the new home for the Gloucester County Chamber of Commerce, an urgent care center run by Inspira Health Network and an outpatient orthopedic care facility run by Cooper University Hospital, which is also the teaching hospital for Rowan's new medical school in Camden. But retail tenants are slowly making their way to the boulevard: when I visited, a student-run cookie shop had just opened across from Tony Luke's and a new Mexican eatery was getting ready for its December opening.
The most recent retail tenant to open on Rowan Boulevard is the Alicia Di Michele Boutique, a women's fashion boutique owned and curated by the star of VH1's hit reality-TV show "Mob Wives."
"This is the perfect setting for my boutique—with active student life and a busy downtown vibe," Di Michele said in a news release. The store is her second location, joining her original store in the Promenade at Sagemore in Marlton.
A public-public-private partnership
What makes Rowan Boulevard unusual for projects of this type is that it represents a public-public-private partnership. Glassboro Borough, Rowan University and Nexus Properties all play a hand in shaping this new city-within-a-town. "We have an unbelievably awesome relationship," Abbruzzese said. "It's not without its challenges some days. Everybody wants what they want, but at the end of the day, we're all here for the same reason: to make this project work, to make it grow, to make a good experience for the townspeople and the students."
The most recent building to open on the site is Park Place North, a residential-retail building with 37 luxury apartments and 13,630 square feet of retail space facing the development's Town Square, a public park opened last year. (The park, which also contains Glassboro's 9/11 memorial, sits at the northeast corner of the borough's main intersection, Main and High streets. Its location and Rowan Boulevard's diagonal course mimic the design of the Benjamin Franklin Parkway, with one main difference: the street here is lined with the type of development the Parkway's creators hoped for but never quite got.)
After Rowan Boulevard, an Arts District
Work is now under way on the last large parcel of land on Rowan Boulevard. When finished next year, it will contain three more residential buildings with a total of 20 luxury apartments, 594 student beds and 17,900 square feet of retail space. Those will bring the grand total to 4,163 places for students to lay their heads, 114 luxury apartments and 106,796 square feet of retail space. On top of all this is 29,500 square feet of classroom and office space for Rowan and the university's fitness center, which the apartment residents can also use.
And after that, Nexus, Rowan and the borough have other plans. Next on the agenda is the creation of an "arts district" a few blocks south of Rowan Boulevard on High Street. This project will house six theaters plus studios and classrooms for Rowan's college of communications. Nexus also plans to build market-rate apartments on a parcel it owns that's separate from its joint projects.
All of this will surely wake up that sleepy South Jersey town. In fact, what's here has already done that. It has also given it something that's in short supply in South Jersey: a lively, walkable downtown that unites oldtimers and newcomers, town and gown.
---
A Stroll Along Rowan Boulevard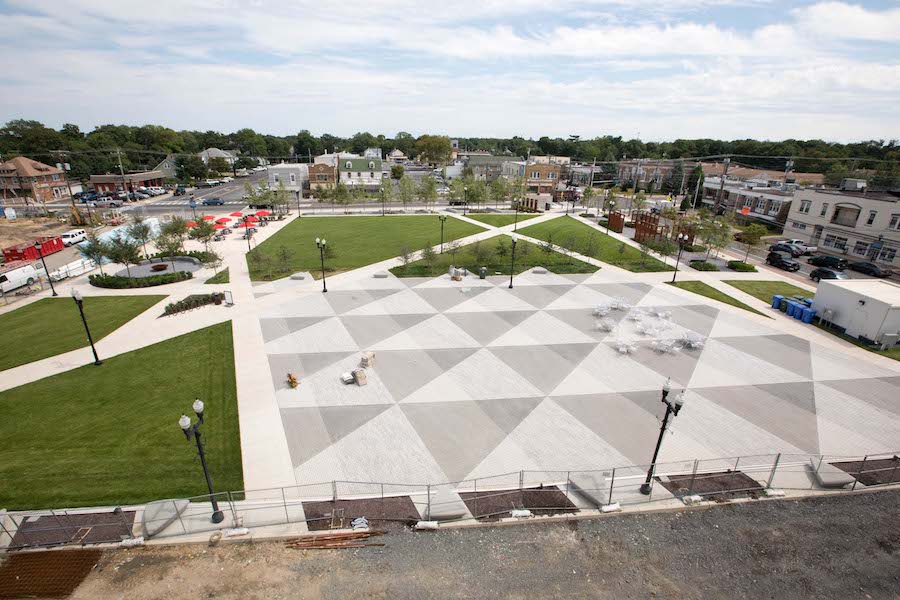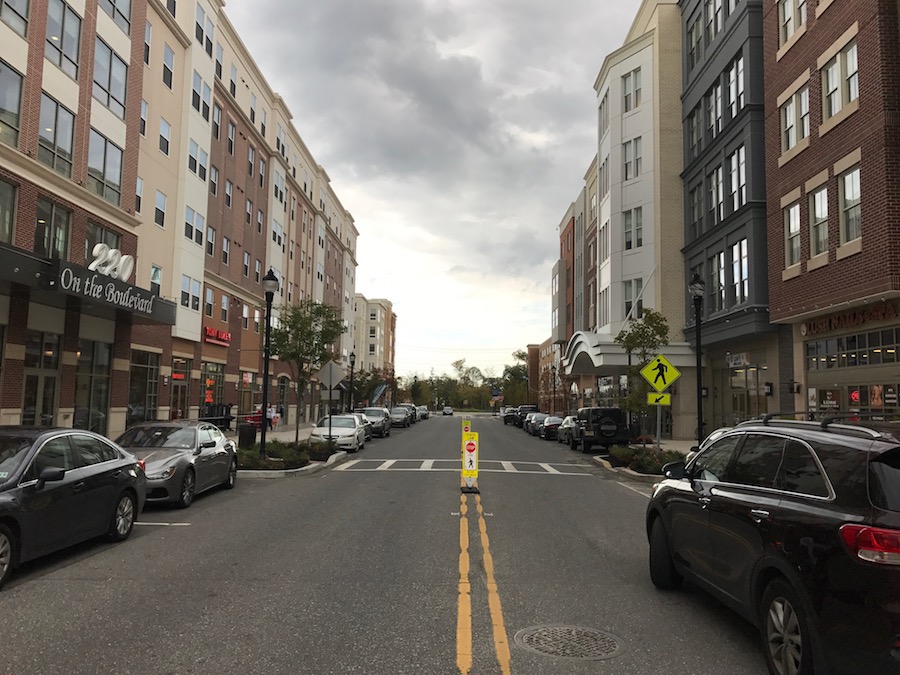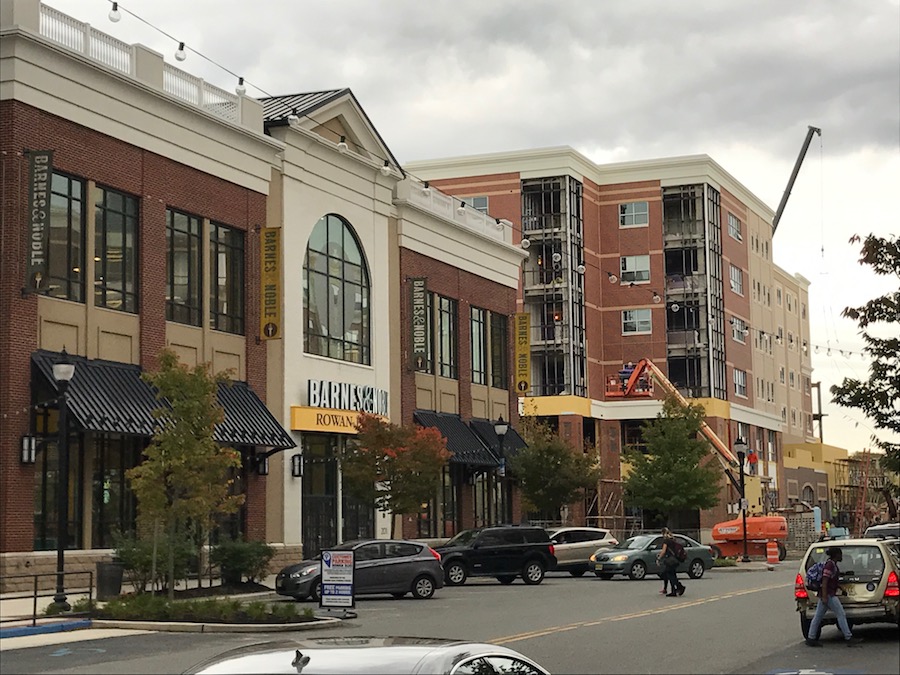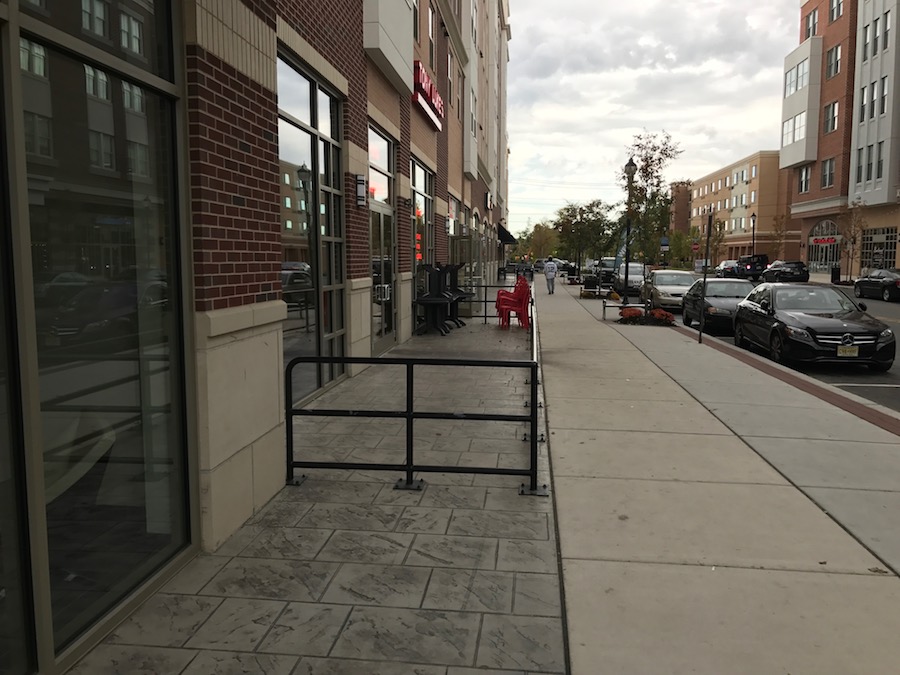 ---
Updated Nov. 22, 10:35 a.m., to correct the information about the urgent care center and the health care facility run by Cooper University Hospital.
---
---