New Apartment Conversion to Serve as Learning Lab for Would-Be Builders
PRDC Properties will show 20 Benjamin Franklin High students the ropes of construction and development work as part of its conversion of the Heid Building into 96 apartments.
---
Ninety-six new apartments with huge windows, great views and the kinds of amenities that appeal to millennials. A restaurant on the street floor. A rooftop terrace equipped with a dog park, a demonstration kitchen, co-working space and lounge space for relaxation.
Plus internships and apprenticeships for 20 budding builders and developers enrolled in Benjamin Franklin High School's Career and Technical Education Vocational Center.
PRDC Properties' latest project has something for just about everyone. In transforming the Heid Building at 13th and Wood streets into a mixed-use apartment and commercial building, it will not only restore another piece of the city's industrial past and provide housing for new residents but also put city public school students on the first rung of the ladder that leads to good jobs.
All because PRDC CEO David Perlman took City Councilman-at-Large Allan Domb (D) up on a challenge.
Domb, Mayor Jim Kenney, City Councilman Mark Squilla (D-1st District) and City Representative Sheila Hess all attended PRDC's Sept. 20 ceremony announcing the Heid project.
PRDC President Jon Thomas explained at the ceremony that he believes PRDC's mixed-use properties should not only be transformative; they should also serve as "anchors" of their surrounding communities. "It's our belief that the result of public and private sector partnership is not only powerful but has the ability to be not only life-altering but also life-changing," he said.
And this is where the Ben Franklin High partnership comes in.
In response to Councilman Domb's challenge, PRDC will pair 20 students with construction workers and company staff as they work on transforming the Heid building. The students will gain hands-on experience in construction and other aspects of the development process over the course of their involvement with the project.
The building, which once housed the largest manufacturer of hats and caps in the city, has sat vacant for the past 11 years. Work on the conversion will begin in January, and the first tenants should move in one year later.
Domb said that his challenge to Perlman is only the first of many he will issue to developers in the city. "We have all these great schools where kids want to learn about the construction business," he said. "What better way to give back than to have 20 or 30 kids get involved in the job? My goal is, we're going to challenge every developer, every business, to get kids involved."
In his remarks at the ceremony, Domb praised Perlman for not only agreeing to take him up on the challenge but on following through on the commitment.
"I think the big message that should go out from this to other developers and all businesses in the city is that we need to engage the students in public schools in the way that David is doing it."
Domb also expressed confidence that the partnership would enable the students to make their way into the construction trades unions. That will require the unions to be willing to hire the students after they graduate. Will they be? "I think the unions will be on board" with hiring the students, he said. "They already have programs in place. It's really a question of getting our young people exposed and giving them a leg up. It's like teaching them how to fish."
---
The Heid Building: What's to Come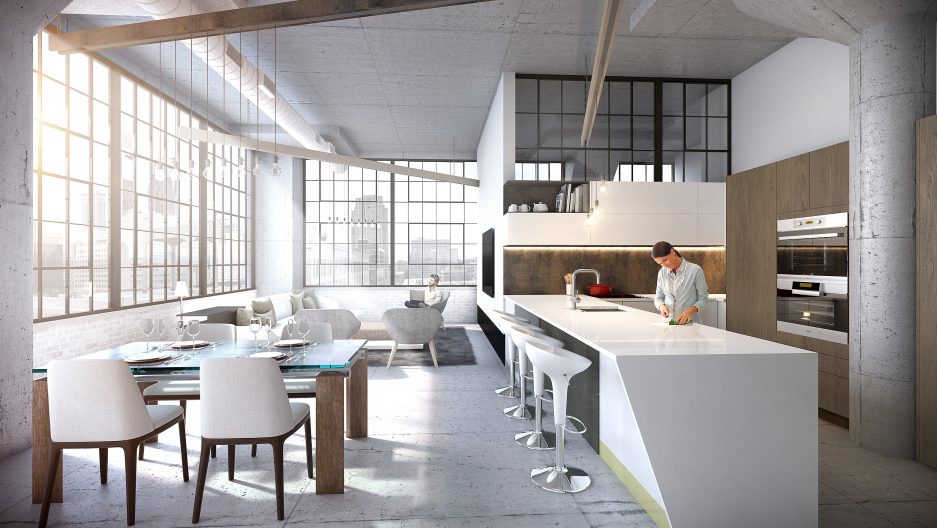 ---
Follow Sandy Smith on Twitter.
---
---