The Beacon to Bring 100 Apartments, Roof Deck and an Under Armour to Walnut Street
Pearl Properties has big plans for the corner of 16th and Walnut.
---
Work is well underway on a major mixed-use project at the corner of 16th and Walnut. As you might recall, Pearl Properties is bringing a 10,000-square-foot Under Armour location to the bustling corner, and we now know what will top the store best known for exuberantly decorated uniforms and athletic gear.
Over the weekend, crews shut down the 1500 block of Walnut Street to install a tall tower crane on the slender site at 1527 Walnut Street, which formerly housed a Lululemon store.
The design from DAS Architects shows a 12-story apartment building–which Pearl has dubbed "The Beacon"– built over top of the Brown Brothers Harriman Co. building at 1529-33 Walnut Street.
James Pearlstein, of Pearl Properties, called the new building "our most ambitious project to date," and said the it should be completed in 2017.
"The Beacon is designed to highlight Philadelphia's "old and new," combining the modern finishes of a newly constructed high-rise while preserving and incorporating the timeless architecture of the six story corner masonry building," added Pearlstein.
Pearlstein said the building will consist of 100 apartments, and include a packed list of residential amenities. Here's the rundown:
24/7 doorperson/concierge
State of the art fitness center
Fully furnished 2,000-square-foot outdoor roof deck/patio with a view of Rittenhouse Square
Movie/Screening Room
Club Room with catering kitchen, communal table, fireplace, large screen televisions, billiards and shuffleboard
The Beacon joins a growing list of projects for Pearl, who recently wrapped up the conversion of the former Bonwit Teller/Daffy's building at 17th and Chestnut into 100 luxury apartment units over Nordstrom Rack. Currently, they're in the process of converting the Latham Hotel at 17th and Walnut into an apartment building featuring 144 units, and work is ongoing over at 19th and Chestnut–the former Boyd Theatre–into a massive apartment building anchored by a city-sized Target.
Oh, and there's that little Cambria Hotel project at the parking garage near Broad and Locust.
---
The Beacon: Feb. 2016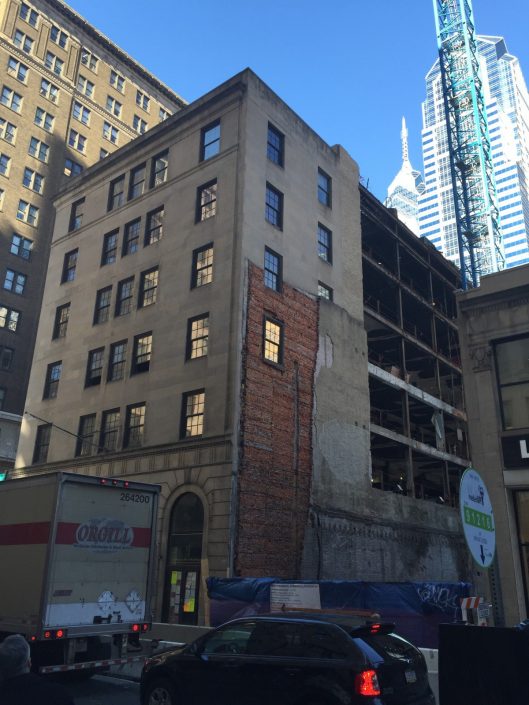 ---
---