Navy Yard-Like Makeover Envisioned for Former Steel Mill Site in Claymont
Concept plan designs of the proposed Delaware development below.
---
Once a noisy, 425-acre industrial site in Claymont, Delaware (it's less than an hour from Philly), the former Evraz Steel Mill property said goodbye to its last tenant right before the start of 2014. "It marked the end of nearly 100 years of steel manufacturing in Claymont," wrote Delaware Online's Xerces Wilson back in April. Now, the property has the potential for a new lease on life, one akin to Philadelphia's relatively successful Navy Yard if things go accordingly.
The group with the plan? St. Louis-based Commercial Development Co., who bought the tract earlier this year. CDC has made a name for itself thanks to their work transforming "large, shuttered heavy manufacturing sites" into new usable spaces, reports Wilson.
Their vision for this particular site, dubbed the First State Crossing Master Plan, involves an office seat (First State Corporate Center); a section for research, warehouse and office spaces (First State Employment Center); a transit hub accommodating bus, rail, bike, auto, and pedestrian transit (First State Transit Center); and finally, a reconfigured, multi-modal logistics center serving "port, rail, and truck logistics," as well as a possible dry dock and river emergency response and safety port. (First State Logistics Center). The latter would also help preserve the Naamans Creek outfall "in its natural state."
Local non-profit Claymont Renaissance Development Corporation seems especially excited by the prospective project, with Executive Director Brett Saddler sending us the following quote: "First State Crossing could be the largest redevelopment project in Delaware since Riverfront Wilmington. It certainly will be a game changer in the story of Claymont's revitalization initiative."
You can see each piece of the plan outlined in the video above, or just check out the concept plan designs for each (courtesy of the CRDC) in our gallery below.
Make no mistake though, this idea is still in the earliest of stages. Although the site is currently in its demolition phase, no regulatory proposals have been presented. According to Wilson, the developer is "seeking a preliminary blessing from the U.S. Army Corps of Engineers and state regulators" before making their next move. Following this will be a study slated to determine "what regulatory blessings are required" and the "economic feasibility of either a bulk or container port." Not only that, but CDC Executive Vice President Steve Collins said portions of the proposed project might need an exemption from Delaware's Coastal Zone Act, which "bans heavy industry and bulk loading terminals along the Delaware River."
---
Concept Plans: First State Crossing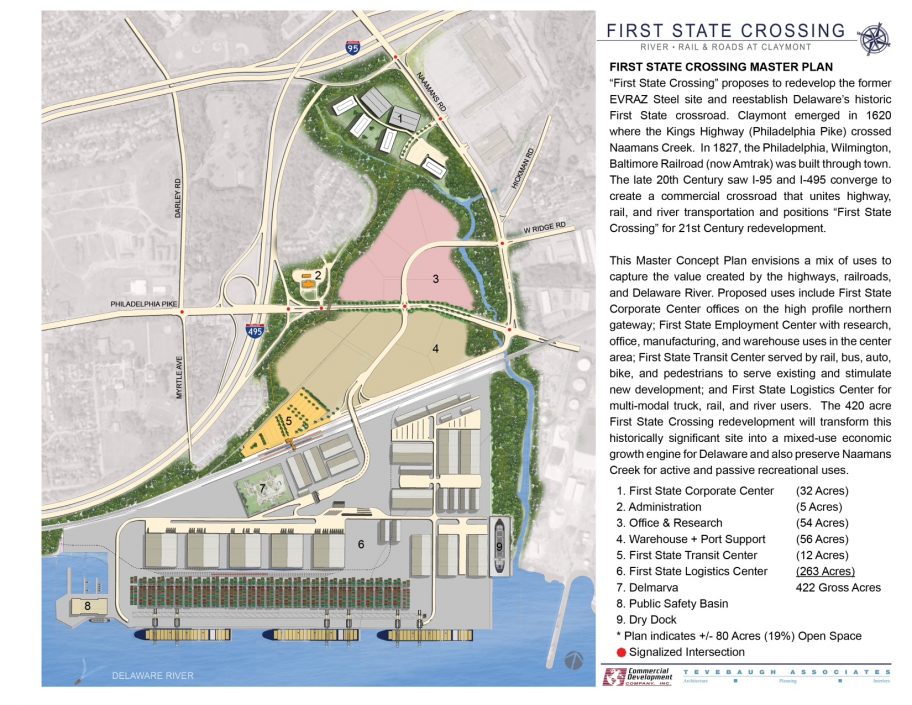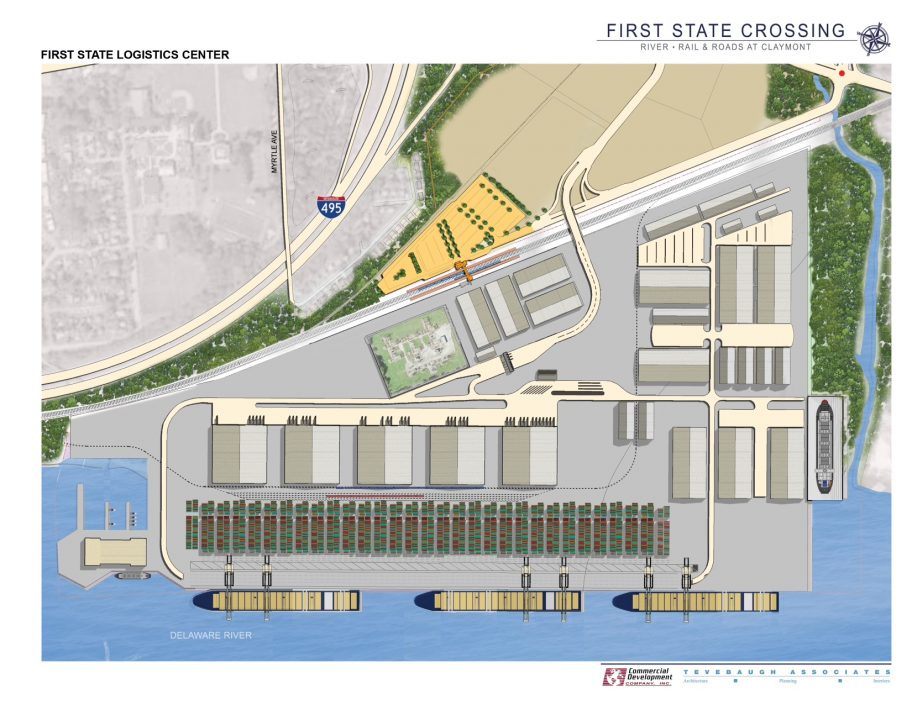 ---
All concept plan designs by Tevebaugh Associates.
Courtesy of the Claymont Renaissance Development Corporation.
H/T: Redevelopment of former Evraz steel mill site discussed [Delaware Online]
---