East Market: Timelines, Retail Space, Chestnut Walk and (Possibly) a Hotel
Here are the up-to-date details straight from Daniel Killinger of National Real Estate Development.
---
As the East Market project just keeps charging along, we wanted to take a minute to examine how things stand with the game changing development at 11th and Market. We caught up with Daniel Killinger, managing director of National Real Estate Development, the development team behind East Market, who told us a few interesting tidbits of information about its timeline, the retail and office space, Chestnut Walk and even the possibility of adding a hotel component to the mix.
Phasing Timelines:
As you know, the demolition of the former Girard Square site is now complete. "That was big for us," said Killinger about the removal of the last piece on Market Street over the weekend. "Now we can get started with our foundation." As such, National Development hired Tutor Perini to handle the construction of phase one of the project.
The project has a total of 322 rental units and Killinger said that "everything is on time and on schedule" at this point. He expects the first 100 units to deliver sometime in the second quarter of 2016. More units will continue to roll out as the summer moves forward. "Timing coincides with the delivery of MOM's Organic Market." National Development plans to deliver the space at 34 South 11th Street to the organic grocer in December 2015 in time for fit out by as early as the first week of April 2016. Killinger expects the residential to open a couple of weeks later.
When asked about future phases of the project, Killinger remarked that National Development looks at East Market as "one continuous project until we're completed." The first part of that is everything on the ground floor from Market Street to Ludlow Street, then Clover Street to Chestnut Street.
They're currently master planning the Chesnut Street side of the project and would "love" to start pre-work at some point in 2016. Basically, where the project is now on Market Street in 2015–hole in the ground, ready to go vertical–is where National Development wants to be on the Chestnut Street side in 2017, with it ultimately being delivered in 2018. "That will depend on our success here on phase one," said Killinger.
Retail/Office Space:
The International Council of Shopping Centers (ICSC RECon) is holding their annual convention May 17-20 and Killinger said the team will be out in Las Vegas marketing the retail space. While no new tenants have signed on since MOM's Organic Market in January, the response for the retail and office space has been "great" and they are talking to larger tenants who want to open their stores in time for the 2016 shopping season. "We're negotiating with a number of tenants to finalize the terms." Tenants want to be in the space in the first few weeks of October 2016, so National would "need to deliver to them in April or May [of 2016]" to allow for enough time to fit out the store.
As for the 160,000-square-feet of office space above MOM's, Killinger said that the response has been "incredible" and that there "seems to be a real need for newly delivered Class A space that isn't trophy, but differentiated from your product west of Market." Term sheets are being negotiated for the office spaces as well.
The Chestnut Walk Experience:
Here's where we get to the nuts and bolts of the experience of East Market. Girard Square was a giant building featuring only four sides of retail on a four-acre parcel in the heart of Market East. "I wouldn't call it vibrant, placemaking retail," said Killinger. The creation of Chestnut Walk, a meandering mid-block promenade stretching from Market Street and eventually through to Chestnut Street, will open up the interior of the site to the public. Seldom used Ludlow Street and Clover Street will be opened up to one-way vehicular traffic as cobblestone streets and life will be brought back to the center of what was a super block. To further accomplish this, the entrances to the office space and residential component will both be on Ludlow Street.
What were only four sides of retail will be broken up into six smaller sides with 24 faces of retail, said Killinger. The space will largely consist of a mix of restaurants with lively outdoor dining that feature "food driven concepts from local chefs" and also larger operators who are looking to expand into Philadelphia. As Killinger described it, the experience will be "true to the Philadelphia food culture, and sort of add something new."
So, does that large operator with outposts in New York and Chicago mean that Eataly is in the equation? In a word: No. "We have not been talking to Eataly," said Killinger. "We see this more as restaurants and outdoor dining, instead of a large Eataly."
It will expand the cool vibes from Midtown Village in the south and also be a destination for convention visitors to "immediately become a local" from points north. Additionally, the head house for public transit access is on Market Street, mid-block between 11th and 12th. Killinger said they studied adding underground access to public transit "for a long time," but felt it was more important to get people on the street and keep the area active. It will also be located at the mouth of Chestnut Walk, so you'll get off the train and be in the middle of the action.
Hotel:
Here's one that may or may not come as a surprise, East Market may include a hotel in the future. "We're studying it," said Killinger. Hotel projects are popping up all around the city, and the recent resurgence at the Convention Center has been a huge driver of the hospitality industry. Killinger that there are two possible destinations for a hotel at East Market: 12th and Market above the retail or in the Stephen Girard Building at 21 South 12th Street. "We're talking to groups for both of them."
---
East Market (w/ 34 S. 11th St.)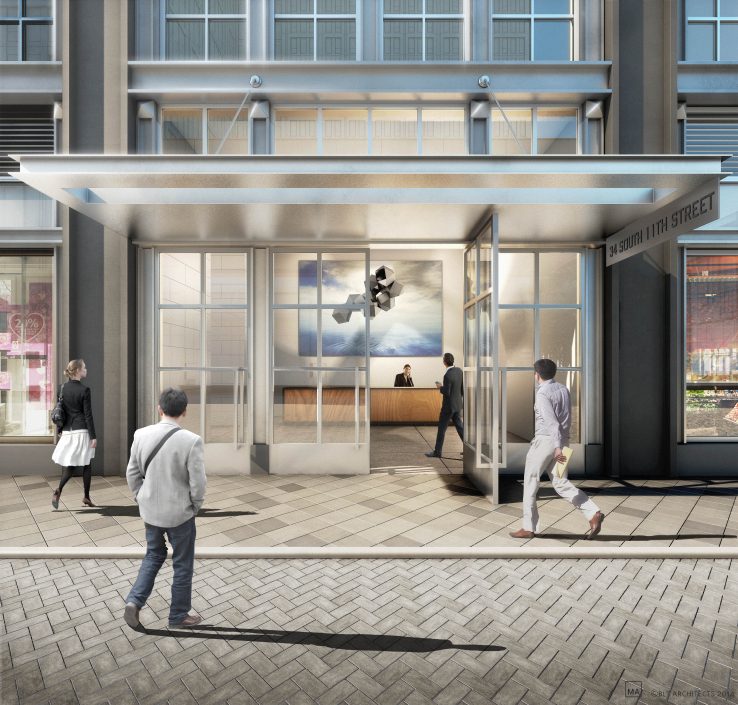 ---
•Previous East Market Coverage [Property]
---