Second Life: East Market Looks to Bring Hip Office Hub to Midtown Village
The former Family Court building will be transformed into hip, millennial-driven office space.
---
While much of the talk around the East Market mega-project as been about the digital signage, the renderings and the demolition, there is actually one component that has flown a little under the radar–the redevelopment of the former Family Court building at 34 South 11th Street.
The building will get a fancy new facade treatment from Morris Adjmi, but let's check out what's going to be under the hood, so to speak. The city's first MOM's Organic Market will be topped by 160,000 square-feet of creative office space aimed at developing Midtown Village/Market East into a vibrant live, work and play neighborhood–possibly even into the city's tech hub. "It's the type of space you normally can't find two blocks from City Hall," said Peter Soens, partner at SSH Real Estate. The firm is in charge of leasing at the building and part owner of the East Market project along with by National Real Estate Advisors, JOSS Realty Partners LLC and Young Capital LLC.
Usually, the cool-kid warehouse office space scene is reserved for the smaller boutique setups or the outskirts of the Center City in converted industrial buildings. The "great bones" of the Family Court building–including high ceilings and mushroom columns–create what Soens called "the best of both worlds" of Class A office space in the heart of a rapidly changing Market East/Midtown Village area. Aside from the building's "new skin" from Adjmi, each floor will enjoy 15-foot ceilings and floor-to-ceiling windows. The renovation also includes new HVAC, mechanicals and elevators. BLT architects is also on board with the project.
Soens mentioned that they're focusing on three key segments to fill out the floors. Tech-minded firms who have outgrown their start up digs and are looking for upwards of 20,000 square-feet of space. Co-working is all the rage and the open floor plans make sense for companies who specialize in that field. So, think Pipeline and Uber's offices. Soens noted they have "several of those [co-working companies]that are looking" at leasing space. Finally, and perhaps most telling of Philadelphia's millennial-driven shift to be current and cool, Soens said that firms from Market Street West are looking to ditch their stodgy towers for the "look" and "feel" of Midtown Village.
In all, the East Market project will cost $500 million to develop. Phase one will cost $230 million and bring a mix of 322-residential units above 160,000 square-feet of retail. A commercial promenade spanning Market Street to a re-opened Ludlow Street called Chestnut Walk will break up the super block that was Girard Square.
---
East Market (w/ 34 S. 11th St.)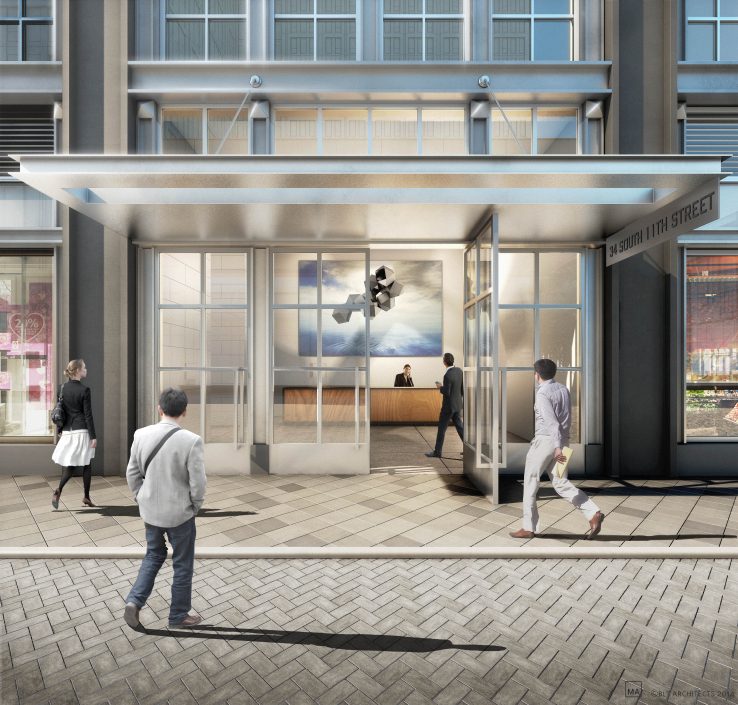 ---
---