News
This Coronavirus Wedding Is Filled With Great Ideas to Steal
The couple did a digital countdown, polls, videos and Q&As, and live-streamed their ceremony.
---
Alicia Wilson and Donte Murphy had their April 25th date in mind long before coronavirus was even a consideration. The couple, who met at TLA in 2016 and began dating the following year, had decided on the day in 2018 — though Alicia, a quality data strategist, never knew when Donte, a business owner, would propose. He did so this past January, at the same location (followed by a celebration at Nora's Kitchen), and the couple quickly went into planning mode to meet their Big Day dreams. Their original location: Liberty Church, with 150 friends and family members. The Baltimore couple sent out their digital invites, set up a website and RSVP portal for the guest list only; everything was buttoned up by the end of February. They had to pivot when they learned their initial venue would remain closed at least through the end of April; luckily, Christ Community Church of Philadelphia could accommodate them, with a truncated group of 15. But they took it in stride. They chose to "amplify the beauty" of their pandemic wedding, have fun and make great memories. They did just that by creating a digital bonanza for their guests (both in-person and digital) with everything from a countdown to (yep) live-streaming of the Big Day. Here, their story, with photos by Adam Hribar.
This Coronavirus Wedding Diaries story is part of Philadelphia Wedding's on-going Real Talk series, where real Philly couples share their unique approaches to wedding planning and marriage. If you have a unique story or experience worth sharing, we'd love to hear about it.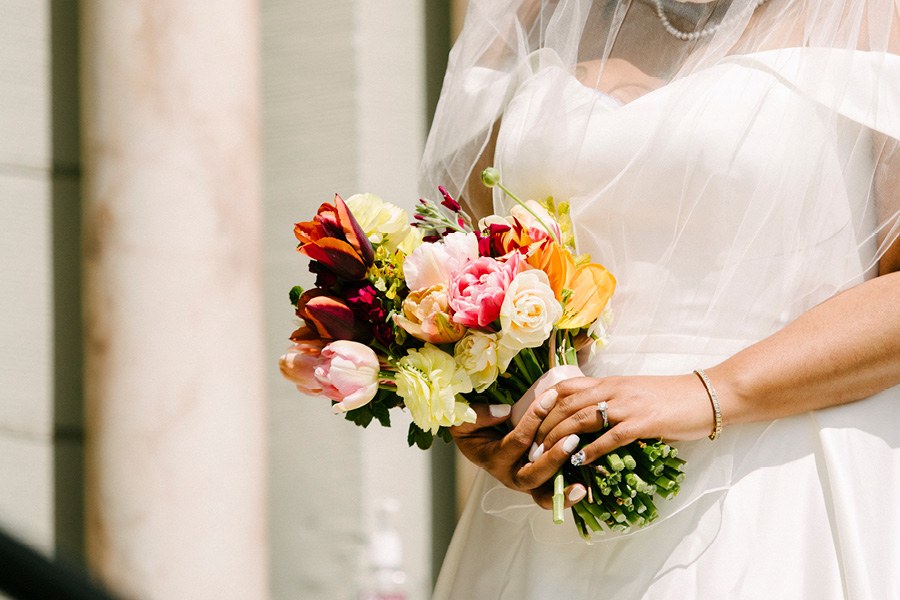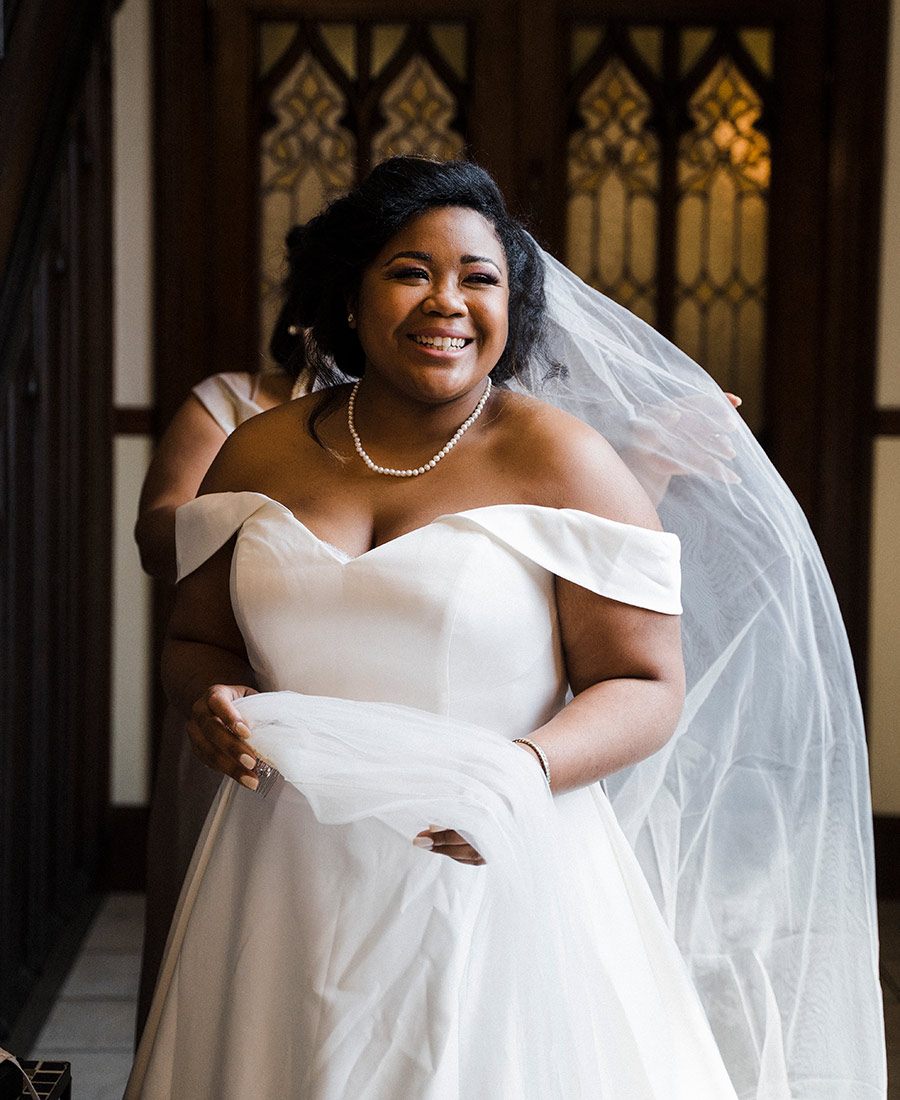 We would describe our wedding as resilient, persistent and beautiful. We were considering changing our large wedding in March, when things started to get bad with COVID-19. But we officially decided April 1st. We contacted all of the paid vendors to see about getting refunds, and emailed our entire list of guests to let them know what we were deciding.
To keep guests engaged, we created a private Facebook group for everyone who was invited to the wedding, as well as an Instagram page to share our relationship journey. We even ran a countdown campaign to share stories, surprises, running polls, live videos and fun Q&As. [Ed. Note: The couple also created a website, designed by Conglomerate Marketing Agency in Mount Laurel, to share their journey, gift registries and wedding blog.] Our guests who couldn't be there were able to submit short clips of congratulations for our final wedding video by friend JP Pelc of Pelc Productions.
We got married in the doors of our church so a few of our family members could drive up and watch from their cars. We had a drop-and-go table for those in the area with gifts. Donte's sister, Sheneya Faverey, handled the Facebook Live at the wedding, and some 300-plus people viewed. Everyone told us how great the stream was and how it felt like they were in the front row of the wedding.
The most sentimental moment was when Donte's mom read our memory verse (Alicia): It was so touching. It's a constant reminder of our daily commitment to each other. "Always be humble and gentle. Be patient with each other, making allowances for each other's faults because of our love. Make every effort to keep yourselves united in the Spirit, binding yourselves together with peace," from Ephesians, 4:2-3. Terry Davis, our pastor and friend, presided.
The best part for me was watching when Alicia came around the church (Donte): It was my first view of her. I also really loved how we all looked with the gold accents and mask colors.
I love the bubbles we had at our wedding (Alicia): The moment our pastor said, "You may kiss the bride," bubbles went everywhere. They were a cute, simple and fun part of our wedding day. It was the only other decor, aside from the church building.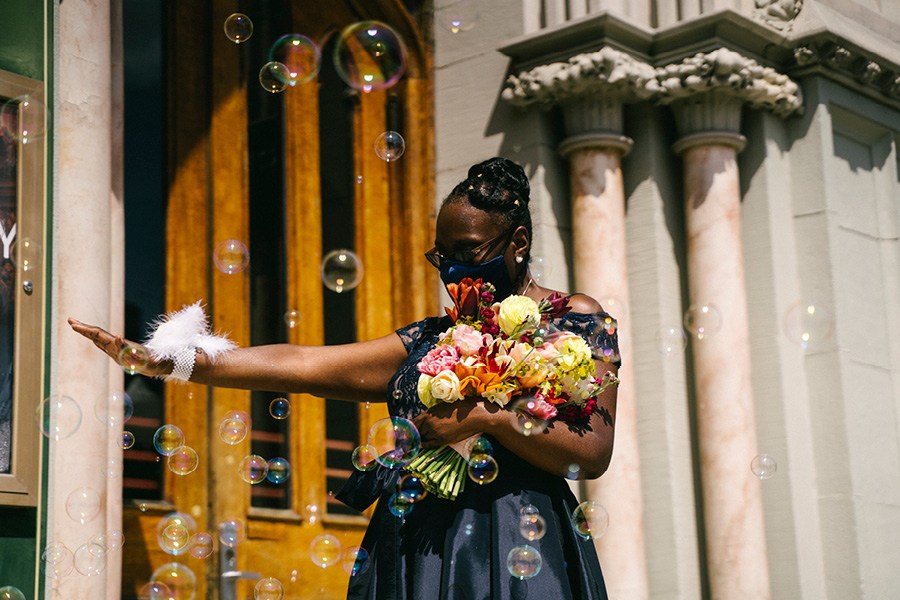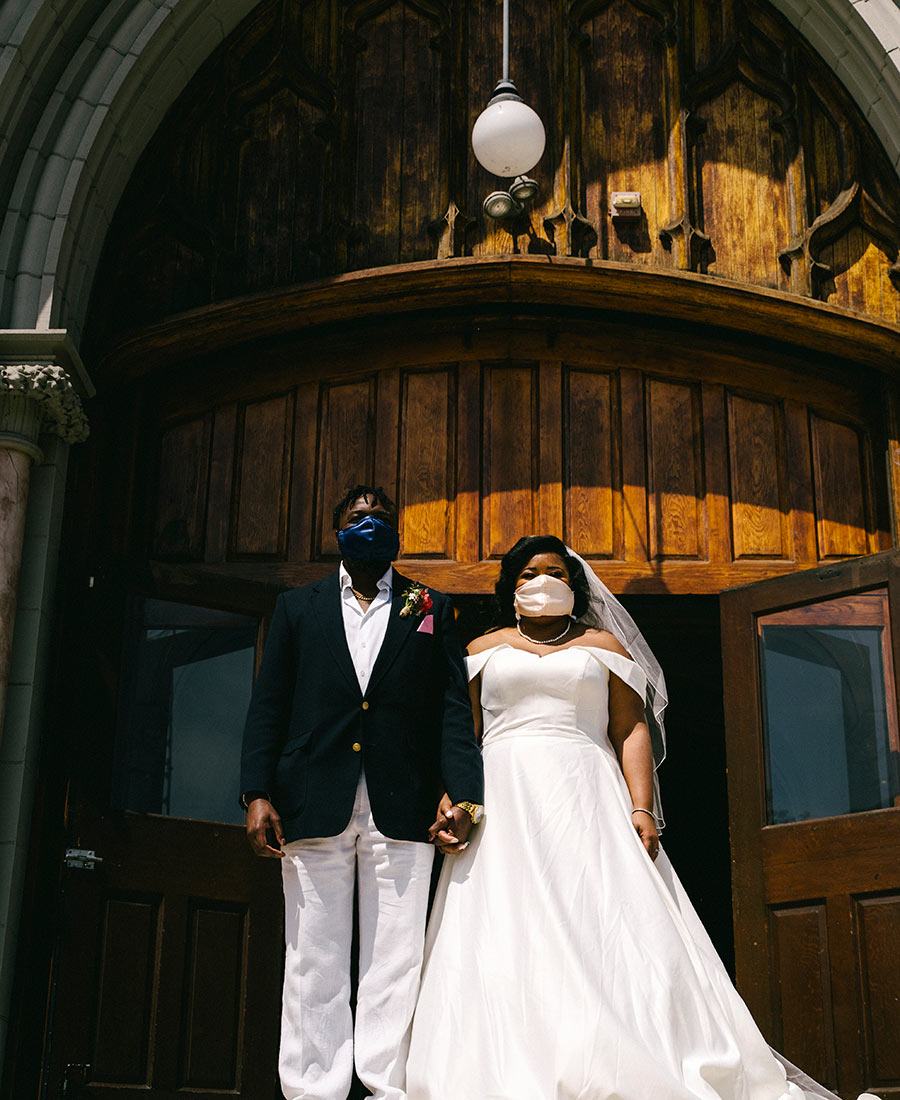 Our friends and family got involved in so many ways. Our good friend, Meggie Schaeffer, created the corsages for the mothers, boutonnieres for the fathers and Donte, and the bridal bouquet. She grabbed the flowers from a wholesaler and used a mixed, in-season [collection] for everything. She is amazing at putting together flower arrangements, so we had to have her. Our singer was friend and gospel recording artist Ernest Daniels Jr. [Ed. note: Meggie's sister, Laura Schaeffer, brought the bubble machine.]
Most bakeries were closed, so we had to cancel our original plan to order from a local bakery. Instead, Alicia asked her friends at CityLife Church to bake a cake for us. Leah Leach, the pastor's wife, was so thrilled and couldn't wait to begin planning. We wanted something simple but tasty that represented both of our taste buds. Donte loves Reese's everything, and Alicia loves red velvet cake. That is exactly what we got. Leah made us a two-tier buttercream cake with our favorite flowers.
We held a Facebook Live dinner reception, where we talked with our guests. Alicia's parents cooked a seafood feast for us. We had dungeness crab legs, crab-cake balls, mussels, oysters, corn, potatoes, Alaskan king crab legs, jumbo shrimp, and homemade white and red sangria.
Depending on how things go, we might still have another celebration at a later date. We haven't decided yet. For our honeymoon, we will go to Bora Bora — whenever we can.
For other couples, our advice is to tune all the noise out of your mind and figure out what is the best choice for you. What's good for one couple isn't necessarily the same for another. For us it was all about focusing on starting our lives together and the commitment we're making before God. Stay focused on the goal and don't get so hung up on time, colors and the perfect place. Remember the why and what, and don't focus on [the little things]. Remain persistent and focus your energy and time on the things that matter the most.
This interview has been edited for clarity and length.
Get more great content from Philadelphia Wedding:
FACEBOOK | INSTAGRAM | NEWSLETTER | PINTEREST
Getting married? Start and end your wedding planning journey with Philadelphia Weddings' guide to the best wedding vendors in the city.
---
---