These Brides Wore Pink and Used Handmade Touches to Bring Personality to Their Cira Centre Wedding
The couple crafted jam for favors, and making the gorgeous cedar arch was a family affair.
---
Personality was everything at this Cira Centre wedding. It was lovingly appointed with handmade touches, from the flower girls's headpieces to the bride's tux to jars of jam. Here, we share the details with you, all captured by Swiger Photography.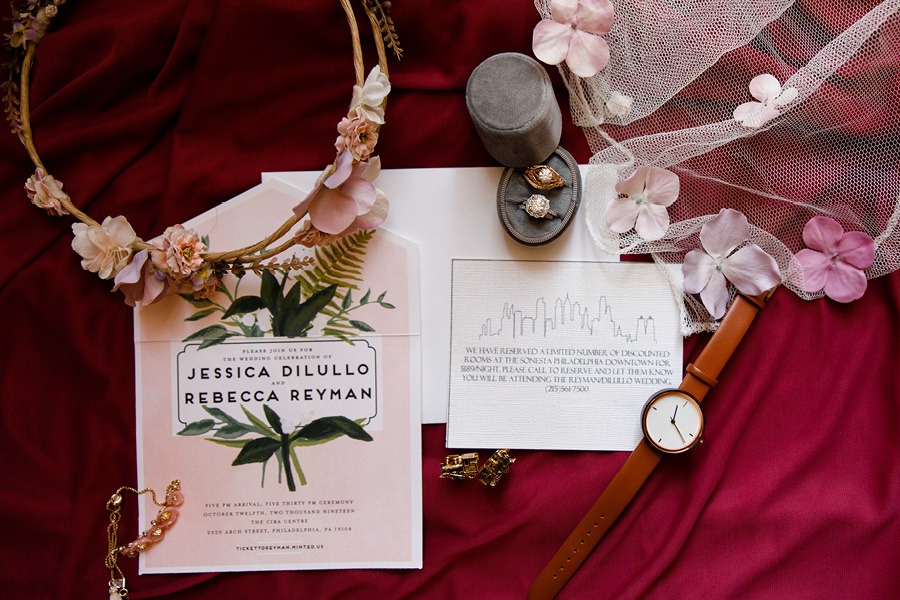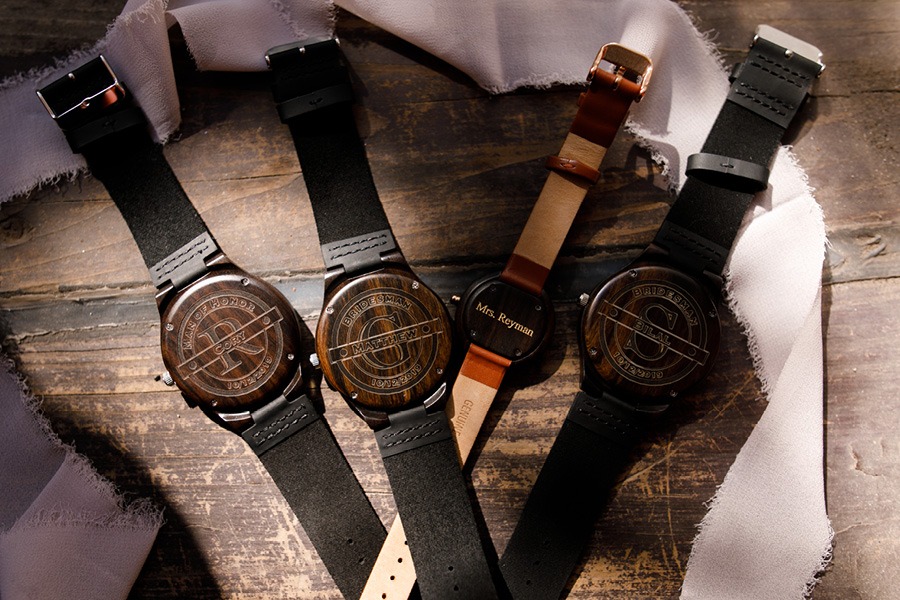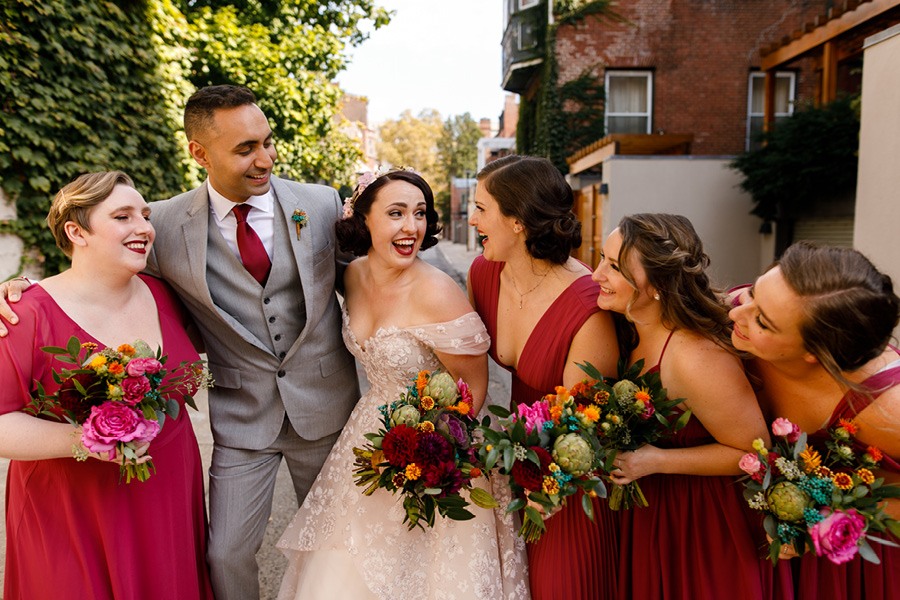 For Rebecca Reyman, a senior manager of system safety, writing the perfect introductory line to Jessica DiLullo, a nanny, on dating app Her was a labor of love. Rebecca texted her friends, told them Jessica was "the babeliest babe," and proceeded to test hellos on her audience. The winner? "I was checking out your Instagram, and I showed a picture of your dog to my dog. He hasn't shut up since — I think he's in love. We're going to have to introduce them."
It was an irresistible opener for Jessica, and the two proceeded to meet for dinner at Southgate. Jessica's plan: to arrive outside the restaurant "posed beautifully to melt Rebecca's heart on sight." But Rebecca showed up 10 minutes early. What came next were chicken wings, a long chat about their lives — and nine happy months together before Rebecca popped the question. The couple, who was living in Brooklyn at the time (they now reside in Hamilton), had talked deeply about their future. Rebecca was the one to make the first move: She used long-stemmed roses and petals to lead Jessica to the rooftop for dinner (coq au vin, which Jessica had made on their second date) and the proposal. Afterward, Jessica went back to the apartment and returned to the rooftop with the engagement ring she'd been saving for her beloved.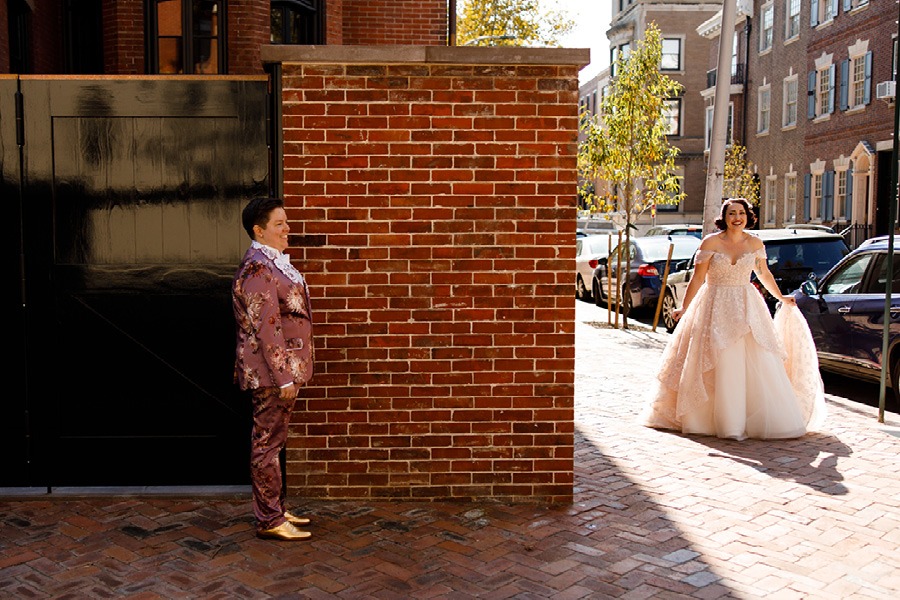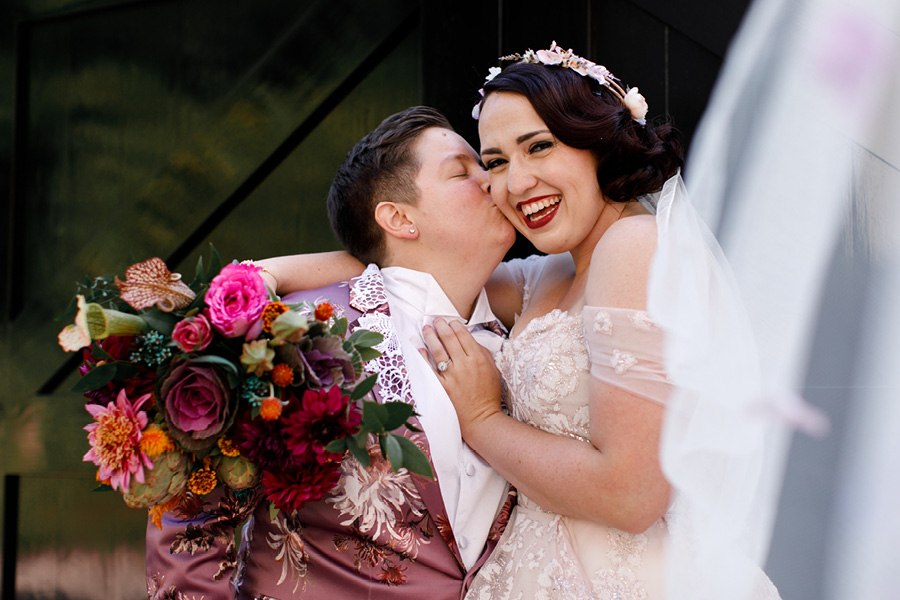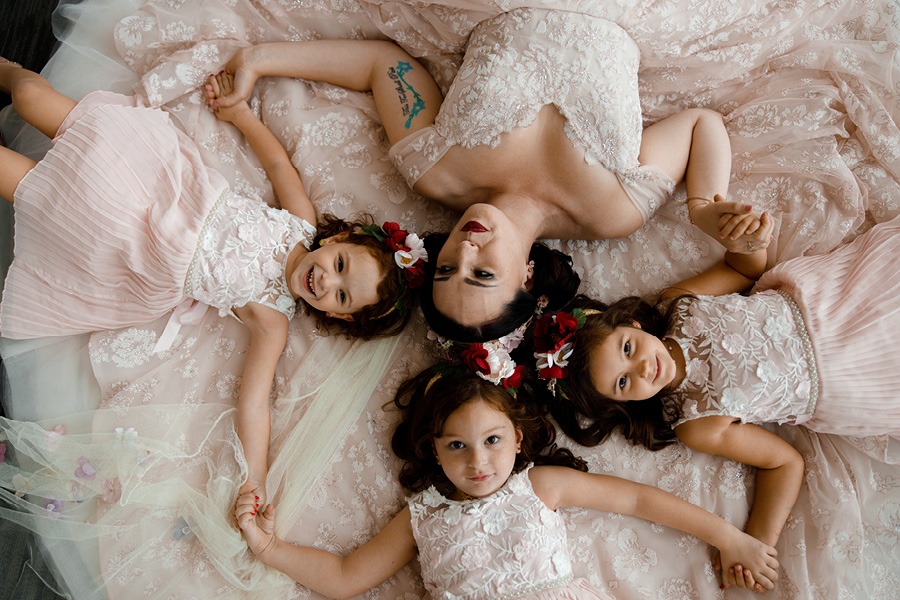 Their modern-vintage floral wedding at the Cira Centre took place 15 months later and was filled with artisan touches that spoke to the couple's love for one another, their family and their guests. Rebecca's father made a cedar arch for the ceremony, and Jessica made its floral arrangement. Jessica, who has known all of the children in their wedding since birth, handmade silk floral crowns for the girls. She even hid dinosaur figurines in one of them — and the reaction (from the "dinosaur-obsessed" kiddo) was priceless, she says. Rebecca worked with seamstress Sewing With Denise to customize her Asos tux and create her vest.
One of Rebecca's bridesmaid's read a poem during the ceremony: She held Rebecca's and Jessica's hands in what they call a "really personal, beautiful moment." The couple also wrote their own vows — a decision they made a week before the wedding, but it was worth it.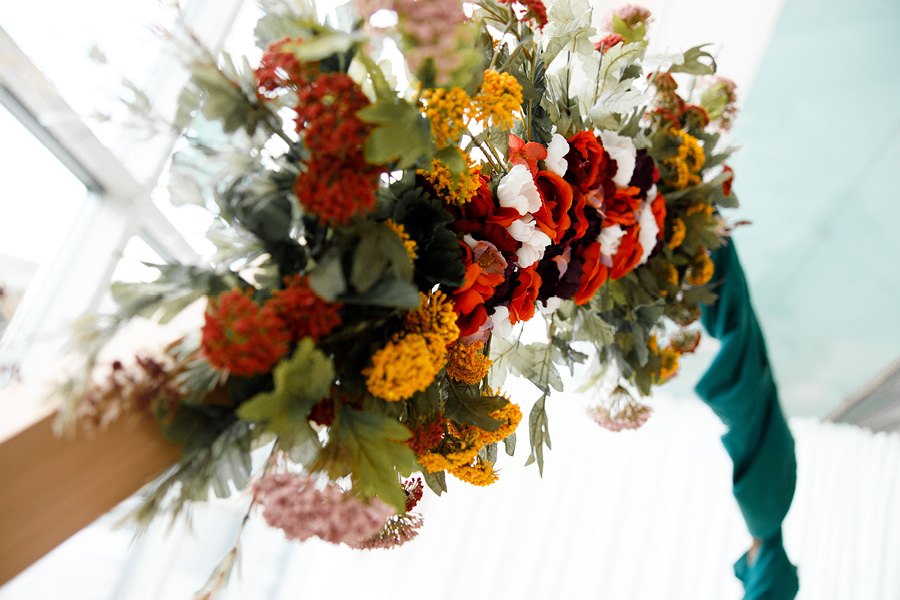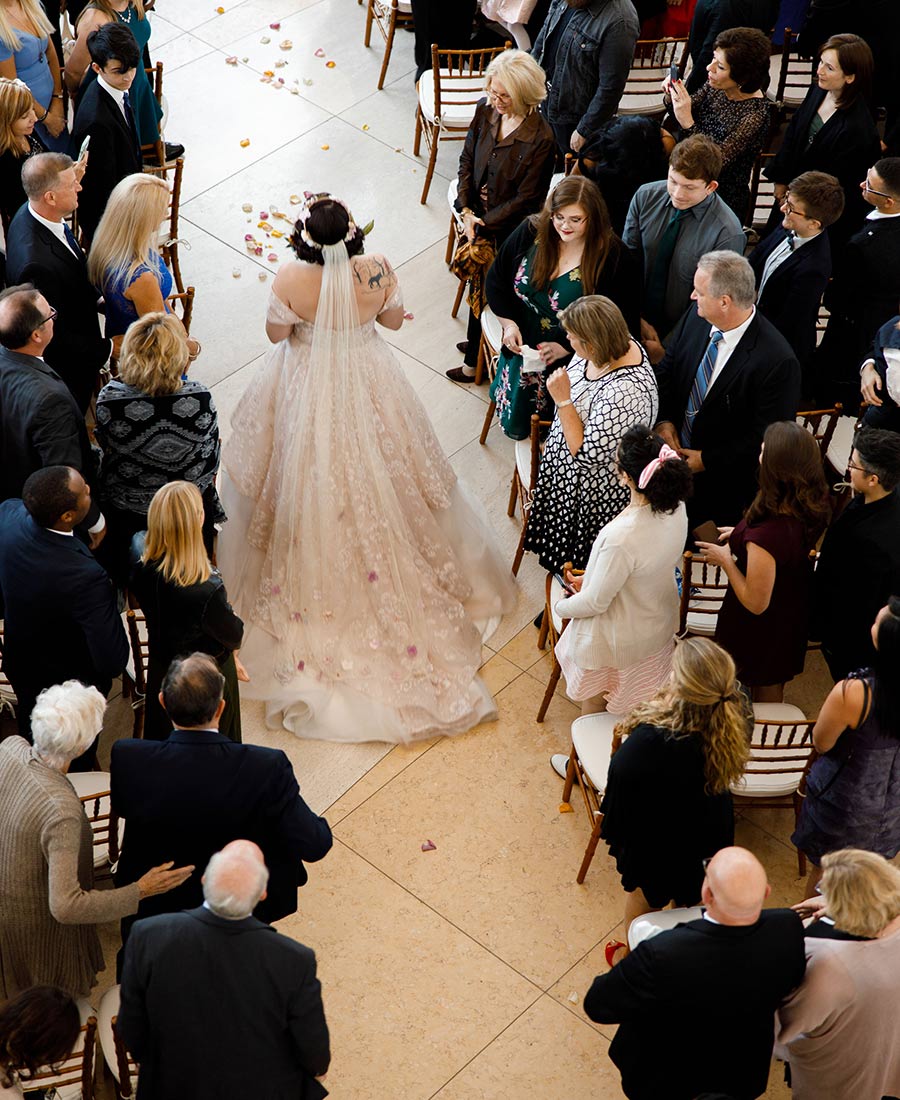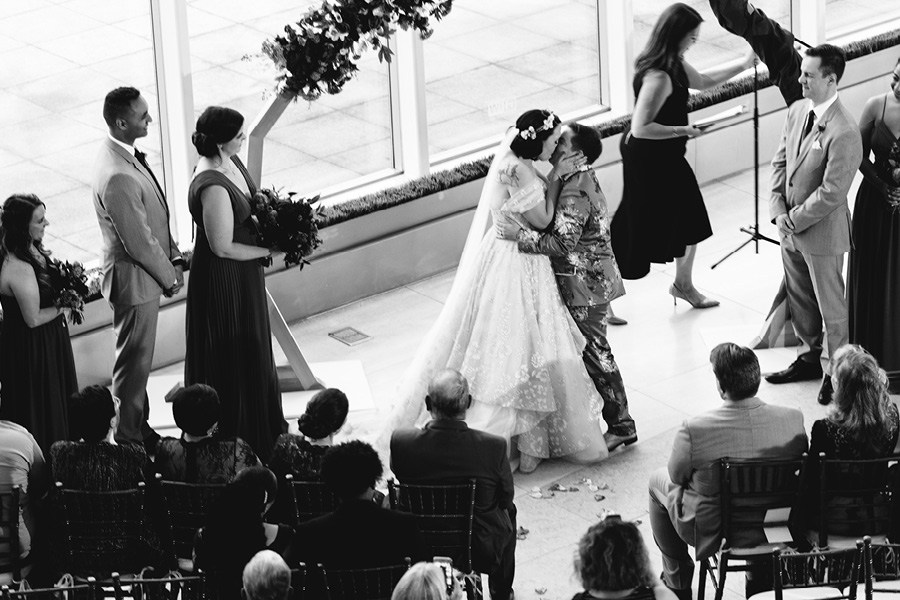 It all made for a meaningful and unforgettable celebration, accented all the more with flowers by Vault + Vine: The couple asked for unusual blooms, and got it with dahlias, carnivorous pitcher plants and artichokes in an homage to their love of cooking. There were cocktails (winter martinis and spiked spiced cider) and three main course options (red-wine braised short rib, Skuna Bay salmon and veggie lasagna).
The cake had two different flavors to correlate with the couple's tastes (lemon cake with layers of passionfruit curd and passionfruit mousse for Rebecca, and apple cake with layers of chai mousse for Jess, all with honey vanilla buttercream frosting).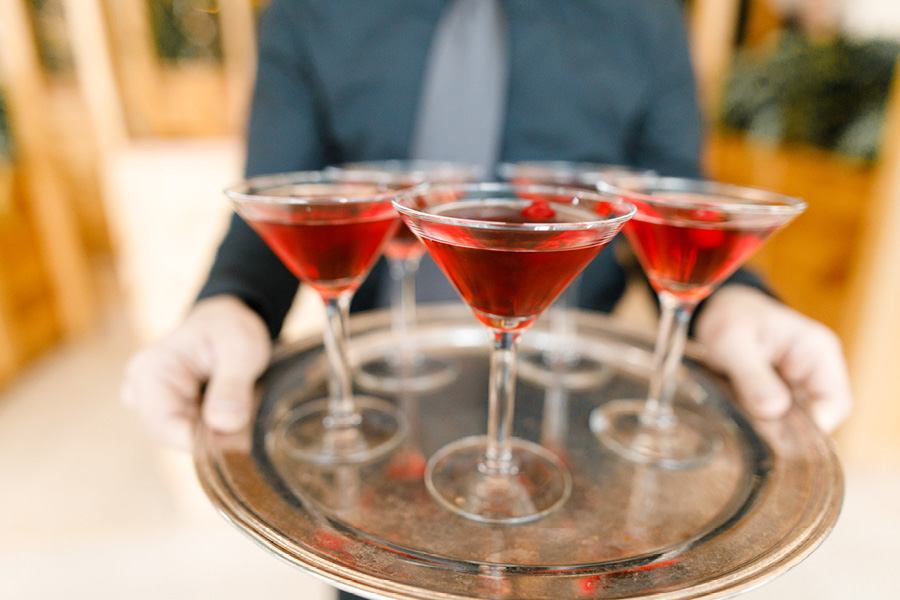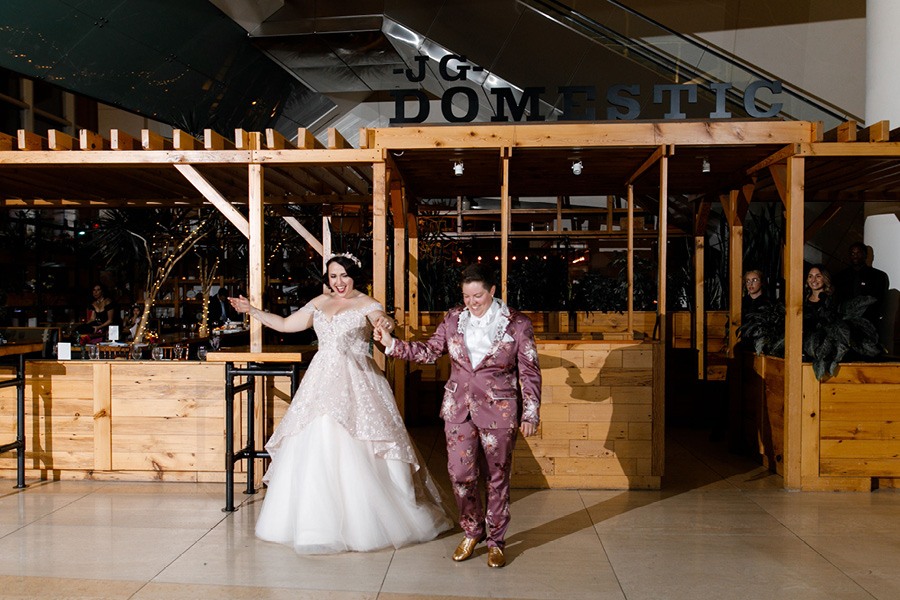 Guests went home with jars of homemade jam. The pair spent the weeks leading up to the ceremony making various flavors in their kitchen. The glass jars were tied with a bow correlating to the flavor and etched with the word "Love."
THE DETAILS
Photographer: Swiger Photography | Venue: Cira Centre | Cocktail Hour: JG Domestic | Florals: Sarah Mikolowsky of Vault + Vine | Catering: Garces Events | Bride's Gown: Hayley Paige from Kleinfeld Bridal, NYC | Bride's Tux: Asos with customization and vest by Sewing With Denise | Bridesmaids's Attire: Azazie | Brides's Hair: Styling by Anna Patin of Hair by Lucy La Riot; cut by Kate Miller at Mockingbird Salon, Philadelphia | Makeup: Sara Mann of Elegance Artistry | Entertainment: DJ Dave from Eclipse DJ Entertainers | Cake: The Frosted Fox Cake Shop | Invitations: Minted | Morning-Of Wedding-Party Breakfast: Knead Bagels
Get more great content from Philadelphia Wedding:
FACEBOOK | INSTAGRAM | NEWSLETTER | PINTEREST
Getting married? Start and end your wedding planning journey with Philadelphia Weddings' guide to the best wedding vendors in the city.
---
---