Coronavirus Wedding Diaries: We Postponed Our Big Wedding and Threw a DIY Celebration
One Philadelphia couple's tips and tricks on creating a crafty, personal ceremony.
---
Accept it, adapt and move on — and have a great time, too. That's the mantra Old City couple Christine Racobaldo and Michael Ciccarone took when the coronavirus pandemic upended their wedding plans. They made the call to transform their 260-person celebration at Glen Foerd on the Delaware into a cozy DIY wedding in a hilltop field behind the bride's parents' backyard in West Chester. Yes, the April 18th event was a homespun work of art, with family, close friends and vendors pitching in on everything from impromptu landscaping to foraging blooms. "There was just something so romantic, soulful and special about having all the fluff and extravagant details stripped away, and seeing what you're left with," says Christine, who tapped Carly Landolt Photography to safely capture it all. "And that was love and happiness and gratitude for it all." Here's how they made it happen, in Christine's words.
This story is part of Philadelphia Wedding's on-going Real Talk series, where real Philly couples share their unique approaches to wedding planning and marriage. If you have a unique story or experience worth sharing, we'd love to hear about it.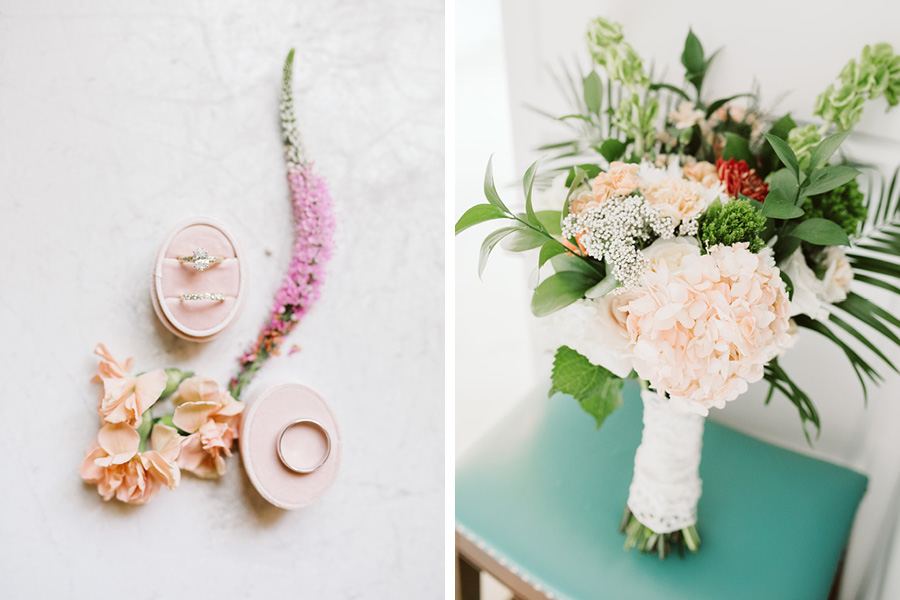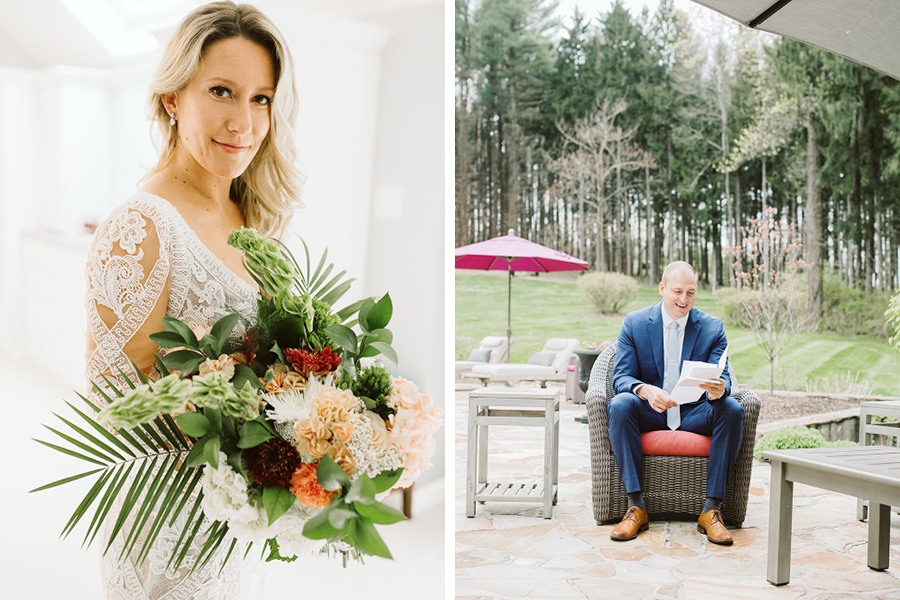 This wasn't an easy decision to make. We had so many loved ones who couldn't be there — most importantly, Mike's parents and sister, who were stuck thousands of miles away, and his grandparents. Knowing that if we went forward it would be without some of the most special people in our lives was the most stressful part.
We ultimately decided to keep our date and re-plan everything. Our marriage license was expiring in 30 days (and who knew when we'd be able to get another). There was (and still is) no telling when we'd be able to have the "normal" wedding we had planned. And frankly, we're not spring chickens! We also knew we would be disappointed if the day passed and we didn't do it. We just wanted to be officially married, and that's what mattered to us most.
Our vendors were amazing in their support and quickness in moving plans around. We made the call to reschedule as soon as regulations restricted gatherings of over 50 people. Rescheduling all vendors took, at the most, 48 hours. Between our parents and us we divided the guest list and informed each guest within the day via texts, emails and calls. We rescheduled our reception at the same location with all our same vendors for September 4th but know full well that may not happen either. We'll continue to be flexible and optimistic.
RELATED: A Guide to Philadelphia Weddings During the Coronavirus Outbreak
Mike: We realized early in the re-planning process that having a professional photographer was important. We knew no matter how many people were snapping shots via phones, it wouldn't compare to what a professional can do, and we knew these were pictures we'd be looking at for a lifetime. We've known Carly for a long time. When we asked, she was more than happy to help us.
A few days prior to the wedding, our families helped us map a path through the trees to our ceremony site. We cut back branches and plants, and removed debris. We made sure to leave the new green growth that seemed to carpet some of the path. We also moved some fallen trees to line parts of the trail. It felt good to be a little creative, get a little dirty, and work together.
The triangle ceremony backdrop was completed in two days. Craytive Solutions designed it; the owner is my sister. It was a group effort. My brother-in-law executed my sister's design by constructing this amazing triangle backdrop. I stained it, and my mom and sister decorated it with flowers. It was so special and really the focal point of the ceremony. We hope to one day have it in a garden in our backyard when we decide to move out of the city.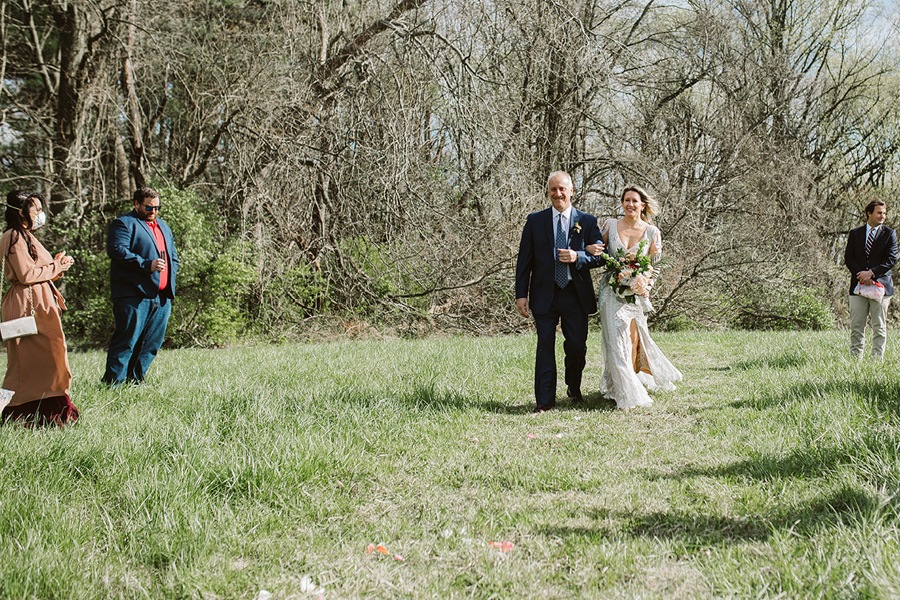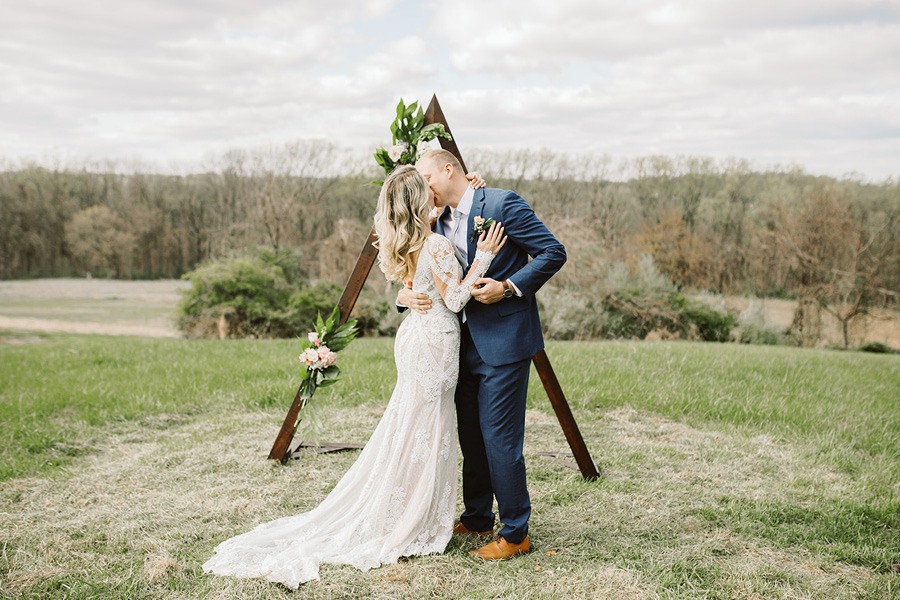 My mom, sister and I picked out an assortment of flowers from Produce Junction and Giant. We foraged some greenery and plants from around my parents' home. We also made a stop along the side of the road to cut some wild-growing tall grasses by the river. Floral arranging was such a fun undertaking.
We got our vanilla-on-vanilla cake from the Cake Crafter. My sister had worked with Brooke Woodward for lots of cakes before, so she was happy to help.
We created a private group on Facebook and invited all our loved ones to join so they could live-stream the day. From the page we were able to explain the details and give instructions. My sister set up a test run a few hours before the ceremony so guests could get comfortable with the technology — re-watching that was pretty funny. It captured our cute nephews and some behind-the-scenes footage of my mom in the kitchen and my dad plucking petals off roses.
It was so special to have everyone "there." While we would've rather had our friends and family in person, we couldn't have been more surprised by the Facebook comments. You don't always get to capture the thoughts of your guests while they watch you walk down the aisle, but we are fortunate to now have that.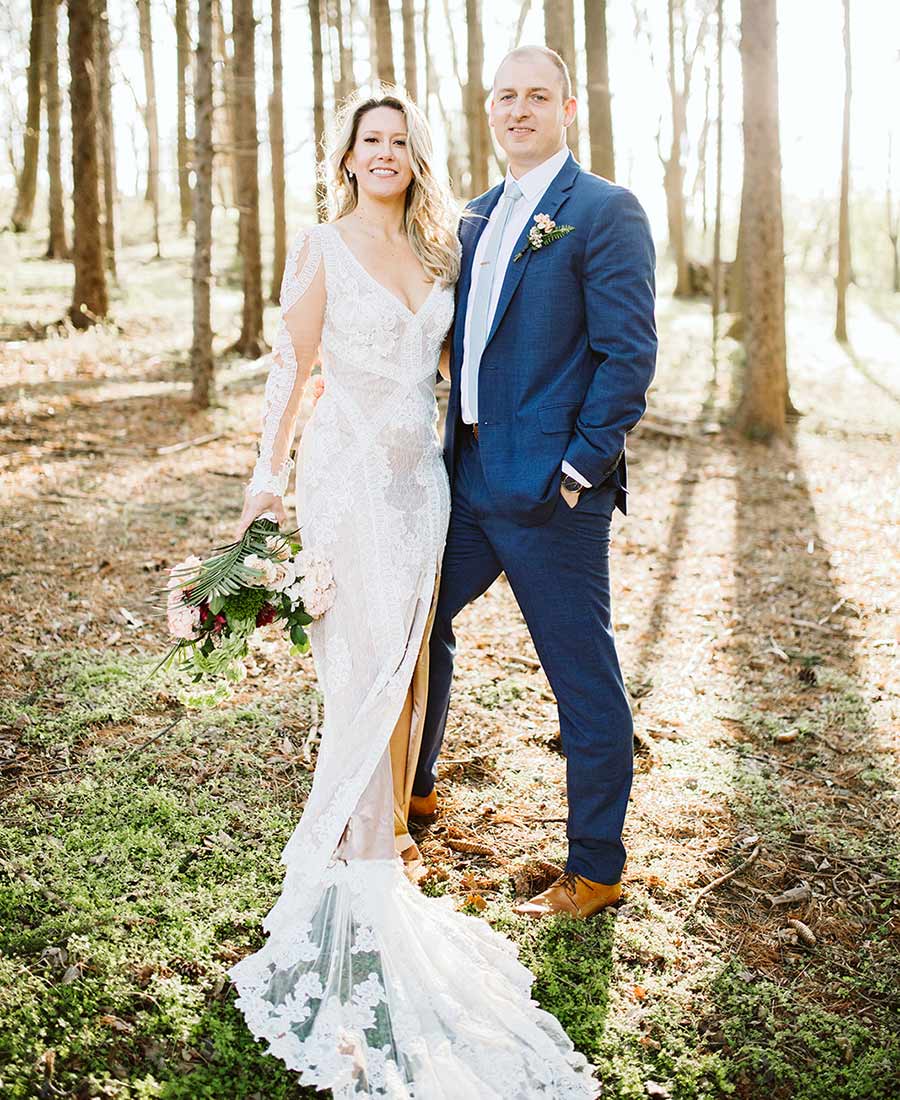 And we wound up having so many videographers! Mike's best friend manned a GoPro, and my mom was responsible for a video camera on a tripod. Additionally, my parents have an exterminator they've been using for years, and he's always wanted to fly a drone over their property, so my mom reached out to him. I'm working with our original videographer, New Pace Wedding Films, to take all our footage and create a video for us.
The most sentimental part was the rawness of the whole day and all the emotions leading up to what had become the new reality of our wedding. You could feel it from our guests – present and virtual. And the love we have for each other was overwhelming as we said our vows. We even felt like nature was embracing our love. The rain stopped; the wind slowed; and the sun shone through the clouds on us all right before the ceremony started.
Ultimately, we embraced the reality and, from there, the possibilities. We wound up having so much fun designing all the elements of the wedding that we felt like if this hadn't happened, we would've missed out on this great experience. You can determine which elements of the day are important for you, search ideas and DIY tips, and make it happen. You'd be surprised at how special you can make your wedding day on your own and with the help of the people you have around you! People are so naturally caring and want to help in most situations. So let them!
This interview has been edited for clarity and length.
Get more great content from Philadelphia Wedding:
FACEBOOK | INSTAGRAM | NEWSLETTER | PINTEREST
Getting married? Start and end your wedding planning journey with Philadelphia Weddings' guide to the best wedding vendors in the city.
---
---