Coronavirus Wedding Diaries: How My Groom Is Coping With Our Postponement
Rescheduling takes an emotional toll, and the bride says her beloved "groomzilla" has struggled to accept it.
---
The coronavirus crisis has upended life in Philly (and across the country) in more ways than we can count. With the strictest guidelines first focused on large group gatherings, and now all of Philly under a stay-at-home order from Mayor Kenney, weddings as the grand celebrations we know and love them as are effectively halted. While there's no perfect roadmap for how to proceed, there is something to learn from every couple's story as they navigate postponing, canceling, and changing their wedding plans in the wake of COVID-19.
This story is part of Philadelphia Wedding's on-going Real Talk series, where real Philly couples share their unique approaches to wedding planning and marriage. If you have a unique story or experience worth sharing, we'd love to hear about it.
The couple: Mia Carson, 36, and Jimmie Greeno III, 40, of Elkins Park
Original wedding date: March 29th. We planned (and still plan) to get married at the Pennsylvania Academy of the Fine Arts. Since we could not go away for a lengthy period right after the wedding due to childcare needs, we intended to go to a luxury resort in Mexico for a few days. Then, at a later date, we would plan a trip to Greece.
But things changed as the outbreak worsened. On March 12th, a close friend (who is also a clinician) advised me to start thinking about a contingency plan in the event that the city was shut down due to the pandemic. The following morning, we learned that our venue was making plans to close to the public. We then immediately made plans to postpone [to Sept. 20th].
We quickly updated everyone. Our wedding planner, Christiane Lehman of Truly You Events, immediately contacted all of our vendors to confirm a later date and to inquire about their postponement policies. We then reached out to our family and friends via phone calls, text messages, social networks and our wedding website.
We've been fortunate with our vendors. Most of them are preferred vendors with our venue and/or have worked with Jimmie [VP of safety and security at PAFA] in the past. They have been amazing to work with and are supporting us. I only had one less-than-satisfactory experience with a designer who was making a custom outfit, which I will change into for my second look. We've since worked through our issues.
But Jimmie, my "groomzilla," is very sad and upset. He says he was "ready." At 30 days out, he started a wedding countdown on Instagram and Facebook. (I affectionately call Jimmie my "groomzilla" because of his interest in wedding details. For example, at the beginning of our engagement, I watched several wedding shows to get an idea of what to expect. I convinced Jimmie to watch a few with me and he quickly became a fan of Say Yes to the Dress due to Randy Fenoli's personality and sense of fashion. When he found out I had booked a bridal consultation at Kleinfeld's, he was upset that he couldn't go with me. In preparation for my appointment, the boutique asked that I create an online account and select a few dresses. I let Jimmie select dresses so he could be a part of my special moment. He picked 50! … When he finally accepted that I would not be taking him with me, he asked my friends to take pictures and video of every dress I tried on so he could look at them the day after our wedding.)

I am disappointed; however, I am looking at this experience as a fresh start. I am going to use this time to make some changes and allow myself the chance to relax and enjoy the time leading up to our date. I am also hopeful that my stepfather, who is battling some health issues, will be able to attend the wedding now that he has more time to focus on healing.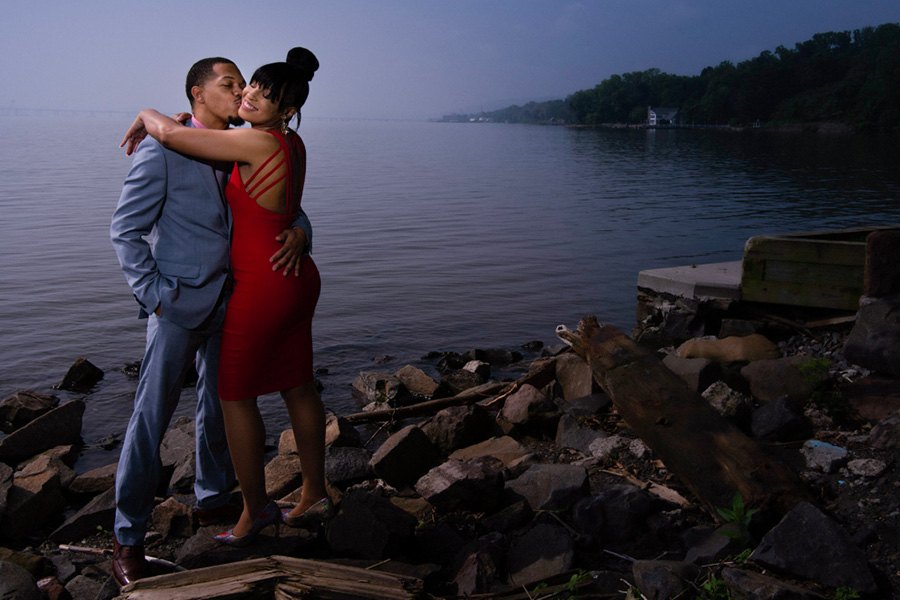 We're taking things one day at a time. Our advice for other couples is to practice gratitude. Although you may be struggling emotionally, there are others who are coping with greater losses, such as reduced or no income and the death of loved ones who they may not be able to properly mourn due to community-gathering restrictions.
Get more great content from Philadelphia Wedding:
FACEBOOK | INSTAGRAM | NEWSLETTER | PINTEREST
Getting married? Start and end your wedding planning journey with Philadelphia Weddings' guide to the best wedding vendors in the city.
---
---