These Eagles Fans Took Their Engagement Photos at the Linc
They got to wear a Super Bowl ring and hold the Vince Lombardi trophy: "They asked if we wanted to hold the trophy, and I started to cry," says the bride-to-be.
---
If there's anything that Philadelphians unequivocally love (and sometimes suffer for) it's the Eagles. That's why we adore this engagement shoot of two super fan lovebirds at the home of our favorite birds, Lincoln Financial Field. The enthusiastic pair even got to wear a Super Bowl ring and hold the Super Bowl trophy. Hear the story of how this couple got together — and see all the sweet stadium shots by Alison Leigh Photography — below.
The couple: Meghan Macenka, 29, chef at Morgan's Local Flavor, and Justin Teles, 32, head of project management at Liquid Interactive, who reside in Allentown.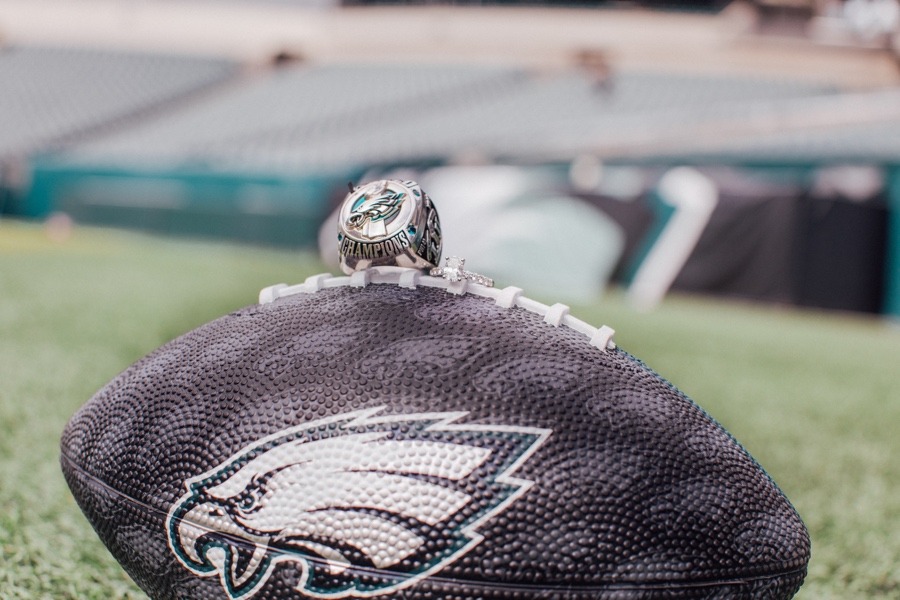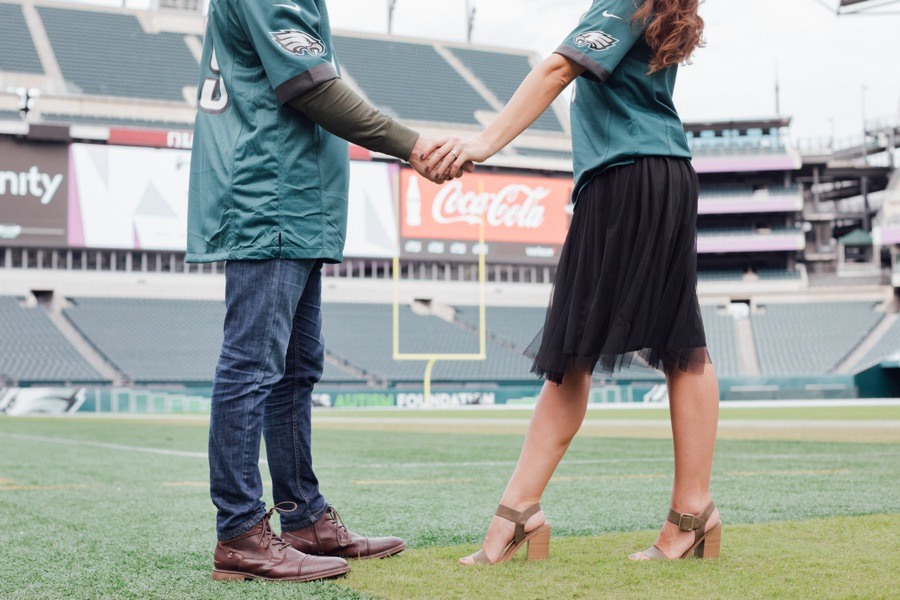 How we met (in Meghan's words): "We met though my best friend Emily. They attended the same networking committee and Justin eventually started work at the same company as her. I was meeting Emily at a bar and while waiting for her I was admiring this guy. It turned out when Emily got there it was her friend Justin. But, he was with his very serious girlfriend at the time. Darn. But things ended up not working out with them and Emily was on high alert telling me he was single. A few days later we were all at an ugly sweater party together — and the rest is history!"
How we got engaged (in Meghan's words): "We dated for three years before becoming engaged. Every year we take a trip to Rehoboth beach and this particular year the whole time we were there it was cold and pouring. Justin planned on proposing during this trip, but he kept holding off because he thought the rain might stop. When we go to the beach, we love to watch the sunrise. Every morning we tried to see if the sun would be out, but nothing. One of the last days he just got tired of hiding this ring from me. We were on the beach and it was rainy and windy and freezing and he proposed. It was honestly so special because it wasn't perfect weather and the whole vacation wasn't our ideal situation, but it made for a great story. It's something we will never forget and we can laugh at. Not everything is life goes the way you want, but we have each other and that's what matters."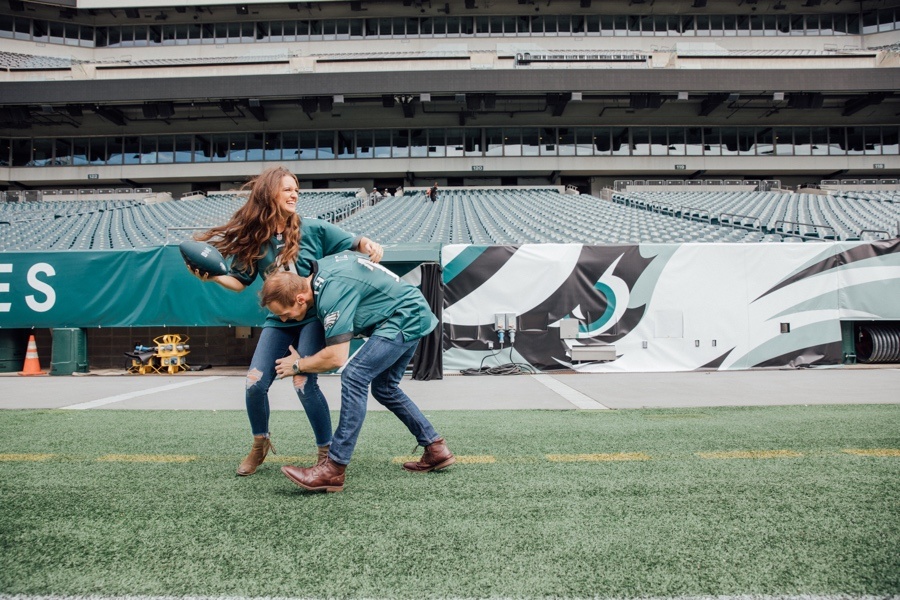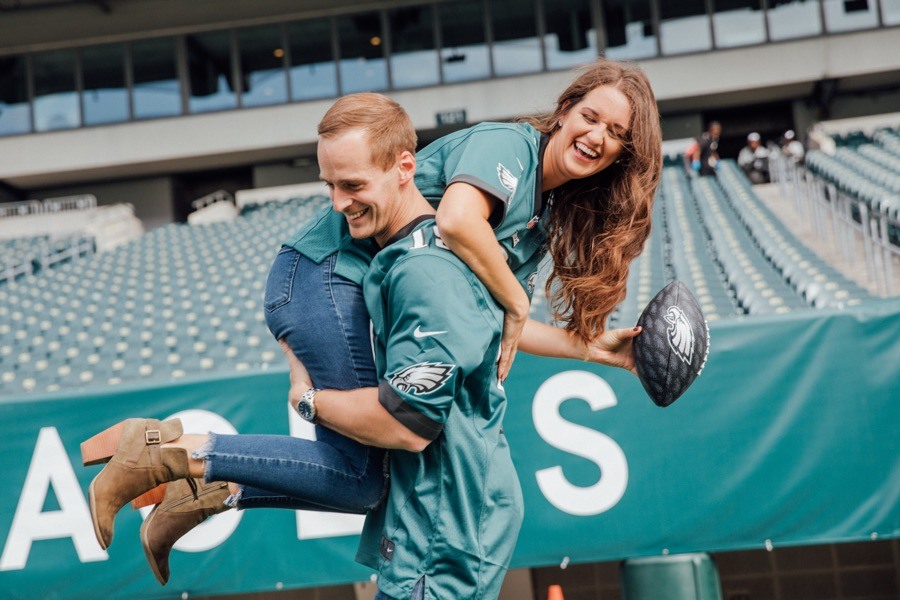 Why we had an Eagles-themed engagement session (in Meghan's words): "We went with an Eagles-themed photoshoot because if anyone one asks what our favorite things are it's food and football. We wanted our photos to reflect us and what we love as a couple. We love the heart and passion the team has for the city of Philadelphia , and it coincides with the love we have for the city. Justin and I got to experience the Eagles' first Super Bowl win ever.
During that time the Eagles started the hype chant "We all we got, we all we need." We have really embraced that saying as a couple: no matter what life throws at us, if we have each other, it's all we need. We are thinking about having our engagement bands engraved with that quote. Within the same year the Eagles won their first Super Bowl and Justin and I got engaged. 2018 will forever be known to us as 'The birds and the bling' because I got my ring the same year the Eagles got theirs."
RELATED: More Only-in-Philly Engagement Photos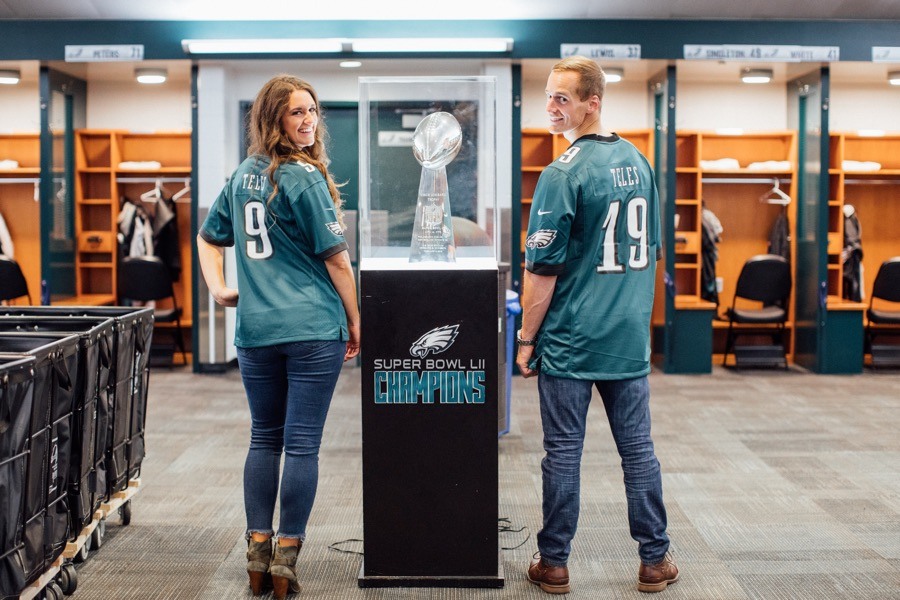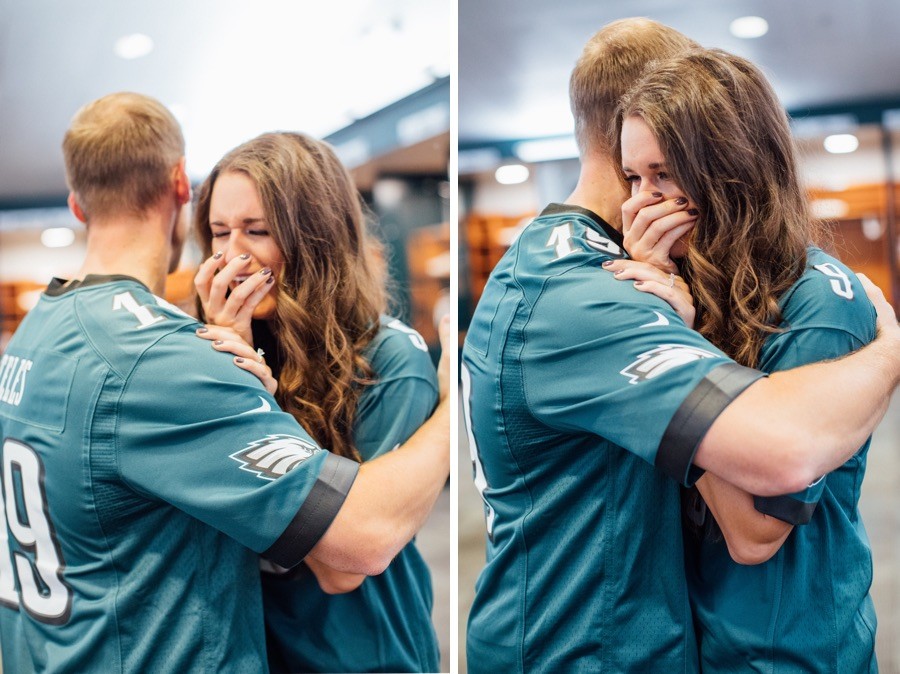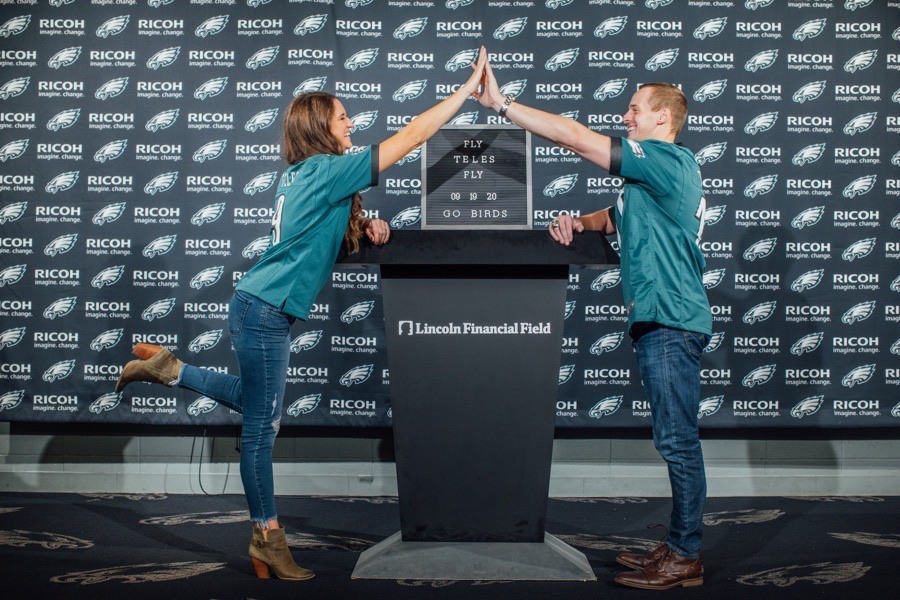 How we arranged to take photos on the field and in the locker room (in Meghan's words): "There were no strings to pull. Anyone can do it! I looked up private photoshoots on the Eagles website and contacted Lynnette Camacho, the Director of Special Events, and she was so gracious and helped us plan. Now the fact that Justin wore a Super Bowl ring and we got to actually hold the Super Bowl trophy seems like we pulled some strings, but it was pure luck.
Frank, our guide for the photos, was just the best. He has worked for the Eagles for over 13 years and received a ring when they won the Super Bowl and so graciously let Justin borrow it for some pictures. And someone came out of the office when we were in the locker room and asked if we wanted to hold the trophy, and I started to cry. It was such a special moment we will never forget. Everyone on the Eagles staff made this experience more than anything we could have ever asked for. Now we have these pictures to hero show for the rest of our lives!"
Why I wore an Eagles-green dress for the photos in the city (in Meghan's words): "Wearing a green dress was pure coincidence. I randomly went shopping one day and because I needed a formal dress for the shoot. I was determined to get it that day and of course the one that was my favorite was Eagles green. I almost didn't purchase it because I didn't want people thinking it was intentional to be all Eagles green, but I guess it was just meant to be."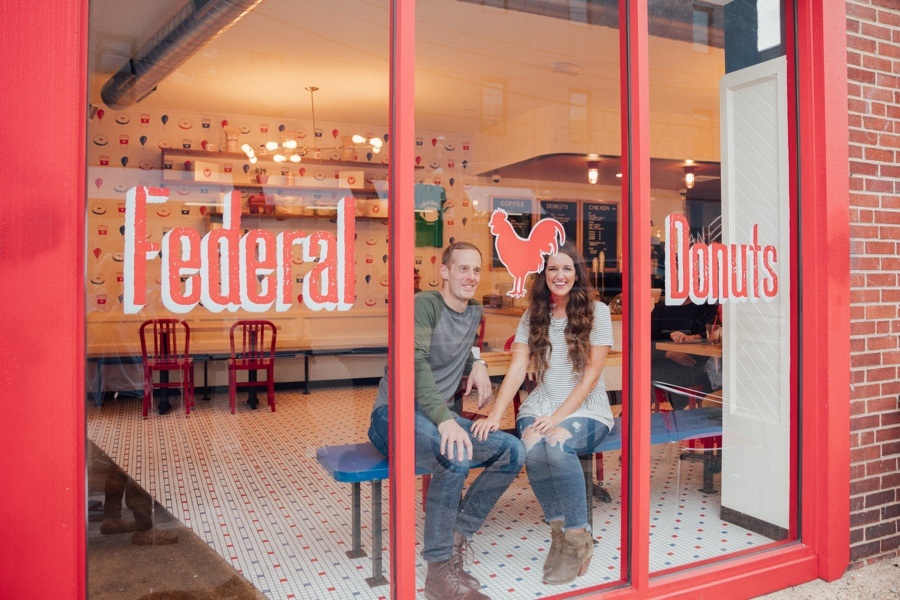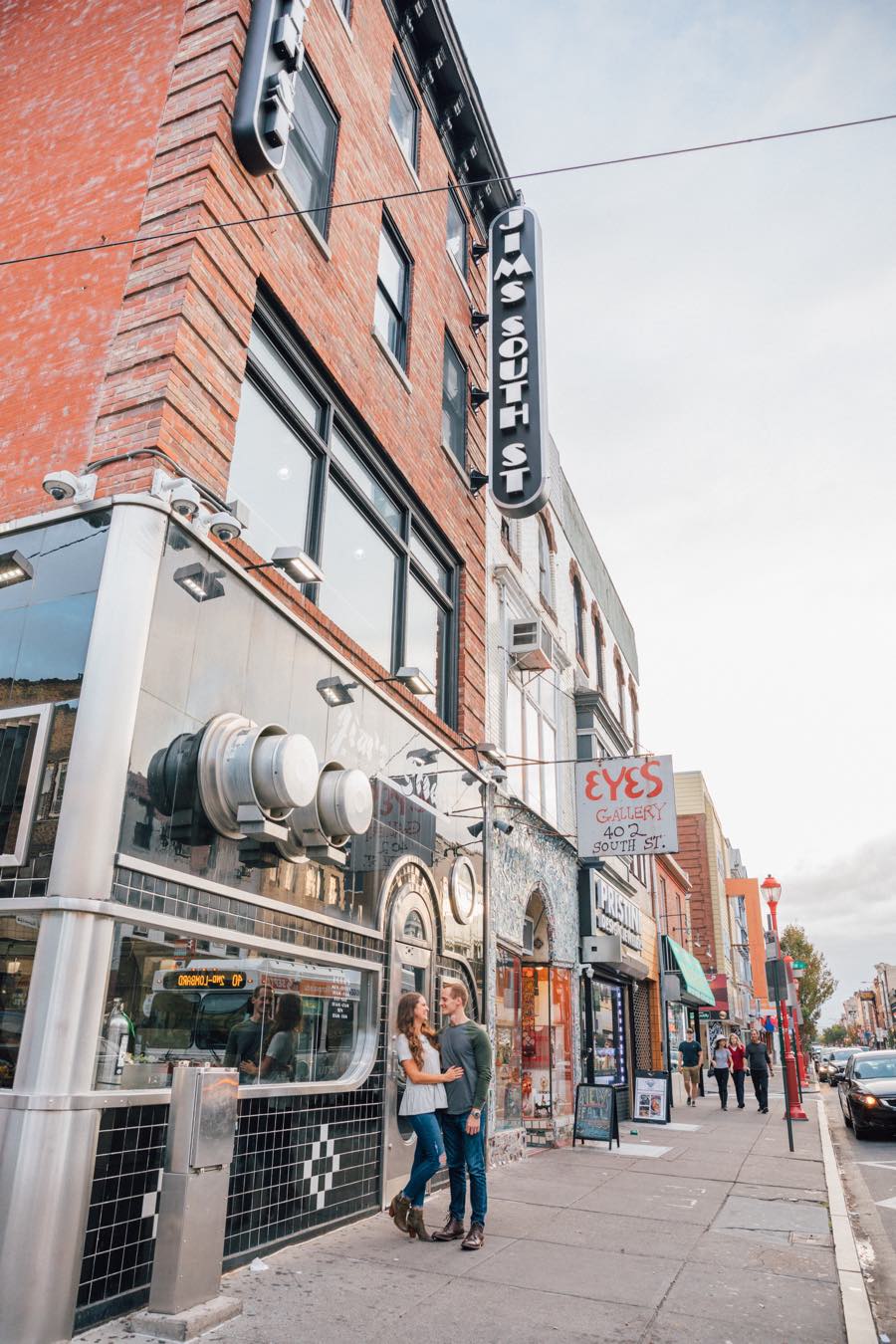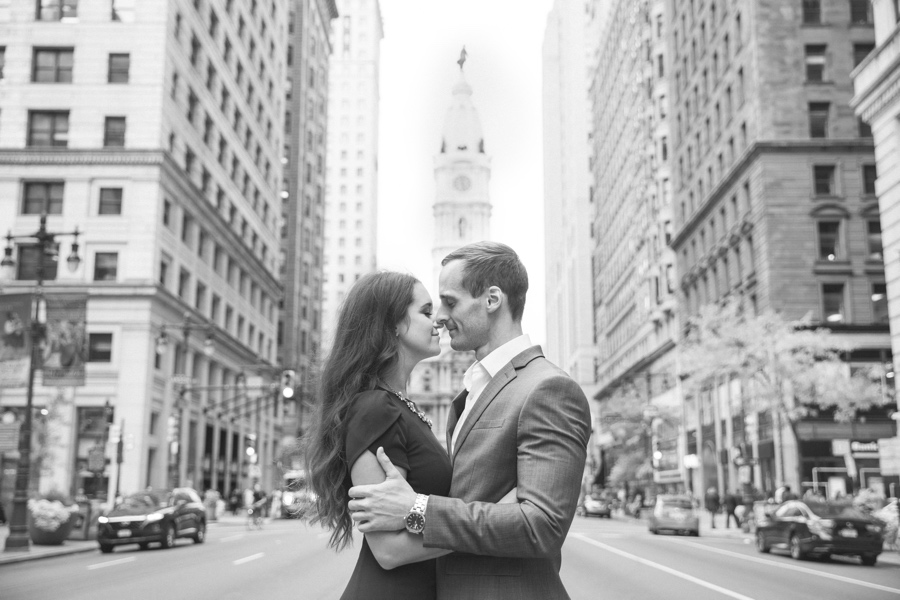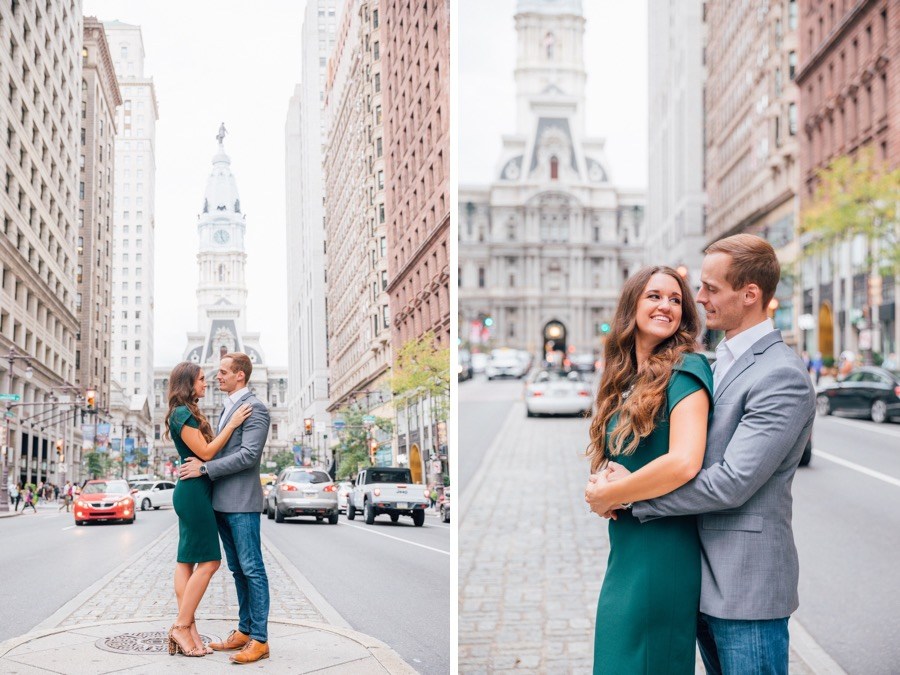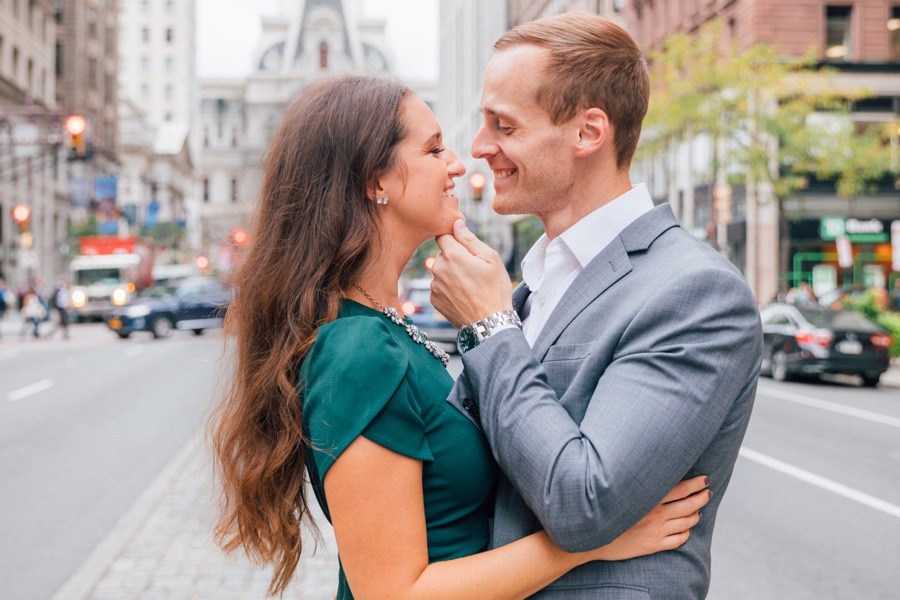 We took photos at Jim's and Federal Donuts, too, because: "We are both such foodies. Since I'm a chef, I'm obsessed with food. It's an obsession Justin and I share. Wee just love good food, making us the perfect match. It's one of our favorite things to do in Philly. We plan our whole trips around where we will be eating. Federal Donuts holds a special place in our hearts because Justin does not eat sweets at all except for Federal Donuts. We love them so much we are going to have them make our wedding cake out of donuts. And Jim's is one of the first Philly cheesesteaks we shared together after attending my first Eagles game, so it tied in perfectly."
Want to take your photos at the Linc, too? Get in touch here. Go Birds!
This interview has been edited for clarity and length.
Get more great content from Philadelphia Wedding:
FACEBOOK | INSTAGRAM | NEWSLETTER | PINTEREST
Getting married? Start and end your wedding planning journey with Philadelphia Weddings' guide to the best wedding vendors in the city.
---
---