How Fun Are These Carnival Engagement Photos!?
More people should pose on slides for their e-session.
---
Captain Ahab had Moby Dick. As a wedding editor, I had this photo. Though it's now attributed in that Instagram post, I'd seen it floating around in other places in the wedding internet sphere for years. I'd loved everything about it — the unique setting, the happy couple, the colorful slides — but was hard-pressed to find a single context clue for where it happened, who took the shot, or how I could find out more about it. (Could I have asked the wedding planner who posted the aforementioned picture? Sure. But hindsight, 20-20, you know the saying.)
Well, in one of the single most delightful things to happen to me this year, we wound up featuring the backyard circus wedding of Matthew Kritz and Andrea Wilson on this very website. And, in doing my research for that story, I discovered that Andrea and Matt were also the couple who starred in my white whale of a carnival engagement shoot. Whatever the opposite of Mercury in retrograde is, this moment was definitely that. (Did I mention I'm a wedding editor? Hopefully this makes my extreme excitement about this a little less weird.)
So, without further adieu and even though it's a little out of order — typically we share a couple's engagement shoot before we share their wedding — I present to you Matt and Andrea's joy-filled carnival engagement shoot at the Upper Makefield Fire Company Carnival.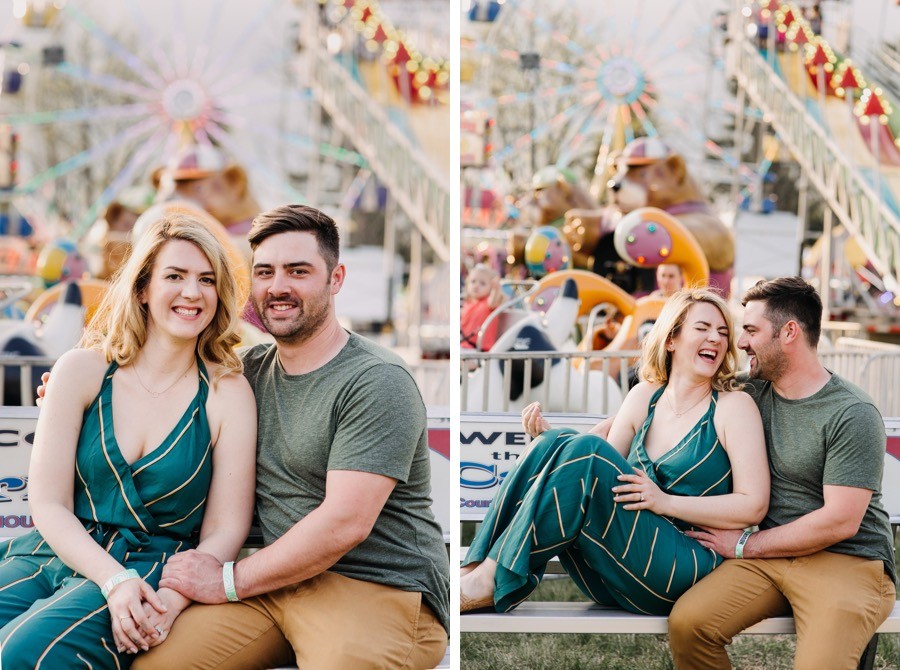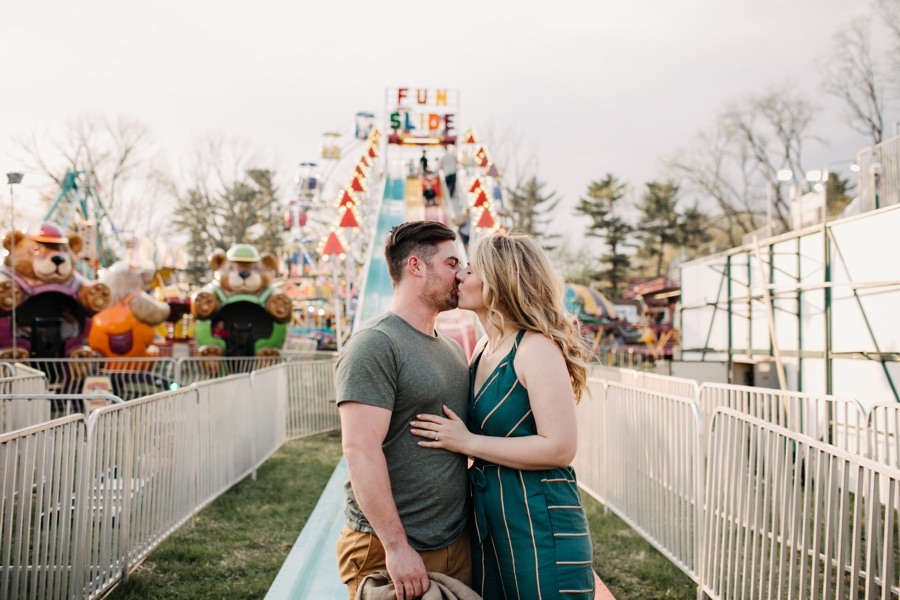 More from Andrea* on how this wonderful e-session unfolded:
We originally wanted to take engagement photos on the wing dam where Matt proposed. (Ed. Note: you can read their full proposal story here.) We scheduled with Amanda of Love Me Do for a Thursday, and I didn't think much more about it.
When I saw posters for the carnival, I made plans with friends to go. I've probably gone to [the Makefield Carnival] since the 8th grade. Not every year, but in my teen years for sure. The only day everyone had available was Thursday. I looked in my calendar and saw that we had scheduled the engagement session for that same day. I figured we would do the shoot and then head to the carnival. But the more I thought about it, the more I was like, Wait a minute — it would be so fun to have the photos taken at the carnival!
We had already decided on a circus theme for our wedding, so I knew this would tie into it. It just felt like kismet or something. I wanted everything about our wedding to make people feel joyful and happy, and what's more fun than a carnival?
I knew it would be awkward but the photos would be worth it, so I just kept reminding myself of that when people were looking at us. Matt had a harder time relaxing, so I tried to be as goofy as possible for him so he would laugh.
For some reason, probably because I'm in my 30s and teenage girls terrify me, I was scared of being made fun of. But turns out we were there too early for the teenage crowd and were instead surrounded by families with young children. Because it's the local carnival to where we grew up, I actually ran into people I hadn't seen since high school. One woman I went to middle school with was there with her family.  I told her what we were doing, and she laughed and said, "I was wondering why there was some random couple kissing on the bench!"
She did say she thought it was a great idea, though.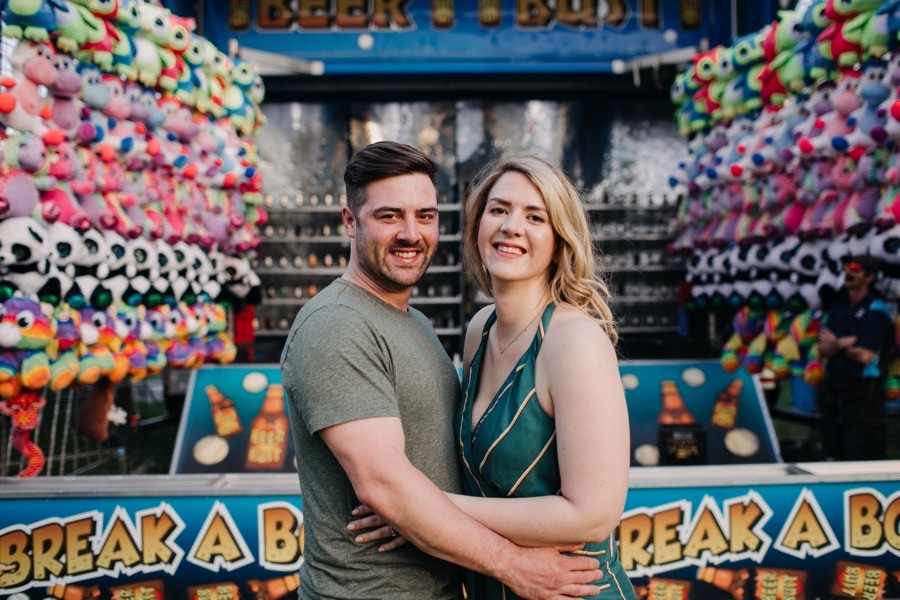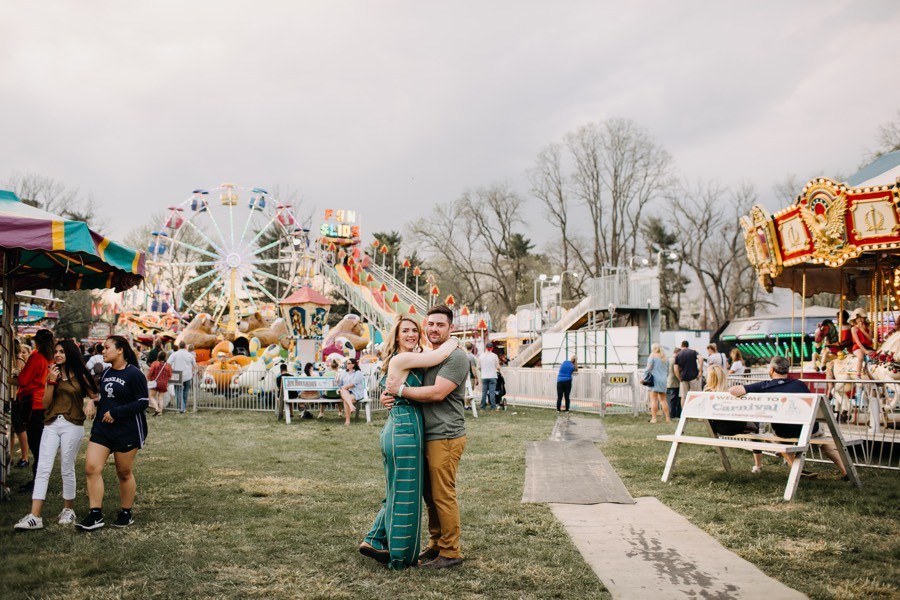 To ease my anxiety about having the session in a public place with onlookers, I kept telling the carnival worker at each booth that it was our engagement shoot. For that reason, one of the workers let me hold one of those giant stuffed animals, take a picture with it, and pretend like we won the grand prize. I also told a band and they played "The Way You Look Tonight" while we danced in front of them for photos.
Most people were at-first perplexed to see us walking around with a photographer and kissing. But once they figured it out — or I told them — everyone was so sweet. The woman at the top of the fun slide let us go down by ourselves so we could capture the picture.
The slide picture was Amanda's idea. I was like, How are we going to do this? What if we go down at different speeds? I really didn't know how she would capture it, and she was pretty far away, but it ended up being my favorite picture.
*Copy edited for clarity and brevity
Get more great content from Philadelphia Wedding: 
FACEBOOK | INSTAGRAM | NEWSLETTER | PINTEREST
Getting married? Start and end your wedding planning journey with Philadelphia Weddings' guide to the best wedding vendors in the city.
---