A New Hope Couple Pulled Off a Full-Blown Circus Wedding in Their Backyard
While the wedding will bring you smiles, the story of how Andrea and Matt got together will move you to tears.
---
Sometimes, the most joyful weddings spring from saddest places. The bride behind this New Hope circus wedding experienced life-shattering events not once, but twice, on the road to finding her husband, and we're in awe of the exuberant way she celebrated love and life regardless of the heartbreak she endured. Read on for photos from the day by Love Me Do, and be sure to have a tissue or two handy for the love story. Though it's a tear-jerker, it's also one of the most inspiring tales we've heard in a long while.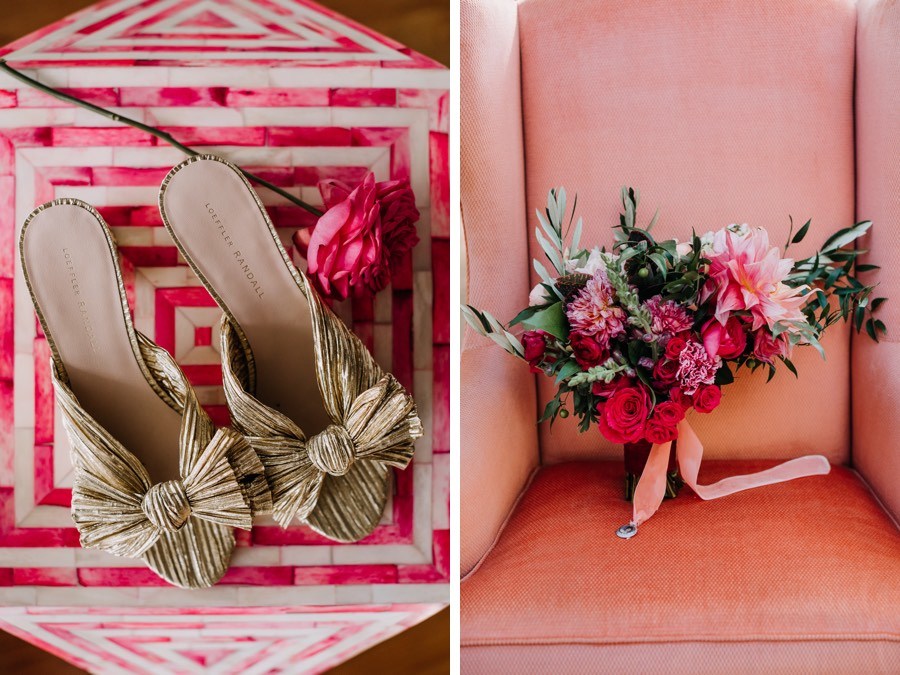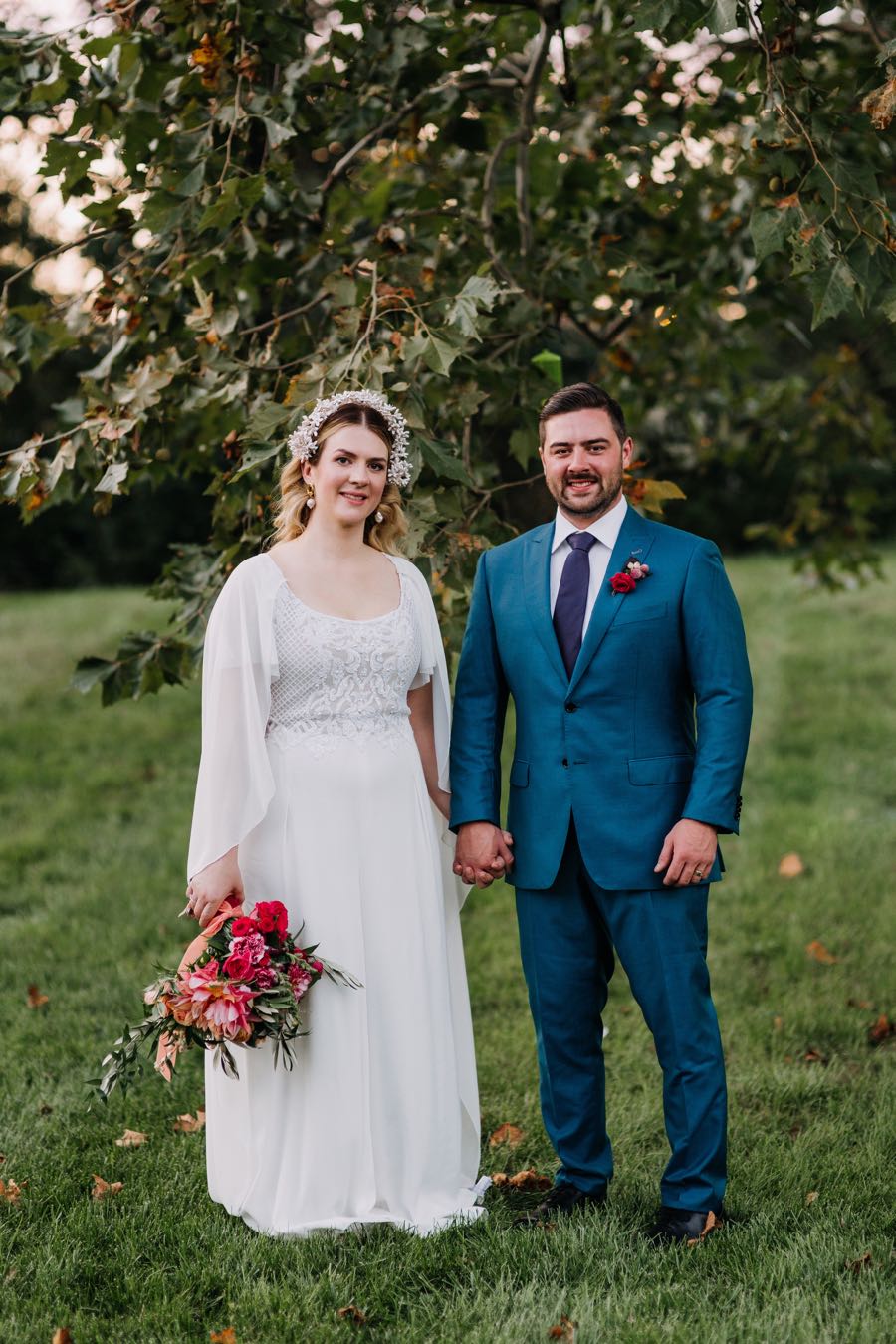 Matthew Kritz was a longtime friend of Andrea Wilson's younger brother, Steve. Andrea had seen him cavorting with Steve and his crew at their parent's house in Pennington, New Jersey, but hadn't paid him too much attention. "I used to think he was this quiet guy that would hang in the background," she remembers thinking of Matt.
In 2010, both Andrea and Steve were living overseas when their mother suffered a traumatic brain injury.
"It was a pretty intense time in the beginning," Andrea says. "She was completely paralyzed and could only blink to communicate."
The siblings moved back home to help her through rehab and physical therapy, and became closer than ever in the process.
But then, in 2014, tragedy struck again for the Wilson family. Steve unexpectedly passed away, leaving sister Andrea to be the sole caretaker for their mother.
"To say it was a difficult time for me is an understatement," says Andrea. "I was sad, obviously, but also so concerned with how I would navigate my mother's care on my own."
That was the moment Matt, who'd come to stay with Andrea and her mother in the week following Steve's death, came back on her radar.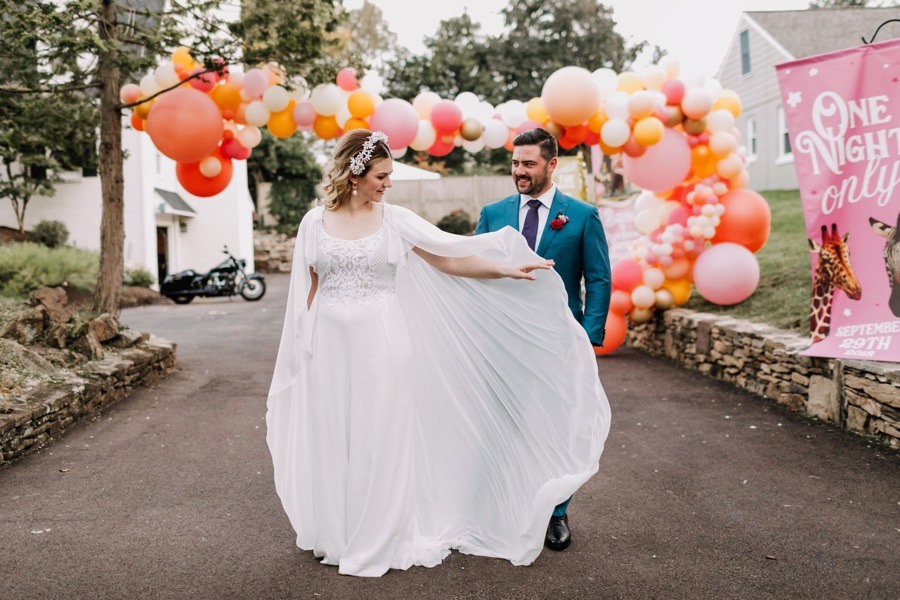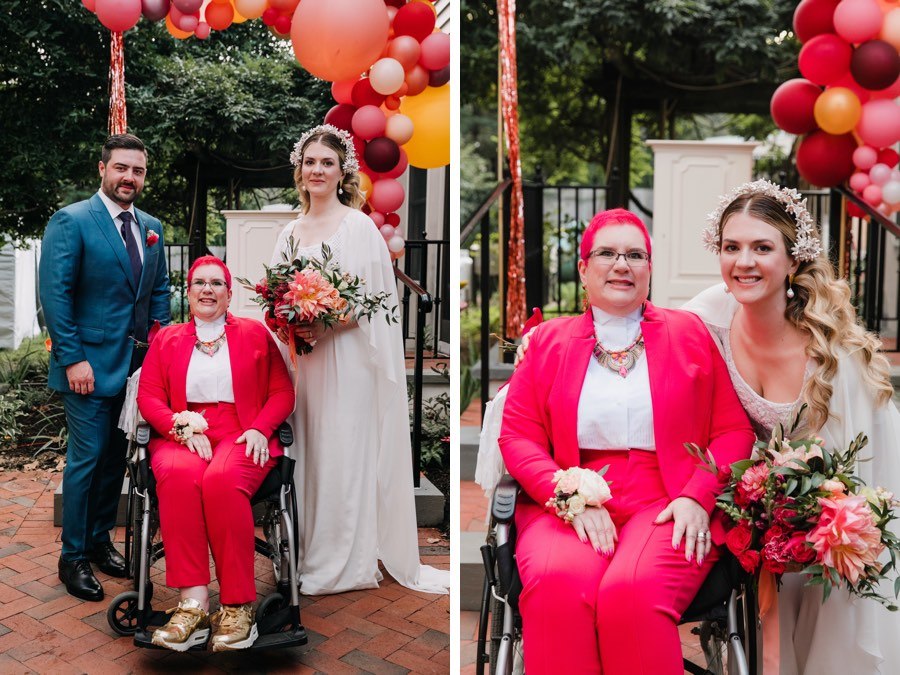 "One night I was sitting out on the back porch, crying to myself in the dark," Andrea remembers. "Matt came out and just sat with me. He didn't say a word. It was like he knew there was nothing he could say. He just wanted to be with me, and a full body calm came over me."
It was Andrea's first inkling that she might be okay.
Within the next year, the pair started talking more and hanging out on their own. They spent their first official date taking in the 2015 Persieds meteor shower on a blanket in Andrea's front yard, and dated for two years before Matt proposed during the same exact astronomical event.
For the 2017 Persieds shower, Matt scheduled a night hike to a Delaware River wing dam located near their new home in New Hope.
"He set up a little picnic for us with different cheeses and champagne, read me a poem he wrote, and asked me to marry him," Andrea explains. "I said yes, and we watched the meteor shower together under the stars. It was a magical night."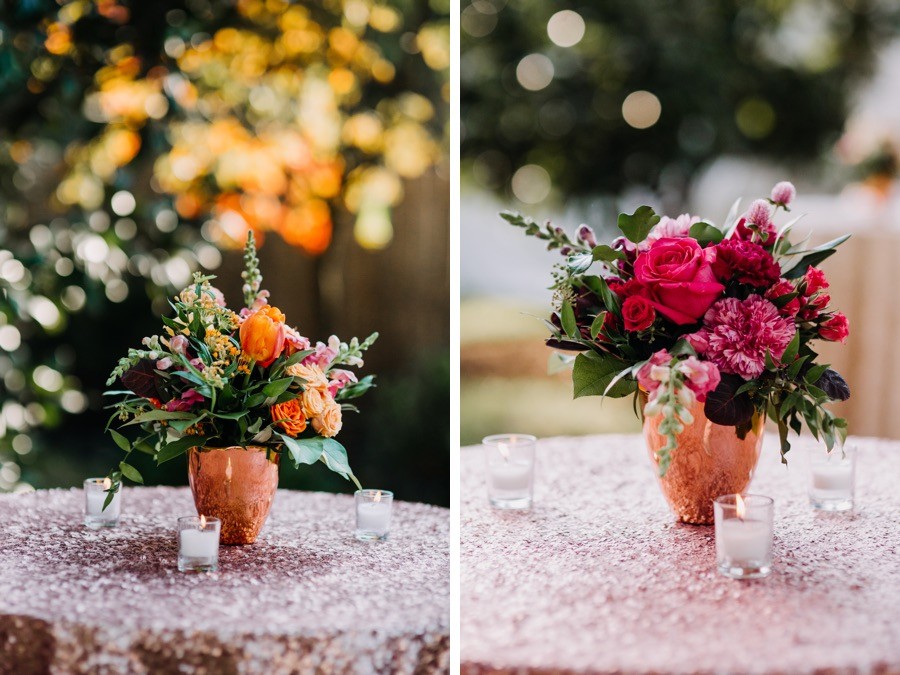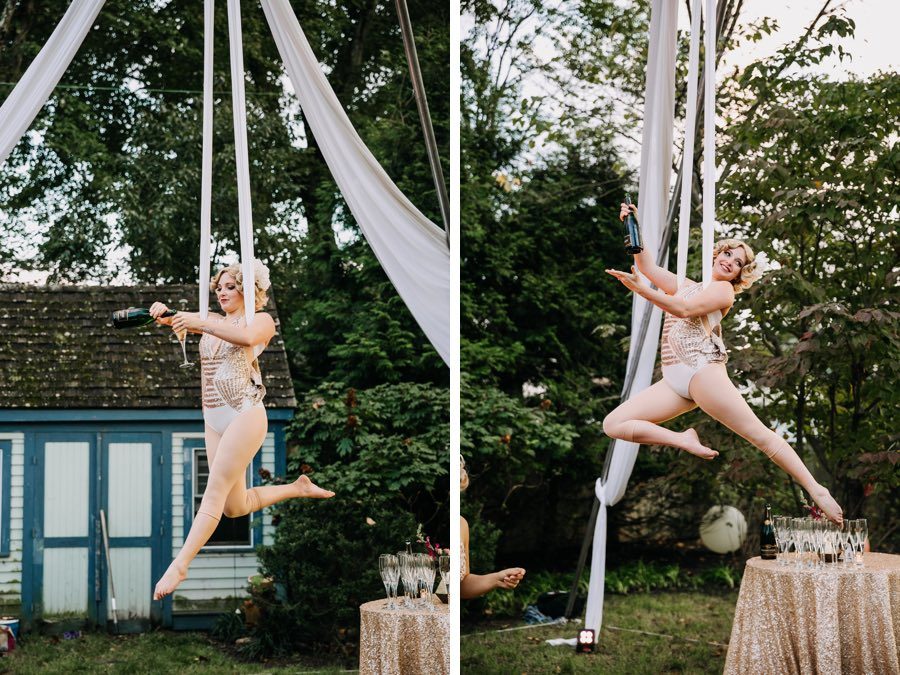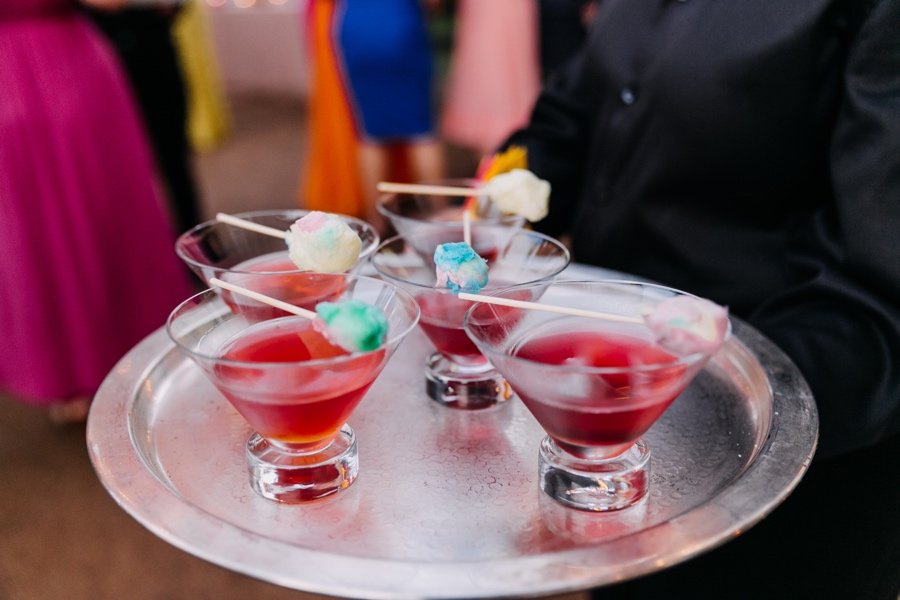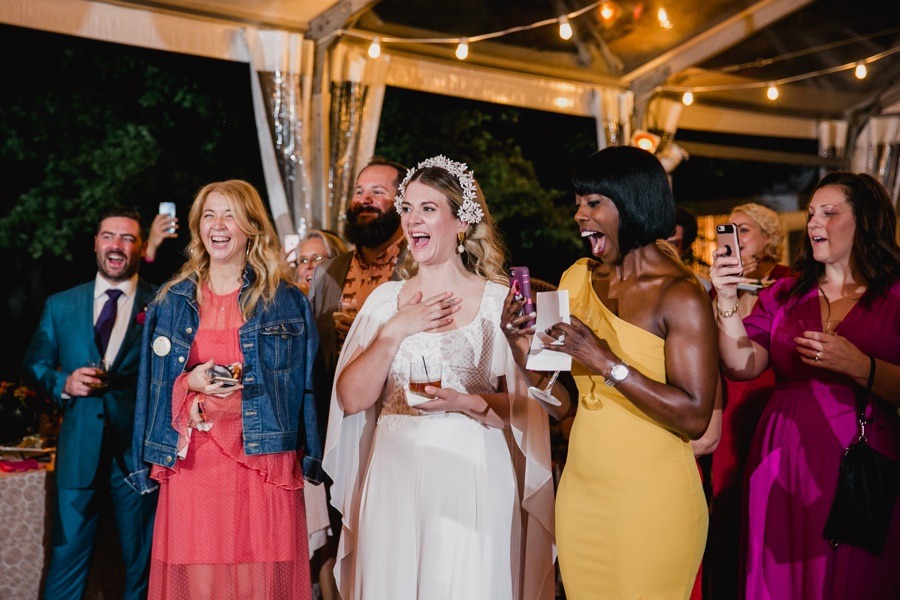 The idea of circus wedding came up somewhat serendipitously for the pair. Andrea was deeply moved that friends and family were willing to get on planes and spend hundreds of dollars to be with them on their Big Day, so she knew it was important to make the wedding a night they would never forget. They'd settled on a party in their own backyard because it'd be the most comfortable for Andrea's mom (pictured above in the hot pink suit). One night while spitballing ideas outside, the concept came to them naturally.
"I looked at our big sycamore tree and said we could have the tent go around the tree, really high up, and swoop down like a circus tent," Andrea remembers. "As soon as the words came out of my mouth, I knew that was the theme."
Event planner Susan Norcross of The Styled Bride suggested working with AirPlay Entertainment, who provided the aerialists, fire-breathers, contortionists, and other entertainment for the evening. Andrea's "something old" was a vintage floral headpiece that belonged to her grandmother, which she paired with a custom caped jumpsuit by Philly's own Alexandra Orth.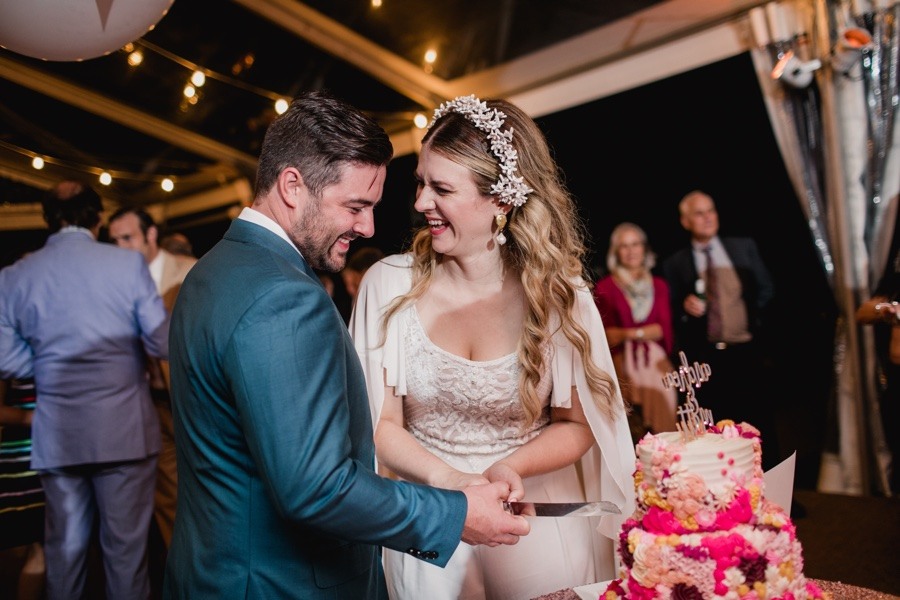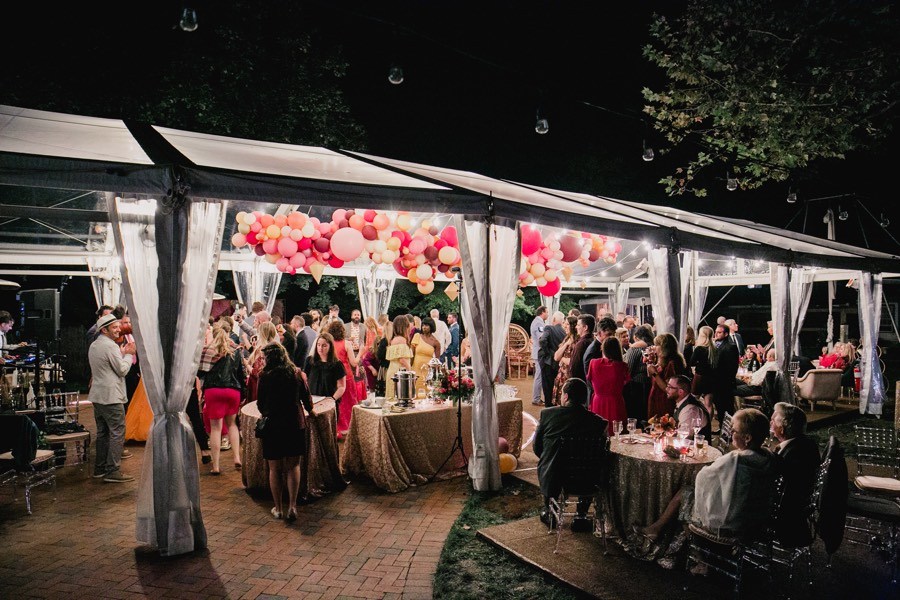 Playful circus details were on full display from the moment guests stepped into the driveway, where banners declaring a "One Night Only Circus" hung from poles and stilt walkers offered their greetings. Andrea and Matt exchanged vows beneath a colorful balloon arch in front of 110 guests, and then the whole group headed to the backyard to celebrate.
The couples' nearest and dearest — fifteen of whom flew in from Europe and were staying in Matt and Andrea's house for the weekend — dined on a Spanish-inspired assortment of passed apps that included marinated artichoke hearts, manchego croquettes, and lamb albondigas. They threw back cotton candy martinis and enjoyed a late-night circus-style popcorn bar while dancing the night away.
The pair still lives in New Hope, where Andrea also works as an office coordinator and Matt is a landscaper. Though they haven't settled on a honeymoon destination just yet, the top two contenders are Mount Zion in Utah and Cornwall in the United Kingdom.
THE DETAILS

Photography: Love Me Do | Event Planner: The Styled Bride | Florals & Event Decor: Sullivan Owen | Invitations and Paper Goods: Chick Invitations | Bride's Attire: Alexandra Orth | Hair: Chris Hill of Headhouse Salon | Makeup: Beke Beau | Groom's Attire: Indochino, King of Prussia | Catering: Max Hansen | Cake: Dandelion Cake Company | Music: Lovesick | Performers: AirPlay Entertainment | Tenting: EventQuip | Furniture: Maggpie Rentals
Get more great content from Philadelphia Wedding:
FACEBOOK | INSTAGRAM | NEWSLETTER | PINTEREST
Getting married? Start and end your wedding planning journey with Philadelphia Weddings' guide to the best wedding vendors in the city.
---