How to Stay Sane and Save Money Even if Your Wedding is Really Big
Helpful tips to help you plan your big Philly wedding, no matter how long the guest list.
---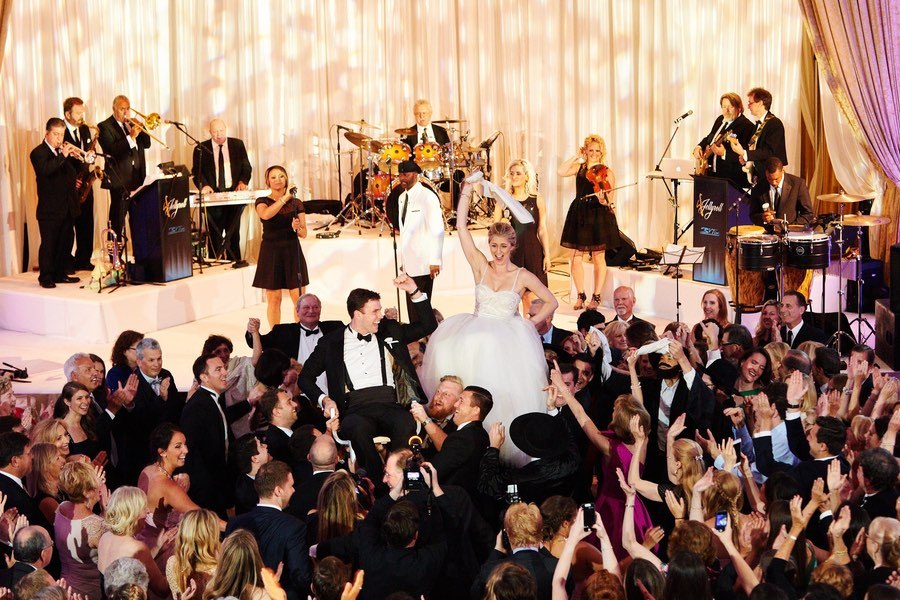 Philip Gabriel Photography
Planning a big wedding in Philly? We say the more the merrier! But, there are a few things you want to consider. Costs add up fast when you're dealing with a large guest count, so set budget priorities with your partner early on. First, decide what your wants are, as opposed to what your needs are. "Make a tiered list of your wedding expenses, from most important to least," says Lovehaus Events + Design co-owner Laura Bonadonna. "What are the bottom three on your list? Can you do without these items entirely? If so, bye-bye." Second, avoid the temptation to upgrade in places that won't leave a lasting impression. Fancier ceremony chairs, for example, can get expensive but typically go unnoticed by guests, Jaclyn Fisher, owner of Two Little Birds Planning notes.
For even more savings, find ways to stretch the small details. Dayna Leaventon, senior catering sales manager at the Ritz-Carlton Philadelphia, has seen mini customized wine bottles serve as place cards and favors. "It's a way to get your money's worth and still make guests feel special," she says. Another approach: Nix add-ons such as welcome bags in the name of a worthy cause. "Present guests with a welcome note that has a schedule and recommendations of things to do around town," says Sara Murray, owner and creative director at Confetti & Co. "Let them know that in lieu of favors, you made a donation. It's something everyone can feel good about."
Your decor budget can also be reduced without completely sacrificing style. A big wedding equals lots of tables, so Bonadonna suggests you simplify arrangements by adding plenty of greenery, for a unified look that still feels on-trend. Don't want to completely forgo flowers? Fisher recommends displaying several different varieties of centerpieces and strategically placing the more expensive styles on fewer tables.
The one place you won't want to skimp? Music. "All the champagne in France couldn't save a wedding from a bad DJ or band," says Leaventon, and disappointment will only amplify in a bigger crowd. As for booze, keep the menu simple, says Petrucci: Signature cocktails, sparkling wine in lieu of proper bubbly, and beer and wine instead of a full-blown open bar will keep guests feeling good — and your wallet feeling even better.
Excited to get planning? Here are examples of three pretty Philly spaces that are suitable for a larger affair, ordered from smallest to largest. (Find small and intimate venues here, and even more local venues in our wedding expert listings and our local bridal guide of all the wedding venues you need.)
118-128 North Broad Street, Center City.
There are numerous options, but the most spacious is the 6,000-square-foot Annenberg Gallery inside the Hamilton Building. Seats 340 including space for a dance floor.
600 N Broad Street, Spring Garden.
At Cescaphe's biggest event space, your six-hour celebration will move through an outdoor courtyard, three separate cocktail rooms, and a French-style lattice-ceilinged ballroom. Seats 600 including space for a dance floor.
1 South 15th Street, Center City.
With City Hall as its backdrop, this outdoor venue has space to invite everyone you know — and then some — for a they'll-talk-about-it-for-years-to-come affair. Seats 1,200 including space for a dance floor.
Originally published as "Scaled To Fit" in the Winter/Spring 2019 issue of Philadelphia Wedding.
Get more great content from Philadelphia Wedding:
FACEBOOK | INSTAGRAM | NEWSLETTER | PINTEREST
Getting married? Start and end your wedding planning journey with Philadelphia Weddings' guide to the best wedding vendors in the city.
---