A Tinder Match Just Resulted In The Most Adorable Christmas Village Proposal
PJ lined the pillars of City Hall with pics from their relationship, then popped the question to Allie at the Macy's Christmas tree.
---
As another year inevitably winds down, the number of marriage proposals inevitably ratchets up. (One scroll through your Instagram or Facebook feed and you'll see it's true.) While you might roll your eyes at yet another high school acquaintance getting engaged, we here at Philadelphia Wedding revel in it. It gives us life. Which is precisely why we're celebrating Proposal Month all December long, and also why we're sharing this sweet Christmas Village proposal today.
The Couple: Alexandra (Allie) Clark, 25, of Blue Bell, and Paul John (PJ) Levinsky, 29, of Pottersville, New Jersey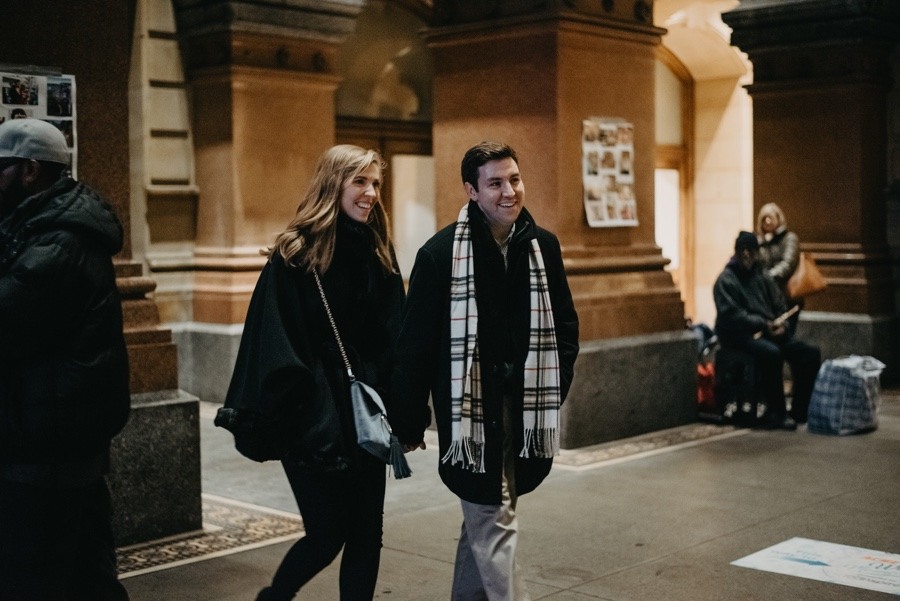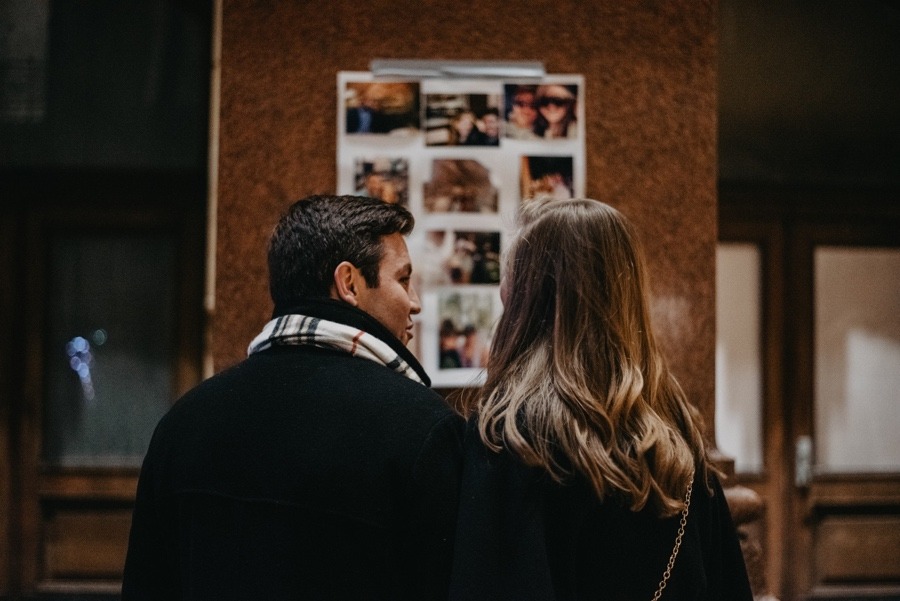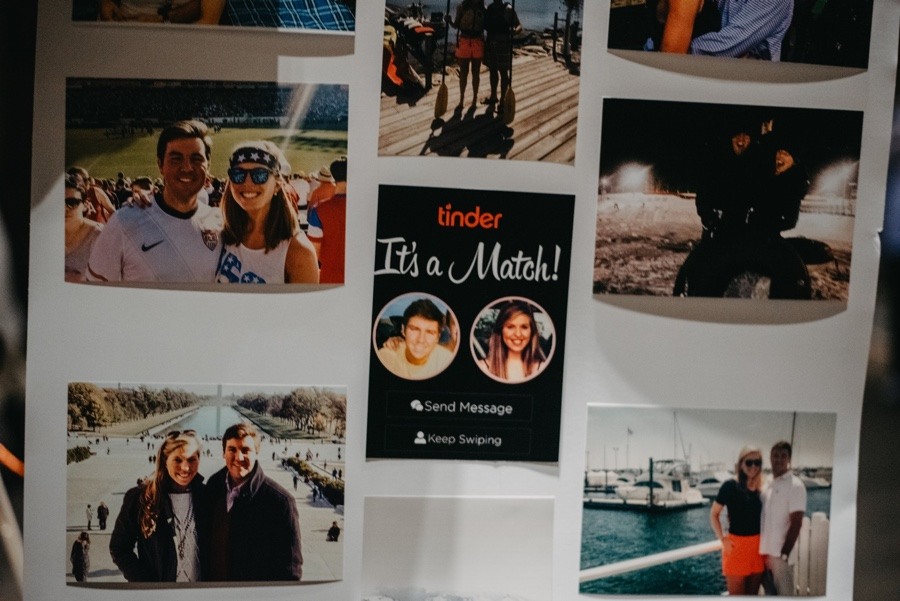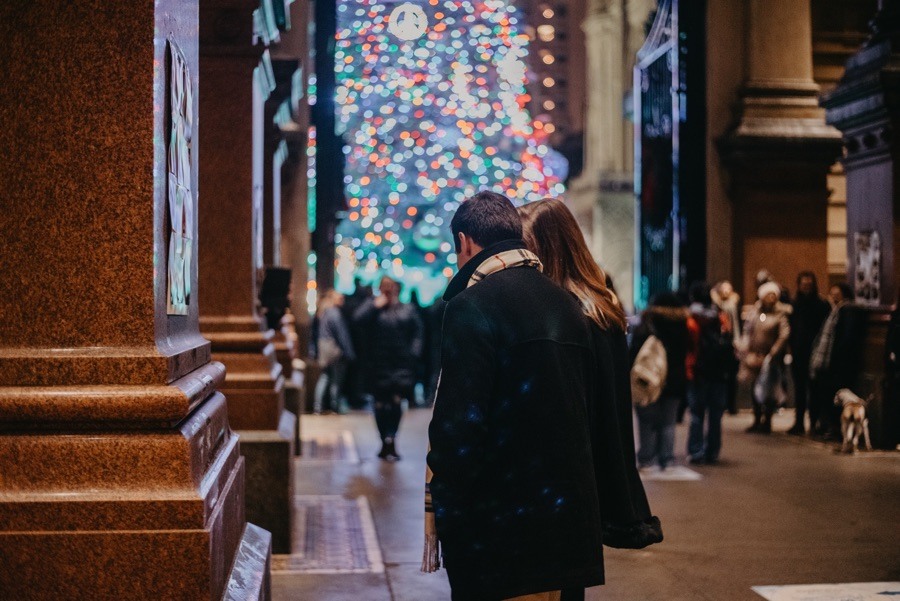 How They Got Together (as told by Allie): I was home for a weekend during college in September 2014. PJ had graduated from Dickinson in 2012 and was visiting his college friends that lived in Manayunk. I was out one night with my sisters near Manayunk, while PJ was out his friends in Manayunk. We both were single at the time and wanted to try out Tinder, even though it still was a new scandalous dating app at the time. That night we both swiped right. When PJ first showed up on my tinder, he showed up in Kansas. I thought Tinder was stretching all the way to Kansas to help me find a match, but he happened to just be visiting his family in Kansas two days after we matched. After chatting through Tinder and texting for a few weeks, our first date was a haunted hay ride at Shady Brook Farms. We've been together for five years.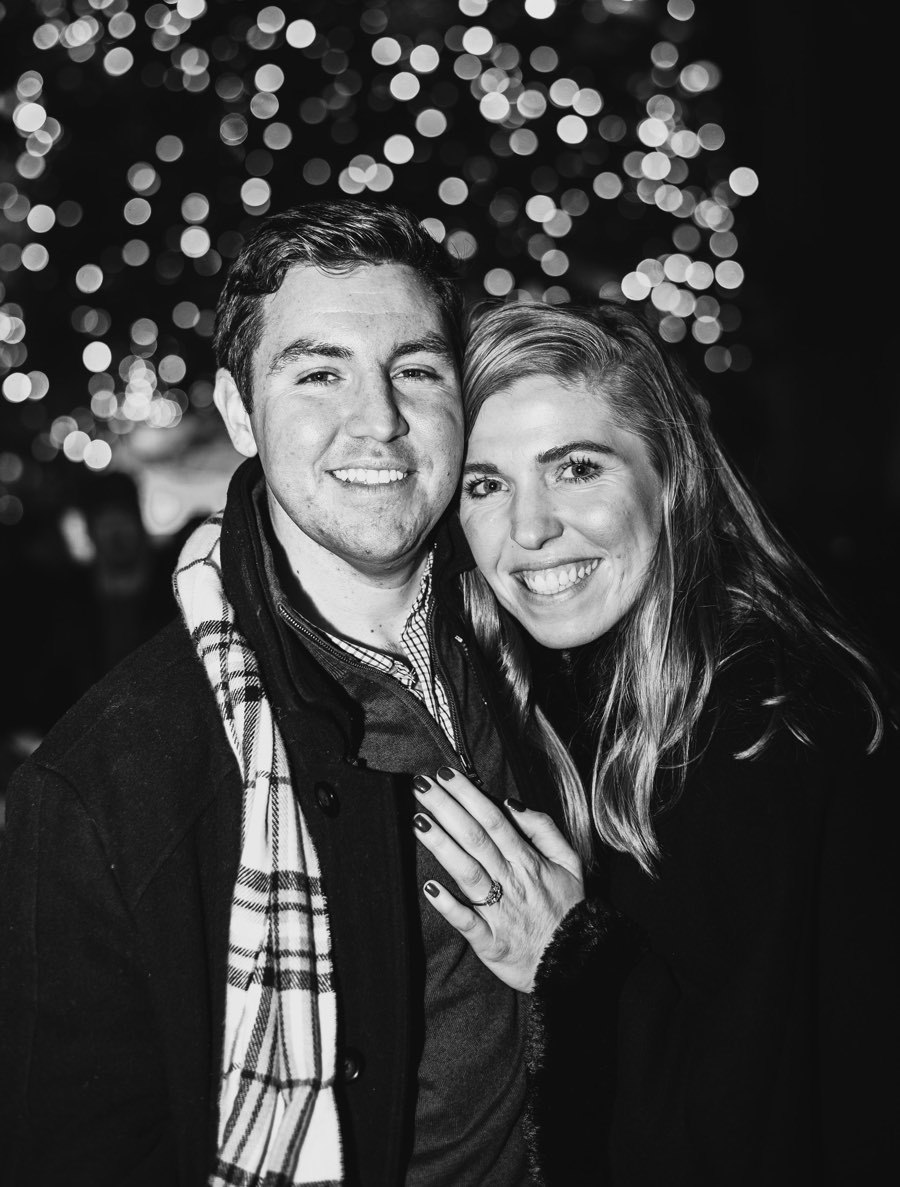 The Proposal Story (as told by PJ): Allie loves Christmas, and every year we like to explore Christmas Village. Allie was just accepted into Villanova's MBA program, so we decided to get dressed up and celebrate. After ice skating at the Rothman Ice Skating Rink and watching the Deck the Halls Light Show at City Hall, I strategically led Allie to the Macy's Christmas tree.  As we slowly approached the tree, we took a walk down memory lane by looking at 70-plus photos of our relationship lining the pillars of the City Hall passageway coordinated to a music playlist of our songs. At the last pillar, I had our Tinder Match photo and the ticket that I bought for our first date at Shady Brook Farms.  As we walked toward the christmas tree, both of our families were waiting in front of a hand-crafted sign — made by my father — with the words "Allie + PJ" in Christmas lights. I proposed. She said yes surrounded by our families and cheers of the holiday spectators.
Congrats to Allie and PJ, who are (rightfully) too busy reveling in the joy of just getting engaged to know where they'll wed just yet.
For more Proposal Month content, go here.
Get more great content from Philadelphia Wedding:
FACEBOOK | INSTAGRAM | NEWSLETTER | PINTEREST
Getting married? Start and end your wedding planning journey with Philadelphia Weddings' guide to the best wedding vendors in the city.
---