32 Ingenious Philly Wedding Ideas You'll Wish You Had Thought Of
Because it's all in the details.
---
Weddings these days are all about personalization. How do you make your big day feel as unique — and as uniquely you — as possible? By taking your cues from this creativity-filled list of wedding ideas, most of which we cribbed from Philadelphia-area wedding pros.
1. Get creative with cafe lights.
Hanging them across the ceiling: expected. Draping them behind the sweetheart table: cool.
2. Say "I Do" in separates.
"As brides opt to change their wedding look for the reception and after-party, separates are becoming more popular," says Trousseau Style bridal stylist Lauren Hartman. Skirts and tops from local brand Sweet Caroline are her top choice for brides in search of a ball-gown look for the ceremony and something more festive for the reception.
3. Swap fruit for veggies.
Change up the salad course with something unexpected, like this whole grilled peach accented with arugula and feta by the Inn at Barley Sheaf catering team.
4. Line your envelopes.
We love how Chick Invitations in Old City tied this stationery suite together with a wash of moody floral on the inside of the envelopes.
5. Flameless sparklers FTW!
Add extra oomph to key moments of the night—like the first dance and final send-off — with non-pyro special effects from Synergetic that shoot up to 15 feet in the air.
6. Pronounce yourselves married.
Fun fact: Pennsylvania is one of the few states where couples can get hitched without a judge or other ordained person presiding over the ceremony. When you opt for the self-uniting marriage license — commonly referred to as the Quaker marriage license — at City Hall, the only signatures required are your own and those of two witnesses of your choosing. Cost is an additional $10.
7. Pass out pretzels as an end-of-the-night favor.
Not entirely unique, we know, but Etsy shop Give It Pretty's personalized kraft paper bags are our new favorite way to package 'em. $99 for a set of 100.
8. Post a schedule of events.
Let guests know exactly when important moments are happening with a sign strategically placed at the entrance to the reception.
9. Scoop ice cream for dessert.
Bright Yellow Creamery serves flavors like sea salt honey and ginger lemongrass from this cheery yellow cart. Pricing starts at $375 for three hours.
10. Commemorate the Day for Your Groom
Have your wedding date embroidered under his jacket collar—he'll think of you every time he wears it.
11. Hire a live sketch artist.
Illustrator Denise Fike will come, fabulously dressed, to your wedding to create the ultimate party favor: ultra-flattering watercolor sketches of your guests done in under five minutes. Starting at $200 per hour.
12. Tee it up.
Every summer wedding has cornhole. Not every summer wedding has a driving range. At one Exton private-home reception, guests teed up and out into the woods during cocktail hour.
13. Include your pooch.
Flower girls don't have to throw petals. Dress your pooch in vines and blooms — as Jackie Kemp of Beautiful Blooms did for her own Water Works wedding—and send him walking down the aisle with them instead.
14. Wind down with a tea bar.
Having a more relaxed affair? Instead of serving coffee at the end of the night, let guests choose from an assortment of caffeine-free loose-leaf teas. We love this display by Papertini, which complements the brews with shortbreads and madeleines from Van Earl's Cakes.
15. Invite the Phanatic!
Click here to learn how to book your favorite Philly sports mascot for an appearance at your reception.
16. Gift the scent of home.
Found: the perfect present for that bridesmaid who moved away from home after college and flew in just for the wedding weekend. The Homesick Candles ($35) smells exactly like baked goods at Grandma's house on a crisp fall afternoon.
17. Serve oysters the interactive way.
In lieu of setting up a same-old raw bar, the Philadelphia arm of Oysters XO sends in adorably outfitted mobile shuckers to move about in the cocktail-hour crowd.
18. Wear your new title on your clutch.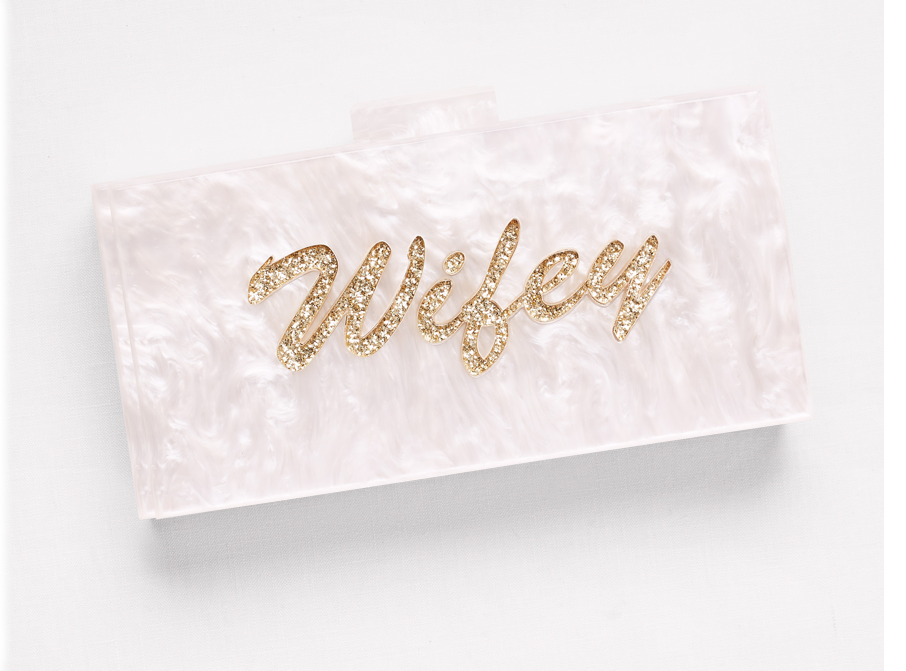 Look-for-less alert! This Lucite minaudière from David's Bridal ($70) is a dead ringer for far pricier options from celeb-fave Edie Parker.
19. Mark the aisles with concrete.
"Construction-site chic" doesn't even begin to do justice to this aisle decor by The Styled Bride and Vault + Vine.
20. Ditch the flower crown.
Replace it with subtle florette pins for a summery look sans the regret of a wreath blocking your eyes in photos. Styling: Brittiany Cunningham for Architeqt Salon & Gallery.
21. Add flavor to your ice cubes.
A combo we love, inspired by Feast Your Eyes Catering: basil and raspberry.
22. Add in some Philly icons.
Has there ever been a more appropriate time to re-create the LOVE statue? Rent this one from Maggpie Rentals.
23. Strike up the Mummers.
Christiane Lehman of Truly You Events booked the Fralinger String Band to lead guests of one Philly couple through the city from their ceremony to reception. $625 for a five-member band; $1,875 for the more popular 15-member group.
24. Say yes to the bridesman (or groomswoman).
Take it from this Stotesbury Mansion bride — it's okay to mix genders in your wedding party.
25. Work in some watercolor.
Longtime Lilly Pulitzer print designer Ashley Begley, the Fitler Square-based proprietress of Ashley D. Studio, can paint original crests, maps, or entire invitation suites for your nuptials. (You'll be in good company—her clients include Goop and Christian Louboutin.) Pricing starts at $300.
26. Put your new name on your jacket.
The perfect cover-up for a rocker-chic wedding? A vegan leather jacket with removable custom script. $250 at Etsy shop Nicole's Covet.
27. Ruffle your wedding cake.
Clara's Groovy Deliciousness wraps each cake layer in hand-flounced fondant to achieve this look.
28. Mark your seats.
Go beyond the standard "Mr." and "Mrs." labels with creative custom and pre-made chair decor from South Philly's Ever Laser. Pricing starts at $45.
29. Design custom drink covers.
Save your wine from bugs (and overzealous waiters) with this oh-so-necessary idea we nabbed from Queen Village stationer Narola Design + Letterpress.
30. Combine florals and solids.
Take the mix-and-match bridesmaid look to the next level by having half the group wear solid shades and the other half don floral patterns in the same color family. Making all the gowns the same length will keep things cohesive.
31. Take photos somewhere other than your venue.
Why wouldn't you commemorate your love in a place you love? If time allows, Asya Shirokova of Asya Photography escorts couples to a locale near and dear to their hearts to capture a few private moments together before the madness starts. Here, a couple shares drinks at La Colombe in Fishtown.
32. Make your stairs the most Instagrammable spot of the night.
Narberth florist Sebesta Design created a beautiful first-look backdrop by weaving smilax vine, roses and dahlias through the railings at a Jersey country-club wedding.
Special thanks to our panel of experts — Alison Conklin Photography, Ashley Gerrity Photography, Asya Photography, DFW Event Design, Emily Wren Photography, Marie Labbancz Photography and Pat Robinson Photography — for sharing their why-didn't-I-think-of-that ways to liven up your wedding day.
This article originally appeared in the Spring/Summer 2018 issue of Philadelphia Wedding Magazine. Purchase yours online here.
Get more great content from Philadelphia Wedding:
FACEBOOK | INSTAGRAM | NEWSLETTER | PINTEREST
Getting married? Start and end your wedding planning journey with Philadelphia Weddings' guide to the best wedding vendors in the city.
---