News
South Philly's Singing Fountain Might Get a Pretty Dramatic Makeover
Some locals think this is the best thing ever. Others worry that the renderings make the Passyunk Avenue centerpiece look like the Willow Grove Mall.
---
If you've ever strolled down Passyunk Avenue in South Philadelphia, you've probably stumbled across the Singing Fountain. You would remember this, because while there are many fountains in Philadelphia, this particular fountain, as the name would suggest, croons, belts and otherwise sings. On any given day, through its mounted outdoor speakers, you might hear a Frank Sinatra song, "That's Amore," or something more, you know, current. And now the Passyunk Avenue Revitalization Corporation (PARC), the group responsible for the Singing Fountain and the plaza surrounding it, says it might be time for a major facelift.
Now don't worry. They aren't going to mess with the faux-Italian aesthetics of the Singing Fountain itself, insists PARC executive director Bryan Fenstermaker.
He says they do need to make some fixes to the "weathered" fountain. "People climb in it," Fenstermaker explains. "And unfortunately, the elements on the tiles are falling off. Things are cracked. And we've had some draining issues. But the fountain is not moving. It's staying the same. The mermaid will be there."
The proposed changes focus on the triangular plaza that surrounds the Singing Fountain.
This is a fairly recent view of the Singing Fountain plaza: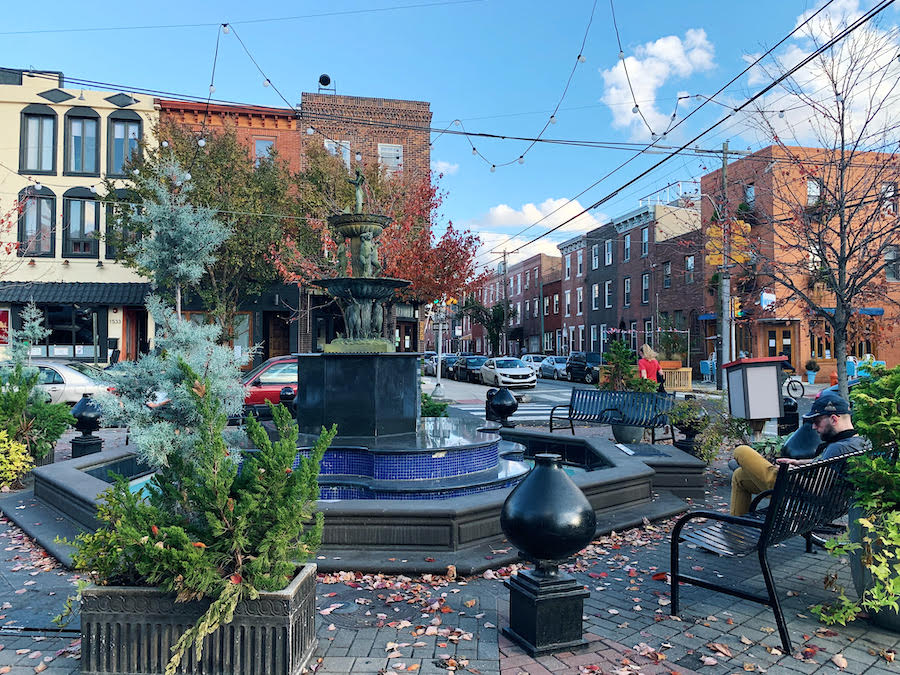 And here are some renderings of what the plaza would look like, assuming the PARC plan is finalized: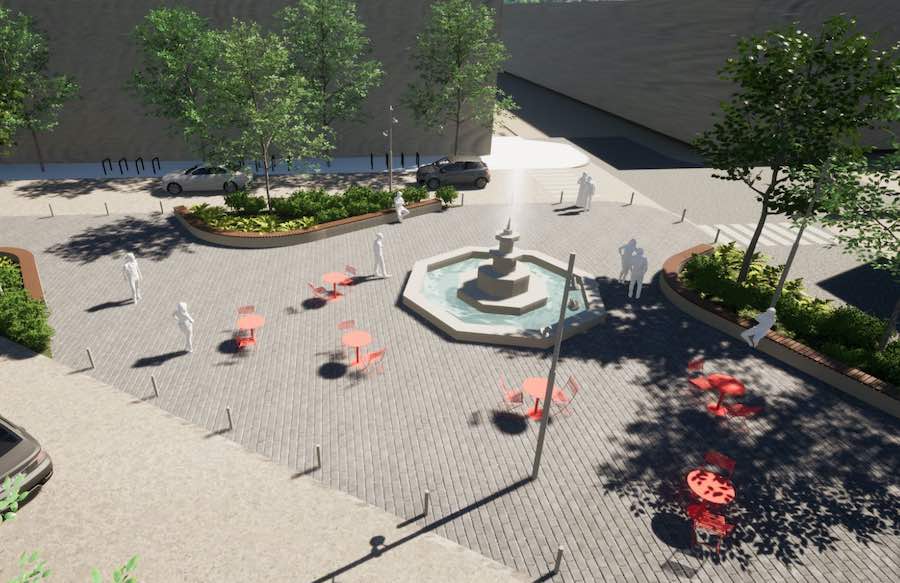 In 2020, PARC surveyed community members, asking them four questions:
What do you like about the Singing Fountain?
What do you dislike about the Singing Fountain?
What are your dreams for the Singing Fountain?
What would you like to name the mermaid?
The results made it clear that community members valued the plaza as a "relaxing" and "beautiful" gathering place, some mentioning its prime position for people-watching in South Philly. So true.
But there were also plenty of complaints. Many feel that there's simply not enough seating. Some said the plaza isn't big enough. There are also safety concerns thanks to the plaza's placement in the middle of the busy intersection where Passyunk Avenue, Tasker Street and 11th Street converge.
Among the complaints that might have some rolling their eyes: the fountain sometimes sprays water outside of where it's supposed to. (I'm melting! I'm melting!). And, believe it or not, some small number of people think there shouldn't be any singing at the Singing Fountain. That would never happen, because if it did, vegan meatball levels of outrage would arise in South Philly once again.
As for the name of the mermaid, most respondents felt it should have a Greek or Italian name, while some felt a Lenape name would be in order. (The Lenape were the first people to live in what is now known as Philadelphia, and the word "Passyunk" is taken from the Lenape language). Others said the mermaid should be named Passyunk. And, in a sign that maybe Gritty mania is finally a thing of the past, only three people suggested the mermaid take on that name.
The proposed design would expand the plaza from 3,000 to 7,000 feet, add more seating and other amenities, and address the pedestrian safety concerns, all at cost that Fenstermaker estimates to be at least $1 million. Fenstermaker says he's not sure of the timeline, if in fact they decide to move forward.
"I'm actually pretty excited about it," says Adam Volk, owner of Redcrest Fried Chicken, situated right at the crossing in question. "I think there's going to be some great things about it. I think improvement of traffic flow will be greatly beneficial to the neighborhood."
"Maybe I'll finally be able to get a seat there on a Friday night," says South Philly resident Allison, who asked that we not use her last name.
Of course, South Philadelphia has seen no shortage of gentrification and, beyond that, some South Philadelphians are fiercely protective of the things that make the neighborhood unique. So not everybody is enthused.
One Passyunk Avenue business worker we spoke to, who declined to give their name, went on a tirade about how all the newcomers and changes are "ruining" the area. Very much an Old South Philly vs. New South Philly argument.
And we had a good chuckle when we read some South Philly Facebook threads about the proposal. While many locals have shown support, glad that PARC is at least making an effort, others weren't so sure once they took a look at the renderings.
"It looks like Willow Grove Mall to me," said one.
---
---
---