News
Here's When Pa. Will Reach Peak Fall Foliage This Year
Pennsylvania's Bureau of Forestry reports the southern part of the state will see lovely colors into late October.
---
The temperature is dropping and autumn is finally here. This year may still have a lot of unknowns in it, but one thing we can count on is the leaves will change, and they'll be pretty gorgeous when they do.
To help us identify when the foliage will reach its "peak" vibrancy, Pennsylvania's Bureau of Forestry has released its annual fall foliage report. The report explains that currently, "While some northern counties have begun to fade, central forests are now stealing the show. Awesome color can be found from northwestern Pennsylvania through the Alleghenies and central Appalachians, to the Pocono region." Who's ready to book a woodsy cabin in the Poconos and to do some leaf-peeping?
Here in Philadelphia, the leaves are just starting to change. However, the report explains that, "Forecasted seasonable temperatures should facilitate a gradual transition of color throughout southern areas of the commonwealth, affording fantastic viewing opportunities into late October." So while Northampton, Berks, Bucks, Montgomery, and Lehigh counties are showing the best colors near Philly thus far, Philadelphia county should catch up over the next couple of weeks.
Craving some fall foliage sooner than that? Right now, a great place to view the colorful leaves is Promised Land State Park in northeastern Pennsylvania. Crawford, Warren, and Erie counties are also approaching their best colors, and even though the peak is still not for another week, the leaves are transitioning fast.
This is the third foliage report Pennsylvania's Bureau of Forestry has produced this season, and you can check here for updates on a new report.
Below you'll find the Bureau of Forrestry's most recent map of where leaf color currently stands across the state. Happy leaf peeping!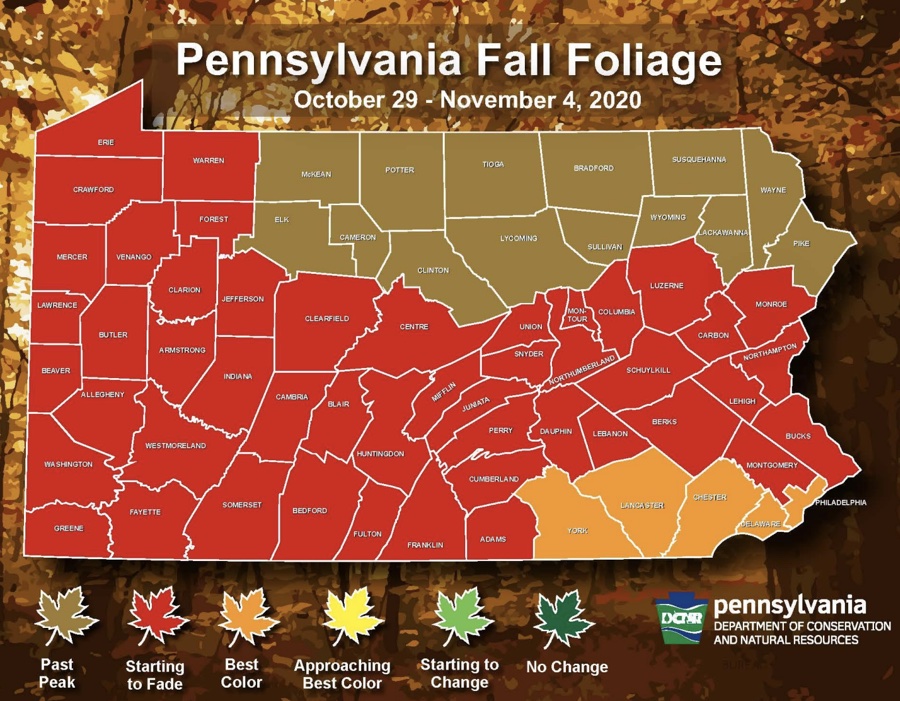 ---