PHOTOS: Philly Cyclists Brave Rain for Annual Naked Bike Ride
Once again, the city saw hundreds of nude and semi-nude cyclists shamelessly pedaling through its neighborhoods on Saturday.
---
This weekend's breezy, rainy weather didn't stop hundreds of cyclists from baring it all at the Philly Naked Bike Ride on Saturday.
The 10th annual body-positive and pro-green-transportation ride started at roughly 2:30 p.m. on Kelly Drive at the Glendinning Rock Garden. There, hundreds of bicyclists prepared for their nude journey with some body painting before leaving at 5 p.m. to pedal along Kelly Drive past the Art Museum to LOVE Park in Center City, via the Benjamin Franklin Parkway.
Some cyclists rode completely naked — while others covered up fully, partially, or with paint. (The theme of the event is "as bare as you dare.") Most people at least wore shoes for the nearly 10-mile route.
Cyclists rode their own bikes as well as skateboards, scooters, and rentable Indego bicycles. (Yeah, you might want to wipe off your bike seat the next time you rent a ride.)
Some people couldn't get enough of the event:
I thoroughly enjoyed my experience yesterday at the Philly Naked Bike Ride. It was amazing to see sooo many free individuals out protesting for so many different things. Definitely doing this again. pic.twitter.com/Vnrv317Dfy

— . (@MELANINATEDnude) September 9, 2018
While others just wanted to avert their eyes:
…oh no, the Naked Bike Ride is between me and home.

— Michael Andersen (@mjandersen) September 8, 2018
Here are the best photos of and reactions to this year's annual Naked Bike Ride. Beware: the images might be NSFW. Obviously, expect some nudity.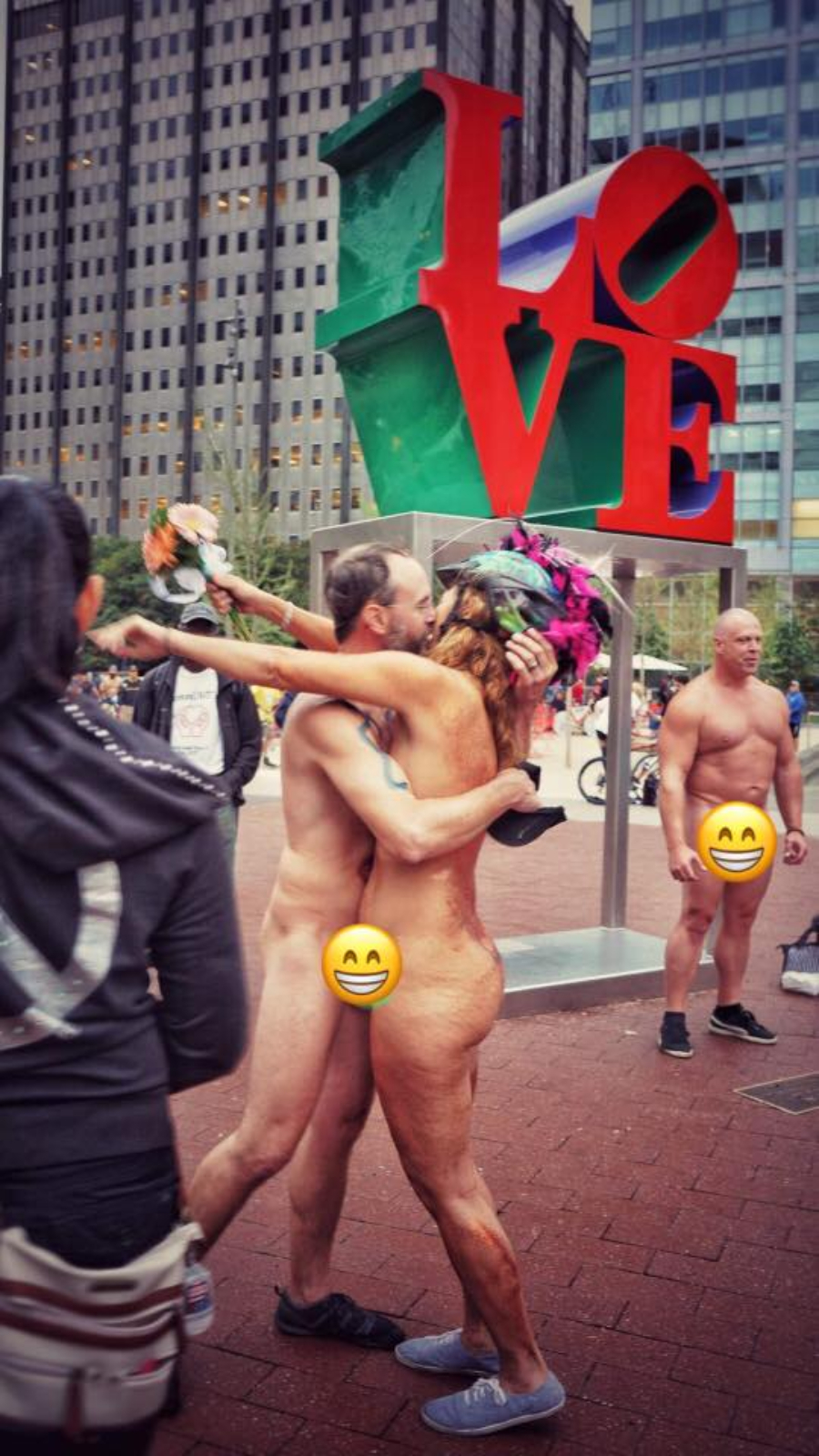 Hundreds Turn Out For 'Philly Naked Bike Ride' https://t.co/m4yvxfBNA4 pic.twitter.com/u8qVv0oG9a

— Cycling Race (@Cycling_Race) September 9, 2018
https://twitter.com/JeromeSpeights_/status/1038559242121342976
Today in Erin's adventures in the city:
A naked bike ride of several hundred people next to my block.

— erin (@ErinGrace13) September 8, 2018
This would have been me. pic.twitter.com/ABELyDHeAt

— Erica Nardello (@ericanardello) September 8, 2018
so the naked bike ride went right past my work today. I saw more body parts in 10 minutes than the rest of my life combined

— beatrice grace (@GraceDobnak) September 8, 2018
---
---