"It Was an Ambush": Behind the Vote That Ousted Sharron Cooks as LGBT Commission Chair
How behind-the-scenes clashes over representation, leadership styles, and a string of provocative but nonpublic Facebook posts led to an "emergency" meeting whose outcome just may have been preordained.
---
The Mayor's Commission on LGBT Affairs, a 23-member advisory board announced in October 2016 after several intense months of revelations about racial discrimination in the Gayborhood, convened its first meeting on March 16th at City Hall. This inaugural gathering served as the formal introduction of Amber Hikes, a black queer woman newly appointed as the executive director of the Office of LGBT Affairs, to the diverse body of volunteers who would help her advise Mayor Jim Kenney's administration on the pressing needs of Philadelphia's LGBT community.
It was during this meeting, which kicked off with commission members taking the floor for two minutes apiece to present overviews of their lives and work, that Sharron Cooks, a black transgender advocate and new member herself, noticed something potentially troubling. She felt that another member, a white cisgender woman, was "taking up too much space" — essentially framing discussion of diversity and inclusion around her own experience rather than that of people of color. Cooks said nothing, but noted that, unlike other members, the woman eventually spoke for five minutes longer than the allotted time.
This seemingly minor event would foreshadow several weeks of turmoil between Cooks, who would be named chair of the commission just two weeks later, and other executive committee members that would eventually lead to an emergency meeting on Election Day, an abrupt motion to remove Cooks from her leadership position, and her resignation the following morning.
G Philly spoke with Cooks, Hikes, and 15 other commissioners about how the situation deteriorated so rapidly. Based on two timelines of events — one that Cooks provided to G Philly and another compiled by Hikes that was produced at the May 16th emergency meeting — the conflict appears to have begun the moment Cooks was elected chair.
•
Cooks, along with Deja Lynn Alvarez, the director of the LGBT Home for Hope, Raquel Saraswati, a Muslim activist, and Amanda Dougherty, a bisexual advocate, emerged as a nominee for chair soon after the first commission meeting, and the March 29th vote that made Cooks the first-ever transgender person to chair a city commission was hailed as historic. "Sharron is a steadfast, dedicated, and passionate activist who is respected across our diverse community," Hikes told G Philly at the time. "Sharron's diligence and leadership are invaluable … and I look forward to working closely with her and the LGBT Affairs Commission to protect and empower LGBTQ Philadelphians throughout this great city."
But just two days later, qFLIX Film Festival executive and Queertimes blogger James Duggan published a screenshot of a nonpublic, friends-only Facebook post Cooks had made a few weeks earlier that he described as "blatant racism":
In the post, Duggan, a white gay cisgender man, called on Cooks to resign: "I need to call on the resignation of a black transgender sister who believes that the black race processes 'superior genetics.'"
"The 'one-drop rule' has been discussed throughout history for centuries … it's not a new concept," Cooks says. "My post was a snarky way of reversing the racist notion that having 'one drop' of blackness was a negative thing." Cooks says she viewed the post as a way to "empower myself as a black woman" on her personal social media page and that she was "disgusted Duggan would attempt to mischaracterize and exploit my remark." (Duggan could not be reached for comment.)
On the same day as Duggan's post, a Change.org petition created under the name "Paul Hallon" asked Hikes and Jim Kenney "Is Sharron Cooks the right person for this job?" G Philly was not able to locate anyone by that name to ask for comment, and at the time this article was published, the petition has been signed only by its creator.
When the commission sat for its second general meeting on April 4th, Hikes informed Cooks that the Mayor's Office had been made aware of Duggan's blog post and the petition, and would address them. Cooks says she then told Hikes about "racist death threats" she had received on social media and about being called a "nigger" on an anonymous Facebook page that was also attacking other LGBTQ community members like state Rep. Brian Sims and philanthropist Mel Heifetz. Cooks, who provided G Philly with screenshots of the threats, says she felt "unsafe and targeted by racists because of [her] recent leadership within the commission."
A week later, on April 11th, Cooks had a meeting with Hikes and the mayor's communications department to review recent events and press requests for comment about Duggan's post and the petition. In reference to that meeting, Hikes's printed timeline states that "we stand in solidarity with Sharron and killed [the] story." But Hikes's solidarity appears to have had limits: At the same meeting, Hikes told Cooks that she was spending "too much time fielding questions about [Cooks's] behavior and cannot do the work [of running the LGBT Affairs office]."
Both timelines show that no further concerns about Cooks's social media conduct emerged over the next three weeks. However, during that period, Cooks reached out to Hikes on three occasions to express her growing frustration with another commission member: Amanda Dougherty, the woman Cooks had thought was "taking up too much space" during the first commission meeting.
As the commission began its outward-facing work, committees had been formed to manage specific projects, including sensitivity training for government agencies and community outreach endeavors. Cooks says that at certain committee meetings, which generally involved Hikes and a handful of other members, Dougherty, a white cisgender bisexual attorney who described herself as a "bisexual advocate" in a press release when the commission's members were first announced, would "over-insert herself" in discussions by focusing on her own experiences and perspectives on topics such as race and trans issues. In advocacy and activist spaces, this kind of behavior by white allies is frequently seen as disrespectful to marginalized people, essentially crowding out their voices and lived experiences. Other commission members who attended meetings with Dougherty and asked not to be named told G Philly that they had similar observations. (Dougherty did not respond to multiple requests for comment about this story.)
On April 28th, Cooks says, she again asked Hikes to speak with Dougherty about her "excessive inconsideration of commission time and discussion" during outside project meetings. "It was my expectation that since this was my third time bringing this to the director of LGBT Affairs, and since I was the chair of the Commission on LGBT Affairs, that my concerns would be taken with merit, discussed with Amanda, and the director would follow back up with me," Cooks says. "There was no follow-up."
Instead, Hikes sent her a text message on April 29th about a friends-only Facebook post Cooks had made earlier that day that Hikes characterized as containing "Brian Sims attacks," although the post in question, which Cooks admits was a critique of Sims's priorities as a legislator, did not mention him by name. Hikes's timeline says that she told Cooks: "It's not prudent to air grievances on Facebook." Cooks told Hikes that she would be willing to meet with Sims to discuss, though when Hikes attempted to set something up, Sims declined the request.
When the commission held its third general meeting on May 2nd, Cooks did not stay the entire time due to a scheduling conflict. Meeting minutes show that Dougherty volunteered to become the commission's community outreach committee chair and planned to work with a three-person group to host community conversations, the first one of which was scheduled for Thursday, May 25th. When Cooks later learned that one of the leading topics planned for the first event was racism, she spoke with Hikes again to voice her concerns over Dougherty "leading community discussions around racism."
"I felt that LGBTQ people of color should be centered in these conversations and that it was inappropriate for a white cisgender woman the community doesn't know to be leading these talks," Cooks says. "Amber said she heard my concerns but didn't say anything more beyond that. Once again, I felt ignored."
Cooks admits that she never brought her concerns directly to Dougherty, fearing that if she did so, she "would be seen as a problem." "There was already enough public pressure that mischaracterized my leadership as a black trans woman being aggressive," Cooks says. "I chose to voice my concerns to Amber, a black queer woman, because I felt like it would take the negative attention off of me during that time. I thought she would help me."
•
Frustrated by what she perceived as a lack of urgency over a critical issue for the commission, Cooks made a barrage of meme-filled, friends-only Facebook posts on May 11th and 12th that obliquely criticized Dougherty, along with members of one of the commission's committees and the mayor's administration. (Cooks also made allegations of financial malfeasance at a local nonprofit, which G Philly was not able to substantiate.)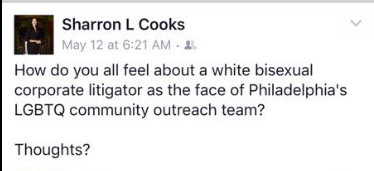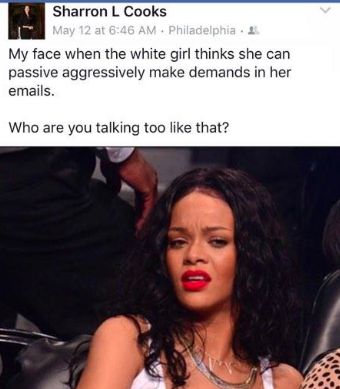 "It was a public call for accountability," Cooks says of the now-deleted posts, screenshots of which she provided to G Philly. "By that point, I had made my concerns clear to the respective leadership in-house and was not heard. This was my call to action."
Following text messages from Hikes on May 12th asking Cooks to refrain from making these types of posts and cautioning her about the implications they could have on her position, Cooks contacted Jane Slusser, Mayor Kenney's chief of staff, via email to express "concerns with the commission [that] have been neglected despite my numerous attempts to resolve my concerns offline" and to say that she had "been informed by the Office of LGBT Affairs that my position as Chair of the commission is in jeopardy due to my honesty and social media presence regarding community issues and commission members." Slusser's reply, which G Philly has seen, told Cooks that "as an Administration that deeply values diversity and inclusion, having any Commission members make derogatory comments about other members' race, gender identity or sexual orientation is unacceptable," but that "I do not believe that your intention was to offend anyone or to produce an environment in which your fellow Commissioners feel unwelcome based on their identity. I am also sure you understand that we must we take feedback from Commission members very seriously." (Slusser did not respond to G Philly's request for comment.)
The next day, May 13th, Hikes sent Cooks a formal email stating that the "behavior you have demonstrated recently is conduct unbecoming a Commissioner and certainly conduct unbecoming the Chair. … I am particularly troubled by your disparaging comments towards members of the Commission and other members of the LGBT community at large regarding race and sexual orientation." Hikes then went on to warn Cooks that "this email is to formally notify you that any future remarks of a public and disparaging nature targeted towards Commissioners or individuals in the community will be grounds for dismissal as the Chair of the Mayor's Commission of LGBT Affairs."
In response, Cooks sent out a mass email to all the commissioners on Sunday, May 14th, to lay out her position on the state of the commission, including its lack of bylaws and non-disclosure agreements, and request that the other members share any issues they had with her. A few commissioners chimed in with concerns about Cooks's social media conduct, but others said that the matter should be discussed in person, and Cooks agreed. Jason Evans, a black community activist who serves as the commission's treasurer and a member of its executive committee (along with Hikes and commission secretary Libby Peters), then made a motion via email to have an emergency meeting, which was seconded. (Evans and Peters did not respond to requests for comment about this story.)
By midday Monday, it had been decided that the meeting would be held the following day — Election Day. Hikes then reached out to Cooks to ask for her input on the agenda, and Cooks outlined specific concerns from her Sunday email that she wanted discussed.
At 7 p.m. on Tuesday, the commission convened the emergency meeting. After a welcome and discussion of ground rules, Cooks spent a few minutes addressing the items she had raised in her Sunday email. But once the floor was opened up to others to discuss their concerns with Cooks's conduct, the direction of the meeting shifted quickly and decisively.
Hikes, who had prepared the meeting's agenda with Peters, proceeded to hand out copies of the timeline of events she created to outline problems with Cooks. Commissioners tell G Philly that Amanda Dougherty then passed out a screenshot of one of Cooks's Facebook posts — the one pictured above in which Cooks asked for thoughts about a white bisexual corporate litigator being the face of LGBTQ outreach — which she had labeled as "Exhibit A." Dougherty also presented an "Exhibit B," containing a copy of a G Philly interview with Feminista Jones in which Dougherty had underlined a remark from Jones about "bisexual erasure." Commissioner Jason Evans then handed out his own packet of screenshots of Cooks's posts, some of which have been reproduced above.
A commissioner present during the meeting describes the room as being "very intense" and "emotional" during the discussion, with several members "[taking] turns bickering about Sharron." Several commissioners also told G Philly that Dougherty cried while talking about Cooks's Facebook posts about her.
Cooks, asked repeatedly whether she had any response to the information being brought to the Commission's attention, declined to speak each time. Evans then made a motion to remove her as chair of the commission. Commissioner Jazz Gray-Sadle seconded the motion. It was quickly decided that a blind vote would be held, at which point Evans produced a stack of plain notecards for members to write their decision on. The cards were handed in, and commissioners Rev. Jeffrey Jordan and Barrett Marshall counted the votes: by a 13-3 vote, with three abstentions, Cooks was no longer the chair of the Philadelphia Mayor's Commission on LGBT Affairs. She was the only black transgender person that served on the commission.
Once the count was announced, Cooks stood up and silently walked out.
•
"It was an ambush," says a commissioner present at the meeting who asked not to be named. "Commissioners were not informed that they would be subjected to exhibits and forced to take a vote to remove Sharron as chair. I abstained from voting because it felt like Sharron was on trial, and it was clear that she didn't expect for any of this to go down like that."
Another commissioner tells G Philly that they felt the vote was "premeditated by the executive board," pointing to a moment during the meeting when another commissioner requested to step out the room but was told by Hikes that they "[couldn't] leave because a vote is going to be taken at the end." "This happened before a motion was even made," the commissioner says.
Nine out of the 19 commissioners present at the emergency meeting told G Philly that they were not informed before the meeting that a motion would be made to remove Cooks as chair. A few others said they were contacted by Evans prior to the meeting that a motion would be made.
"I make decisions based on what I see and what I hear, just like the president and any other election — I don't ever share my vote," Gray-Sadle told G Philly about her reasoning behind seconding the motion to remove Cooks as chair. "I hope that Ms. Cooks will truly advocate for this community, I'm surprised by her decision to resign …. It really speaks for a person's character when they feel they have to be the captain of the ship."
"I voted to keep Sharron as chair because I had just learned information at that meeting that I didn't know and I wanted more context," says Anthony Leon, a Latinx commissioner. "If we are to address race relations, we have to acknowledge that privilege exists on this commission and until we unpack that there will be no community progress."
On Wednesday, May 17th, Cooks resigned from the commission altogether. "It was very clear that Amber and the executive board were making a case to remove me as chair," she says. "What was supposed to be a discussion turned into an abrupt indictment — I was blindsided by the way they targeted me during the meeting, and I felt unsafe. I wasn't going to continue to put myself in a space where I felt interrogated and misunderstood as a black trans woman. I saw first-hand how government spaces police and monitor community voices, even when volunteering for them, and how quickly they will discard you when you don't conform."
"The decision by the Commission to remove Sharron Cooks as Chair came after weeks of persistent concerns," Hikes said in a statement sent to G Philly. "We were all saddened to learn the next day that Sharron chose to resign from the Commission altogether. While disappointed, we are eager to get back to focusing on the work we were appointed to do."
---
---