Conventioneers, It's Clear: Take the Subway
Broad Street Line riders fare much better than shuttle bus patrons at the DNC.
---
Back in 1983, when I moved here, SEPTA's official Philadelphia Street and Transit Map (still the best paper map of the city around, if you can find a copy) had this blunt statement on the back:
"If you wish to move around the city quickly, you must stay out of traffic."
Note to Democratic National Convention-goers: That means you should take the Broad Street Line to get to the Wells Fargo Center.
A completely unscientific survey of delegates and other attendees during last night's opening session revealed a significant satisfaction gap between those who relied on SEPTA's shuttle buses and those who used the subway to get to and from the convention site.
The chief complaint about the shuttle buses: long waits in the hot sun — or the pouring rain.
"There were fights breaking out because people couldn't get on the shuttle buses," said Mark Meizis, a Clinton delegate from Kansas City, Mo. "There were people standing in the sun from 2 to 4 p.m. waiting for buses.
"The on-the-ground employees were working hard to get people on board, though," he continued. "I'd say it was a failure to plan."
"They didn't have enough shuttle buses," said Daniel Carter, a 19-year-old Sanders delegate who drove from Florida to attend the convention. "There were roughly 30-minute waits for shuttles" at the Convention Center. But Carter also said the SEPTA employees were blameless: "Thank you to the SEPTA maintenance workers for making sure everything ran smoothly."
Meizis's wife Pattie laid at least some of the blame at the feet of the Bernie-or-Bust crowd. "The Bernie people had blocked the buses and they weren't getting through," she said. (SEPTA spokesperson Heather Redfern said that there were no protests that specifically targeted the shuttle buses, but that "if there was a spontaneous protest somewhere along the way, the buses would have gotten caught up in that.")
And then there was Washington Post reporter Dana Milbank, whose Tweet about the return trip has been widely shared:
12:30 am: Thousands still in gridlock trying to leave Wells Fargo Ctr. One-hour-plus wait for Uber. Shuttles MIA. Worst. Convention. Ever.

— Dana Milbank (@Milbank) July 26, 2016
A Sanders delegate who declined to be identified gave a similar assessment of the overall transportation organization: "It's abominable," he said. "There's nobody to guide us; no one gave us directions. I had to wait a half hour for a shuttle bus, and they moved at a snail's pace. The creature comforts [at the convention site] were poor too."
Not everyone who took a bus down had such a disappointing experience, though. Dana Vickers Shelley, a member of the Democratic National Convention Committee's communications team, said she only waited five minutes for a shuttle bus to the center. "It took about 15 minutes to get here." Her experience may have been a function of when she made her way down, however: She and her colleagues left Center City around 4:30 p.m., after the convention "rush hour" between 3 and 4 p.m. (The convention committee had asked delegates to arrive at the Wells Fargo Center by 4 for the opening day's program.) Still, she described the experience as "terrific. It was efficient, clean, smooth sailing."
Those who chose the subway to get to the convention site generally had a better experience, even those who were slightly disoriented as they found their way to the subway station platforms. "City Hall is a weird station. And it was abandoned," said Adam Parsons, a Sanders delegate from Ohio who caught a train to AT&T Station there at 2 p.m., before the rush began. But even though Parsons hailed from Columbus, which has no subway — the only Ohio city that has one is Cleveland — he noted, "Really, there were a lot of people who don't know how to use subways" at the convention. Not including him.
Shaher Ibrahimi, a Sanders delegate from Lawrence, Kan., started out by attempting to take a shuttle bus from a meeting with the Vermont Senator, but "the bus, I guess, couldn't get here because the protesters were blocking the buses," so he went over to City Hall station to catch the subway. "It was pretty good, uneventful. It was a little hot, but no complaints," he said.
Had Milbank followed the lead of New York Times columnist David Brooks and taken the subway back, he might have spared himself the exasperation. SEPTA personnel inside AT&T Station guided patrons to waiting subway trains — which were plentiful, as the platforms at AT&T can accommodate two five-car trains on each track — and made sure the trains were as full as they could possibly be before dispatching them. It may have been the first time in Broad Street Line history (non-sports-related division) that one could see trains packed to the gills with standees; the line usually carries far less than the traffic it can handle. Broad Street Line trains, which had been parked at stations along the line after the day's regular express service ended at 7 p.m., arrived and departed frequently as well.
According to SEPTA, yesterday's service disruption on the Broad Street Line between Oregon and AT&T stations should not be repeated; the Philadelphia Police requested the restriction as they dealt with a Bernie-or-Bust protest directly above AT&T Station. As was the case yesterday, SEPTA will add extra express trains southbound from City Hall in the afternoon hours to handle convention traffic. For those not familiar with the system, finding your way to the subway may seem intimidating, but SEPTA staff (look for the bright yellow vests) should be able to assist you.
In the meantime, for those who still prefer not to deal with the masses on ordinary mass transit, my recommendation is: Pray the Bernie-or-Busters stay out of the street this afternoon. Maybe then, you'll have a fighting chance of getting on a shuttle bus in a reasonable period of time.
---
The Return Trip From Day One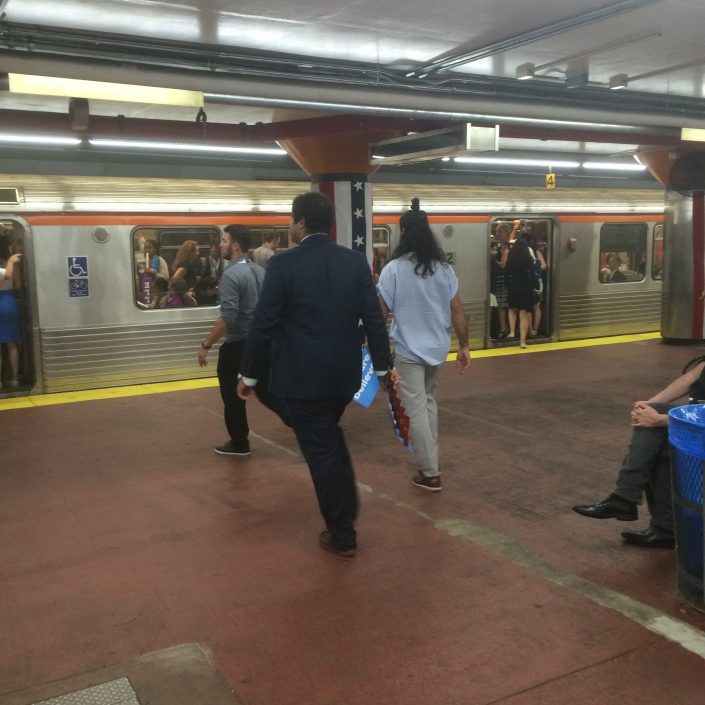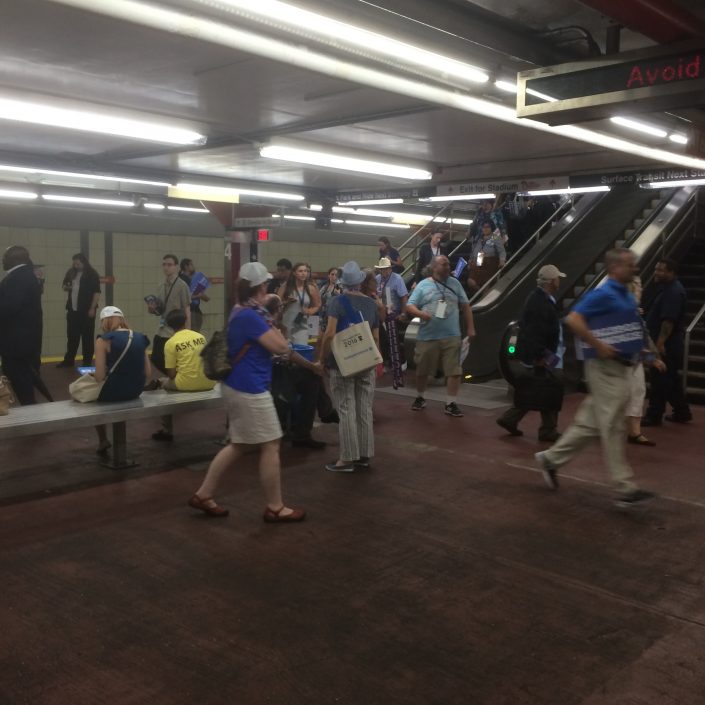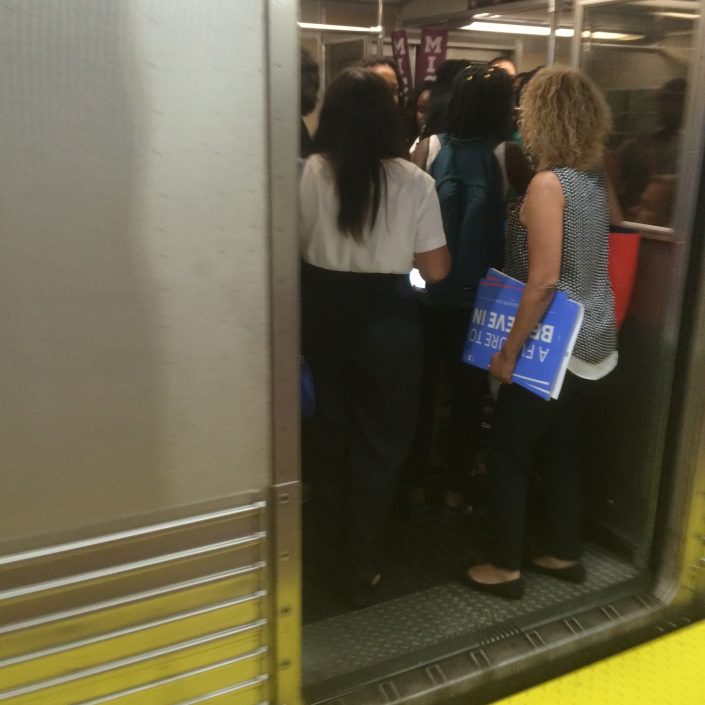 ---
Follow Sandy Smith on Twitter.
---
---