Wolf Will Let GOP Budget Become Law
The 2015-16 budget impasse is over.
---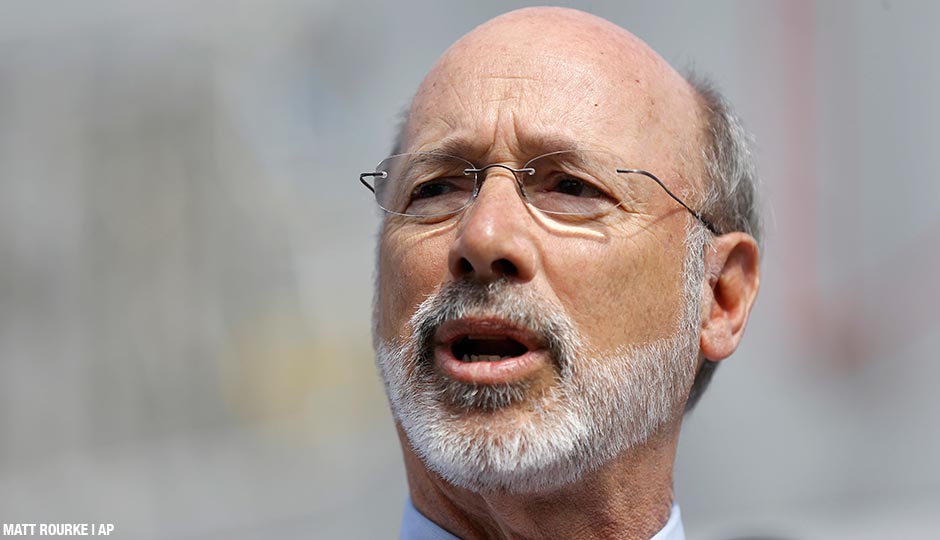 Gov. Tom Wolf today said he would let a Republican-passed state budget become law, ending — at long last — the budget impasse that has persisted since last summer.
Wolf made the announcement at a 1 p.m. press conference, simultaneously tweeting his comments through his official account. He said the $6.6 billion budget package would become law without his signature.
Gov. Tom Wolf to let Republican-controlled Legislature's budget to lapse into law without his signature. That occurs Sunday.

— Steve Esack (@sesack) March 23, 2016
Wolf says he won't sign budget bill because it's not balanced, but he'll let it become law. Warns that PA's budgeting ways must change.

— Mary Wilson (@MaryWilson) March 23, 2016
Wolf says not signing the budget but allowing it to take effect is the "right thing" to do to "move on."

— Mary Wilson (@MaryWilson) March 23, 2016
The $6.6 billion package completes funding for the $30 billion 2015-2016 budget, and contains no new taxes. It does include a $200 million hike in school aid — about half of what the governor originally sought. Wolf had threatened to veto the bill, but leading Democrats in the General Assembly in recent days had asked him to hold off, a signal that they were ready to end the battle at long last.
Wolf quickly turned his attention to the 2016-17 budget, still under preparation.
Gov. Wolf: To allow us to move on from the problems that have plagued 2015-16, I am going to allow this bill to become allow.

— Governor Tom Wolf (@GovernorTomWolf) March 23, 2016
Gov. Wolf: I'm asking the legislature to work with me to do the right thing. To work towards a responsible — & balanced — budget in 2016-17.

— Governor Tom Wolf (@GovernorTomWolf) March 23, 2016
Gov. Wolf: We need to get back to work to create a budget in 2016-17 that actually has the money we all know we need.

— Governor Tom Wolf (@GovernorTomWolf) March 23, 2016
Gov. Wolf: Let's get to work — real work — to create a budget that actually adds up.

— Governor Tom Wolf (@GovernorTomWolf) March 23, 2016
Wolf's decision ended a nine-month impasse. He had asked for the larger school funding hike and a tax on Marcellus Shale gas extraction, and came close in December to reaching agreement with the GOP-controlled General Assembly. Instead, the Pa. House rejected the proposal, and Wolf approved a half-budget of sorts at the end of 2015 — approving spending to keep government working, but line-item vetoing enough spending to force legislators back to the table.
Instead, he now has accepted — begrudgingly — the GOP's terms.
"Let's be clear: the math in this budget does not work," he said in a statement released to the press. "Next fiscal year — that already has a $2 billion deficit — will now begin with an extra $300 million deficit. Ratings agencies and the Independent Fiscal Office have all agreed that we face a massive structural deficit. Left unaddressed, the deficit will force cuts to schools and human services, devastating credit downgrades that will cost taxpayers millions, and increase property taxes for our senior citizens. We must face this reality this year and balance our budget with real, sustainable revenues."
Watch his full speech here:
Follow @JoelMMathis on Twitter.
---