(Updated) #MarriageEquality: The Reaction
Reactions to the Supreme Court decision in Philly, on social media, and beyond.
---
[Updated with reaction and slideshow from a rally at the National Constitution Center, below.]
Today, the U.S. Supreme Court declared that marriage is a fundamental right, and that states cannot prohibit gay and lesbian folks from marrying. The reaction has been overwhelming on social media, both in Philadelphia and around the country.
For those of us who have fought the battle for marriage equality…. this is a mind out of body experience…wow!

— Mark Segal (@PhilaGayNews) June 26, 2015
Visit Philadelphia was ready with an ad campaign:
And people from all walks of life celebrated:
#SCOTUS killin it this week!

— Questlove Gomez (@questlove) June 26, 2015
Love won in Pennsylvania one year ago, and today love has won across the United States. – TW #MarriageEquality pic.twitter.com/789SH4DPGD

— Governor Tom Wolf (@GovernorTomWolf) June 26, 2015
"No union is more profound than marriage, for it embodies the highest ideals of love, fidelity, devotion, sacrifice, and…

Posted by Paul Steinke on Friday, June 26, 2015
I could move back to Kentucky and still be married! http://t.co/VcaG6J2zXH

— Josh Middleton (@justjoshfunk1) June 26, 2015
Shoutout to the committment-phobes who told their partners they wouldn't get married until everyone could legally. The jig is UP! LOLOLOLOL

— Ashley C. Ford (@iSmashFizzle) June 26, 2015
Reminder: PA (and many other states!) non-discrimination law doesn't cover sexual orientation or gender identity. https://t.co/NsOIBS3j1h

— chris grant (@chrisgrant) June 26, 2015
Read the Supreme Court's gay marriage ruling for yourself! It belongs to you. It belongs to all of us. http://t.co/cnJqPOV4vd #SCOTUS #SSM

— Constitution Center (@ConstitutionCtr) June 26, 2015
https://twitter.com/jenniferkates/status/614437395606437888
Scalia's dissenting opinion is just copy-pasted Lynyrd Skynyrd lyrics

— New Zac City (@ANNZac) June 26, 2015
Today is a big step in our march toward equality. Gay and lesbian couples now have the right to marry, just like anyone else. #LoveWins

— President Obama (@POTUS) June 26, 2015
Our new favorite map. RT if you live in a state where marriage equality is law. pic.twitter.com/7GlCwCJHyg

— Hillary Clinton (@HillaryClinton) June 26, 2015
---
At the National Constitution Center, a modest, but excited, crowd gathered to celebrate the news. Three large-screen televisions were installed in the Center's lobby which showed various news reports and a Twitter feed, tracking a variety of hashtags, including #LoveWins, #DecisionDay, #SCOTUS, and more.
"I'm what you'd call an ally," said one woman, a worker at the Center. "I've waited 30 years for this. I used to run a GSA club back in the day." She eagerly took out her cell phone to show pictures of a gay wedding that she attended several weeks ago. "Now it's official everywhere!"
Deanna Day and Peter Collopy work nearby and were monitoring the Supreme Court's online live blog. When the decision came down, they walked over to the Center to celebrate.
"We are so excited," said Day.
Meanwhile, Naomi Socher-Lerner and her wife posed with their child, Selah, in front of one of the television screens. The infant, dressed in a "Philly Gay Pride" t-shirt, clearly didn't understand what was going on around her, but was happily passed between her moms.
Former Governor Ed Rendell was on hand briefly to make comments about the ruling.
"It was the right decision of the Supreme Court," he said. He recalled a personal story about a female acquaintance who got into a horrible car crash and her partner couldn't see her in the hospital.
"It was just ridiculous," he said, and quickly added, "Society has changed."
---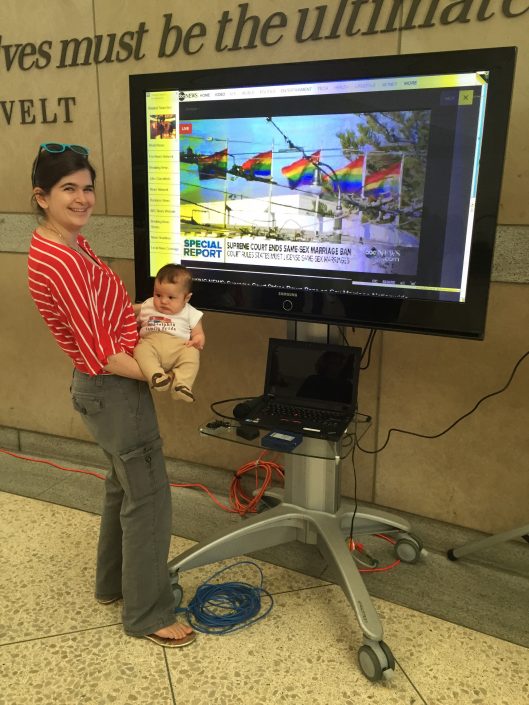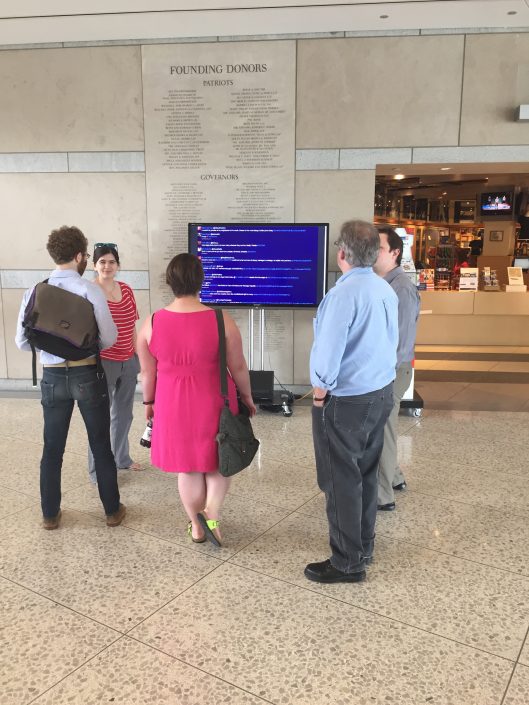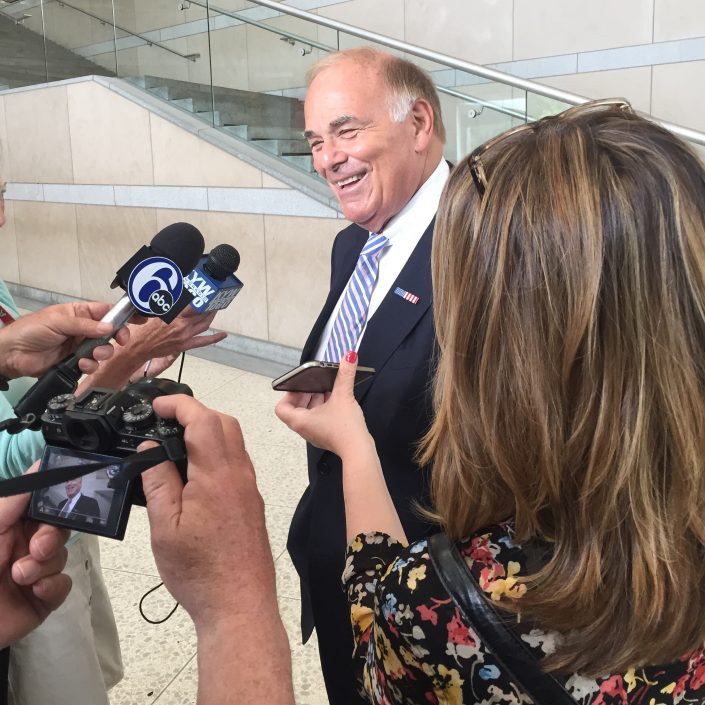 ---
---