PHOTOS: Nate Berkus and Fiance Jeremiah Brent Look Fine in New Banana Republic Ads
---
Just when we need a little positive news after the dreadful stories coming out of Arizona and Uganda, leave it to über-gay retailer Banana Republic to cheer us up with a new ad campaign featuring sexy-as-heck Nate Berkus and his fiancé, Jeremiah Brent.
Berkus, the interior designer made famous by Oprah, co-stars in the company's Spring 2014 promotional lineup with his soon-to-be hubby, Brent, who was featured on Bravo TV's The Rachel Zoe Project. The couple looks positively stunning in a series of neutral-colored outfits that feature the latest styles from Banana in what the company calls its "True Outfitters" campaign, a "heartfelt nod to the modern day adventurer who appreciates the journey, not just the destination, and is perfectly outfitted every step of the way.
Gap Inc., the parent company of Banana Republic, has never been shy when it comes to supporting LGBT inclusivity. The retail conglomerate, which recently received positive press when it announced it would raise its minimum wage for store employees to $10 an hour by 2015, has a particularly strong commitment to diversity — the company's website states, "We value the diversity of thought, experience, and perspectives of our customers. Embracing diversity stimulates innovation in our products and helps us improve our store experience. That enables us to create an inviting and inclusive place to work and to shop."
Check out some of the couple's images below, and look out for the launch of the ad campaign during this Sunday's Academy Awards show.
---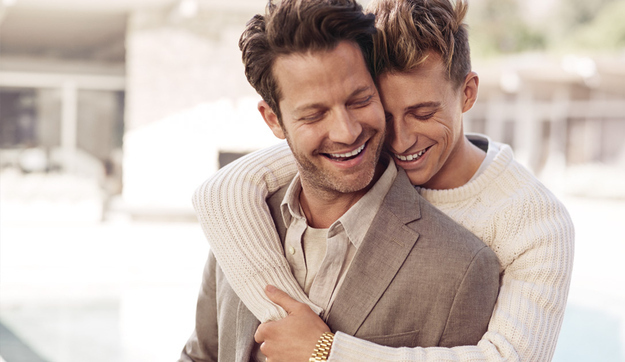 ---
---