PHOTOS: 2014 No Pants Subway Ride Philadelphia
---
Inspired by NYC improv group Improv Everywhere's annual event, Drexel's Urban Playground hosted the No Pants Subway Ride 2014 on SEPTA on Sunday. I spoke with one of the coordinators, Richard Alexander Furstein, a senior at Drexel specializing in gendery/sexuality studies, who told me the concept behind the activity is to "turn a few heads and remind SEPTA riders to relax a bit."
He tells me most people on the train got a kick out of it, they even persuaded one random passenger to join in. A few party poopers, however, complained to police, and Furstein had to explain himself to a couple cops. He tells the story:
"While taking the Broad Street Line northbound, two SEPTA transit police officers approached me and other participants on our car, and asked us to step off for questioning. They asked us what we were doing, and explained that there had been numerous complaints about people taking their pants off on the El. I reminded the officers that by keeping our underwear on, we had broken no laws, and asked on what charge I was being detained. The officers quickly assured me that the questioning was merely part of an investigation, and that I was not under arrest. They asked for my personal information, Improv Everywhere's contact information, and then let us go. They asked me to contact SEPTA beforehand in the future."
Furstein sent me a few photos, which you can see below. There's also a great collection of snapshots on PHL17 and the Metro.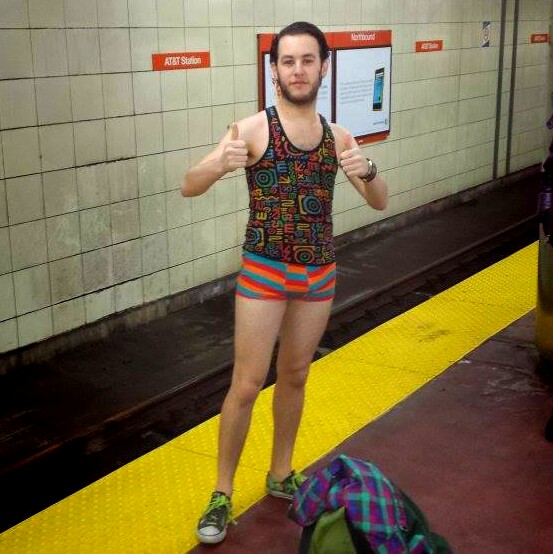 ---