Where to Have a Fun Group Dinner for Less Than $50 Per Person
11 great BYOB spots in Philly that will impress your friends (without them having to spend a ton of money).
We all know the feeling of finding the perfect restaurant for five-to-eight people who have varying budgets. Whether it's a birthday, a family dinner, or a random assortment of friends, choosing an affordable option that excites everyone can get stressful. But don't just throw in the towel and order pizza to your tiny living room. Use this list: it has a variety of spots around Philly where you can reserve a table within a couple of days of your outing, order generously when you're there, and leave knowing everyone will be reasonably impressed with your restaurant-choosing skills.
When it comes to group dining, we're particular fans of a set menu. That extra couple of bucks helps avoid the stress of everyone trying to decide whether to share a bunch of plates, or — worst of all — the possibility of everyone skipping appetizers, going straight to mains, and heading home after a 45-minute meal.
Affordability is, of course, all in the eye of the credit-card holder, but the majority of these spots will come in under $40 per person. And yes, the glory of the Philly BYOB is on full display here. Go forth and enjoy your big group dinner.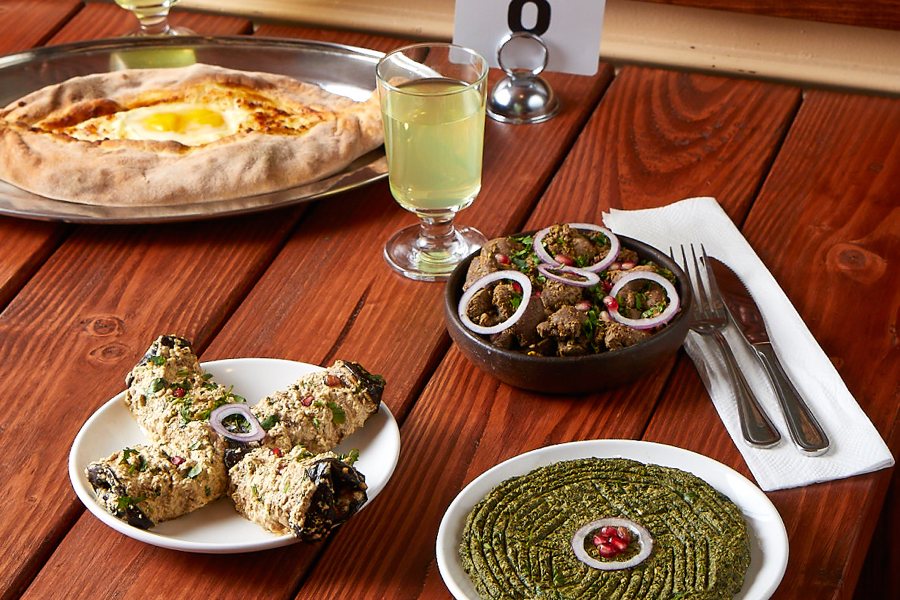 A spread at Georgian Bread / Photograph by Michael Persico
Georgian Bread, Northeast Philly
Rally your crew to drive to Georgian Bread. This casual spot, located in a strip mall on Bustleton Avenue, serves cheesy adjaruli khachapuri baked in a tone oven, plus doughy, soup-filled khinkali, and charcoal-grilled beef and pork kabobs. You can get all of that, bring your own booze (though you should get some pear lemonade, too), and have a very good time next to a mannequin with a furry hat and a cart in tow. 10865 Bustleton Avenue.
Perla, East Passyunk
At $48 per person, this Filipino BYOB is actually one of the pricier options on this list, but hear us out: you won't be ordering off a menu when you're here. You won't even be eating off of plates. Instead, you and your friends will enjoy Perla's Kamayan feast, which involves an entire table covered in banana leaves and stacked with rice, chicken, hunks of fried pork, lumpia, veggies, a whole fish and chocolate coconut budino for dessert. It's the definition of a fun group meal. 1535 South 11th Street.
Apricot Stone, Northern Liberties
You could come to this Northern Liberties Armenian restaurant and order directly off the menu. But then you'd probably end up limited only to your individual appetizer and entree. Another option is to go for the $40 Taste of Apricot Stone menu, wherein dips, salads, falafel, manti, rice pilaf are served family-style. It's a generous amount of food that takes you through four full courses. The only catch is that you'll need at least seven people to participate. 1040 North 2nd Street.
A Mano, Fairmount
A Mano serves delicious and approachable Italian food, like grilled branzino, gnocchi, and lemon olive oil cake. In terms of ordering here, you only have two options: a three-course prix fixe or a four-course prix fixe. Go for the smaller of the two if you're trying to keep things under $50 per person. For $48, you'll get an antipasti, a primi and a secondi, which give you ample time to linger over your meal and make small talk with your friend's coworker, or whoever you're meeting at this birthday dinner. 2244 Fairmount Avenue.
Stina Pizzeria, South Philly
In the before time, if you had taken a group of eight people to Stina, you would have been out of luck because that's basically the whole dining room. But now that they've got outdoor seating, they allow reservations for groups of up to six. Order a selection of Mediterranean small plates for the table, or go classic wood-fire pizza all the way. Either option will please a crowd of people who are generally hard to please. 1705 Snyder Avenue.
Mole Poblano, Italian Market
There are tons of Mexican spots in the city where you can eat a huge meal for less than $30, but Mole Poblano works especially well since the space is great for hanging out. Call ahead to make a reservation for a group larger than four, then order far and wide. You could bring wine or beer, sure, but real pros know to pre-batch margaritas. 1144 South 9th Street.
Banana Leaf, Chinatown
If you like the idea of couple of six-packs of beer and a spread of airy-fried roti, skewers of satay, curries, and noodles, this Malaysian spot in Chinatown should be exactly the right kind of casual spot for you and some friends. Bring a group of people who are happy to share everything. 1009 Arch Street.
L'Angolo Ristorante, South Philly
This is the type of homey place that South Philly families go every single week or Sunday dinner, but it's just as fitting for an affordable meal that also feels celebratory. The portions are huge, so plan to share dishes like seafood pasta, eggplant parm, mozzarella salad, and other red-sauce classics. 1415 West Porter Street.
Dim Sum House, Center City and University City
Even those who refuse to have brunch with a big group will probably love dim sum on a Sunday. So if you're trying to corral a bunch of people, take them to Dim Sum House (or one of the other great dim sum spots on our guide to Chinatown). There are no carts roving around the dining room here, but the menu is full of pictures so you can still get a visual of what's being offered that day. 1930 Chestnut Street and 3939 Chestnut Street
Marrakesh, South Street
It's important to know that Marrakesh has belly dancers on the weekends. How you factor that into your big group reservation is up to you, but we'd be remiss not to mention it. The other important thing to know is that their fixed-price menu costs $25 per person, and includes an appetizer, a main, and a dessert of fruit, Moroccan pastries, and hot mint tea. Just be aware that this is a restaurant that's best for meat-eaters (though there is a vegetarian main offered). 517 South Leithgow Street.
Dahlak, West Philly
Dahlak is not BYOB. But you can still get an $18 combo platter (with tender Ethiopian meats and stewed vegetarian dishes, plus injera) and a couple of beers for well under $30 before tip. For even more of a party, make a reservation for when they have live music. 4708 Baltimore Avenue.
---