Where to Eat in Chinatown: The Ultimate Guide
From dim sum to rolled ice cream, sushi to sausages, and every kind of dumpling you can imagine, here's what you need to know about eating in Chinatown.
---
Devoted foodies and restaurant newbies love Foobooz. Sign up now for our twice weekly newsletter.
If Fishtown is the city's culinary laboratory and Old City its historic and most public face, then Chinatown is Philadelphia's id. It is where we go when we're craving junk food and when we want to taste greatness, where we can be thrilled and comforted. Philly's Chinatown is just a few square blocks, squeezed all around by shinier neighborhoods but never subsumed or overshadowed by them. As a neighborhood, it is accessible — welcoming and insular at the same time.
Chinatown has its own rules. Its grit is honest and real. The restaurants here aren't faking age or authenticity or their DIY bona fides. The counters and kitchens and markets here aren't destinations for gawkers — they're the heart of a thriving community. Lucky for us, that community really knows how to eat.
Even luckier? Everyone is invited.
The Restaurants in Chinatown You Must Try First
Chinatown Square
This is Chinatown's food hall, an odd (and ever-changing) mixture of cuisines and culture all shoved inside a former gift shop-slash-department store right in the middle of Race Street. There's Khmer sausages and ice cream, bao, burgers, gyros and poke, cocktails and Japanese street food at Hi Kori, and amazing Korean soondubu upstairs at Dae Bak. I wish it were twice as big. I wish it were twice as busy (except when it is busy, and then I wish everyone would go home). But I'm happy that we have it. You should be, too. 1016 Race Street
David's Mai Lai Wah
At this point, David's is basically an institution. If you're a regular nightcrawler, you already know the place as a last-call destination for chefs, bar crews, insomniacs, the bungled, and the botched. If you're not, I've heard it's also open during daylight hours, too, though I can't swear to that. 1001 Race Street
Tom's Dim Sum
The best scallion pancakes you'll ever have under a bridge. Really, they're the best scallion pancakes you might have anywhere. But that bridge thing? Definitely. The soup dumplings are so good there ought to be lines out the door. But this is Chinatown and this is Philly, so there aren't, and you can almost always get a seat. Dim sum is only part of what they do here, and the lunches and daily special are worth looking at, too. 59 North 11th Street
Chubby Cattle
You order via iPad, pick your ingredients from a refrigerated conveyor belt, and grab your meal from a magnetic train system. The broths have clever, strange names like "Beautiful Tomato" and "Deepest Hell," the noodles are hand-made, and the meats are of superior quality. But the oddest thing about Chubby Cattle (which has locations in other cities like Vegas and Denver), is the sense that this new, sleek, pretty, and modern Chinatown branch might be a vision of the way that we'll all be eating at some point in one possible future. 146 North 10th Street
Happy Lamb
Little Sheep closed during the pandemic and has been replaced by another Mongolian hot pot spot, this one all you can eat. Choose your broth, choose your proteins, and then go to town. 1017 Arch Street
Xi'an Sizzling Woks
Shaanxi cuisine is the focus here — a combination of Szechuan heat and Silk Road spices that result in dishes like Chinese hamburgers, chive pie, ma po tofu, and pita bread soaked in lamb soup. 902 Arch Street
The Best Noodles in Chinatown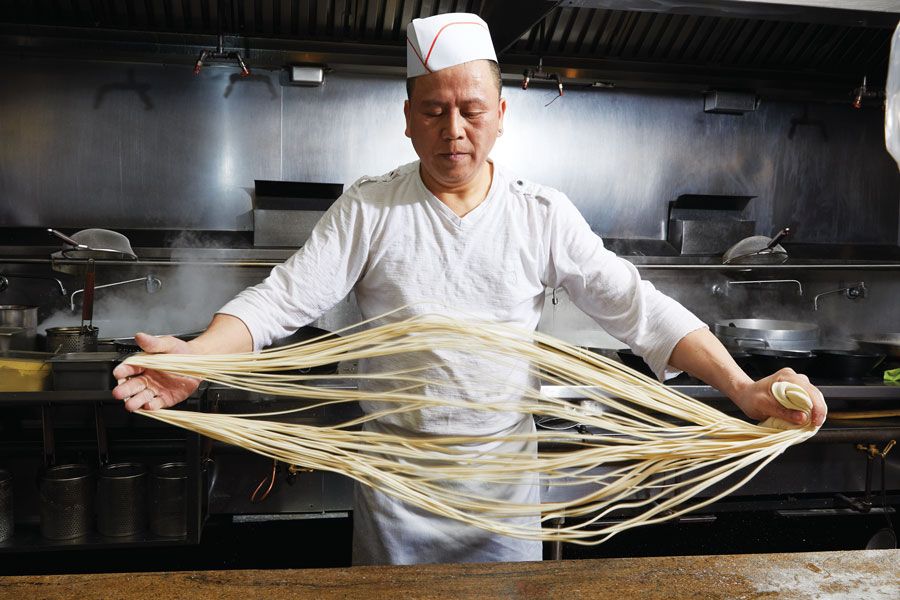 Spice C
Hand-drawn, shaved noodle dishes and a killer Szechuan soup. What more do you need to know? Oh, maybe to order the Singapore rice noodles hidden all the way at the bottom of the Chef's Specials, or the Dragon and Phoenix soup if you're looking for suggestions. But really, you can't go wrong with any of the noodle-based dishes here. 131 North 10th Street
Nan Zhou Hand-Drawn Noodle House
The name says it all, right? Try the oxtail noodle soup or the shredded pork stir-fry noodles (with a little chile paste). If you need something green, the snow peas with garlic are also very good. 1022 Race Street
Terakawa Ramen
Remember that ramen craze that swept through Philly a few years back? It turns out that Terakawa — with its Kyushu-style noodles and broth simmered for two days — was really all we needed. Plus, the gyoza and onigiri are amazing. 204 North 9th Street
The Best Late-Night Eats in Chinatown
Penang
This Malaysian spot was my favorite restaurant in Philly for a while. The roti canai will change your life. Crisp and chewy at the same time, hot from the oil, thin as tissue, served with a chunky curry — it's unlike any other roti I've had anywhere. Sitting at a table after dark on a Saturday night with my wife, a couple cold Tsing Taos, a plate of roti and some beef rendang remains one of my happiest restaurant memories. 117 North 10th Street
Jade Harbor
A small, hole-in-the-wall Cantonese restaurant thats serves as a late-night go-to for many Chinatown regulars. Service is almost always an issue, but if you're looking for salt-baked crab, mei fun, pan-fried noodles, or bowls of snails in black bean sauce, this is your spot. 942 Race Street
A La Mousse
This is an unusual one, even for Chinatown. It's a French bakery doing a kind of fusion baking with Asian ingredients (matcha, lychee, green tea, mango), plus a tea house and cafe offering everything from shots of espresso to milk foam teas. Also, though it doesn't open until noon (really), it stays open until 11 p.m. or midnight every night. 145 North 11th Street
Tai Lake
This is a bunker of a place, long and windowless and decorated like a Midwestern Hilton ballroom. But you can get a Stinger at the bar, salt-baked shrimp with chiles, Chinese casseroles, jellyfish prepared five different ways if that's your thing, lobster with minced pork — really, anything you could possibly imagine. But the kitchen knows what it is doing, the staff is friendly, the beer is cheap, and the Peking duck is excellent. That's reason enough to check it out. 134 North 10th Street
Chuan Kee Skewer
Chuan Kee is kinda like a Chinese fondue restaurant, because its specialty is hot pot skewers — sticks full of meats and vegetables made for dipping into the hot pots in the middle of the table. It's unusual, but also kind of awesome, and the kitchen also does things like fried soft-shell crabs, bacon-wrapped enoki mushrooms, lamb soup, pickled chicken feet, and fried bananas for dessert. 927 Race Street
Shiao Lan Kung
Sure, David's Mai Lai Wah gets all the press as a late-night Chinatown destination. But you wanna know a secret? Shiao Lan Kung is where the even cooler kids are hanging out. Or the ones who don't want to wait for a table (or a drink) at David's. Shiao Lan Kung has a bar, it's open until 3 a.m. on the weekends, and the menu is full of delicious fried things. Plus, the service staff is fast and knows exactly what they're doing. 930 Race Street
The Best Dim Sum in Chinatown
Dim Sum Garden
Small, cute, shiny, almost always busy. The menu is dumpling heavy (nearly dumpling exclusive), and offers two different kinds of chef Shizhou Da's Shanghai-style xiao long bao soup dumplings, which are the primary draw here. 1020 Race Street
Ocean City
Serious dim sum for serious eaters. It has carts, surly service, huge crowds, zero decor. It is basically just a box full of delicious things to eat, but they do some of the best congee in town, more kinds of dumplings than you have fingers, steamed buns like softballs full of meat, chicken feet, sticky rice, turnip cakes, and everything else you could possibly want. Go with a big group, order everything that passes by your table and everything you see the other tables ordering, and thank me later. 234 North 9th Street
Shang Hai 1
Soup Dumplings. Now. 123 North 10th Street
Ocean Harbor
The main dim sum battle in Chinatown seems to be between those who like Ocean Harbor and those who prefer Joy Tsin Lau. Me? I'm an Ocean Harbor man. It's cart service. The selection is large, and so are the crowds. Arrive early, get a number from the lady behind the counter, sit, order, eat. 1023 Race Street
Nom Wah
Dim sum and tea. You order off a card, so it's perfect for those who might be intimidated by places with roving dim sum carts. It also means that everything is cooked to order. Our Nom Wah is an expansion of the NYC original, and the menu includes both classics (siu mai, chicken feet, taro dumplings, sticky rice and sausage) and slightly more modern interpretations, like egg rolls and shrimp balls wrapped in bacon. 218 North 13th Street
The Best Szechuan in Chinatown
Emei
Philly loves Szechuan food. The spice, the peppers, the heat of it. And Emei is a pure Szechuan restaurant, offering authentic flavors un-gentled by old-fashioned American tastes. So if you're looking for the real thing (or the realest thing you're going to find without a passport), Emei is a good place to start. 915 Arch Street
Red Kings 2
Karaoke and spicy Szechuan food until 2 a.m. Careful, though. The kitchen tends to shut down a little bit before last call so they can clear all the tables out by closing time.
Yi Pin
Yi Pin stays open past midnight serving Szechuan specialties plus hot pot and skewers, all in a comfortable modern environment with a full bar. It's also a karaoke bar, though when people are actually singing is somewhat unpredictable. 1026 Race Street
The Best Southeast Asian Restaurants in Chinatown
Vietnam
The Lai family started this as a grocery store in the early '80s. It became a small restaurant, grew a lounge upstairs (Bar Saigon) and a second location in University City. But one thing has been consistent: the excellent food. Downstairs, the kitchen knocks out fantastic vermicelli bowls and spicy green papaya salad with beef jerky. Upstairs, it's Mai Tais and volcano bowls. Both are excellent options. 221 North 11th Street
Rangoon
You like Chinese food? Of course you do. Indian food? Damn right. Know what you get when you kinda mash the two of those together? Burmese food. And Burmese food is what they do at Rangoon. The menu is big, the dining room is casual, and there's always something new and interesting to try. 112 North 9th Street
Banana Leaf
It's a Malaysian BYO right on Arch Street that serves Hainanese chicken rice, martabak (which is kinda like roti stuffed with beef and onion), and pad Thai. Imagine how much you'd pay in plane tickets just to check all those out on their home turf. 1009 Arch Street
Pho Xe Lua
Pho Choo Choo (so called because of the big neon train out front) has been one of Chinatown's great hidden gems for years. The food is solid, but it's also ridiculously cheap. We're talking $4 banh mi and big bowls of pho for $5 or $6. It's one of the best bargains in the neighborhood and a perfect bolt-hole for hiding out when you're eating alone. 907 Race Street
The Best Pastries and Desserts in Chinatown
T-swirl Crêpe
Handmade rice flour crepes, twisted into extreme (and edible) works of art that look like holding a handful of fireworks. Or a giant sushi hand roll made of matcha ice cream, adzuki beans, lychee jelly, banana, chocolate, strawberry, and just about any other thing they can think to stick inside. 150 North 10th Street
Bread Top House
You know all those baked goods you encounter at the end of a dim sum service? The egg custards, taro balls, and tarts? You know how, once in a while, you get lucky and there are still a couple pieces of fried dough left, crusted with sugar? Yeah, well they just sell that at Bread Top House. You can get it whenever you want. I know that Chinese bakeries are not as popular as, say, French bakeries or whatever. But the French don't have donuts and the Chinese do, so guess where I'll be on Sunday morning? 1041 Race Street
Mango Mango
This Hong Kong-style sweets spot puts its namesake fruit — the Ataulfo variety, to be specific — into as many of its desserts as possible, from pillow-shaped pancakes, sundaes, snow white juices, fruit bowls, and coconut-based sago soups. 1013 Cherry Street
Heung Fa Chun Sweet House
This is the place to go for homesick Chinese families looking for a little comfort when far from home. They have little snacks (like pork buns and noodles) but specialize in breakfast and desserts like salty tofu, sticky rice, fried crullers, sweet tofu pudding with red beans, and warm soy milk. 112 North 10th Street
Mayflower Bakery
Ever wonder how they eat hot dogs in China? Come here, check out the hot dog bun, and you can see for yourself. It's a cute, bright bakery with a few tables and a dedicated following among Chinese expats. 1008 Race Street
Everything Else
Sang Kee Peking Duck House
Yeah, I like the one in Reading Terminal, too. But this place does more, does it nicer, and does take-out roast pork, ribs and whole ducks, which is awesome. And considering they've been roasting ducks in Philly for nearly 40 years now, I trust that they know what they're doing. 238 North 9th Street
Ting Wong
You shouldn't go here. And no, I'm not just saying that because I want more roast duck and dumpling soup for me. (That's totally why I'm saying it.) 138 North 10th Street
Ray's Cafe & Tea House
Ray's is one of the best kept secrets in Philadelphia: they serve a wide variety of handmade Taiwanese dumplings alongside excellent coffee made in siphons. Go for breakfast, lunch or dinner and enjoy the friendly service and cozy ambience. 141 North 9th Street
M Kee
Nice when you can see your dinner hanging in the window, right? Yeah, I like that, too. M Kee does a really nice Peking duck. They've got Hong Kong-style pan fried noodles that some people swear by. But really, this is a place to hit for breakfast. Their congee menu is comprehensive, and includes everything from plain (boring) to chicken, shrimp, and beef varieties, to versions made with frog, pork blood, or abalone. 1002 Race Street
Nine Ting
A combination Korean BBQ and hot pot joint? That's just a party in the making. Bring friends, or make some new ones. 926 Race Street
Cily Chicken Rice
Cily serves chicken two basic ways: gently steamed in the Hainanese style, and crispy, Thai style fried. Both come with soup and gingery rice and are incredibly comforting, addictive dishes. 933 Race Street
Bubblefish
Boba and sushi, hand rolls, onigiri, and tons and tons of drink options. Seriously, there are dozens of milkshakes, a hundred varieties of tea, smoothies, fresh juice, salt froth, god only knows what else. The menu is enormous. And that's before you even get to the wasabi lobster, tuna tacos, and mango shrimp rolls. 909 Arch Street
Oishii Poke
Poke. Burritos. 'Nuff said. 938 Arch Street
Yakitori Boy
It's an izakaya with a big menu — sushi, sashimi, teriyaki, yakitori (natch), and small plates like takoyaki and shrimp sautéed in Grand Marnier. The bar is crowded and pours sake bombs and lychee-tinis, and you'll have to judge for yourself how many of those it would take to get you to pick up a mic and start singing karaoke. 211 North 11th Street
Tai Jiang
A.K.A. "Chinese Restaurant," it's a serious hole-in-the-wall, but there are people who swear by the turnip cakes and peanut noodles. It is tiny, it is dive-y, it is so much less visible than its more popular neighbors, but I think the menu tops out at like six bucks, there are steamed and fried dumplings that'll run you $3 an order and be ready before you can get your wallet back in your pocket. 104 North 10th Street
---