Where to Eat at the Jersey Shore: The Ultimate Guide
From LBI to Cape May, we've got you covered with this list of all the best Shore eats, from breakfast and brunch to pizza and ice cream.
---
Devoted foodies and restaurant newbies love Foobooz. Sign up now for our twice weekly newsletter.
Everyone has their Shore town. Everyone has their favorite places, their secret loves, those summer-after-summer memories of ice cream or crabs or pizza that keep them going through the longest night or the coldest winter.
We eat down the Shore differently than we do at home. And it's not just what we eat, but how. At home, it is about newness and fresh experiences. Down the Shore, it's about comfort and continuity. In Philly, we keep our eyes open for the hottest opening, the newest concept. In our Shore towns, we just check to make sure our favorites — the places we've been going for years (and sometimes generations) — are still there, still operating, still offering all those things we've come to love.
And yet still, the Shore does change. Slower, maybe, but it does. There are new things there, new adventures to have, new flavors to try. And there are always those moments when you need something (ice cream, a steak, burgers for everyone on the way between here and there) that doesn't fall within the boundaries of your traditions. And that's where we come in.
We've got a little bit of everything here. Some new stuff and some old stuff, some classics and some staples. No matter where you are or what you're looking for, we're here to help with a list of everything that's great at the Jersey Shore.
Welcome to Shore Season, folks. Here's where to find whatever it is your summery heart desires.
New and Noteworthy | Breakfast & Brunch | Pizza | Ice Cream | Donuts | Takeout & Delivery | Classic
New and Noteworthy Restaurants Down the Shore
Barry's Buns, Wildwood Crest
Philly natives may know Barry's Buns from its five-year-old Chestnut Hill location or its short-lived time at the Bourse. (COVID shuttered that outpost, sigh.) Now it's put down roots in Wildwood Crest, offering its big, beautiful sticky buns that give other Shore versions a serious run for the money. Don't leave without some of the sticky-bun bread pudding (and the babka. And the Liege waffles).
The Deauville Inn, Strathmere
The Deauville Inn, in Avalon's neighboring Strathmere, isn't new (it dates back to the 1800s), but with a change of hands, new chefs and a major reno, it's a Deauville Inn for 2021, with local Jersey oysters on the half, giant seafood towers, roasted hen-of-the-woods mushrooms, fried whole snapper, and — we kid you not — osetra caviar service. And yes, Deauville fans, the twirlin' potato is still there, and still great with a beer.
Bird and Betty's, LBI
Bird and Betty's opened in Beach Haven on Long Beach Island in 2019, but due to COVID, the place is still new to most Shore-goers, who might remember the site as the former home of old favorite Ketch Bar & Restaurant. (Before that? It was the Acme Hotel, a favorite of Babe Ruth.) Anyway, today, Bird and Betty's is a fun retro restaurant — try the clam pizza! — that after dark morphs into a casual nightclub … with Skee-Ball. 529 Dock Road, Beach Haven.
Setaara, Atlantic City
Setaara opened its doors across from the iconic White House Sub Shop months before COVID arrived and forced diners outside. But the upscale French-Afghan restaurant seized the moment with a stunning open-air dining room that feels like a Moroccan palace hotel. The meticulously maintained courtyard, with its twinkly lights, seas of fresh flowers and starry views, is currently two tiers (a third level is coming) — and a breathtaking place to feast on lamb kebabs, pâté and escargots while sipping refreshing mint tea. 2322 Arctic Avenue, Atlantic City.
Five Girls Sandwich Shop, Wildwood
After a covid-related delay that put them off for a year, Five Girls Sandwich shop opened in North Wildwood in May 2021. The menu is all the beach snacks you could ever dream of: curly fries, a fried chicken sandwich, mile-high sandwiches, a handful of cheesesteaks just in case the craving hits before you get back to Philly.
Sweet Amalia's Farm Stand, Newfield, NJ
Sweet Amalia's grows some of the best oysters on the East Coast, which is why we're including them even though they're not technically on the coast. But they are on the way to the shore, so we recommend adding a stop on your GPS (or making a special trip) to eat a couple dozen oysters – raw, fried, or in a sandwich.
Prawn by Mia Mia, Cape May
Prawn opened right in the thick of it: summer 2020. They're still serving lots of takeout, but you can also order ahead and eat in their super-spacious patio, where you'll enjoy peel and eat shrimp, crab claws, and plenty of other crave able seafood. Call ahead as waits can get long.
Council Oaks, Atlantic City
For a break from casual seafood shacks, head into Atlantic City and book a table at Council Oaks, the newest spendy, surf-and-turf spot in the Hard Rock Hotel and Casino. Go for caviar service, Wagyu steaks, and a very large, very expensive wine list.
View this post on Instagram
Jardin, Cape May
Chef-partner Michael Schultz new restaurant inside the Hugh Inn is a one seating per night, tasting menu-only, locally-focused restaurant that is working overtime to eliminate waste and excess carbon emissions. The menu (which you'll pay for ahead of time, to the tune of $115 per person) changes constantly, but the produce is local and inspiration is French.
Pueblo Taqueria, Cape May
Hoagies may be the go-to beach food down the shore, but burritos and tacos are also excellent options. Get your fix from Pueblo Taqueria, which just opened serving tacos, burritos, tortas and taco bowls, and chilaquiles to the hungry masses.
Summer Salt, Avalon
What began as a weekend pop-up out of Isabel's Bakery, has now become a full-fledge restaurant and farm. Wife and husband team Heather Sedlacek and Connor Dore will open this summer with a full-time location on the Avalon boardwalk (oh, and they bought a farm, which will provide some of the produce for the restaurant.)
Best Breakfast and Brunch Down the Shore
Jon and Patty's Coffee Bar & Bistro, Ocean City
This is the spot to go for vacation breakfast. You know the one. It's the kind of breakfast where you order pancakes (or French toast) for the table, eat a lot of has browns, and get whipped cream on your coffee, just because you can.
Dead End Bakehouse, Ocean City
You're going to need bagels for your rental, and this is the spot to find them fresh-baked, with all the right flavors, plus all kind of cream cheese. They've also go excellent baked goods like fresh bread, cookies, muffins and more to round out your beach breakfasts.
Varsity Inn, Ocean City
You know those summer movies? The ones where the scrappy out-of-towners come for vacation in the beach town and then have to beat the snooty locals in a regatta or whatever? Yeah, the Varsity Inn is where everyone meets before the big boat race for coffee, pancakes and bacon. It's a perfect Shore breakfast spot — big, loud, busy, simple and the best at what it does.
Bagels & Beyond, Long Beach Island
Looking for breakfast without the wait? You can get a quality bagel and egg sandwich or bagels with cream cheese at any of these locations. Bonus: They do an awesome crumb cake here (which is very much an LBI thing) that's heavy on the crumb.
Hannah G's, Ventnor
Hannah G's is a quaint eatery that's still got some snark (a sign directs complainers to the exit), plus a menu of lighter fare (like whole wheat and chia seed pancakes), as well as the decadent stuff, like a hefty crabcake benedict that's a steal at $10.
Downbeach Deli and Restaurant, Margate
This isn't your typical cutesy Shore breakfast joint. Downbeach serves Jewish deli-style dishes like corned beef and eggs and challah French toast. Get the lox on (or in) anything and you won't regret it.
Mustache Bill's Diner, Long Beach Island
Mustache Bill's has scored a weird kind of cultural two-fer. It has both a James Beard Award AND has been featured on Food Network's Diners, Drive-Ins and Dives. And seriously, if that's not enough to convince you that you have to check out this place's fantastic American diner food, then nothing will.
Hot Bagels & More, Margate, Somers Point and Atlantic City
Another spot for a quick bagel sandwich. Pro tip: All of these locations tend to sell out quick, so go early and get more than you think you'll need.
OC Surf Cafe, Ocean City
Ocean City doesn't lack for breakfast shops, but the vibe at OC Surf Cafe leans toward tropical and sunny. The omelets are unique, the waffles are fluffy and topped with candied nuts, and the French toast is double-thick Texas toast-style. (Also, the lines here tend to be shorter, FWIW.)
Sunset Pier, Sea Isle
This one is all about the location. Your eggs and bacon come with views of bobbing boats and swooping seagulls.
George's Place, Cape May
George's has been around since the '60's, doing cut-above diner food with a Greek spin. It's BYO and cash-only, but the herbed brie omelets, tiramisu waffles, limoncello french toast and simple "Roma bagel" with cream cheese, fresh tomato, oregano and olive oil are absolutely worth checking out.
Fishin' Pier Grille, Avalon
You will absolutely have to wait for a table here, both because the location is unparalleled and the heirloom tomato omelets are just fantastic. But hey, at least they give you free coffee.
Surfside West Diner, Wildwood
The Surfside is one of those places that have been serving up quality eats since the '60s. It continues to lure the crowds with some surprises, like lemon folded into the ricotta pancake batter, amazing potato cakes with horseradish sauce and fried potatoes topped with American cheese, creamy chipped beef and an egg.
Mad Batter, Cape May
One of the most famous restaurants in Cape May has a breakfast that is both scene-y and delicious. We're talking house-cured salmon on a bagel, award-winning pancakes, orange and almond french toast, housemade corned beef hash and crab benedicts, just to name a few options. Worth it even if you'll probably have to wait.
Best Pizza Down the Shore
Panzone's, Long Beach Island
With two locations on LBI, you've got double the chance to score one of these perfect pies with their tangy sauce, ample cheese and slices that aren't too thick or too floppy.
Louie's Pizza, Cape May
Hand-tossed crusts, dough made fresh every morning, and a list of toppings that makes the six-topping "Louie's Super Special" a steal at just over twenty bucks for a large.
Mack's, Wildwood
Big, floppy slices, served right on the Wildwood boardwalk. This is what summer is supposed to taste like. And the one in Stone Harbor might even be better.
Circle Pizza, Avalon
There are a lot of pizzas in Avalon. Many of them are quite fancy. Circle's pizza is not. And thank god for that.
Uncle Oogie's Pizzeria, Sea Isle City
You guys like the Uncle Oogie's pies down in South Philly, right? Yeah, well the one in Sea Isle? That's the original. Serious South Philly-style grandma pies down the Shore.
Manco & Manco, Ocean City
Manco's has been serving pizza at the Shore, in one place or another, since the 1950's. Today, they're in the former Strand movie theater, right on the OC Boardwalk where they belong, still throwing the dough and spinning the pies for the amusement of their customers.
South End Pizza, Margate
While the cheesesteaks here have some fans, the buffalo chicken pizza is the go-to here, with people swearing by it for years.
Tony's Baltimore Grille, Atlantic City
Retro decor and late-night hours are the draws at this A.C. institution. Plus, the pies are pretty good, too — even when you're not rolling in from the casino at 3am.
Mario's, Cape May
By the slice or by the whole pie, Mario's has been serving the Cape May locals for years. They're known for their homemade dough, sauce and garlic knots.
Piccini, Ocean City
Wood-fired, brick-oven pizzas since 1995. Piccini uses imported ingredients and hand-made dough in their dozens of specialty pies.

Best Ice Cream Shops Down the Shore
Barry's Do Me a Flavor, Long Beach Island
Barry's is mostly a (really good) casual cafe. But in the back, they scoop out baseball-size rounds of extra-rich ice cream that hails all the way from Trenton-based purveyor Arctic Ice Cream — a brand that's beloved all over the Garden State.
Skipper Dipper, Long Beach Island
The crew here will whip you up a milkshake from any of the dozens of homemade flavors on the menu, but if you stick to the uncomplicated classics (black-and-white, maybe) you'll see just how special they are.
Richman's Ice Cream & Burger Bar, Brigantine
The people behind this big red barn-like shop also own Philadelphia Water Ice Factory, meaning they know a thing or two about making a respected hometown treat. Bring your appetite: The portions are huge, and the toppings are generous.
Margate Dairy Bar & Burger, Margate
From extra-thick shakes to mega sundaes, you can't go wrong with any order here — though the soft-serve cones, twisted high and dipped in chocolate are a particular favorite. But it's the owner, Chris Clayton, with his fun-time aura and dedication to his customers, who makes this a perennial destination.
Custard Hut, Somers Point
The late-night hours at the Hut ('til 11pm on the weekends) mean you'll never be left wanting for one of its signature treats: custards topped with candy (Jolly Ranchers!), or those same custards turned into milkshakes. Hit it up on your way in and out of Ocean City.
The Hobby Horse Ice Cream Parlor, Ocean City
The carousel theme of this shop is draw enough for the kids; the summer-in-a-bowl flavors like sticky bun and Maine blueberry (and the millions of toppings) are what make this an adult favorite, too.
Nana & Poppy's Ice Cream Parlor, Sea Isle
What with the special flavors (like blueberry pancake) and artisanal touches (fresh-baked Belgian waffles), you'd never guess the offerings at this shop are possibly the best value at the Shore. Plus, any place with a breakfast sundae on the menu wins high marks here.
Yum Yums Ice Cream, Sea Isle
Gather your crew, slide into a booth, and dig into "The Pig": 15 scoops of ice cream and 10 toppings. Complete the challenge and you'll get your photo on Yum Yum's wall (literal and Facebook).
Avalon Freeze, Avalon
If you're feeling a little jazzier than the never-fail swirl, go for the Freezer, which is a vast improvement on the Blizzard. With extra M&Ms, of course.
Sundae Best, Avalon
It's hard to choose from homemade options like grilled pineapple or Kohler's Cream Donut (mixed with actual chunks of the bakery's doughnuts), so you should order the Just Shovel It: five scoops of ice cream and just about every topping you can imagine, all served in a beach bucket with a shovel for a spoon. We can appreciate this both for its volume and its social commentary.
Springer's, Stone Harbor
The most famous ice-cream parlor on the island offers upwards of 50 house-made flavors. The line always (no, always) winds around the block, but it moves fast. And in any case, the ice cream really is that good — particularly the fruity flavors like peach and black cherry.
Cool Scoops, Wildwood
This place is a basically a doo-wop museum, with '50s kitsch around every turn and booths made to look like old Chevys. That the ice cream is so good (try the banana split) is almost secondary.
Duffer's, Wildwood
The homemade options here lean heavily toward the nutty and chocolaty, with some sticky bun and marbled caramel thrown in. And we don't hear anyone complaining.
Kohr Bros., Multiple locations
There's a reason Kohr Bros. is many people's fondest Shore food memory: The simple but generously portioned swirled cones are the pinnacle of custard-dom, childhood and summer.
Best Donuts Down the Shore
Brown's Restaurant, Ocean City
This takeout window on the Ocean City Boardwalk make hot and fresh donuts. They also do other breakfast items, but you're best off sticking with the donuts.
Shore Good Donuts, Long Beach Island
Wacky flavor combinations and choose-your-own toppings have earned this place an evangelical following since its opening in 2011. But don't let the Instagram-worthiness fool you: These showstoppers would be delish even if they weren't all dressed up.
Junior's Donuts & Dogs, Margate
There's a new owner at Junior's, but (thankfully) the recipes are the same — so you'll still want to sit at one of the outdoor picnic tables and scarf down a doughnut before you have to bring the rest home to the group.
Oves Restaurant, Ocean City
It's nearly impossible to choose between Browns and Oves, both of which get serious props for sticking with traditional flavors through the generations. But the apple cider rounds from Oves are the ones we see in our dreams.
Frog Hollow Bakery, Greenfield
This inconspicuous bakery (which is tucked between a farm and the woods on Route 50) is just outside Sea Isle proper, but these doughnuts are way worth the drive. Never dry and perfectly fried, they're everything a cake doughnut should be. And that makes sense, since the Patterson family has been making them, in just six simple flavors, since 1971.
Kohler's Bakery, Avalon
Since 1949, no true Avalonian has considered the day properly started without a bite of something sweet from this iconic bakery. Just avoid 45 minutes after every hour on Sundays, when the hordes let out of Mass and head over to grab a spot in line.
Donna's Place, Stone Harbor
This no-frills family spot serves sit-down meals — but it's the sticky bun that draws the in-the-know locals. It's one of Stone Harbor's only places for fresh doughnuts, so to beat the crowds, go before 9 a.m.
Britton's Gourmet Bakery, Wildwood Crest
People beg the owners to start shipping their treats across the country — Britton's stuff is just that good. While the line moves faster than you think it will, go early, because they can sell out by mid-morning.
RSK Doughnuts, Cape May
After nine years of selling mini doughnuts at farmers' markets, RSK has opened a brick-and-mortar shop. Head inside to see the cakey goodies being freshly fried.
Fractured Prune, Wildwood
Cherry glazed donuts covered with mini chocolate chips. A margarita donut with Key Lime glaze and sea salt. Or maybe just the O.C. Sand with honey and cinnamon sugar. Whatever your poison, the Fractured Prune's new Wildwood boardwalk location will have it. (Plus, there's a new Ocean City location coming soon.)
Best Casual Takeout Spots Down the Shore
Pearl Street Market, Long Beach Island
If you need to feed your family and friends (and friends-of-friends) in a flash, Pearl Street Market is a one-stop shop that has a large selection of prepared sandwiches and salads, plus a giant catering menu with all sorts of dips, appetizers and dinners. (Not to mention you can get meats and seafood for the grill, too.)
Viking Fresh Off The Hook, Long Beach Island
When the seafood craving hits, you can watch the fish being pulled out of the water here in Viking Village. Pick up a few buckets (they serve four to six) of fried shrimp or fish fingers.
View this post on Instagram
Hooked Up, Wildwood
This is the spot to stop on your way into (or out of) town. Owner Bill Bright pay close attention to sourcing: the seafood is always fresh and always sustainable, and everything is caught nearby, so you can be sure you're not eating frozen shrimp from China.
Voltaco's, Ocean City
Voltaco's is the place to pick up takeout when you have to feed a hungry crowd and can't possibly bring yourself to cook or clean. Get a family tray of lasagna and a couple of salads to feed 10 or more, or opt for one of their dinner packages, which serves 1-2. They also do hoagies and pizza.
Okie's Butcher Shop, Long Beach Island
Platters of thin-cut Boar's Head deli meats, trays of pulled pork and the ideal cook-at-home grill kit (burgers, ribs, chicken dogs) make dinner a breeze.
Aversa's Bakery, Brigantine
Everyone knows that Aversa's makes killer sticky buns. But the locals all flock there for Italian hoagies on house-baked rolls and cheese-rich stromboli.
Brigantine Seafood, Brigantine
The place might be a little bare-bones on the inside, but they've got a bunch of family-size combo packages of shrimp, clams, flounder and more, plus sides. And delivery is free if you're looking to make things even easier.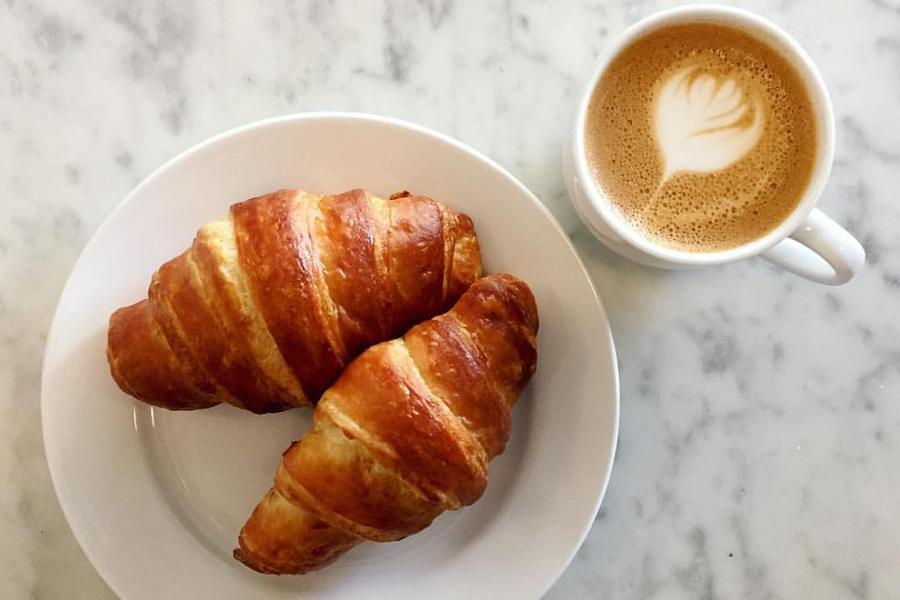 No. 7311, Ventnor
The owners of Steve & Cookie's recently opened this bakery and cafe which offers boxes and trays of breakfast breads, desserts and New Jersey blueberry pie.
Dino's Subs and Pizza, Margate
Sure, it's a little weird to just be throwing a sandwich shop on this list. But there are three reasons: The subs are insanely large, insanely good, and they'll deliver them right to the beach.
Hula Restaurant and Sauce Co., Ocean City
When you get sick of pizza and crab legs, switch things up with chicken satay and pulled pork from this island-style restaurant and catering operation.
Mike's Seafood, Sea Isle City
Mike's has been the go-to spot for seafood here for years. Unsurprisingly, the waits for a table can be crazy. So why not just skip all that and order something to-go? Because most people don't even realize this is an option.
Avalon Seafood, Avalon
Stop by for to-go meals of scallops, stuffed flounder, trays of crab claws, lobster rolls or dozens of fried platters.
Via Mare, Avalon
Sure, it's a good Italian BYO. But there's also an entire menu for take-out that includes some of the restuarants best dishes, plus party trays, desserts and pizza.
Lee's Hoagie House, Stone Harbor
Same great hoagies as in the city, but here they'll deliver it to you at the beach.
Back Bay Seafood, Stone Harbor
The best, meatiest crabcakes you're going to find, all ready to take home and cook up on your own.
Hot Dog Tommy's, Cape May
Order at the window, walk away with an epic chili-cheese dog. Simple as that.
H&H Seafood, Cape May
Locals and return visitors know that H&H is the place to go to score giant paper bags full of steamed crabs, claws, clams and more. Plus, they've got a few dockside picnic tables and a whole bunch of all-you-can-eat deals.

Best Restaurants Down the Shore
Exit Zero Filling Station, West Cape May
Jack Wright ran Exit Zero Cookhouse, where he focused on curries, until he moved the whole operation into an old gas station. Today, the retro-mod roadhouse is known for its impressive burger menu and, as ever, the curries. Bonus: a strong selection of hyper-local beers and booze.
Trio North Wildwood, North Wildwood
They call themselves a "gastro eatery," a restaurant that operates in the space between casual bar food and upscale fare. On the menu? Jerk-rubbed prime pork chops, banh mi-esque fried chicken sandwiches, and fried mortadella sliders.
Polpo, Avalon
Bujar Daku, who owns La Fontana Del Mare in Strathmere and La Fontana Della Citta in Rittenhouse, brought his Italian classics to Avalon — mussels in white sauce, grilled octopus (duh), chicken piccata — and he serves them in an upscale dining room for those rare nights when you feel like getting out of flip-flops.
The Surfing Pig, Wildwood
The Surfing Pig is open for breakfast, lunch and dinner, but we recommend you go for dinner and take advantage of their selection of frozen drinks, including daiquiris, pina coladas, and rum punch.
La Finestra, Sea Isle City
This restaurant, which opened in 2018, offers a tidy, appealing menu of homemade pastas and Italian favorites (veal parm, calamari fritti, grilled artichokes). Even so, it's hard to pay attention to all of that when you've got a stunning 180-degree view of the ocean — something that's head-scratchingly hard to come by at the Shore.
Tennessee Avenue Beer Hall, Atlantic City
Sure sign a town is getting trendier? It gets a beer hall. Here, there are 40 taps plus a lawn with a fire pit, games, and a menu designed to keep you happy­ — think burgers, lobster tots, and a warm chocolate chip cookie with ice cream. (That one's made for two.)
Pascal & Sabine, Asbury Park
Go here for moules frites, excellent cocktails, and a foie gras breakfast sandwich that will help you hit your beach napping goals. You'll feel transported to France without the jet lag, and without venturing too far from the water.
Talula's Pizza, Asbury Park
These days, it seems like every town has a spot with seasonally driven sides, lots of vegetables, excellent pastas and wood-fired pizzas. Talula's is Asbury Park's, and we love it.
Black Eyed Susan's, Long Beach Island
Chef-partners Ashely Pellagrino and Christopher Sanchez run this laid-back, seafood driven tavern focusing on Italian-leaning small plates, as well as a handful of veggie-forward pizzas. Try the cioppino if you want seafood, or make a perfect meal out of just the starters.
701 mosaic, Ocean City
701 mosaic's chef Herb Allwood's Jamaican background shines on the menu: start your meal with tostones and jerk chicken wings, then continue on with their coconut fries shrimp, escoveitch fish or jerk pork.
Bahay Kubo, Egg Harbor Township
It's a no-frills strip-mall Filipino joint perfect for breaking up the monotony of Shore dining — you know, all the fried seafood and Italian. You'll find traditional silog breakfasts of fried eggs and rice (served with fish or pork), lunches of meat sticks and lumpia (Filipino spring rolls), and plenty of noodles and chicken adobo for dinner.
The Red Store, Cape May Point
The Red Store isn't just good for the Shore—it could probably crack our list of the 50 best restaurants in Philly. The food being put out by chef Lucas Manteca (a James Beard Award nominee) and his crew has an Argentine accent, so there are daily empanadas on the apps side and aged New York strip with chimichurri for the mains. But don't let that limit you—if the gnocchi are on the menu, get them. If you can't make it there for dinner, you'll be happy with breakfast and lunch, where everything from the bread to the sausage is homemade.
The Ebbitt Room, Cape May
The Ebbitt Room has long been considered the standard of fine dining in Cape May—a reputation it has surely earned. There's a combo of seemingly contrasting elements that just manages to work here: reliable fine-dining standards like oysters Rockefeller, made from locally sourced ingredients, plated with precision, served by a varsity waitstaff, all at the beach. It's a bastion of welcome stability in a world gone mad with artisan cheeseburgers and fusion cuisine.
H&H Seafood, Cape May
H&H has the kind of story you want your dockside seafood shack to have: The owners only opened up the eatery to sell directly to the public the just-caught bounty being hauled in from their long-running commercial fishing business. Ten years later, it's become a Cape May staple, serving up fresh seafood on roomy picnic tables, including all-you-can-eat crab feasts, baskets of clams, steamed lobsters, and all the picnic-basket-type sides you could wish for.
Quahog's Seafood Shack, Stone Harbor
The Shore restaurant scene is most definitely not lacking in seafood spots, but Quahog's has become a destination even for those who don't live on Seven Mile Island. The look of the place is one reason—the indoor-outdoor dining room has exposed beams and comfortable seating—but really, it's the food. Longtime chef Carlos Barroz adds a Latin bent to some dishes, like the chorizo-and-coconut-milk-tinged moqueca stew. But it's the tangy, smoky barbecued fish ribs that landed him a spot on the Food Network.
Water Star Grille, Stone Harbor
With giant umbrellas and a tidy faux-grass floor that hangs over the bay, Water Star is about as close to a Sag Harbor vibe as you'll get at the Jersey Shore. There are two other eateries (one more upscale, one more tacos-and-margs) at the Reeds, the classy hotel that houses Water Star, but this is the hang for the locals, with its reliable menu of shared plates: a lobster Cobb, a shellfish tower, flatbreads and steaks. And the shared-plate concept should be a clue: It's great for large groups who want a spirited night out.
Café Loren, Avalon
Café Loren may have opened during the Carter administration, and yes, men are still encouraged to wear collared shirts, but the service is as warm as ever, and the old-school dishes (like veal Loren with crabmeat and shrimp in a garlic-thyme sauce) remain flawlessly executed. As Shore restaurants continue to grow more unceremonious and boisterous, this BYO is the ideal spot for a grown-up dinner experience.
The Diving Horse, Avalon
It's hard to believe the Diving Horse has been open for six seasons, because it's still easy to get giddy when you grab your friends and some chilled bottles of white and dig into a peach-BBQ pork chop or those local scallops for the first time each summer. The lighthearted atmosphere is due in part to the tight-knit kitchen crew, who shack up in a Shore house together. And the dishes they turn out—which are built around the freshest ingredients they can find—keep the tables full.
The Clam Bar (a.k.a. Smitty's), Somers Point
Some advice: You might want to eat before you go to Smitty's, because there's a good chance you'll wait more than an hour for a table or bar stool. (The silver lining: The parking lot turns into a veritable tailgate; bring a cooler of beer, and games for the kids.) But whatever you do, don't miss the chance to have baked flounder and scallops, steamed littlenecks, anything from the deep fryer, and the estimable bowls of clam
chowder—all at the right price.
Sofia, Margate
A quarry's worth of granite, flagstone and ceramic tile gives this upscale Greek taverna the feel of an Aegean wonderland—one where a sinuous island-shaped bar loops around the spreading branches of a sculpture of a tree. Belly up to it at happy hour for a gin-y Negroni (or offbeat Greek wine by the glass) and ouzo-splashed shrimp saganaki with pita still steaming from the hearth oven. The kasseri-cheese-stuffed meatballs—redolent of cumin, oregano, and orange and lemon zest—are another must. And don't miss the flatbreads, which can run from clams casino to roasted duck with balsamic-laced cherry tomatoes.
Steve & Cookie's By the Bay, Margate
You can come to this Margate mainstay just for the pies and wine list. (The latter is studded with rarities like a Rhys pinot noir marked up a mere $25.) However, assuming you also want to eat dinner, the execution on entrées like a fish-crammed bouillabaisse and a pecan-crusted sea bass plated with a farro-and-crab-strewn salad is laudable (though a tad pricey). All of that, combined with a pianist who tinkles his way through Beatles tunes and Joplin rags, makes it pretty easy to pass a few hours here.
Café 2825, Atlantic City
Keep walking past the tourists waiting in line at Carmine's in the Quarter, because just a block away is this under-the-radar eatery with mom-and-pop attentiveness and food with soul. Joe, the owner, will probably pull the homemade mozzarella right in front of you, while his wife, Ginny, will pour the strong drinks. This is the place to order a big-ass veal chop (it's house-cut and bone-in), and we'd travel miles for the ricotta cavatelli. Also, plan ahead: There are only 14 tables, and they can be hard to come by.
The Watering Hull, Stone Harbor
When you get tired of American-style seafood, head to The Watering Hull for a more international menu of conch fritters, poke bowls, mahi mahi tacos, and jerk chicken sandwiches.
Chef Vola's, Atlantic City
The legend of Chef Vola's looms large. Regulars like to say it's impossible to get reservations at this 95-year-old joint—that there's not even a phone number to call. That's not technically true. And you don't have to know someone to get a reservation here, but it helps. (Thanks, Jerry Blavat.) There are, however, a few things to know. First, if you forget to BYOB, a nearby liquor store can deliver a great bottle to your table. Next, bring cash, because there's no ATM on-site. Lastly, order the veal Milanese, better-than-most linguini with clams, and grilled homemade veal sausage with peppers. And save room for dessert, because longtime co-owner Louise Esposito will pretty much insist that you try her banana cream pie—but only after telling you about the time Frank Sinatra begged her for another slice.
Dock's Oyster House, Atlantic City
If you roll up to this seafood resto in board shorts and flops, you'll feel very out of place. Or at least, you should. The menu might be made up of familiar baked and broiled crustacean dishes, but this super-old-school A.C. institution (which just had a face-lift) has all the panache of the Boardwalk Empire days. (In fact, the fried jumbo shrimp have been on the menu since 1897.) Stick with what they do best—as in, pass on the steak—and you'll be more than pleased. Make a meal of the abundant raw-bar options, rich chowders and meaty lobsters.
Izakaya, Atlantic City
It's been over a decade now since Michael Schulson—the chef-owner of Philly's Sampan, Independence Beer Garden and Double Knot—debuted his trendy Borgata Japanese pub, and we're still not bored with it. The restaurant recently underwent a food refresh, but the original menu items are where it's at: the spicy-sweet chicken wings, the specialty rolls, and the mix-and-match robotayakis—grilled meats and seafood on skewers. Sit at the kitchen counter for the best view.
Martorano's, Atlantic City
Martorano's is unapologetically gimmicky and over-the-top in its goombah-ness. Your waiter might announce that you better order the giant meatballs or you might find yourself "sleeping with the fishes"; we're pretty sure the managers are putting on the Goodfellas- accents; and there are dark suits, tight dresses and gold chains for miles. But then again, owner Steve Martorano does come from South Philly. Regardless, the food is damn good, and if you grew up with an Italian grandma (or always wanted one), you'll want to order everything on the menu. Just do us a favor: Do get the giant meatballs. We're told they're Al Pacino's favorites, and we wouldn't want anything to happen to you.
The Palm, Atlantic City
There's something about the Palm's Atlantic City outpost (which is in the Quarter) that feels authentic and old-school in the best of ways. The impeccable but personable service staff is a big part of it, but we aren't above admitting that the stiff martinis help. The classic Italian dishes and seafood options are perfectly good, but we suggest throwing down for the $58 prime 24-ounce bone-in rib eye. You are in A.C., after all.
White House Subs, Atlantic City
White House subs is the place to stop for a road sandwich on your way out of town, whether after a long weekend of drinking, playing in the sun, or both.
The Arlington, Long Beach Island
Everything about the Arlington is big: the generous cuts of meat, the heaping side of fries, the high-backed leather banquettes, the large-format craft beers. Throw in the Edison bulbs and the Teutonic dining room, and the Arlington feels rather other for a Shore eatery, which is exactly the appeal. The food is stick-to-your-ribs satisfying—a molasses pork belly, an overstuffed lobster roll—while the barrel-aged cocktails keep the crowd happy.
Black Eyed Susans, Long Beach Island
There's a refinement here—tastefully subdued dining room, spot-on service, plates composed by chefs with experience—but not a formality. In fact, this BYO pretty much nails the upscale-at-the-Shore thing. The menu changes daily, and the techniques and combinations are memorable: Cauliflower is oven-roasted, drizzled with a walnut-caper chimichurri and sweetened with golden raisins; and a homemade pasta dish is finished with a 63-degree egg in which the white is set but the yolk is perfectly runny.
The Gables, Long Beach Island
Here's the thing about the Gables: The setting is so magical that even if the food was terrible (which it isn't), you'd still tell all your friends to go. What with the flickering candles and flowers blooming everywhere, eating on the front patio or in the bricked courtyard feels like you're in Savannah or Napa or Provence. And the food can hold its own. The chef keeps things on-trend by making pastas in-house, sourcing meats from well-respected farms, and building the menu around in-season ingredients, so you get dishes like grilled Duroc pork chops with homemade rosemary-mustard spaetzle, and a s'mores tartlet with homemade marshmallow.
---