The Pennsylvania Apple Ciders We'll Be Drinking All Season Long
From crisp scrumpy to hop-infused bottles, here are some of our favorite local makers and varieties — and where to get them in Philadelphia.
---
Devoted foodies and restaurant newbies love Foobooz. Sign up now for our twice weekly newsletter.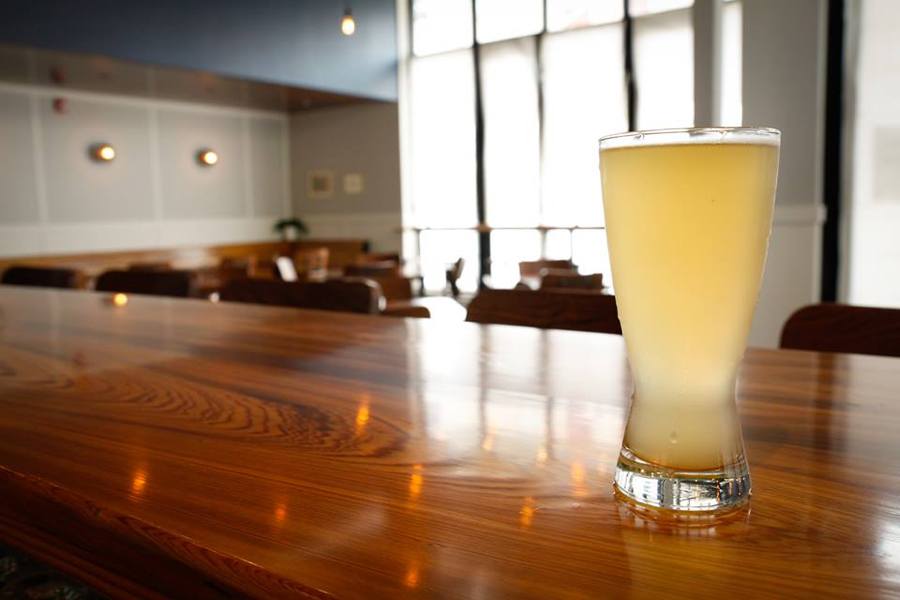 Our state is fourth in the nation when it comes to apple production, and more and more of those apples are being turned into hard cider. Our local cider is gaining ground in Philly alongside the city's booming craft beer scene. Check out some of our favorite local cideries below, complete with our favorite varieties and where to find them in Philly.
Ploughman Cider, Gettysburg, PA
You might know Ploughman owner Ben Wenk from Three Springs Fruit Farm, the fifth-generation farm that posts up at Headhouse Square Farmers' Market each Sunday with some of the best tree fruit the region has to offer. Great news: His hard ciders are just as delicious as his apples and peaches. Our favorite is the tart, rosé-pink Kenspeckle boosted with aronia berries, but be sure to try Distelfunk, a session-able, wild-fermented peach wine. Drink it at great bars and restaurants around the city or get your own bottles at 320 Market in Swarthmore, Bottle Bar East, Di Bruno Bros. at the Franklin and Rittenhouse, and several farmers' markets.
Hale & True, Queen Village
Kerry and Risa McKenzie won our hearts (and a Best of Philly) with their subtle, dry, and off-dry varieties served at their gorgeous tasting room. Varieties on tap at their tasting room and cidery in Bella Vista include their straightforward Standard, Hail to the Hop (which gets its grapefruit-y punch from Citra hops), and the orange peel and wildflower honey-infused Li'l Sunshine. Your best bet is to order up a flight and taste them all.
Original XIII Ciderworks, Olde Kensington
Owner John Kowchak was inspired by his grandfather's time-tested cider recipe — informed by a childhood working on Central Pennsylvania's fruit farms back in the day — to open his own cidery. Head to their American Street production facility and taproom, where you can taste their flagship Sir Charles semi-dry cider (named for that grandpa), grapefruit mead, and Commodore Perry, made with Asian pears and aged in oak.
View this post on Instagram
Dressler Estate, Chester County
Dressler takes a more wine-like approach to their ciders, using a champagne yeast for their sparkling version, which creates finer bubble and more delicate flavor than some other styles. They also produce a still cider, a distinctive product that blends the best of fermentation without the carbonation for a dry, elegant flavor.
Commonwealth Cider, Kensington
When the beer aficionados at Philadelphia Brewing Co. branched out into cider — one of the earliest makers in city limits to do so — they made just three types: their straightforward Traditional Dry, a potent, spicy version called Gregarious Ginger, and (our favorite) the bright, ruby-hued Razzberet. We love that last one especially because it's bracing and tart despite its infusion of fruit. You can always find it at the Philadelphia Brewing Co. factory store in Kensington.
Big Hill Ciderworks, Adams County
This fruit-to-bottle cidery in Adams County is a great maker to follow if you want to deepen your palate and cider knowledge: In addition to modern varieties, Big Hill is known for its Heritage line — rare or single-variety bottles made with apples like Golden Russet, red-fleshed Dolgo Crabapple, and iconic English cider apple Kingston Black — and its funky, tangy sour ciders (their Marmalade, fermented with peach, honey, and orange zest, is one of our faves). Get Big Hill ciders at Bella Vista Beer Distributors, the Bottle Shop at Local 44, and Newbold Brew, or sip a pint at spots like Martha or Prohibition Taproom.
Young American, Germantown
Young American finally opened their Germantown tasting room in December 2020 after four years of preparation. They source juice from Pennsylvania-grown apples to ferment into their line of dry ciders, which they make on site. They also do a line of kombuchas and a handful of cocktails made with local spirits. Visit the tasting room to try the selection, and enjoy their menu of flaky hand-pies to go along with your cider.
Wyndridge Farm, Dallastown, PA
After orthopedic surgeon Steve Groff was struck by a car while riding his bike, he and his family decided to make a change. They transformed their horse farm in York County into a brewery, cidery, and event space. Now, they make two perfect-for-fall varieties: a clean, crisp-tasting flagship Crafty Cider, and their pleasantly tart, pink-tinged Crafty Cranberry Cider — plus seasonal varieties infused with ingredients like apricot and hops. Find them in the region at Wegmans and Total Wine.
Frecon Cidery, Boyertown, PA
The Frecons are another farm family honoring their fruit the way the founders intended: by turning it into booze. From their bucolic orchards in nearby Berks County, they're making some of the best ciders in the region. Try their traditionally made ciders that blend dessert (that is, eating) apples and cider apples (too bitter to taste but great for making alcohol). Grab a bottle of Crabby Granny, their dry, smooth, effervescent cyser (apple mead, fermented with honey) or try their single-variety Golden Russet still cider — earthy, with a hint of caramel, and perfect for fall. Find bottles at their stand at the Clark Park farmers' market in West Philly, or hit up one of their Saturday markets in Rittenhouse Square, Bryn Mawr, Malvern, Ambler, or Lansdowne.
Armageddon Brewing, Somerdale, NJ
In addition to cider made with local apples, Armageddon makes meads. As they like to point out, it's one of the oldest alcoholic beverages on record, but has had a recent resurgence as the demand for gluten-free beer alternatives increase. Armageddon offers an ever-changing variety of both, with seasonal flavors like pumpkin pie spice or spring strawberry.
---