News
Duck Enchiladas and $33 Prickly Pear Margaritas Arrive in Northern Liberties
Añejo, a Mexican restaurant and tequila bar from New York City, is about to open its doors at the Piazza.
---
Añejo had two locations in New York City — one in Hell's Kitchen, the other in TriBeCa — before it decided to enter the Philly market. And when they officially made the move, signed the lease (in partnership with Glu Hospitality, the group behind Vesper and the new Leda and the Swan), put up the signage, and prepared to open, coronavirus brought the entire operation to a grinding halt.
"We were ready to open our doors in March when the pandemic took its tolls on restaurants," says chef and partner Ricardo Camacho. "We had hoped to then open to coincide with indoor dining and show off our decor and full experience. However, now that indoor dining is delayed we are moving full steam ahead this week. The paint is literally still drying outside on our brand new parkelette along 2nd Street … The time has come and we are excited to play host and meet our neighbors and visitors."
Añejo opens this Friday, July 31st, in the old Gunner's Run space at 1001 North 2nd Street in the Piazza. They've got 50 seats outside ready to go.
They're starting out small, with a modest spirits selection devoted to all things agave and a a menu of margaritas (the plan is to introduce new drinks and extend their spirits library in the coming weeks as they settle in). Margaritas come classic and flavored, and the bartenders, I'm told by the restaurant rep, pour heavy: A single marg is 16 oz. A double is … well, double (and $33!). Peep the food menu below, and then order in person come Friday.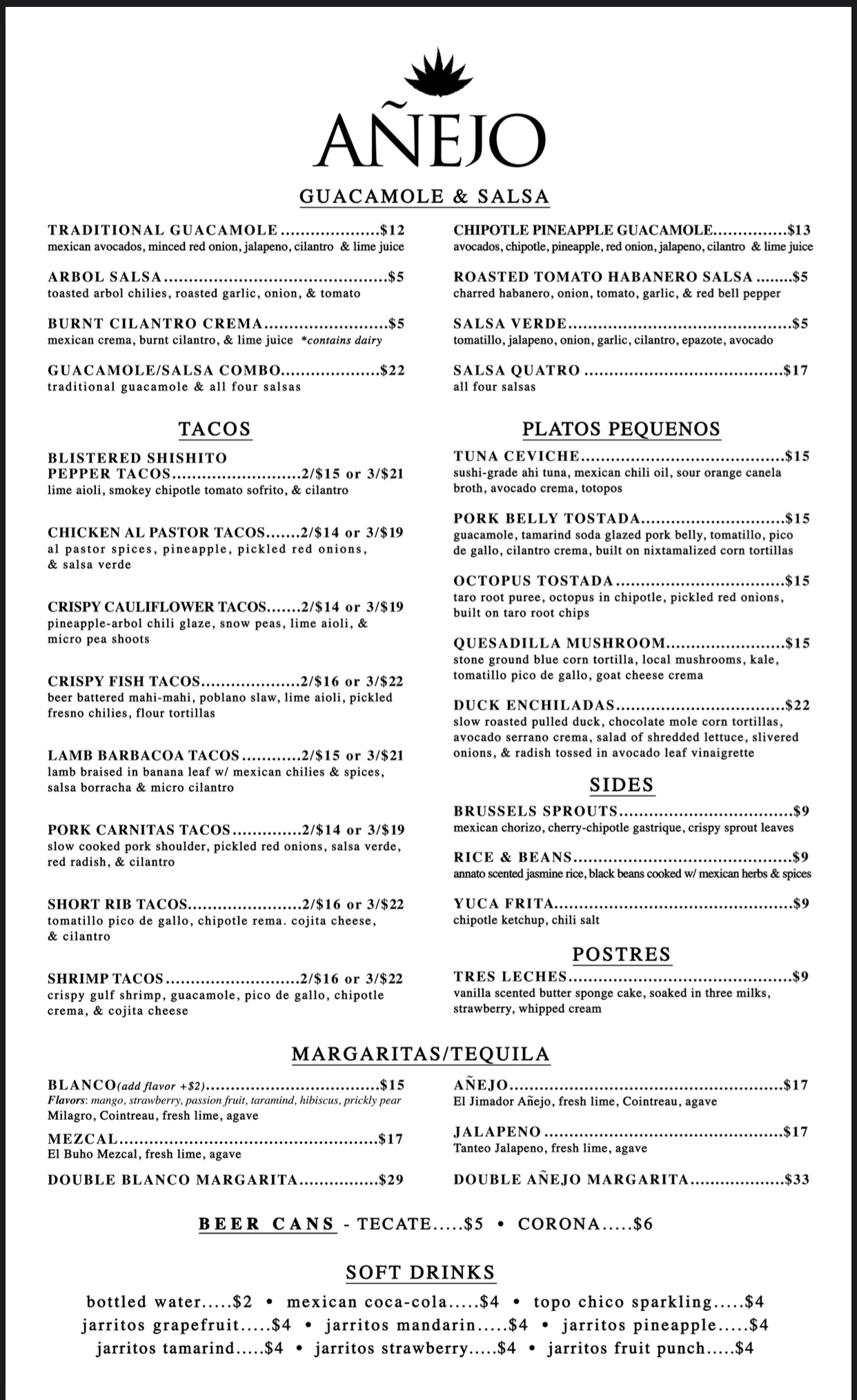 ---