News
Wayward, an American Brasserie With a Raw Bar and Outdoor Seating, Is Opening in Market East
Longtime Philly chef Yun Fuentes will cook French-inspired American food in the forthcoming spot.
---
This April, the Wayward, an American brasserie from executive chef Yun Fuentes, will open at 1170 Ludlow Street, inside the Stephen Girard building as part of the Market East development. (Diners will remember Fuentes as the chef at the short-lived but well-received Society Hill Society, where he cooked food inspired by Pennsylvania heritage.)
The Wayward is an American brasserie, which, according to Fuentes, means "taking the American palate for food and incorporating strong French influences." The menu, which you can read in full below, ranges from very French (gruyere beignets; lamb neck provencale) to casual American (a burger; green beans topped with everything spice). There will also be a fully stocked raw bar, plus two sizes of seafood towers. It follows in the tradition of Philly's American brasseries, like Royal Boucherie and La Peg circa-2016.
In addition to a 90-seat dining room, the restaurant will have seating for 30 on an outdoor patio. A full bar will serve beer, wine and cocktails, with a focus on what press materials say will be the largest gin selection in Philly. The space has not yet been photographed, but renderings show high ceilings, plush banquettes and a wall-size mural by Philly-based artist Nate Harris.
An official opening date has not yet been set, but the Wayward's website is up and running. Once the restaurant opens sometime in April, they're planning to serve lunch and dinner daily.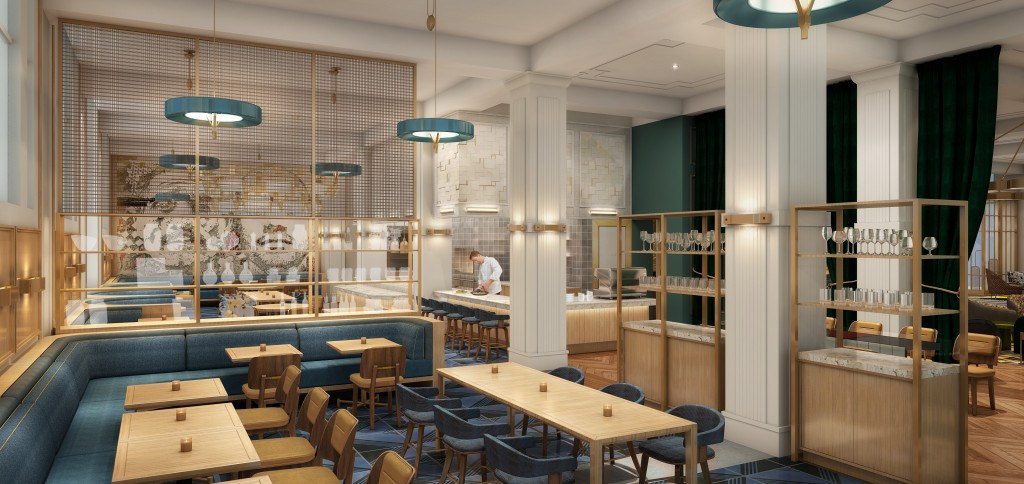 ---