Women Are the Future of Philly's Food Scene
Here are 11 ways women restaurateurs, chefs, front-of-the-house pros and food artisans are reimagining the way we eat.
---
Traditionally, historically (and for all the wrong reasons), professional kitchens have been a man's game. But times change, and so has the industry. Now, women restaurateurs, chefs, front-of-the-house pros and food artisans are reimagining the way we eat. Here's how they're navigating the food scene. And here's how they're making an impact.
1. They're Building Their Own Support Systems.
Ange Branca of Saté Kampar and Kiki Aranita of Poi Dog on how friendships make restaurant life easier
Aranita: When I was opening Poi Dog with my partner Chris [Vacca], the space was in pretty bad shape, so we had his family helping us — things like painting, putting furniture together, hanging decorations. My family lives in Hong Kong and Hawaii, so I didn't have the amount of emotional support that people going through this extremely traumatic time — you know, opening a restaurant — typically need. Ange accidentally filled the role of big sister for me.
Branca: I knew the feeling. Saté Kampar was a raw space. It was all dismantled, and it was so stressful. I still remember trying to get everything ready to open the doors. Just like Kiki, I didn't have my family here, so I know how hard it is. I walked into Poi Dog. Kiki looked a little stressed because the very next day was opening day. She asked me if I knew how to put tables together, and I was like, "I think so?"
Aranita: I didn't even reach out to her! That's the thing — she just walked by, saw me inside, said "Hey," and helped me put tables together. And it's not like it was one event — this is an ongoing process. I talk to Ange and Judy [Ni, co-owner of Baology in Center City] every single day. We have a WhatsApp group where we dump all of our concerns and the things that happen in our days, both good and bad. We compare notes on vendors; we talk about press. Ange, can I talk about "Asian Nuts"?
Branca: Oh, sure.
Aranita: We're serving foods that are not very well represented in the city, so a lot of what our restaurants do is educate people about different cultures. There was a woman who came into Saté Kampar and was very unfamiliar with Malaysian cuisine, so she asked for some sort of appetizer. Meals in Malaysia aren't coursed in the way that meals in America are, so there was some confusion. She said, "You don't have any appetizers? Don't you have some Asian nuts?" So as Ange passed the story on to us, we were just like, "What even are Asian nuts?" Eventually I turned it into a thing and thought, "We might actually be the Asian Nuts." And that's what we named our WhatsApp group.
---
2. They Won't be Silenced.
Philly chef Jennifer Zavala on why she started speaking up and out
"Nobody would write about me if I didn't make myself noticed, so if you're not going to pay attention to me, I'll make you pay attention to me. I'm funny as shit. I'm a mom. I'm five-foot-two. I'm really good at cooking. So many women in the industry are doing amazing, entrepreneurial, underground things — but they get trumped by yet another article written about Nick Elmi or Michael Solomonov. This business is all about showmanship now, and although I view myself as a real chef, most of the time I feel like a fly in milk."
---
3. They're the Next Generation of Great Chefs.
Three to watch
Justine Macneil, co-owner of Fiore Fine Foods in Queen Village
Macneil is credited with Fiore's excellent pastries. But her culinary influence also extends to the savory side of the menu, where she works with partner Ed Crochet turning out flame-kissed meats, fresh pastas, and some of the best brunch bites in the city.
Caitlin McMillan, culinary director at CookNSolo
McMillan has been quietly toiling away behind the scenes at places like Goldie and Zahav. Now she's adding smarts, cohesion and tastiness to all the Solomonov empire eateries. If her invention of the tehina milkshake is any indication, she's destined for delicious things.
Jezabel Careaga, chef-owner of Jezabel's Cafe in West Philly
In Fitler Square, she introduced Argentine food to the Philly masses, but with a larger space in West Philly and a dope pop-up dinner series, Careaga is reinventing what a neighborhood cafe is.
---
4. Their Artisan Goods Make Philly's Food Scene Shine.
Dinner parties wouldn't be the same without them. Keep reading here.
---
5. They Refuse to Be Pigeonholed.
Primal Supply founder Heather Marold Thomason on why she doesn't want the woman-butcher label anymore
"Being a successful woman in a male-dominated industry made me into this accidental role model. I didn't ask for it, but I definitely won't give it up if it's inspiring other people. But I think the conversation about that has to be different — not just men constantly asking me, 'What's it like to be a girl and do this?' I just want to be asked the same questions they're asking men."
---
6. They've Made Wine Cool.
How a grape-juice-loving group of Philly women took us from double IPAs to au naturel gamays. Keep reading here.
---
7. They've (Proudly) Made It a Family Business.
One historically major barrier to entry for women in the food world? The fact that they had kids. Here, four hospitality moms on how they've learned to embrace their many challenging roles
Jeanne Chang, owner of Lil Pop Shop, with daughters Rowan, six, and Leah, 10:
"When I'm exhausted with work stuff, I get to go home and hang out with the kiddos, and that's a nice balance and reprieve. On the other hand, when the kids are wackos, I can go throw myself into my work. I love having both."
Jennifer Sabatino, Manatawny Still Works operations manager, with her son Jett, 14:
"I've been in the industry since Jett was born. If I had to be somewhere, he would be there. If I didn't find care for him and I had a shift, he would go. I think it's been an awesome life for him because he has a real understanding of what this industry is about and what it all entails, and he's seen his mom work. Even if he decides that he wants to never work in a restaurant, he's got a great foundation for how hard you have to work to get what you want."
Sacha Durham, bartender at Friday Saturday Sunday, with her daughter Zhenia, 18:
"Sometimes you have to miss important things because you have to work. I've missed many Halloweens, birthday parties. We have to work on the weekends, and those things tend to be celebrated on the weekends. My daughter has followed in my footsteps, though. She just joined the team at Royal Boucherie. It's her first restaurant job. She's a hostess and a busser, and she loves it."
Natalie DiBattista, director at Defined Hospitality (Condesa, El Techo, El Cafe), with Matthew, 15, Arianna, 10, and Lucelly, three:
"Condesa is my 13th restaurant opening. My son has been around for at least eight of them — and he knows the drill. He'll say, "All right, Mom, we'll see you next year! Love you!" For his 15th birthday, I was here at the restaurant. I decorated his bathroom mirror and left cards taped to it. He took pictures of himself in the mirror and sent them to me. You find ways of communicating, other ways of living your life."
---
8. They've Ignited Our Fast-Casual Scene.
In the fast-casual restaurant arena, chains are king. In Philly, however, our women-run quick-serve eateries take the crown. Keep reading here.
---
9. They're Keepers of the Culture.
Behind every great soul food restaurant in Philly is a great woman.
Soul food restaurants are typically smaller operations — takeout mostly, lots of catering business. The best ones have been around a long time, like Corinne's Place in Camden, 30 years old last year. Or Tasties, Barbara Devan's food truck in West Philly that grew to three locations — neighborhood fixtures that feed the community.
And it's mainly black women who are behind these operations, keeping our soul food tradition alive. Alberta Ferebee does it for Jersey with her smothered chicken at Aunt Berta's Kitchen in Oaklyn. In South Philly, Shahidah Kendall holds it down with glazed lamb chops at Food For Your Soul. Saudia Shuler cooks for her North Philly neighbors (and her 291,000 Instagram followers) at Country Cookin.
"All the recipes at Aunt Berta's are my mom's," says Ferebee's daughter and partner, Estella. "They've been passed down to her by her mom. That's why you see more black women preparing our cuisine in so many communities. Because that's what we do. It's a part of who the black woman is."
---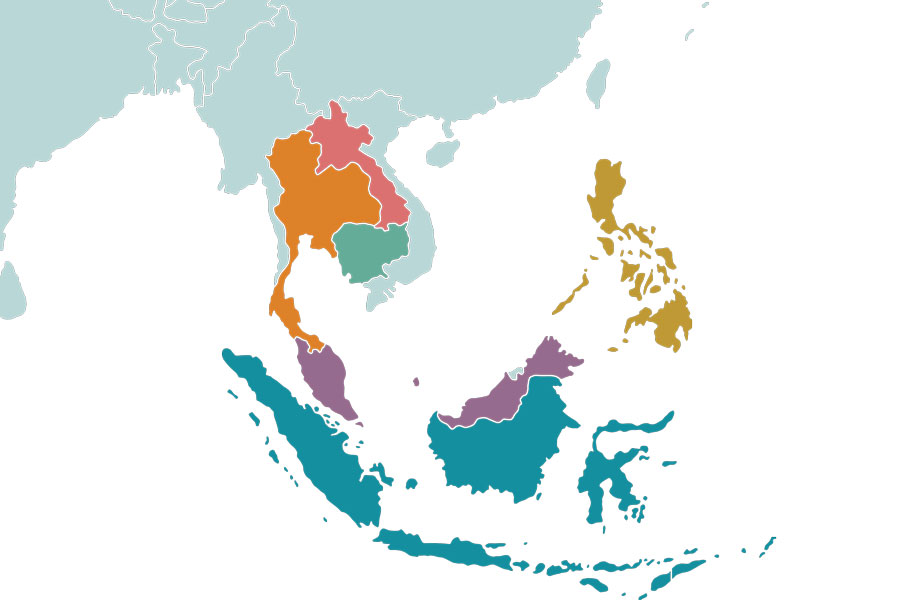 10. They've Made Our Southeast Asian Food Scene the Best in the Country.
By building restaurants around the cuisines they know best, these women are changing Philadelphia palates one stir-fry, lumpia and curry at a time.
Thailand: Chutatip "Nok" Suntaranon and My-Le Vuong of Kalaya
Kalaya's opening ushered in a new era of Thai cuisine in Philly, taking us from the standard red/yellow/green chicken curries to spicy whole branzinos, ground duck salads, and stir-fried pork with salted egg yolk. 764 South 9th Street, Bella Vista.
Indonesia: Ena, Maylia and Diana Widjojo of Hardena/Waroeng Surabaya
Hardena's nomination for a James Beard Award in 2018 only confirmed what Philly already knew: It's been making some of the best Indonesian food in the United States for decades now. 1754 South Hicks Street, Point Breeze.
Philippines: Jillian Encarnacion and Resa Mueller of Lalo
Lalo isn't just a stall inside the Bourse Food Hall; it's a full, soulful restaurant within three walls that's helping push the national Filipino food boom to the next level with sweet pork sausage, garlic rice and crispy pork belly. The Bourse Food Hall, 111 South Independence Mall, Old City.
Malaysia: Ange Branca of Saté Kampar
Because of Saté Kampar, it's hard to remember a time in Philly when you couldn't feast on chili crab, braised beef rendang, and a million pork and chicken skewers dipped in sambal. 1837 East Passyunk Avenue, East Passyunk.
Cambodia: Sophia Neth of Sophie's Kitchen
One of South Philly's greatest gifts to the city's restaurant scene is the Cambodian cookery happening below Washington Avenue. Case in point: the super-crispy, very pudgy lemongrass-stuffed chicken wings at Sophie's Kitchen. 522 Washington Avenue, Pennsport.
Laos: Daovy and Sunny Phanthavong of Vientiane Cafe
There are some Thai elements to the menu, but stick with the Laotian specialties: laab, grilled Cornish hen, lettuce fish wraps. Those are the homespun dishes that make Vientiane (and its sister bistro in Kensington) so welcome on our scene. 4728 Baltimore Avenue, West Philly.
---
11. They're Breaking New Ground.
Women restaurant owners who have dramatically changed — and continue to change — Philly's restaurant landscape for the better
Camille Cogswell, K'Far Cafe
Her pastry skills at Zahav got her a James Beard Award in 2018, and K'Far Cafe — CookNSolo's new bakery/restaurant in Rittenhouse Square that she co-owns and runs — is the physical manifestation of her talents and achievements.
Chloé Grigri, The Good King Tavern and Le Caveau
With an easy bistro menu, dim lights, good music, and a wine program that doesn't suck the life out of wine — plus the new natural wine and French hot-dog bar above it — owner Chloé Grigri figured out how to make French dining fun in Philly.
Ellen Yin, High Street Hospitality
After 22 years, Yin's first restaurant, Fork, remains a destination. Her secret? Knowing that reinvention — of a menu, of a dining experience, of a restaurant in its entirety — is never ever a mark of failure, but just another opportunity for success.
Marcie Turney & VAL Safran, Safran Turney Hospitality
They turned 13th Street into one of our greatest foodie neighborhoods (Lolita, Barbuzzo, Bud & Marilyn's). Now, with their newly minted restaurant group, they're building out their crown jewel: Loveluck, a restaurant inside the iconic Welcome Center in Love Park.
Hanna Williams, Friday Saturday Sunday
It's unexplainable, the kind of cool you feel when you're dining at Friday Saturday Sunday. But it's there: downstairs at the lively bar, upstairs in the dining room that looks formal but feels so comfortable — especially for being so … grown-up. That, friends, is all co-owner Hanna Williams.
Published as "Women Are the Future of Philly's Food Scene." in the January 2020 issue of Philadelphia magazine.
---
---