News
Poe's Sandwich Joint Is Back, This Time in Kensington
Philly's favorite pot activist turned sandwich maker is back and better than ever with a new, bigger location.
---
This Saturday, November 2nd, Poe's Sandwich Joint will return to slinging sandwiches and other "high-end munchies" in its new location at 1710 North Fifth Street in Old Kensington. N.A. Poe, the shop's owner and operator, is a well-known pot activist whose first shop on Frankford Avenue closed in a blaze of glory just three days after being named to our Best of Philly list.
The new location will serve its beloved Italian-laced stoner food like meatball sandwiches, loaded fries and a house-made funnel cake. For now, it's pick-up and delivery only, but hours and availability will extend when the rest of the old Saint Benjamin Brewing space opens as Human Robot Brewery in early 2020 with space to eat-in, plus an extended bar menu by Poe's inspired by available beers.
In addition to the regular menu, Poe says he and Andrew Edsall, the managing partner of the shop, are excited to continue serving Italian take-out Sunday meals they've been popping up with since the original shop closed. Think fresh pasta and gnocchi, homemade Caesar salad, and other dishes Poe says are "raided from my grandma's recipes." Look out for that on Instagram.
For now, Poe's is open Friday and Saturday 11 a.m. to 12 a.m., Sunday 11 a.m. to 8 p.m. and Monday, Wednesday and Thursday 11 a.m. to 10 p.m. They are closed Tuesday. Delivery will be available on Doordash, Grubhub, UberEats, and Caviar, or for pick-up by calling 215-454-2654. For a first look at the menu, scroll down.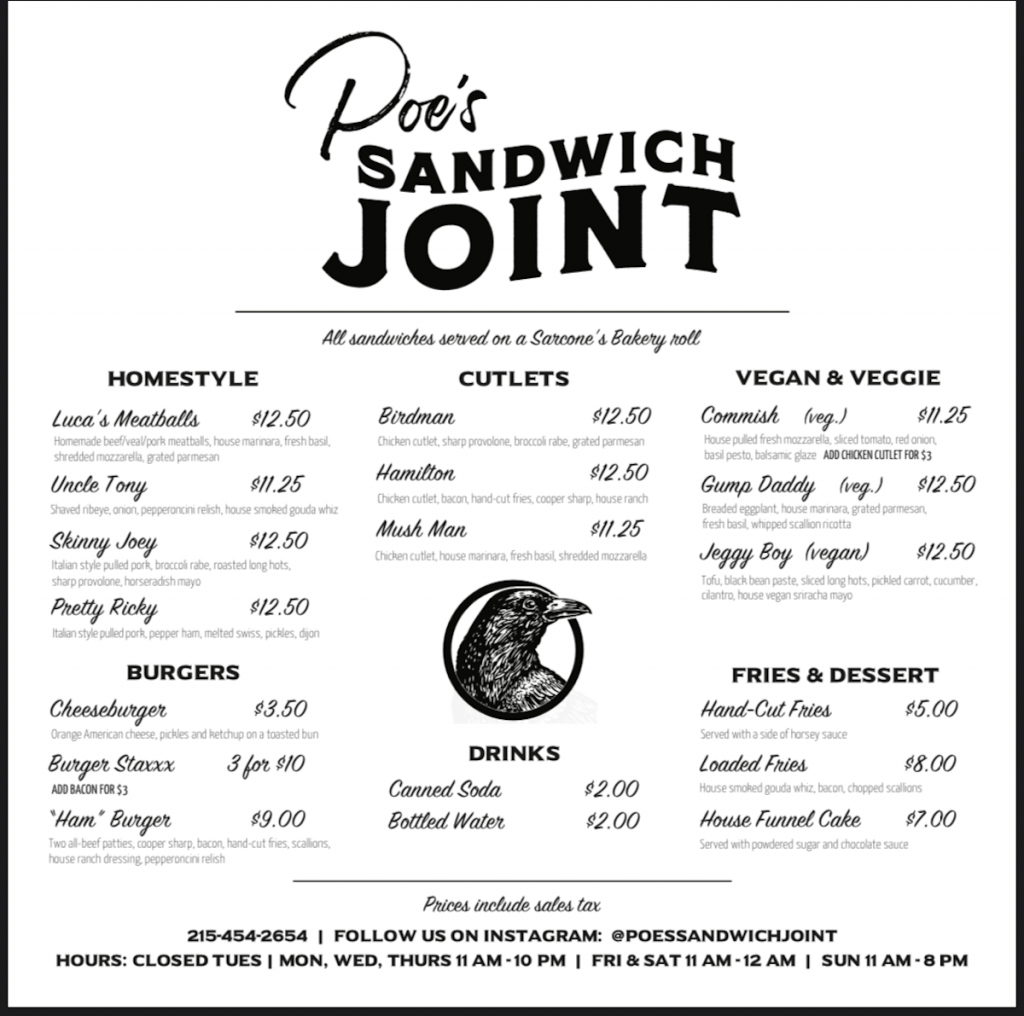 ---