News
Olly, the Latest From Southwark Owners, Is About to Open in Queen Village
Check out the menus for Marina de Oliveira and Chris D'Ambro's accessible, neighborhood-friendly spot, which debuts tonight.
---
When Marina de Oliveira and Chris D'Ambro took over Queen Village mainstay Southwark back in 2016, they managed to get two restaurants out of the deal, opening Ambra, their petite Italian prix fixe, in a portion of the space. Now Olly, the first of two concepts they're bringing to the former Whetstone space at 700 South 5th Street, will open its doors tonight at 5 p.m.
With the new bar and restaurant, the couple wanted to combine the seasonal rhythms and local sourcing in play at their other restaurants with a neighborhood-friendly vibe and accessible pricing. There are TVs over the bar, and the space was designed to have a casual, living room-style feel.
Olly's menu is a combination of comfort fare — think lasagna, fried chicken with Fresno chile hot sauce, a cheese ball, burgers and fries, floats made with root beer from Lancaster's Appalachian Brewing — and vegetable dishes like pickled kohlrabi, a Swiss chard pie, and mushroom carpaccio.
At the bar, Olly will serve beer, wine, sherry, cocktails, and cold brew coffee from local roaster Other Animal on 15 taps as well as beer and wine by the bottle. D'Ambro will serve as executive chef, with pastry chef Russel Johnson, an alum of spots like Osteria, Talula's Garden, and Lacroix, handling sweets and breads.
Once Gigi Pizza, their add-on concept in what was once Whetstone's back room, is open, the kitchen will sling pies for Olly after the kitchen closes. Look for Gigi to debut with wood-fired, Neapolitan-style pies, sandwiches on house-made bread, cocktails, and hearty fare like lasagna and wings in the next two months or so.
Olly's hours are Sunday through Thursday 5 p.m. until 10 p.m. and Friday and Saturday from 5 p.m. until 11 p.m.; the bar will stay open later depending on customer demand. They've got plans to roll out brunch on Friday, Saturday, and Sunday in the next few weeks.
Check out Olly's menus below (click to embiggen).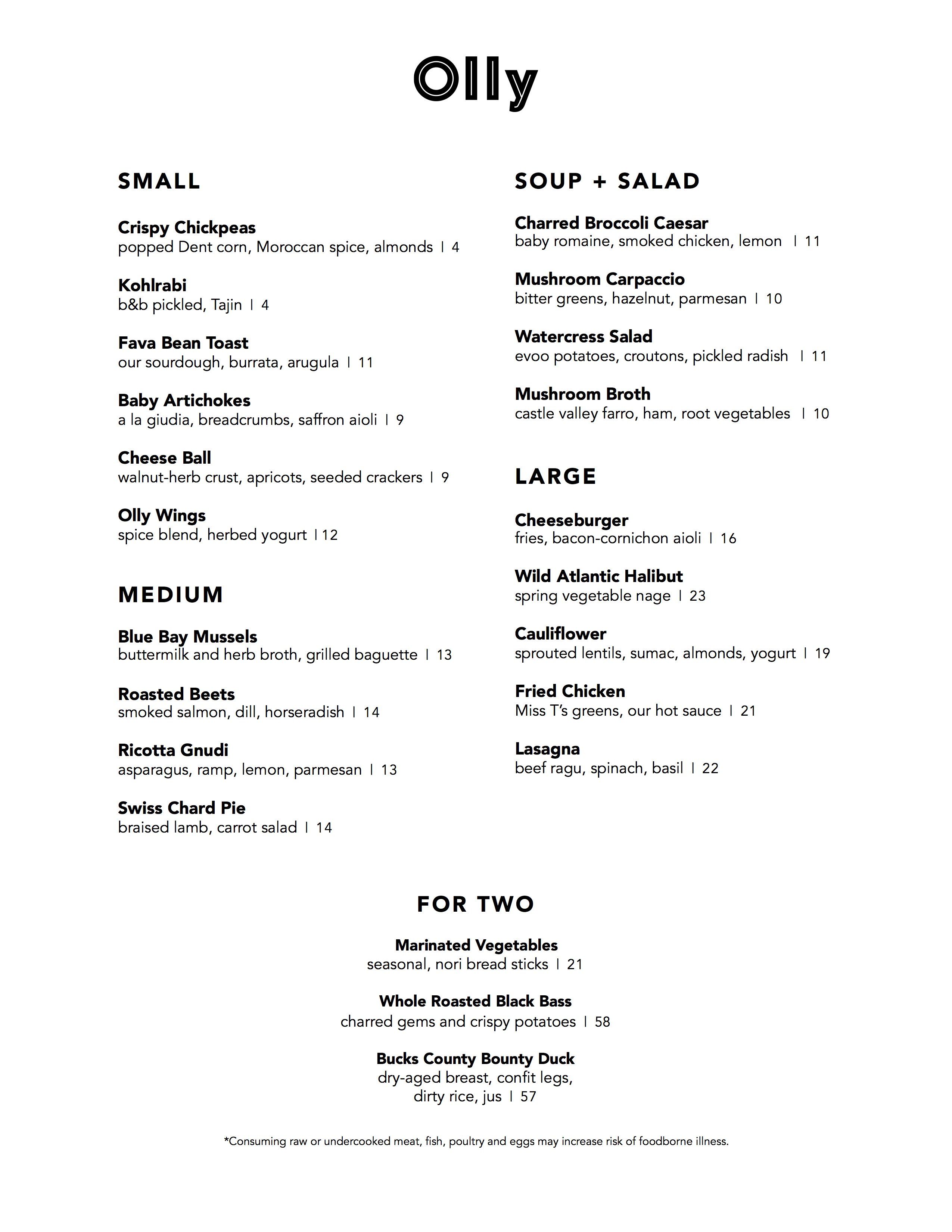 ---
---