News
Fiore Debuts With Lunch, Coffee, and Pastries in Queen Village
Daytime service starts tomorrow at Justine MacNeil and Ed Crochet's contemporary Italian bar-restaurant.
---
We've been excited for NYC expats Justine MacNeil and Ed Crochet's contemporary Italian spot, Fiore, to open since they took over the former Kanella South space back in November. And phase one of that opening — daytime coffee, lunch, and pastry service — begins Thursday, January 10th (that's tomorrow).
The couple updated light fixtures, paint, and flooring in the space, with a new mural along the dining room's south wall, but not everything is new — guests may recognize the wallpaper in the bar area from the Kanella South days.
To start, Fiore will serve coffee from Rival Bros. and a selection of MacNeil's pastries, cookies, and cakes from the bar, with the dining room open as a seating area. The daytime menu also includes sweet and savory toasts, a rotating selection of frittata, roasted veggie salads, and pizzette — thin-crust white pies topped with ricotta and mozzarella, with the option to add an egg on top.
For now, hours will be 9 a.m. until 3 p.m. Wednesday through Sunday, although those hours may be tweaked as neighborhood demand dictates. MacNeil and Crochet are waiting for their liquor license to be approved before opening for dinner, so there's no set date for that yet — although the couple are hopeful that they can be fully open sometime in February.
In the meantime, they've got a slate of pre-opening tasting menu BYO dinners and classes on pizza and chocolate planned for January. There are a few spots left for tomorrow night's Roman-themed dinner (menu here) as well as their Foods of Tuscany event on January 18th, Taste of Abruzzo menu on Thursday, January 24th, and Italian-American Sunday Supper on Sunday, January 27th, all for $90 per person (which includes tax and gratuity).
And this Sunday, January 13th, chef Trigg Brown of Taiwanese-American restaurant Win Son in Brooklyn is teaming up with the Fiore folks for an evening of all-you-can-eat fare from their wood-fired grill for just $25 per person — guests can drop in any time between 7:30 p.m. and 11:30 p.m., BYO, and pay at the door.
Check out Fiore's daytime menu below (click to embiggen). Reserve spots for their other classes and dinners in February by calling 215-339-0509 or emailing [email protected]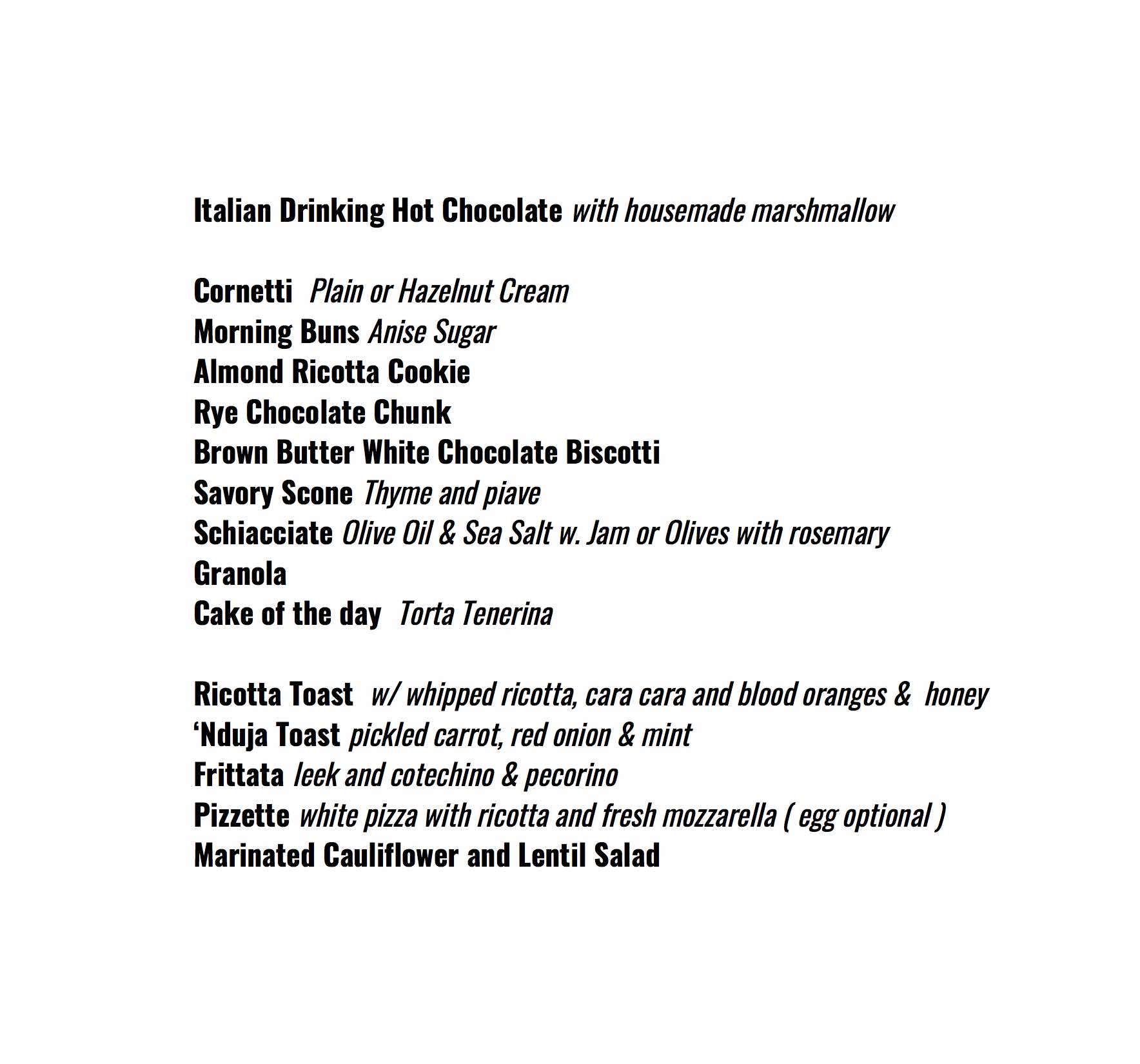 ---
---