News
Marijuana Enthusiast N.A. Poe's Fishtown Restaurant Is Finally Here
Poe's Sandwich Joint debuts on Thursday. We've got all the details.
---
It's been one doozy of a trip for N.A. Poe. He's been a comedian. He sorta ran for City Council and Attorney General of Pennsylvania. He's probably Pennsylvania's most well known marijuana user and advocate. And now? Well, now N.A. Poe is officially a restaurateur.
Less than one year after he pleaded guilty in his infamous 2017 pot party bust, a crime he'll be on probation for until 2022, 39-year-old N.A. Poe, known on his birth certificate as Richard Tamaccio Jr., is finally ready to open Poe's Sandwich Joint in Fishtown.
The takeout spot is set to debut at the corner of Frankford Avenue and Marlborough Street on Thursday at 4 p.m. Poe says that on Tuesday, he turned down an offer from the Food Network to be featured on a new show about the opening night at restaurants, because it would have meant delaying the already-delayed opening by several weeks.
"We're chomping at the bit here to open," Poe explains. "We're not waiting to do some vanity TV show where some guy is yelling at me while I'm making sandwiches."
The Poe's Sandwich Joint menu consists of ten sandwiches in the $9.50 to $10.50 range — think chicken cutlet, meatballs, sausage and peppers, and other South Philly staples as well as two vegan and one vegetarian option, all on Sarcone's rolls. There are also $3.50 (or three for $10) cheeseburgers in the style of Charlie's Hamburgers in Folsom, an ode to Poe's Delco roots.
As for sides, you've got four versions of fries: the basic $4 fries; $6 loaded fries that are topped with house smoked gouda whiz, bacon, scallions, and diced tomatoes; and two versions of funnel cake "fries" for $6 and $8.
The menu was conceived by Poe, whose previous restaurant experience has been limited to front of house, and his chef and longtime friend Mark Lawlor, a veteran of the Loews Hotel on Market Street.
But back to that gouda whiz for a second. We couldn't help but notice that the Poe's Sandwich Joint menu boasts a cheesesteak — the $9.50 Uncle Tony — that features smoked gouda, which might evoke the image of John Kerry attempting to order a cheesesteak with Swiss cheese at Pat's. But Poe says that his use of smoked gouda hasn't stoked the Philly traditionalist fires just yet.
"The response on our Instagram to that was amazing," Poe tells us. "It was the most liked thing that we put on Instagram. But if anybody wants to give me shit, that's fine."
And, hell, this is a shop that includes a sandwich packed with frigging "citrus marinated tofu," so…
Poe's Sandwich Joint will be open seven days a week, and, notably, until 3 a.m. on Friday and Saturday.
"For a lot of restaurant workers, strippers, and just people who go out drinking late, options are so limited for food — especially in Fishtown," Poe explains. "So hey, now you get off your shift, you don't have to go to McDonald's on Girard Avenue. You can get meatballs like grandma used to make."
Poe says that his dad invested $30,000 in Poe's Sandwich Joint, while another family member put up $15,000. And he also took out several personal loans.
"All of my chips are pushed into the middle of the table," he observes. "But I'm a pretty driven guy, despite people tending to associate weed with laziness. If you look at my track record, it's pretty impressive what I've done considering that I've been pretty much high as long as I've been awake."
No, you don't need to report Poe to his probation officer. He is a medical marijuana cardholder, and he's allowed to smoke pot while on probation. But with a new baby at home and the restaurant, he insists he's smoking dramatically less.
"I'm a shell of my former stoner self," he says.
Below, the menu for Poe's Sandwich Joint: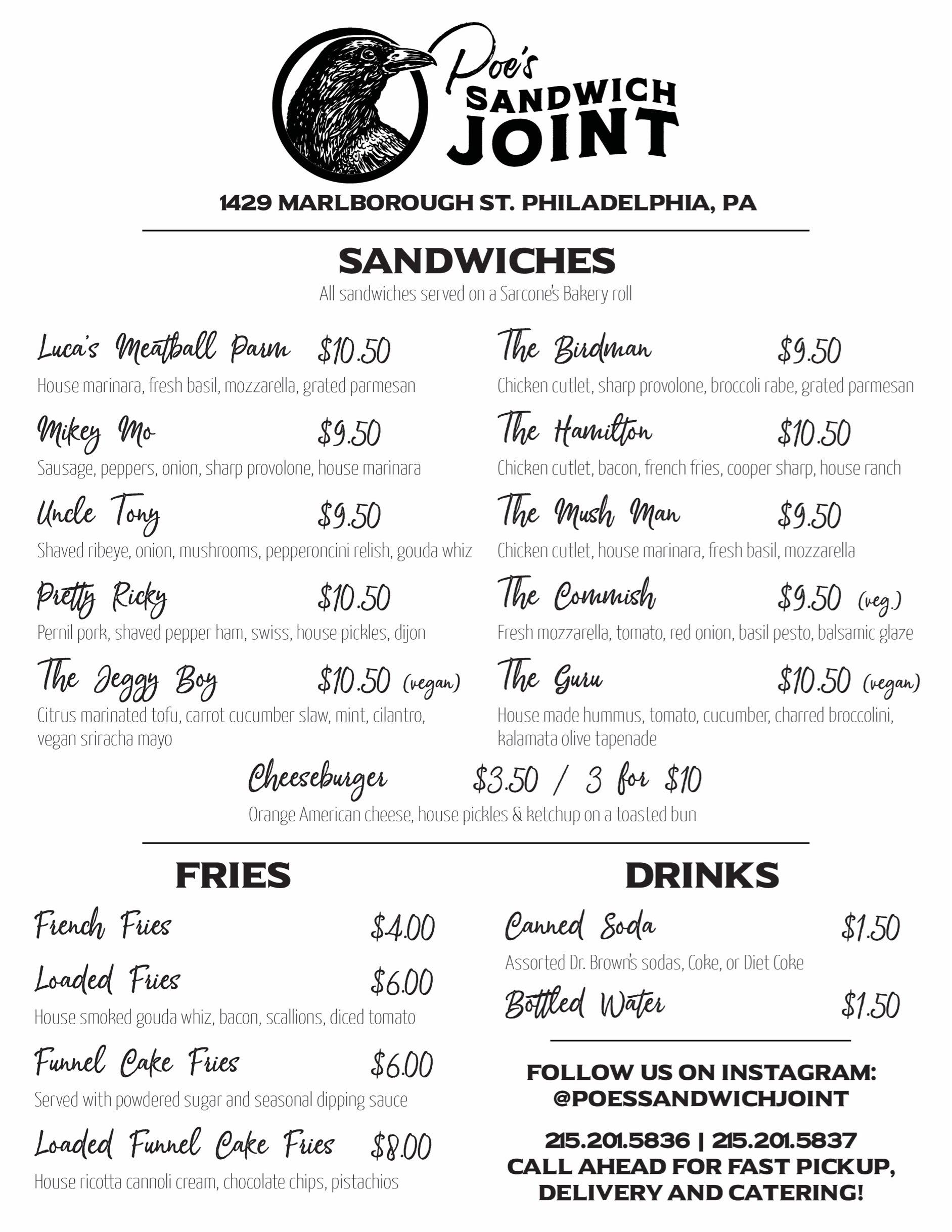 ---
---