News
Look at Helm, All Grown Up in Rittenhouse
Kevin D'Egidio and Michael Griffith's seasonal heartthrob is now open up above 19th and Chestnut Streets.
---
Helm Rittenhouse has been kinda-open for a few days now. It's got most of the artwork on the walls — prints of owners Kevin D'Egidio and Michael Griffith's favorite musical artists like Chance the Rapper and Johnny Cash and whatnot. The kitchen crew in the back is presumably still finding their sea legs. The plan was to open today, August 8th, but they opened early. "We were bored," says D'Egidio. "We figured, why not?"
See, that's how the Helm duo likes to do things: at their own whims, with a quiet confidence. It's that sort of ethos that brought them all the attention they received when they first opened the original Helm (still doing its thing up in Kensington). Plus they closed South Helm, their second BYO in Pennsport. Not for good, not forever, but for now — while they get Rittenhouse up and running smoothly. They say that at some point, they're going to turn it into something. Maybe it'll be South Helm again, maybe not. Maybe it'll be Tierce. Who knows?
But Helm Rittenhouse is open, and it's somewhat of a return for D'Egidio and Griffiths since they met working at Lacroix way back in the day. This Helm is perched up in the former Aldine space on the second floor of 1901 Chestnut Street. And sure, many people attribute much of Aldine's struggles to its lack of street-level presence, and sure, the Helm guys might be faced with the same challenge. But if you think about it, both Helms never really needed sidewalk traffic to get by. Not in Kensington and not in Pennsport.
Plus, Helm Rittenhouse has a bar. And if you can do a bar right, if you offer a good happy hour and develop a nice late-night industry crowd (which D'Egidio says he very much plans to do with a 2 a.m. last call, plus late night snacks and $3 High Lifes and Hamms), then you're golden. They've got Greg Diamond behind the bar — an employee of theirs for a few years and a previous bartender at the Four Seasons. He's keeping the wine and beer list nice and tight, and the cocktails will be seasonally driven — because, you know, it's Helm. Those guys love seasons.
Today is the restaurant's "official" opening day, and we've got some pictures of the space, some pictures of the food and the menu down below. Take a look and makes your reservations here.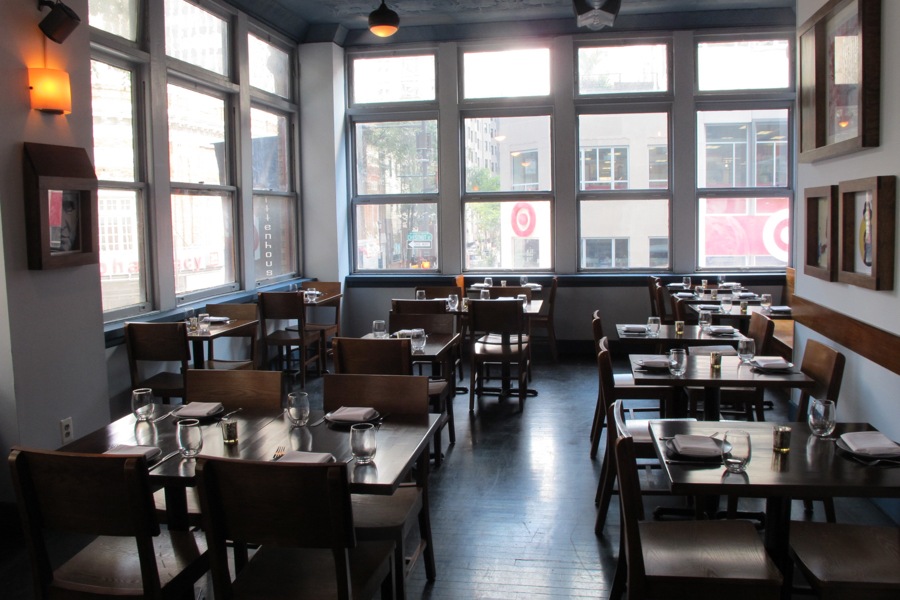 Some food shots here:
And the menu:
---
---