Ask the Editor: How Do I Build a Bowl of Pho Like a Pro?
Some tips and tricks to make the best bowl of Vietnamese beef noodle soup you've ever had.
---
Welcome to Ask the Editor, a new weekly column by yours truly where I answer all of your Philly food and drink questions. Have some burning ones already? Email me here.
I'm a pho-newb. How do I build a bowl of pho like I know what I'm doing?
— Charlie in Chestnut Hill
When it comes to Vietnam's national dish, I'm no expert — just a diehard fan. But before I turn things over to the real expert, let me say this: There's no wrong way to do it. There's a wrong way to say it, sure (it's pronounced fuh, not foe), but when it comes to all the accoutrements, it's purely personal preference. I have my method and you have yours, and that's that.
But knowing you'd hardly be satisfied with that, I reached out to a friend of Foobooz and the owner of one of the city's best cocktail bars, Lê of Hop Sing Laundromat, who agreed to show us, first-hand, how he, an expatriate of Saigon, does it at one of his favorite pho spots: Pho Saigon on Columbus Boulevard in South Philly.
Now, you should know that Lê's process is, as Chuong, a partner at Pho Saigon (also surnamed Lê) put it, "crazy." You'll see that it's very…involved.
"When I was little, my dad would make the whole family wait till I was finished putting it together," says Lê. "It was a show."
And while, yes, doing it his way may seem like it's overcomplicating something as simple as soup ("Most people don't care this much, but you know Lê," says Chuong), trust that it makes a glorious bowl of pho.
How to order your pho
Order the kind of pho you want. It could be as simple as meatballs, or as complex as steak, fatty brisket, flank, tripe and tendon. (Lê's go-to bowl includes rare steak, brisket, well done flank and tripe.)
If you're getting beef pho with steak, make sure to order the steak on the side (that way it doesn't cook in the broth).
Ask for a separate bowl of broth.
Ask for a side of bird's eye chilis.
Order a side of núoc béo (say it "nook-bayo") and hành trân ("hahn-chjahn"): rendered beef fat and scallions.
How to prepare your pho
After you place your order, the server will bring you a plate of limes, thin slices of jalapeño peppers, sprigs of Thai basil, culantro leaves (like cilantro, but a little sweeter and more pungent) and bean sprouts. Your pho will come shortly after. Make sure to come up with a game plan while you wait: "Pho should be eaten piping hot," says Lê, and you don't want to spend too much time fussing with it.
Limes = to sweeten and brighten
Jalapeños = for heat
Bean sprouts = for crunch (you can also order your bean sprouts hot, so that adding it to the soup won't drop the temperature)
Herbs = flavor boosters
Add them as you see fit, but make sure you pluck the basil leaves off their stems (don't throw the whole stem into the soup — that will be annoying to eat around) and lay them with the culantro on top of the soup. Like this: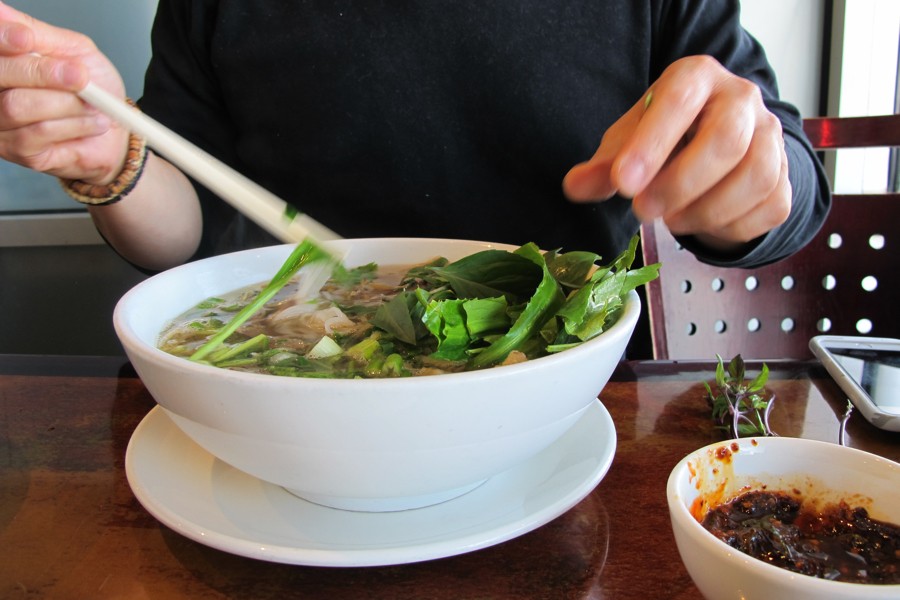 Mixing them into the hot soup will turn the leaves black. Lê suggests waiting for the soup to cool a bit before mixing them in. Otherwise, just pick them off the top as you dig into your bowl.
Stir in the núoc béo and hành trân to bolster up its beefiness (it changes the texture of the broth, too, for a more mouth-coating feel).
Then, in your bowl of chilis, add generous squirts of hoisin, chili paste, and Sriracha (all found at your table near your chopsticks). Whisk them all together. This is the dipping sauce for your meat.
How to eat your pho
This part's easy: Use your spoon to sip the soup, and your chopsticks to grab the noodles and meats.
That extra bowl of broth? Use that to cook your rare steak to your desired temperature. (You use the separate broth because it keeps the pho's broth clean.) When the steak is cooked to your liking, dip it in your sauce. No need to throw the steak into your soup at all. The stock is plenty beefy as-is (16 hours of steeping beef bones, marrow, and knuckles in water will do that), and anyway, the fat will turn the broth murky which isn't nearly as pretty as a clear consommé,

Here's one last tip from Lê: Don't throw out the dipping broth. Take it home, and when you get hungry, add some rice, heat it up and you've got a great, new bowl of soup.
---
---