News
First Look: Chalaco's, Peruvian in Northern Liberties
The restaurant and pisco bar will open across from Schmidt's Commons next week.
---
This post has been updated.
It seems to be the year of Peruvian food in Philly. We're just a few months into 2018, and central Philadelphia now has not one but two Peruvian restaurants.
First, the family behind Northeast Philly's El Balconcito restaurants opened the ultra-authentic Vista Peru in Old City back in February.
And now Chalaco's, another Peruvian concept with a pisco-centric bar, will open Wednesday, April 18th at 1030 North Second Street in Northern Liberties.
Since it was first announced last summer, Chalaco's has had a change of ownership. Colombia native Jordi Harper, who trained at Le Cordon Bleu in Lima, took over the concept with an additional investor back in December.
The menu at Chalaco's will highlight what makes Peruvian cuisine special, including its signature blend of Indigenous, Italian, Chinese, and Japanese cuisines, presented through Harper's classically trained lens.
"We want to use Peruvian flavors and techniques with ingredients available in Pennsylvania," Harper said. That means wild mushrooms and herbs grown locally and highlighting seafood that's brought in from boats docking at the Jersey shore, for example.
It's also a more sustainable approach, as the kitchen will be bringing in fewer South American ingredients. That desire to reduce waste also shows up on the menu, with a dessert featuring arancini-like fried rice pudding served with lime shells that are stewed in sugar syrup until tender and sweet.
The bar will serve classic pisco-based cocktails like pisco sours and the Chilicano, a blend of lime, pisco and ginger and features six taps highlighting local beers.
Chalaco's will open starting Wednesday, April 18th at 11:30 a.m. for lunch and dinner. Going forward, the spot will be open from 11:30 a.m. until 10:30 p.m. Monday through Thursday and from 11:30 a.m. until 2 a.m. Friday and Saturday (the kitchen closes at 11:30 p.m.) and until 9 p.m. on Sunday.
Check out the full menu below (click to embiggen).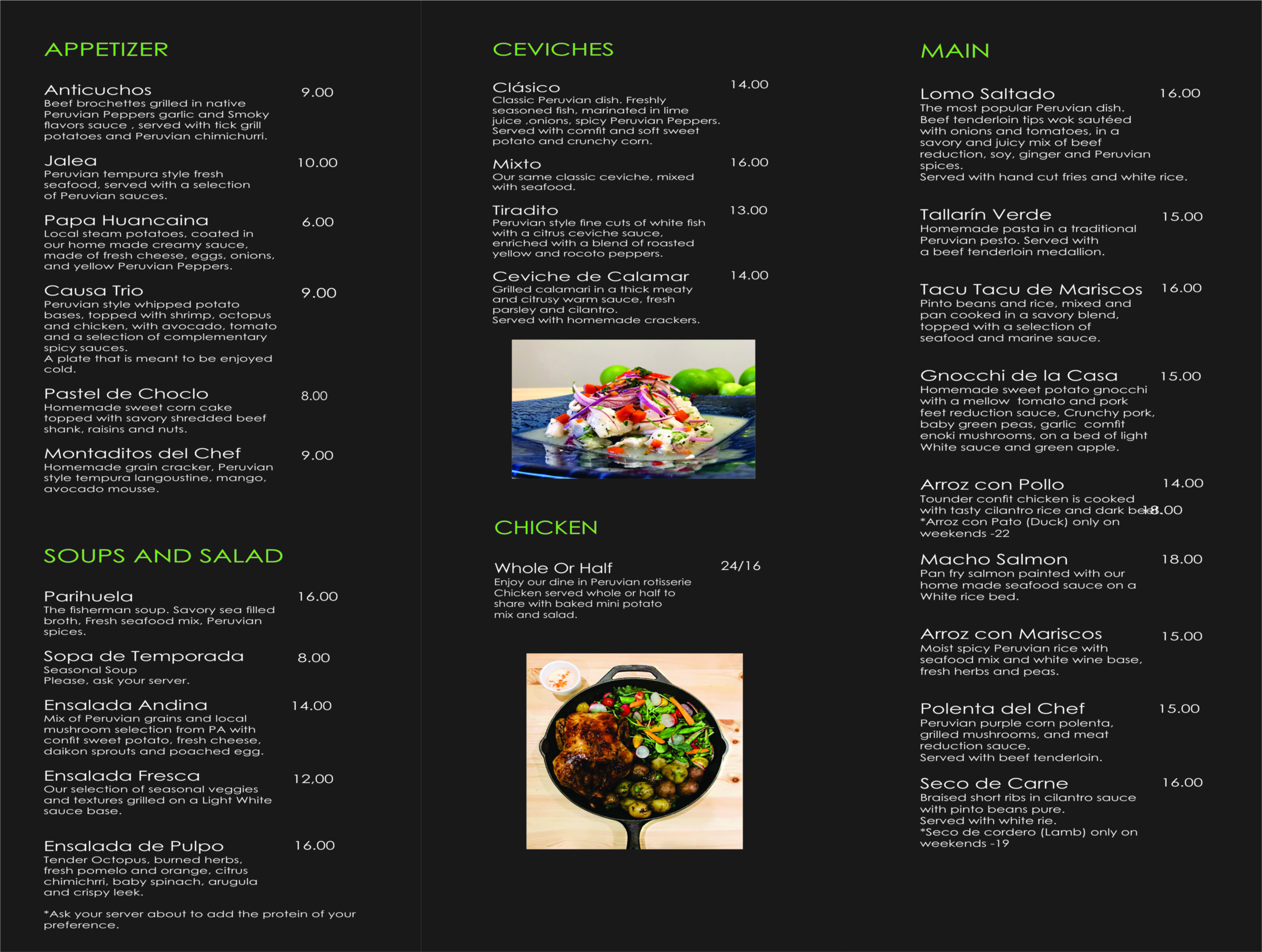 ---
---