Drink Here Now: Fermentery Form in Kensington
With an erratic schedule, a tiny tasting room and some fantastic sour beers, Form is worth the work it takes to find it.
---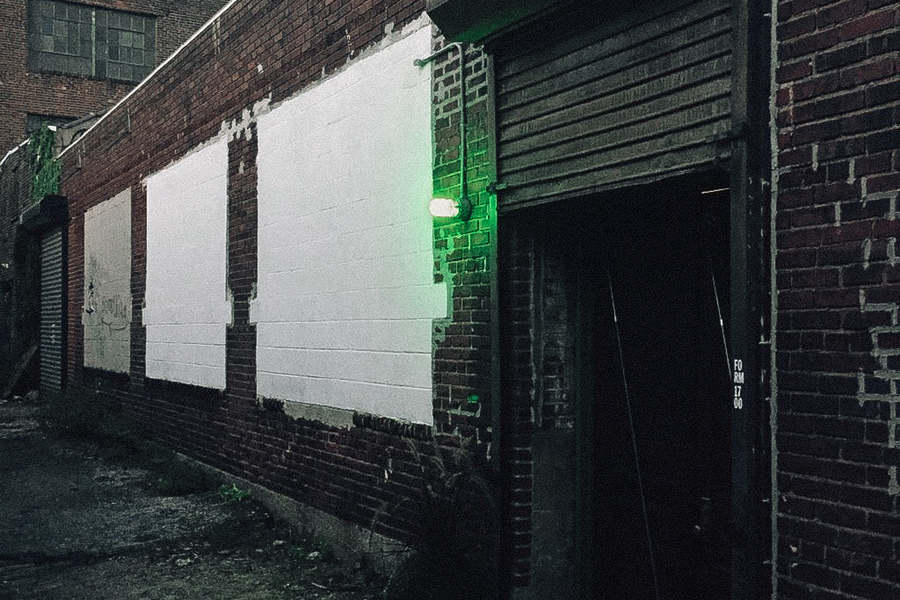 Down the alley, under the green light, through the anachronistically fancy doors — that's where you'll find one of Philly's strangest local breweries, Fermentery Form.
It's the doors that should give it away. They have no business being in that alley (technically Palethorp Street). It's one of those things where, if you were walking by for some reason and had no idea that this is where Fermentery Form lived, you'd see those doors and say, "Hey, I bet there's something cool in there."
"I bet there's something weird in there."
"I bet there's something in there that someone is trying to keep secret."
And all three of those things would be true.
Fermentery Form opened (officially) in June of 2017, around the corner from Keystone Mini-Golf, sharing a courtyard with Federal Distilling. It's a small space, crowded, industrial in a garage start-up kind of way, with a few tables and 50 large barrels stacked in an abbreviated pyramid dividing the room in half.
But there's also a small bar. A really small bar. Just a few stools. And a very short list of the beers being poured. Young Form. Fooz. Merry Merry. All of them sour, farmhouse ales, cask and bottle-conditioned, full of strange yeasts. All of them made right here by three friends and partners, Ethan Tripp, Matt Stone and Scott Hatch.
Which means it's a tasting room. Which means that Fermentery Form is a brewery. But only kinda. Let me explain.
10 years ago, Tripp, stone and Hatch were just homebrew buddies, interested in the art and science of fermenting. Though "just homebrew buddies" might be a little too small of a phrase, actually. Because they weren't the kind of homebrewers who would knock out a few cases of some pissy lager and pawn them off on their friends during the holidays. No, they were the kind of homebrewers who would regularly knock out 400 or 500 bottles of strange, experimental, wild-fermented, aged, fruit-infused, super-nerdy beer on a regular basis just for fun and never seemed to have enough on hand to match the demand from friends, family and fans.
They worked on their own, never really sold anything, just playing around with wort and yeast. But then Tripp (who worked in digital advertising) got laid off. And the way he explained it to me was like this: "I went through kind of a long period of, do I want to do this anymore? Do I just want to turn around and get another job in the ad industry?"
Or did he want to do something…else? Did he want to do that thing that everyone who loves beer dreams of at one point or another? Did he want to start his own brewery?
No. He did not. And for a lot of reasons, all of which he laid out for me in a long conversation we had about the origins of Fermentery Form. Opening a brewery would be too expensive for starters. "You have to get a big space, then a couple million dollars in brew kit, and then to pay for that, you have to start brewing and selling immediately. And do we want to do that? Make a bunch of beer we don't care about?"
Again, no. He did not. He and his friends didn't have the up-front money for a real brewery. They couldn't afford the kind of space they'd need. They didn't want to make a lager, a pilsner, two IPAs and a stout — the kind of things you need to have on tap in the brewpub model. What's more, they were pretty good large-scale homebrewers, but they had no idea how to scale their operation. How to grow into something that would be profitable.
But then one day, while doing research, Tripp ran across an opinion by the PLCB on getting wort (the liquid poured off the mash in the initial step in the brewing process) from a licensed brewery. It said that he could absolutely do that — have someone else do the bulky, space-intensive work for him, allowing him to just buy the final product off them. Wort that he and his partners could then age and condition and ferment the way they wanted. "It basically solved all the financial problems of having a brewery by not having a brewery."
So Tripp, Stone and Hatch found this odd little space in Kensington. They bought 50 used oak barrels from a winery in Napa and reconditioned them instead of spending a fortune on new barrels. Those barrels became the basis for Form's "solera" system — an idea they'd been messing with for years, borrowed from sherry production, where the bottom barrels in a stack hold the oldest sherry and the top barrels hold the youngest. Every time the sherry is blended and bottled, they take a little of the oldest sherry, mix it with the new stuff to give it character, and then replace what they took from the bottom barrels with slightly younger sherry from one level up.
At Form, those stacks of barrels in the main room are Tripp's beer solera. The oldest stuff, in the lowest barrels, has been aging for about 10 months. They keep adding young beer to the top levels, cycling it down as it ages. It's a long-term project, the kind of thing they never would've been able to do had they gone a more traditional brewpub route. "We've been able to find a niche that's different in size and style than what most people talk about when they talk about brewing," Tripp told me. "It's small on an industrial scale but it's huge on a homebrew scale. We exist in a different realm." Really, Form is more like a family winery than a brewery. And from the start, that's where they've gotten a lot of their inspiration.
"We don't want to be like a bar, open late. We want [Form] to be more like an afternoon cafe." A place where people can come in and share a couple bottles with friends (which Tripp tells me is the best way to experience Form's beers, though they do have taps at the bar), where they can taste something that's still in process when they draw bottles of Young or Old Form from the solera to taste how it's developing.
"No one else does that," Tripp said. What other brewpub could you visit that lets you drink something that's not the final product? That's still growing and aging?
Most of what Form has put out in the past six months have been their farmhouse ales — small-batch experiments with fruits and yeast and short-term aging, done in both stainless steel and barrels. When I was there, I had some Fooz — a wheat-based sour made with 250 pounds of peaches and keg-conditioned for two months. It wasn't finished when I tried it, but it was good — fruity but not overpowering, wonderfully sour, rough around the edges just the way I like. This Saturday, Form is going to be bottling the Fooz and releasing it into the world. It'll be even better then.
I also tried one of their still beers — non-carbonated, pulled from the solera. The Young Form is made with red Barbera grapes (skins and stems included). The Old Form is cherries and blackberries, rich and sweeter.
All of them were worth the trip. The place itself — with its dedicated crowd of fans who track the rather random opening schedule via Form's Instagram page — is exactly the kind of secret, back-alley joint you dream of finding one afternoon. A small beer-geek Nirvana full of dedicated disciples. Which is exactly the way Tripp wanted it. It's the reason there's no sign. Just the green light — lit when there's beer, dark when there's not.
"Being where we are and doing what we do in this modern era… It's not ideal in a lot of ways. But I kinda like it that way."
Fermentery Form is open most Saturday from 2-8 p.m. They also try to open at least one day a week, generally announced via social media — along with their new bottle offerings and what they're pouring on any given day. And you should absolutely go drink there. Not all of you, and not all at once (because the place is small and could easily get overwhelmed), but if you care about beer and science and locality and your neighbors doing cool stuff unnoticed and sometimes right under your nose, you should absolutely go. You should look for Form's beers at Local 44 Bottle Shop and Strangelove's, at Bottle Bar East and C.J.'s Doghouse. Tripp tells me that they're planning on bottling the first of the solera beers soon. A few weeks, a couple months. Not long.
And that is something you absolutely don't want to miss.
---