Middle Child Brings a Fresh Take on Daytime Eats to Wash West
Matthew Cahn's new breakfast and lunch spot is cute, comfy, and curated.
---
Washington Square West is about to get a quirky new spot for breakfast and lunch.
Middle Child, Matthew Cahn's streamlined diner-deli hybrid, is set to open at 248 South 11th Street.
Cahn, whose background includes work in advertising before he turned to foodservice, with stints at spots like Superiority Burger and specialty retailer Court Street Grocers, conceived of Middle Child as an homage to breakfast and lunch — meals that don't always get the attention and respect that dinner does.
A Cherry Hill native who went to high school in East Falls, he also noticed how Philly's food landscape was changing: every time he came home to visit, he saw that longstanding spots for cheap eats — like Little Pete's, Snow White, and Midtown diners and independently-owned spots like Sarcone's Deli and Reading Terminal Market's erstwhile Salumeria — were closing, and fast-casual spots like Sweetgreen and Honeygrow ("get in, get out, nobody knows who you are") were opening in their place.
Middle Child is Cahn's tribute to those diners, delis, and sandwich shops, calibrated for a more careful consumer. "That sort of diner serving cheap, bad-quality ingredients doesn't work any more," he said. "We don't want the food to be crazy expensive, but we want to put our heart and soul into everything."
And the shop does have a cozy, hometown feel: The bright, minimalist space is decked out in white and what he calls "Eagles green" and decorated with framed photos and LP covers of local heroes — think Springsteen, Hall & Oates, and Princess Diana rocking an Eagles jacket.
There are a few tables and a counter, where guests can watch chef Keith Krajewski — making the jump from his former post as executive chef at Marigold Kitchen to the decidedly more relaxed world of scrambled eggs and hoagies — artfully top a breakfast sandwich with arugula or dress their reuben with house-made Russian dressing. And on the way in (or out), diners can pick up a selection of dry goods and snacks from the colorful, carefully curated shelves near the checkout.
Cahn has assembled favorite treats and ingredients from near and far: think local snacks like Hammond's Pretzels and potato chips by Utz and Zerbe's, plus beignet mix from New Orleans' Cafe du Monde, chocolate-dipped Pocky from Japan, and hard-to-find Have'a Corn Chips from southern California. "If I didn't have to shed a few tears to get them, they're probably not worth stocking," Cahn says.
There are also pantry staples like Bragg's apple cider vinegar, Crystal hot sauce (Cahn's favorite), and Zoe olive oil along childhood indulgences like tubs of Marshmallow Fluff and U-Bet chocolate syrup. Honey bears full of house-made condiments and trays of crisp, briny pickles fill the deli case.
For breakfast, Middle Child will offer a classic egg and hash browns platter, a breakfast sandwich (scrambled eggs, Lancaster County bacon, Cooper Sharp, and a frill of arugula served on toasted potato bread from Philly Bread) and Blintz Toast, farmers' cheese slathered on a thick raft of toast with a masala-spiced blueberry jam spooned liberally on top. There's also a breakfast burrito in the works.
For now, Cahn's mother is providing baked goods — mini chocolate Bundt cakes dusted in powdered sugar and crunchy slices of mandelbrot ("Jewish biscotti," he explains) — but Krajewski has plans to add house-made muffins, cinnamon rolls, scones, and other pastries soon. And Middle Child is the first to brew Elixr Coffee's Weekender blend, a more robust roast than their typically floral offerings — Cahn's nod to "diner coffee."
---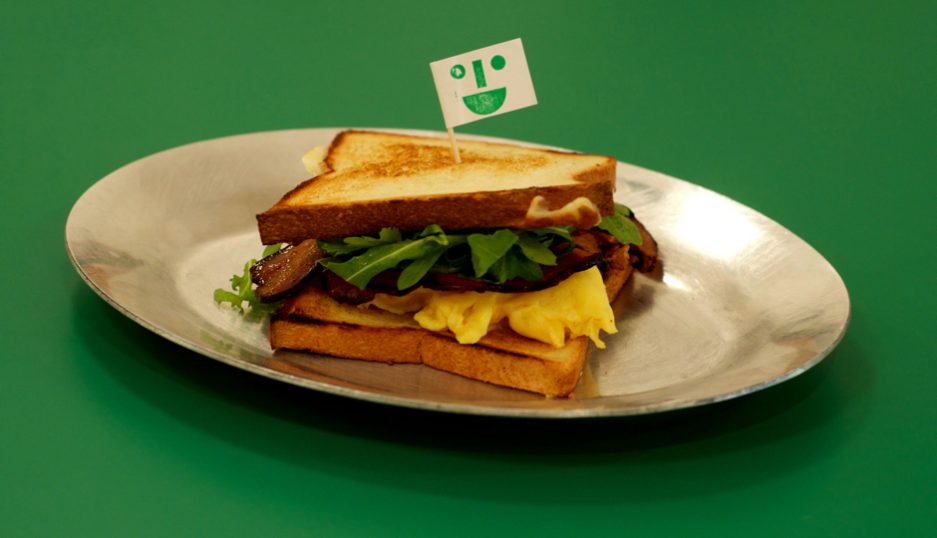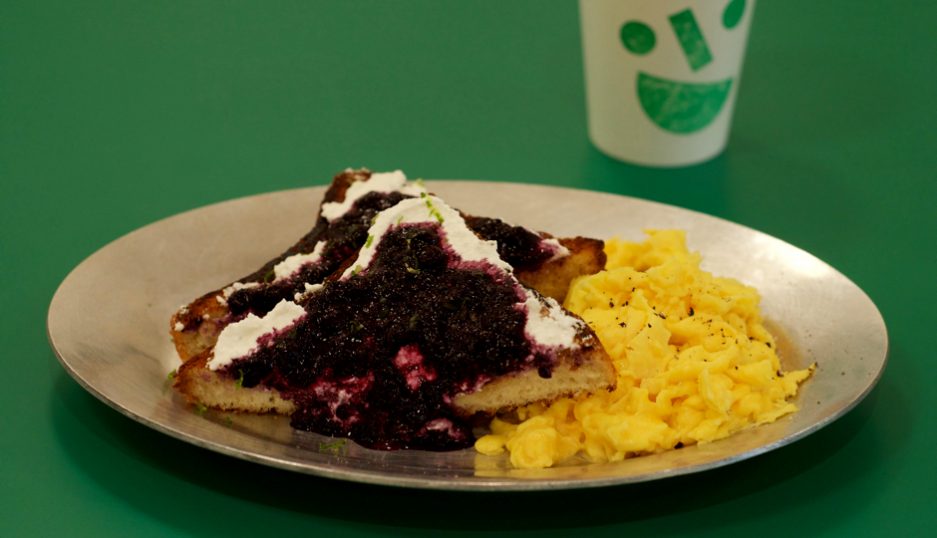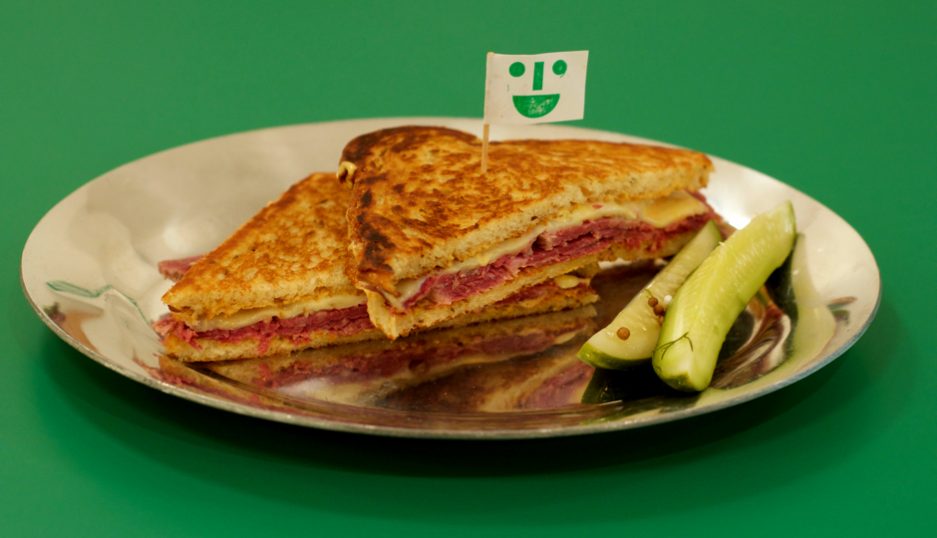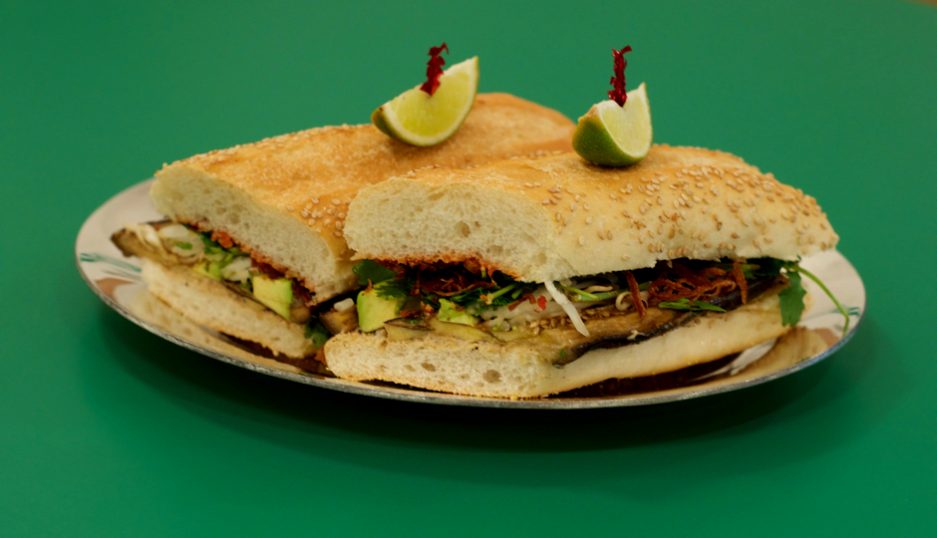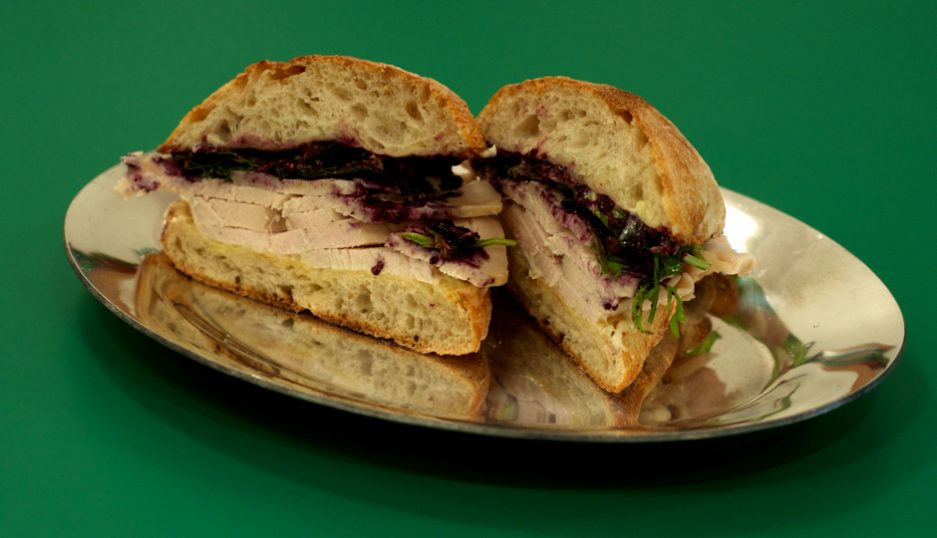 ---
The sandwiches are where Cahn and Krajewski's ideas shine brightest, imprinting classic recipes with quality ingredients and new flavors. For The Surfer, their answer to the turkey sandwich, Philly Bread's ciabatta is topped with thick slices of seven-hour roasted turkey made in-house, plus zesty greens and that spiced blueberry jam. Their reuben sticks pretty close to the classic formula, with a few tweaks to its construction: potato bread is griddled in butter to develop a crisp crust, then pressed with corned beef (chuck flap tail meat, to be precise), that tangy Russian dressing, sliced Swiss, and a light, not-too-funky sauerkraut Cahn sources from New York.
For the vegans — and everyone else — there's the Phogie, a simultaneous homage to two classic Vietnamese dishes. A seeded Sarcone's roll is topped with hoisin-roasted eggplant, sliced avocado, bean sprouts, fresh white and frizzled onions, cilantro and Thai basil, and a pho-style broth flavored with caramelized onions and ginger that's blended into a vegan mayo along with a Chinese five-spice blend. Lime wedges (of course) finish the sandwich.
While Cahn and his team are still putting finishing touches on the menu, they're hoping to open for business as early as the end of this week.
Middle Child [Official]
---
---