Philadelphia Restaurant Review: The Fat Ham
Kevin Sbraga brings Southern soul to Philly with the Fat Ham.
---
It's not the sort of thing a food critic is supposed to say, but my favorite bite of the year might just be a piece of fluffy white bread soaked with ranch dressing on the Walnut Street Bridge.
That wasn't everything my fork found on one plate at the Fat Ham. There was a refreshing sprig of dill, and a thin slice of cucumber pickle that was as cool as, well, you know. But there you've got the sum total: bread, ranch, dill, cucumber. So I know what you're thinking: Should I even keep reading this column, or quit while I'm ahead?
Go ahead. Put it down — and book a table. I'll be here when you get back. And you'll be one step closer to the Fat Ham, Kevin Sbraga's high-octane homage to pork, peanuts, and Southern cooking's increasingly inclusive spirit.
My favorite bite here is really all about the bite that comes before it: the crackly-skinned Amish fry bird glazed with lard and punked with cayenne that, all together, is Sbraga's tongue-lashing, eyelid-peeling, pore-opening version of Tennessee hot chicken. In the wake of that intoxicating blaze, dill and ranch and cool pickle on a slice of house-made Pullman loaf is like rain falling on a prairie fire.
Don't take my word for it, though. Take the chef's.
Rolling up to a table near mine one evening, Sbraga checked in on a pair of millennials who were putting what looked like their third date to the fried-chicken test.
"It's hot!" they cheerfully told him.
"Sometimes it's even hotter on the way out," Philly's original Top Chef grinned. "That's why we call it '12-hour chicken.'"
Yep, you read that right. Sbraga puts on no airs with the soul food he dishes out in this frequently jam-packed joint, where the contempo-twang of Mumford & Sons bumps up against the thump of Rick Ross and Ludacris — standard bearers of that other vital Southern sound. This is the place to get collards in potlikker, fried oysters on yeast rolls, and red-eye gravy on thick-cut ham. And a few should-be classics, too, like the confit-style "tomato pie," cut with Ritz crackers and mayonnaise, that Sbraga classes up with locatelli and serves with a wedge of charred cabbage and crispy pork rinds.
All of which will hit you in the soul like a Charles Mingus bass thwack — especially if you chase it with a blue-ribbon banana pudding and a finger of the restaurant's deep well of brown liquor. But this gutbucket grandeur is only half of the Fat Ham's action.
Consider the ricotta piled into bark-edged bowls of blond mango wood with almost-burnt toast points. Smoked milk gives the creamy cheese a backwoods broodiness that's heightened by a homey scattering of black-eyed peas on top — a mood brightened (but not broken) by a crown of sweet pea tendrils. Or how about the brook trout, set down among brussels sprout petals on an uncommonly fruity red wine-apple puree that lanced (perhaps a little too insistently) through the richness of brown-buttered pecans?
A lot of my favorite dishes here combined down-home comfort cooking and outward-looking artisanal flourishes — an increasingly busy intersection below the Mason-Dixon Line these days.
Cured pork belly, which is slow-roasted, pressed, and seared on a plancha — a treatment that makes it crispy but by no means lean — was sunk into a traditional bed of sweetish red beans, and topped with a tangy shaved fennel salad borrowed from more Mediterranean climes. Blackened catfish seethed with old-school Cajun heat, but I loved the new-school crunch of the split okra pods — blistered on black steel and drizzled with lemon juice — and pickled cauliflower florets astride it. And Sbraga shreds the tender inner fronds of mustard greens into the most unexpectedly delicious salad of the season, using a mustard vinaigrette to bind crunchy benne seeds and peanuts to the peppery, scallion-flecked leaves.
All these shareable dishes come together with the polyglot soundtrack and a jumping bar scene to give the Fat Ham a sneaky sophistication. A gigantic pink pig mural presides over the clapboard-and-subway-tile interior, and some of the kitchen's highlights are indeed deep-fried, but you're not walking into a Southern cliché.
That said, a kosher Jew with a peanut allergy probably shouldn't walk in at all. This is a place that puts pork fat in the fried chicken, and peanuts in its fine shrimp and Anson Mills grits. The affable servers do, however, know the ingredient lists inside and out.
I didn't need them to lead me to the one that clinched this restaurant's hold on me: a light-bodied hummus that jettisoned tahini in favor of boiled peanuts. Those must be the most authentic — and divisive — thing here. I can't think of baseball or summer without conjuring a gloriously soggy brown bag of boiled peanuts, but I've never met a non-Southerner who could abide the things.
"I don't care for them either," Sbraga told me.
That he found a way to get them in just the same, amid his crowd-pleasing standbys and well-bred refinements, makes me love this place all the more.
---
The Fat Ham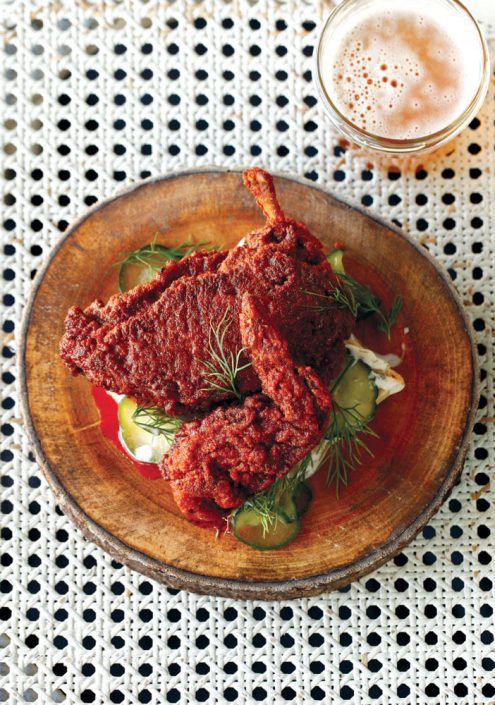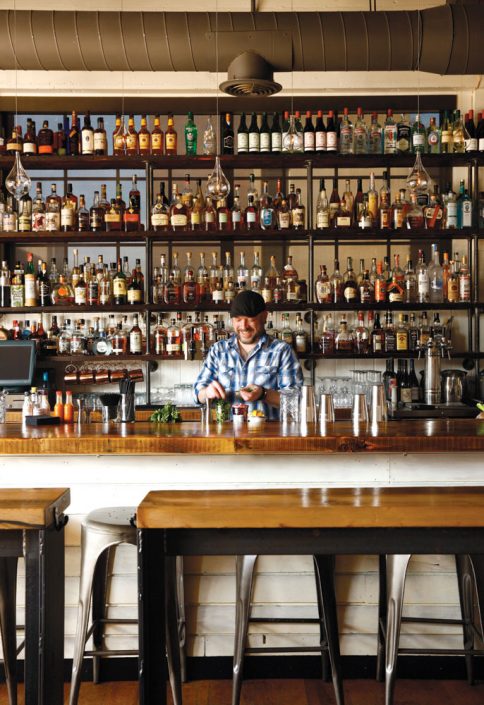 ---
Three Stars – Excellent
The Fat Ham [Foobooz]
Originally published in the May 2014 issue of Philadelphia magazine.
---