Recapping Open Stove XXII: Happy Almost St. Patrick's Day
---

Open Stove XXII was on Monday night, and like most of our Open Stove events, the guests got drunk. Not just because of the beer and wine, but because of the shots of Jameson tossed both into the food and down the throats of the patrons and chefs. It was a crazy night of Irish kitchen shenanigans, all in the spirit of St. Patty's Day. Because we're well into March, aren't we? And it just seemed like the right time to start celebrating.
The guests drank and ate, and the cooks drank and cooked. The diners messed with the chefs, the chefs messed with the diners, I kept getting in the way of the chefs with my damn camera, bottles were spilled, flames grew too big, and the 20-odd people that got to attend loved every bit and bite of it.
The competition was fast and furious, and the food was splendid, of course, but there is no such thing as competition without a victor, and after all was said and done, the victor emerged. And with his hand raised high, he became the winner of Open Stove XXII.
But first, all this stuff happened…
We had Eddie Konrad and his sous, Jake O'Donnell (from Talula's Daily) as Team Laurel on one side, and Joe Ranakoski and his sous Patrick (from Boot & Saddle) heading up Team Aldine on the other. That's right, Nick Elmi and George Sabatino's right-hand men.
Team Laurel: Eddie and his sous, Jake O'Donnell, from Talula's Daily.

Team Aldine: Joe's sous, Patrick, waiting for instruction.
Yesterday was Eddie's day off from Laurel. He explained that on his days off, he enjoys a drink or two. And he'd like the diners to do the same as he would. For his amuse bouche, he made us a Bloody Mary consommé, Szechwan chili oil, and a single Fanny Bay oyster to shoot.
For Joe's amuse bouche, he gave us a slice of house made baguette smeared with foie gras mousse, stacked with a pork belly-chicken liver terrine, with a salad of pickled celery, onions, and Thai chili.
First Course Secret Ingredients
Right from the get-go, the Irish theme went full throttle: Jameson, Bailey's, Guinness, and cabbage, presented to the chefs by the beautiful Michelle Flisek, as possible ingredients.
Eddie's first course was came out perfectly: Grilled Walu, Guinness braised cabbage, Bailey's beurre blanc, and thyme.
---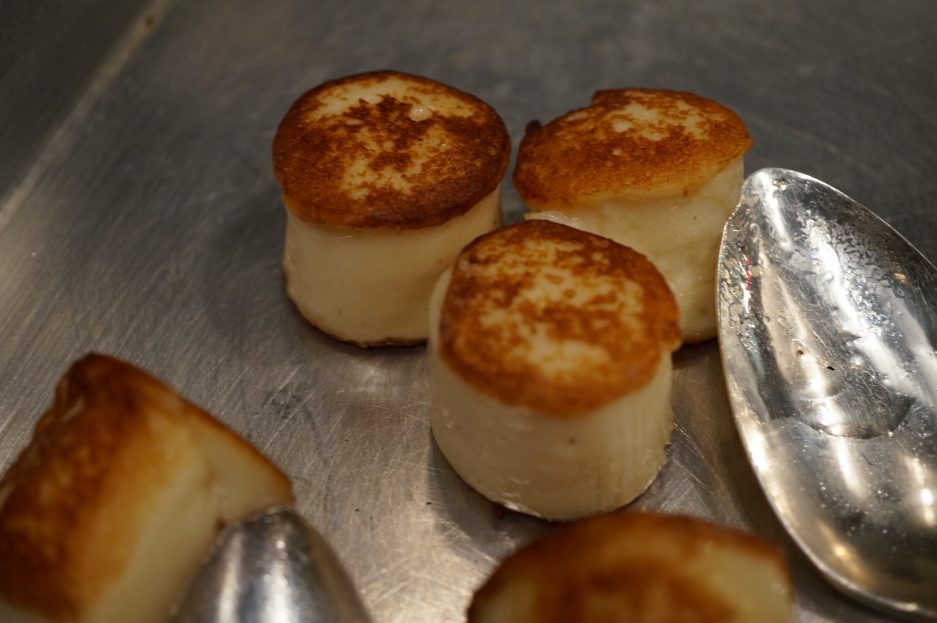 ---
Joe's first course was just as beautiful: House-whipped ricotta, Scallop Mousse, charred Napa cabbage, fennel puree, braised cabbage and brussels sprouts.
Team Laurel's sous pouring himself a shot in a ramekin.
This is Joe getting the diners all riled up.
Second Course Secret Ingredient
Irish Cheddar
Joe, showing off his maitakis with pride.
Team Laurel's peanut potatoes and Yellow Chantrelles
Team Laurel and Team Aldine's beef & belly.
Team Aldine's second course: Guinness braised pork belly, celery root pureed with Irish Cheddar, pickled vegetables, breadcrumbs, pork jus.
Team Laurel's second course: Roasted NY Strip, Yellow Chantrelles, braised peanut potatoes, Guinness-Black Garlic beef jus, Irish Cheddar
Oh, and guess who showed up? That's George Sabatino, checking in on his guys.

Desserts
Both teams decided to do carrot cake, unbeknownst to either of them. So it was a carrot cake-off.
Team Aldine's Carrot Cake: Mascarpone mousse, candied "Filberts"
Team Laurel's Carrot Cake: Grilled vanilla cake, carrot ginger puree, candied walnuts, whipped cream cheese, Agrumato lemon olive oil, sea salt
And finally, the winner, which according to the picture, seemed to be a surprise for everyone, including him. Team Laurel took home the gold after an incredibly close match.
The stakes of this match for the contestants were around a bet: Whoever lost, would buy the other two dinner somewhere. And after it was over, the two teams shook hands, shared some drinks, and went home victorious or vengeful, depending on team.
---