Photo of Men With Guns on South Street Freaks Out Neighbors
What would you think if you saw this in your neighborhood?
---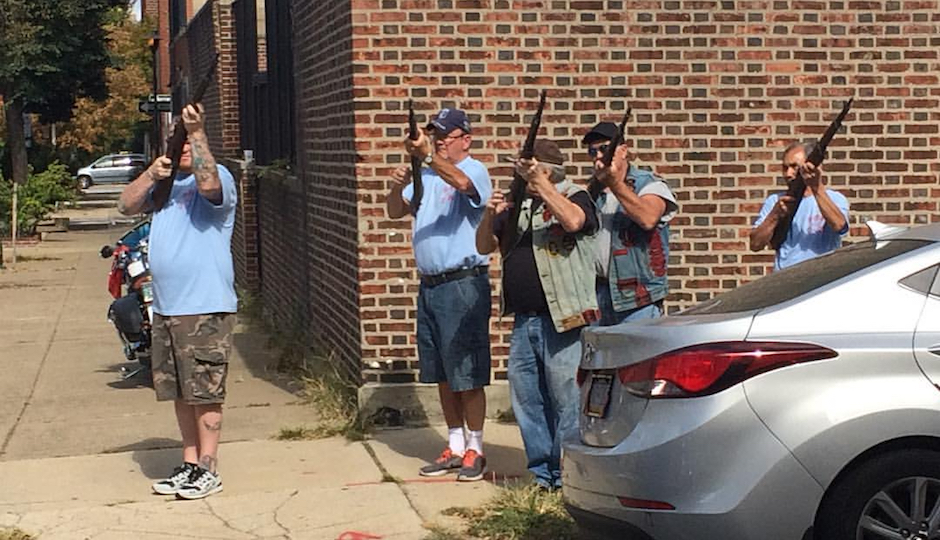 Imagine that it's a gorgeous day and you're riding your bike through the city when you pass by a group of men holding a bunch of guns in the air. That's just what happened over the weekend to one Philly woman, who posted a photo of the alarming scene to a community Facebook page. After all, it's not often that we see regular people carrying guns on the street in Philadelphia.
It happened on Saturday around 1 p.m. outside Callahan's, a bar at the corner of South and Taney streets. Members of the neighborhood Facebook group, including area developer Ori Feibush, quickly reacted to the image with variations of "WTF?"
Well, the reason for the display became quickly apparent: The gun-toting men were part of an annual march from Callahan's to the Schuylkill Veterans Memorial a few blocks away at Taney and Pine streets.
But that explanation didn't sit well with most of the people commenting.
Some pointed out the "bad timing" and "poor taste," considering the tragic events in Las Vegas earlier in the week, declaring it "hugely unsettling." Others questioned why the men with guns weren't in uniform, which might have alleviated some of the early concern. And still others raised the issue of white privilege.
"If the colors were different, the reaction would not have just been one of temporary fear, but police would have been called," one neighbor told Philly Mag. "Others seem to think that this is just an assumption, while this has been proven historically over and over again from the Black Panthers to Tamir Rice playing with a toy gun and losing his life."
But Bainbridge Street homeowner Greg Marano, who organized the veterans event, says this is all much ado about nothing.
"These people complaining, they've probably been in the neighborhood for six months," observes Marano. "Maybe two years. I was born and raised here on Bainbridge Street. People who've lived here a long time know all about this event. We've been doing it for 19 years."
Plus, as Marano tells it, the gun display outside of Callahan's was an anomaly. According to him, the same guys come every year from a local VFW post, but this year, two of the men had to back out at the last minute due to a funeral. So, he says, there were some fill-ins, and they were nervous about doing the salute at the memorial. They didn't want to mess it up.
"What happened outside of Callahan's was just a practice," Marano explains. "These two guys were all shook up about it, wanting it to be perfect, so they were all practicing their formations. The guns aren't normally produced until we start the event at the park."
The Philadelphia Police Department says they have no record of any calls about the men and their guns, but one neighbor did say that she called it in. And Marano confirms that a patrol car did show up after 3 p.m. — at least two hours after the gun display — to check on the report of the weapons. They cops left quickly once Marano explained the situation, he says.
As for the legality of such gun displays in Philadelphia, it's tricky. You can carry a gun openly in Pennsylvania anywhere outside of Philadelphia without any kind of permits. In Philly, you need a permit. But there is a long list of exceptions, and it's unclear if the men with the guns meet the criteria, or if they had the required permits.
"But a bunch of old vets and dudes in fades and crew-cuts wearing pro-police or pro-military or pro-union shirts and open-carrying is usually not going to generate much of a response with local police, who are under an existing directive to leave open carriers alone after they have been identified," says local blogger and gun-rights advocate Christopher Sawyer. "They are known for stopping people who open-carry, but in this case they apparently weren't there when they were open-carrying."
For his part, Marano says he's going to move forward with planning next year's event, and he hopes that the neighbors will come out to support it instead of complaining.
"It's crazy," Marano tells us. "The person who called the cops was probably one of those people who've been protesting the American flag, because we actually march down the street with the flag in our hands as we go to the park. I fought for this country. I love this country. It's just funny how different things get blown out of proportion."
Follow @VictorFiorillo on Twitter
---
---