I Love My Job: Joyce Russell, Dean of the Villanova School of Business
The leader tells us how her career in business started with tennis and what it's like to run the country's no. 1 undergraduate business program.
---
When Joyce Russell was appointed Dean of the Villanova School of Business last year, she became the first woman to lead the institution and inherited a big task: maintain and manage a school that's ranked the number one undergraduate business school in the country. So far, Russell has taken on addressing the challenges women face in business and has championed what it means to be a servant-leader. In this interview she tells BizPhilly how her path to the business world surprisingly started with tennis. Russell also shares her top networking secrets and how she finds time to read, travel and catch a few Villanova basketball games.
I grew up in … Maryland, around the Annapolis area and always somewhere near the water!
I got started in business … in high school, I was a competitively ranked tennis player and started teaching and coaching tennis at a young age. This taught me a lot about working with all different types of people to help develop their talents. At the same time, I also worked as a manager at a Tennis Retail Store so I got experience managing the sales staff, working with the buyer, and running the store – now, when I look back, I realize that all of this was a lot of opportunity for a young person, and I learned a tremendous amount about leadership and motivation from these experiences.
My years working at The University of Maryland at College Park (UMD) taught me … a lot about working in and running a large complex enterprise – the strategy, the finances, the people; and most critically, the importance of valuing and supporting the contributions that every person can make to move an organization forward. It's a great place!
I came to Villanova because … it drew me in with its' mission; today, it is so critical that we have ethical positive leaders in our world and the Villanova School of Business is one of the top academic institutions in the country with a compelling mission focus to create business leaders for a better world, and where the teacher-scholar model is truly practiced and we have the opportunity to really impact the leaders of tomorrow. That's exciting! And by the way, the people are fantastic! I absolutely love it!
My favorite way to relax is to … explore the outdoors – whether it's hiking, biking or walking on the beach or in the mountains. I also have a passion for art, especially scrapbooking and photography! And of course I'm a big sports enthusiast (and now a huge Wildcat fan).
The biggest challenge I see for women in business is … getting women in positions at the top of our firms so that they can impact change. That requires mentoring, sponsorship, and actually changing our organizations to be more flexible to the needs of ALL workers. Some organizations are great at this, but we have much work to do. We also need a campaign to help young girls see the importance of a business education, that no matter where their careers take them, they will still need business and leadership knowledge and skills.
The last book I read was …Coach Jay Wright's book "Attitude: Developing a Winning Mindset On and Off the Court" – It's a winner!
Being the first female dean of Villanova's School of Business means … I have to remember that I am probably more "visible" to others, and thus, I must be the best positive role model I can be to all of our stakeholders.
The app on my cell phone I use the most is …Twitter, so I can stay connected to all the great things happening in the world. Unless it's basketball season – and then it's the NCAA March Madness app.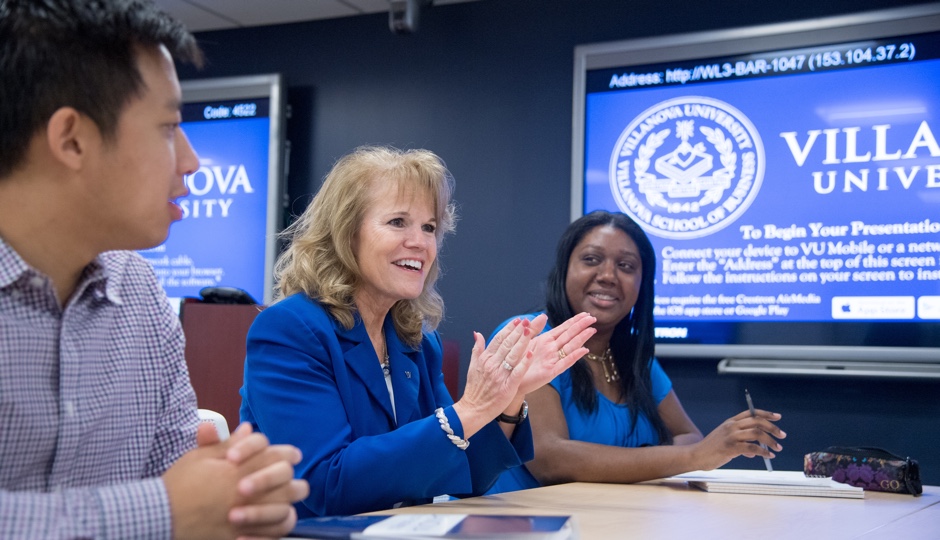 A leader I'd like to be more like is … a true servant leader – Jesus.
The best piece of career advice I have to offer is …never stop learning and challenging yourself to take risks. Be positive and enthusiastic each and every day.
One day, I hope to travel to … Africa and Australia. I absolutely love traveling to meet people, see nature and wildlife, and experience other cultures.
To master networking … you have to remember that it's not about YOU, but it's all about THEM. Smile, take a genuine interest in the other person, and really try to learn who they are and what's important to them. That makes you a successful networker.
I try to encourage students to … love what they are doing. Find passion in it and truly love learning. Education is the key to addressing the world's problems, and we all have a role in making things better.
A change I've seen since I've been at Villanova … is its exciting growth. It continues to get more and more competitive to get into the University and Business School due to the higher rankings.
Most people don't know how much I love … writing, especially offering tips and coaching advice to help people in their careers and lives. I think they all know I love chocolate…
I take my job seriously because … it matters! As a leader, I am a role model and a financial and motivational steward of our Business School and its future success. Working with all of our constituents (students, faculty, staff, alumni, employers, parents, friends, donors) I remember every day that I am here to serve them and help to move the school forward –to be the best in the world. People put their most treasured assets in our hands – whether it's their children or themselves as students or their hard-earned financial resources, or their job opportunities, and we have to remember to take the best possible care of all of those.
This summer I plan to … Finally unpack all the boxes in my new house, do some traveling for work and fun, and work with our VSB team advancing our strategic plan so we are ready for fall.
I'm inspired by … the power and beauty of God I see in nature and in people every single day.
In 10 years I see myself … healthy, happy, and pushing forward!
Sophia Pizzi was an intern at Philadelphia magazine.
---