Q&A
This Warminster Gym Owner and Trainer Teaches 18 Classes a Week
When he's not sweating it out at his studio, Tony Bria is spending time with his family and having silly dance parties with his kids.
---
Welcome to Sweat Diaries, Be Well Philly's look at the time, energy, and money people invest in pursuit of a healthy lifestyle in Philly. For each Sweat Diary, we ask one Philadelphian to spend a week tracking everything they eat, all the exercise they get, and the money they spend on both. Want to submit a Sweat Diary? Email gtomaine@phillymag.com.
Who I am: Anthony "Tony" Bria (@Briamethod), 36
Where I Live: Doylestown
What I Do: Owner and head trainer at Bria Method. Husband to Rachel Bria and father of two little girls: Giana (4) and Jordyn (18 months)
What role healthy living plays in my life: In 2015, I married my beautiful wife, Rachel, and the year after that, my first daughter, Giana, was born. I had been working as a private fitness trainer over the last 10 years, but the hours were long. I wanted to be around to watch Giana grow up and make memories. I knew it was time to accomplish my second dream of starting my own gym. Since making that decision, Rachel, Giana, and our 18-month old daughter, Jordyn, have been by my side every step of the way cheering me on. I've always loved motivating people and becoming a father has only affirmed my love of helping people and guiding them to be the best they can be: my studio, Bria Method, has become a place where people come to feel inspired, build confidence, and get results.
Health memberships (and what they cost): Edge Fitness ($29.99 per month) and free as the owner of Bria Method, a boutique fitness studio in Warminster which offers top fitness routines and trainers, including dumbbells, TRX, bodyweight, aerodyne bikes, and treadmills, barre, dance, and yoga.
Tuesday
3:50 a.m. — Good morning! Early wake up on the Tuesday after Labor Day for a full day of teaching classes at Bria Method. Most of my days consist of waking up between 3-4am to teach early morning classes at the studio.
4:30 a.m. —I am the first one to arrive at the studio to open up the studio and get ready to teach the first HIIT class at 5:00am at Bria Method. Today the HIIT class is Full Body with a mixture of interval training with weights, treadmill and (aerodyne) assault bikes.
4:40 a.m. —Early mornings call for coffee! At the studio we have a complimentary coffee machine for all our members. 20 minutes prior to the first class I am finished my first cup of coffee I am and a gallon of water down. Members are starting to show up for class, I get ready to check all the members in and check their temperatures.
5:00 a.m. —Bria Method members are early risers, I teach three Total Body HIIT classes starting at 5 a.m.
8:20 a.m. — Right after I teach three classes in a row, time to eat breakfast. At Bria Method, we offer healthy meal prep options from Aussie's Kitchen. We promote a healthy lifestyle so that also includes fuel that is good for you. Today for breakfast I am having a Protein Bowl with eggs, sweet potatoes and sausage ($6) and healthy Cinnamon French Toast ($6) from Aussie's Kitchen.
8:20 a.m. —My other HIIT trainer, Justin Rubin clocks in to teach the 8:30 a.m. and 9:45 a.m. classes. During this time, I am in my office working on the class schedules the following few weeks and paperwork for the studio.
10:30 a.m. — Justin's HIIT class ends, I go out into the lobby to chat with the members and see how the class went. I also have an Iconic Protein Shake ($3) available in our refrigerators for sale at Bria Method.
11:30 a.m. —Mid-morning snack I packed an RX Bar from home for a quick fuel fix.
12:10 p.m. —Final morning Bria Method HIIT class until this afternoon.
1:30 p.m. —Today, NBC10 Philly Live is filming for National Yoga Month at Bria Method and highlighting our yoga options. I do a quick interview about Bria Method with the host and one of our yoga instructors' Chloe teaches an express yoga class for 30 minutes, which I take for the segment.
2:15 p.m.—The NBC10 Philly Live filming wraps up.
2:30 p.m.—After spending the morning teaching and taking yoga, I go on a four mile run near the studio and burn up to 400 calories. After a quick 4-miles, I leave the studio to go pick up by four-year-old daughter Giana from preschool and we head home to my 18-month old daughter, Jordyn.
4:50 p.m.—A quick pre-dinner snack of an apple and two slices of Marathon Bread toasted with peanut butter.
6:00 p.m.—My wife Rachel gets home from work; she is a pharmaceutical sales representative. I cook up a healthy dinner of chicken, spinach and veggies and the whole family eats together and catches up after a long day.
6:30 p.m.—After dinner, we have a family dance party to the girl's favorite artist—Pitbull.
7:00 p.m.—We get the girls ready for bed and unwind before we head up to bed.
Daily Total: $15.00
Wednesday
7:00 a.m. — Wednesdays are the days that I don't teach the early morning classes, I get to "sleep in".
7:30 a.m. —Since I don't have to be in the studio super early, I make breakfast at home which today consists of a homemade egg and cheese burrito, coffee at home and a green protein shake. I also make my wife Rachel a burrito and coffee to-go for when she heads out to work.
8:00 a.m. —After making breakfast, I head to the studio which is about 20 minutes from my house in Doylestown.
8:20 a.m. —I get to the studio to teach the 8:30 a.m. and 9:45 a.m. HIIT classes for the morning, today is Full Body Double Floor where we are using dumbbells, kettlebells, medicine balls and the TRX.
10:35 a.m. —I finish up teaching my second HIIT class of the morning.
11 a.m. —After teaching two classes, I worked up an appetite for an early lunch. For lunch today I have two meals from our food preparation company, Aussie Meal Prep. For lunch today I choose a Cauliflower Pizza ($7) and Buffalo Chicken Meatballs ($7). So good!
12:00 p.m.—I am done teaching HIIT classes for the morning. So, at noon I head to EDGE fitness for an hour of strength training in the gym. At Bria Method, we focus on group fitness, so I also belong to EDGE to allow me to have access to a full gym.
1:00 p.m.—Right after my workout, I pick up a chocolate peanut butter and banana protein shake ($5.99) before I head back to Bria Method to teach two more HIIT classes of the day.
4:00 p.m.—Wednesdays are the nights that I teach the late classes at Bria Method, we have a 4:00 p.m. and 5:30 p.m. HIIT classes.
5:30 p.m.— Class wraps up and I chat with a few members about the class. After, I deep clean the studio to prepare for the early morning classes tomorrow starting at 5:00am.
6:00 p.m.—After a deep clean of the studio, I packed two turkey sandwiches from home that I quickly eat for dinner before heading home.
8:00 p.m.— Teaching four classes and an hour of strength training leaves me feeling hungry still. At home I pour myself a bowl of cereal and a peach and head up to bed.
Daily Total: $19.99
Thursday
4:00 a.m. —Back to my early morning schedule! I wake up and make myself a large coffee, got to wake up and get ready to bring energy to teach our "Hurricane" classes today.
4:50 a.m. — The members are arriving for the first Hurricane class of the day, right before we get into the studio, I drink an Iconic Protein Shake ($3) that we offer at Bria Method.
5:00 a.m. —It's time for the first Hurricane class of the day which is Bria Method's signature workout. It is a 50-minute workout session that consists of four 12-minute rounds, each including six minutes of cardio (either the treadmill or assault bike) and six minutes of strength.
6:10 a.m. —I teach two more Hurricane classes in the HIIT room.
8:30 a.m. —Breakfast time, another meal from Aussie's Kitchen. Today I am having protein waffles ($6) and a protein bowl ($6), complimentary coffee from the studio and a Bang Energy Drink ($5).
12:10 p.m.—Today I am teaching the early afternoon Hurricane class today in the HIIT room.
1:15 p.m.—Lunch time after a morning filled with Hurricane workouts. For lunch today I am having a grilled chicken wrap ($8) Café Ole in Huntington Valley, Pennsylvania.
2:00 p.m.— I am finished teaching classes for the day, so I head to EDGE Fitness for a quick 45-minute gym session before I have to pick up my daughter Giana from preschool.
3:00 p.m.—I wrap up my gym session at EDGE with a protein shake ($5.99) and head to pick up Giana.
6:00 p.m.—Another homemade dinner meal in the Bria household. Tonight, we are having grilled chicken with pasta in Rao's marinara sauce and broccoli on the side. A family favorite meal—Jordyn (18 months) loves pasta and sauce.
9:00 p.m.—Kids are asleep, and we are headed to bed.
Daily Total: $33.99
Friday
5:50 a.m. —Friday is the other day during the week that I don't teach the super early morning classes.
6:00 a.m. —The days I teach the later classes, I eat breakfast at home. Today breakfast consists of six eggs scrambled, two slices of toast, a banana and coffee.
8:00 a.m. —I arrive at the studio to teach the later morning classes, today is Strength Training with a focus on Arms/Shoulders along with cardio on the treadmills and bikes.
8:30 a.m. —I teach three HIIT classes in a row.
1:00 p.m.—Classes are all taught for the morning! On Fridays, we only have morning and afternoon classes available. For lunch today, I have two turkey sandwiches from Aussies Kitchen ($10) at Bria Method.
2:30 p.m.—I need another boost of caffeine, so I make a double espresso shot at home. I am really big into biking as well as Bria Method's other trainer, Justin Rubin so we take a 30-mile bike ride around the Doylestown area as a warm-up to teach our 90-minute classes at Bria Method on Saturday morning.
5:00 p.m. —Get home from the 30-mile bike ride and I reward myself with a tequila shot.
6:00 p.m. —Friday night dinner we order from Select Bar & Grill a caesar salad and a cheese pizza ($35) for the kids, I have a slice.
Daily Total: $45
­­­
Saturday
6:00 a.m. —Saturday morning! Wake up and eat breakfast at home which consists of a chicken and egg burrito, oatmeal and coffee before heading to the studio.
6:45 a.m. —I arrive at the studio, this Saturday we are running classes a little bit differently. Today we are offering three 90-minute HIIT classes called "Dri-Tri".
7:00 a.m. —Three 90-minute Dri-Tri classes taught with me and Bria Method's other trainer, Justin Rubin.
10:30 a.m. —Right before the final Dri-Tri class of the day, I eat a quick RX bar that I packed from home.
10:30 a.m. —My wife Rachel and daughter, Giana and Jordyn stopped by the studio to show support for the special classes today.
12:22 p.m. —Saturdays at Bria Method we have limited classes, so now we are wrapped for the day for teaching. After the three classes I have amassed 14,700 steps and walked 7.15 miles.
1:30 p.m. —Back at home I have a tuna poke bowl ($13) from Poke Bros. in Warrington that I picked up on my way home.
2:00 p.m.—I take a quick 20-minute power nap to get through the rest of the day.
3:00 p.m. — I have a quick post-nap snack of an RX Bar before the family heads out to our friend Caitlyn's house for a pool party.
3:30 p.m.—We arrive at the pool party, wife and kids in tow to enjoy a beautiful afternoon with our friends and all our kids.
5:00 p.m. —At our friends, they catered food for everyone, so I indulge and have two slices of pizza and 2 halves of a hoagie. My drink of choice today is tequila! I also have two margaritas with Anejo tequila to unwind.
7:00 p.m. —Another impromptu dance party with the kids and the wives to wrap up the night.
DAILY TOTAL: $13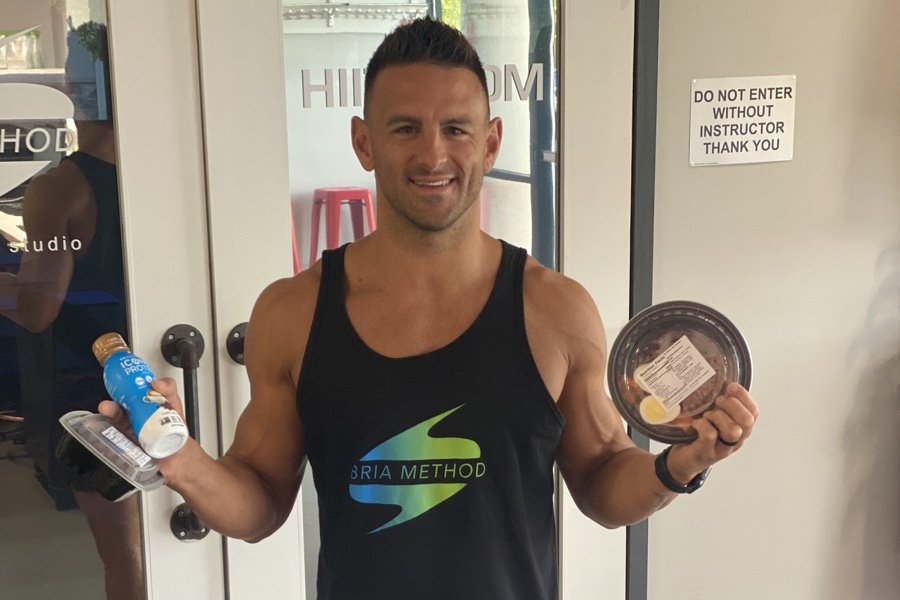 WEEKLY TOTALS:
Money spent: $126.98
Workouts Taught: 18
Workouts Completed: 5
Total Steps: 85,300
Dance Parties Had: 2
---
---