Need Book Recs? Here's What 11 Philly Health and Fitness Pros Are Currently Reading
You'll have plenty of books to add to your reading list with these recommendations from dietitians, nutritionists, fitness instructors, and more.
---
While there are so many forms of mental self-care, sitting down with a book is one of the most powerful ways to keep your mind healthy. Not only do books educate, inspire, and entertain us, but studies have shown that reading improves our memory, strengthens our capacity for empathy, increases our attention span, reduces stress, and helps us sleep better.
All these health benefits mean you're probably eager to start flipping through a new book. And what do we all do when we're trying something for the first time? We ask for recommendations from people whose opinions we value and trust. That's why we turned to health and fitness professionals in and around Philadelphia to get an, um, read on their current favorite books. No matter if you're seeking a self-help book, historical fiction, or an empowering memoir, here are the books you'll want to start paging through ASAP.
Dr. Mary Ann Forciea, medical director of Penn Medicine's in-home program: "I am finishing Bad Blood by John Carreyrou, a history of the Theranos company and the dream of making diagnostic blood tests widely available on tiny samples of blood. I have always been interested in the boundaries of 'marketing' in health care. Sadly, this story is one of ambition outpacing reality. It is a cautionary tale of 'fake news' in science and health care."
Felicia Greenfield-Blau, licensed physical therapist and certified cannabis educator at Reboot IWC: "My three end-table books right now are: How Not to Die by Dr. Michael Gregor, The Power Source by Lauren Roxburgh, and I and Thou by Martin Buber. The first offers evidence-based knowledge regarding the body's ability to heal itself naturally through a plant-based diet, solely for the betterment of people's health and life longevity. The second educates about the myofascial system in our body, how to stretch with foam rollers, and how to release musculoskeletal restrictions. Roxburgh and I share similar beliefs that emotions and trauma can be stuck in our body, in our fascia, which may be limiting our ability to heal. I love her holistic, whole-body approach to health and wellness. And the third is all about the theological concept of spiritual interpersonal relationships. It asserts that our focus should be on not using each other for our needs and wants but on looking at others with compassion and thoughtfulness."
Emily Horstman, RD, LDN at OnPoint Nutrition: "I am currently reading The Subtle Art of Not Giving A F*ck by Mark Manson, which is about finding inner peace and balance in one's life. This is such an important foundation of wellness. I am also listening to Trevor Noah's autobiography, Born a Crime, on Audible right now. It is beautiful, heartbreaking, and inspiring."
Jason Krantz, licensed acupuncturist at Summit Acupuncture: I am currently reading Myofascial Pain and Dysfunction, The Trigger Point Manual by Travell, Simons, and Simons. This is one of the best references for any manual therapist and is a must have in my library now, covering all things regarding pain dysfunction from testing to treatment techniques. This book has given me an even deeper understanding of the pain I am treating [in patients] every day. While this book is more for us anatomy nerds, it does show how pain conditions play out in our bodies — something that every person should know."
Jayel Lewis, personal trainer, owner of JL Lewis, and director of health and wellness for Fitler Club: "I have been unable to put down Can't Hurt Me by David Goggins. His book is based on his life story and how he's used mental toughness to overcome depression, being overweight, and poverty to become a U.S. Armed Forces icon and one of the world's top endurance athletes. Having previously trained the U.S. Air Force myself, Goggins' book intrigued me. I'm a BIG believer that in order to see lasting results, you must start from within. It's something I've always stressed with clients: that you have to commit to changing the way you think, which will ultimately affect the way you feel, and the way you experience yourself. Developing a mental toughness ultimately plays a larger role in both seeing and obtaining lasting physical results. This book has solidified that by first committing to changing from the inside out, you're able to form better habits and bring a newfound sense of clarity into your daily routine."
Isabelle Martinez, instructor at CorePower Yoga and Sculpt360: "I like to have a few books in rotation: some form of philosophy, some form of social justice, and a bit of yoga lit to keep me abreast of new ideas to integrate into my own practice and the classes that I lead. I am currently reading three books: The Inner Tradition of Yoga by Michael Stone, How to Die by Seneca (translated by James Romm), and Just Mercy by Bryan Stevenson. All three cut the fluff and go right to what is real, what is pertinent, and what will bridge the gaps in our communities. This quote from Just Mercy sums it up best, 'We all are implicated when we allow other people to be mistreated.' [I believe] there is always room to grow and make space to connect across social lines."
Hava Rose, mobile chiropractor and co-founder of Namaste Nourish: "The Alchemist by Paulo Coelho is a book I come back to time and time again. Every time I read this book, I find a little more room for compassion for humanity, which trickles into my everyday life interactions and especially with my patients. I am able to be more present and in tune with their needs in care. One quote from The Alchemist that resonates with me, my practice, and my wellness is, 'When we love, we always strive to become better than we are. When we strive to become better than we are, everything around us becomes better too.' I highly recommend this book to anyone at any phase of their life…for all the intricate gems planted throughout the book waiting for you to uncover."
Gina Russo, owner of and instructor at Bar Method Rittenhouse: "I am in a book club, and The Alice Network by Kate Quinn was chosen for this month's read. I can't get enough of historical fiction, particularly when it delves into World Wars I and II. This book is about two incredibly courageous women who risk their lives for the greater good. They weren't always strong, but they somehow willed themselves to be when it mattered most. I think that an element of Bar Method that isn't obvious at first is the inner strength that it builds. Physical strength is a given for people who come to class and work hard, but the inner strength that can be gained is very powerful. I hope to get that message across in the studio and in my classes."
Dr. Lesley Sloan Carson, medical director of Penn Center for Rehabilitation and Care: "I just finished Educated, a memoir of growing up in an Idaho survivalist family and getting a Ph.D in history from Cambridge, by Tara Westover. It is also a commentary on the interplay of genetics and environment as well as the triumph of an individual's spirit and drive."
Kate Sottosanti, nutritionist at OnPoint Nutrition: "I recently read What a Time to be Alone by Chidera Eggerue. [Though] not directly related to food, [it addresses] general mental health and well-being. With a tagline like, 'You are bad as hell and were made with intention,' it is a great read for anyone struggling with self-esteem and reminds you how to prioritize yourself."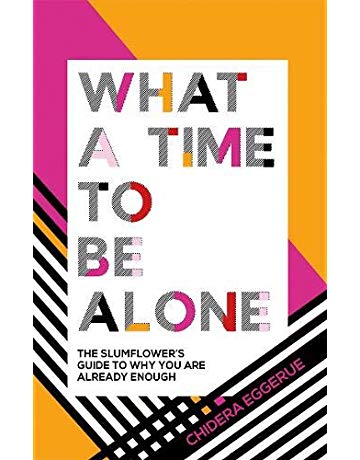 Lauren Stevis, instructor at SoulCycle: "I have read and reread You are a Badass by Jen Sincero about three or four times and revisit any time I am going through a major life change or find myself doubting my own intuition and abilities. This book has not only made me a stronger woman but a stronger coach. I am so much more aware of destructive thought patterns we as humans fall into and the tiny boxes we live in based off of a story we keep telling ourselves about 'who we are/should be.' Because of this book, I no longer feel nervous to have the hard conversations or ask the tough questions. I think so many people are afraid to speak up for themselves or trust what their body is telling them, and it creates pain, sickness, and disease. I use everything I have learned from this book to make sure I continue to trust my intuition, lead with integrity, and give others the permission to do so."
Note: Philadelphia magazine may earn revenue as a result of purchases you make through some of these links.
All photographs via Amazon unless otherwise noted.
---
---