This Philly Fitness Trainer's Favorite Places to Eat and Work Out in Margate
There's way more to do down the shore than just play in the water. Carly Rubenstein, of Carly Fit, shares her favorite healthy spots and activities in Margate, New Jersey.
---
Philly has an insanely wonderful fitness scene, but the truth is, many of us tend to stick to our own neighborhoods — we've all got our favorite corner coffee shops, yoga studios, running trails, and more. That's why we're asking local fitness pros to give us a tour of their neighborhoods — and to spill all their secrets on the hidden gems they can't quit.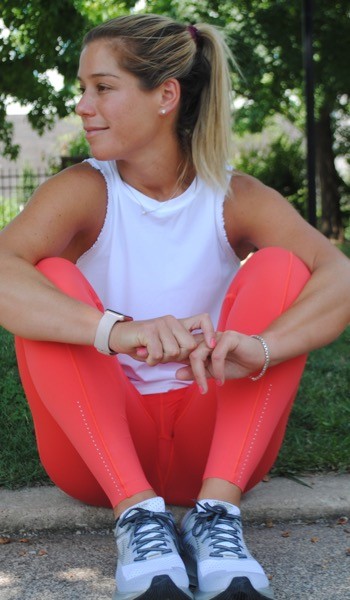 When Carly Rubenstein isn't teaching spin classes at Revel Ride, kicking butts at RippedPHL or training for triathlons, you can find her down the shore in Margate, New Jersey — her home away from home since, well, she was born.
While there's certainly some beach chilling involved in her time in Margate, she's also hosted an on-the-beach boot camp every Saturday morning, Memorial Day through Labor Day for the last ten years. After spending all her summers in Margate, Rubenstein is pretty much an expert on all things healthy in this shore town.
Below, find her go-to spots for a healthy life in Margate from satisfying lunch wraps, to happy hour, and where to go for beach-ready toes.
The Best Healthy Eats and Drinks in Margate
Coffee shop: "To be honest, I make a quick cup at home and go right to the beach. However, when I want something a little less homemade, I head to Greens and Grains and order their Iced Red Eye."
Healthy breakfast spot: "Hot bagels is such a shore staple — they have everything from bagels to wheat wraps, egg sandwiches, and more. My go-to would be a whole wheat wrap with turkey bacon and egg white; it's the perfect quick grab and go."
Healthy lunch spot: "Greens and Grains has the best wrap ever. It's obviously portable and it doesn't get that been-sitting-in-my-cooler mushy-ness. Plus, it's affordable! Get the Falafel Wrap and a side of Buffalo Ranch Chickpea Salad."

Healthy date night spot: "I believe any restaurant can become a healthy restaurant if you go in with a game plan! My favorite spot in town is Steve and Cookies Restaurant and Oyster Bar. I can't visit without ordering the Ugly Tomato Salad to start and the Cold Seafood Platter to finish."
Bar: "Go to Tomatoes and have anything with tequila in it! Not only do they make a mean drink, but they have the best happy hour in Margate — people line up at the door for a seat at the bar. Plus, they have a great deejay playing all your favorite bar hits."
Healthy takeout: "Done is, by far, the best healthy to-go option in town! Some days, I'll treat myself to a takeout lunch from Done on the beach. The menu changes daily, but my go-to is usually whatever grilled chicken or salmon special they have that day. I also love the edamame salad and grilled romaine salad with dressing on the side. It's all so fresh!"
Grocery store for healthy foods: "Pamela's Health and Harmony where I stock up on kombucha, Ezekiel bread, and all other healthy processed snacks. In the summer everyone is on the go. When I can, I eat what I cook, but in between a life in the city and a business at the shore, I cherish shops like Pamela's to grab healthy already made food in a hurry!"
The Best Workouts in Margate
Gym: "The Jewish Community Center is super popular amongst the summer inhabitants. It's a big gym with a pool and a variety of indoor classes. There aren't many gyms per se in Margate, but there are a few yoga studios and plenty to do outside!"
Workout class: "If you're in the Margate area, you have to check out The Zen Den, a local yoga studio. However, don't be fooled by the name — owner and teacher Ari is by no means Zen. She combines her love of yoga with HIIT and leaves you completely drenched and ready for a long nap by the water's edge."
The Best Self-Care in Margate
Place you go for self-care: "I love getting pedicures, especially when my toes are out and in the sand. Head to Jackie's Nail Salon — while it's technically located in Ventnor, the massage on the legs and feet at no extra cost making the trip totally worth it. Especially because I'm so active, I'll take all the rub downs I can get."
The Best Outdoor Activities in Margate
Nearby running route: "When I run while at the shore, I prefer to run the bridges along the coast. For my trail, I start out by heading off the Long Port Bridge, then head to the Somers Point Bridge, followed by the 9th Street Bridge into Ocean City and then turn around and head back! That's usually about 12 miles in total. The Boardwalk is another great option if bridges aren't your thing, but be sure to head out early before the crowds!"
Annual Events: "I love Beachstock, which is a daylong music and fun-filled celebration of summer. The Kenny Wayland 5k and 10K is also great because it's a scholarship fundraiser in honor of a Ventnor fireman that died tragically trying to save someone in a fire."
Park: "The beach is Margate's best playground!"

Like what you're reading? Stay in touch with Be Well Philly—here's how:
---
---